Disclaimer #1: the price change will not affect the current Crocoblock license holders – all changes apply to new subscribers and users.
Disclaimer #2: we still don't sell licenses to the RF and RB citizens and won't do so in the future.
Hello to you all from the Crocoblock family!
We are okay. We keep developing, coding, and testing. We keep supporting, drawing, writing, and posting. But most importantly, we keep hoping and won't give up. 💪🏻
Today I come bearing news that we hope will be taken lightly.
I want to announce that there will be price changes, which apply to nearly all Crocoblock products.
Why the Sudden Price Change?
It's not sudden at all. We have been planning a certain price change all along. It's a coincidence that Crocoblock pricing is changing under war circumstances. More to it, we wanted to announce a change weeks ago. When the war broke, we were all so shaken that it took us a while to get back to business. That's why we are announcing it now.
Why We Decided to Change Prices
We have always hewed to the low prices policy. From its inception until now, Crocoblock has been selling its plugins at a much lower price than anyone on the market. You can check out the comparison tables and see the difference between our plugins and the competitors.
Our product appeared from the website templates creation and real websites development for many years. We know better than anyone what a hard, painstaking job it is to create websites. We have always understood that it takes much time, resources, training, and, most important, financial investments to develop websites. Therefore, we have always aimed at cost-effective pricing so that every freelancer from anywhere in the world could use our products.
You have to understand that our support and all related services carry a load that's hardly getting lighter. Plus, we are constantly developing functionality, increasing the number of features, and improving algorithms. To do this, we are hiring more and more skilled workers and investing more and more money in development.
Therefore, a gradual organic price increase is simply a vital step for the business to stay afloat and grow.
Which Plugin Prices Will Change?
For those who think we'll be just raising, it's partially true.
Some plugin prices will remain unchanged. In the highlights below, you can see how the prices will change.
Price up ⬆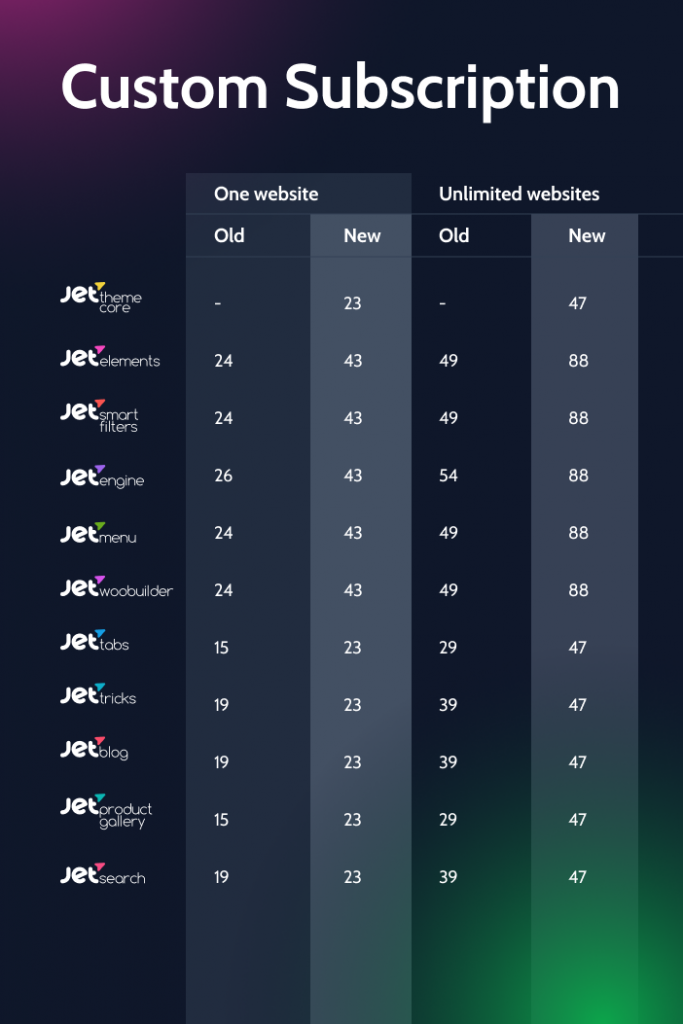 JetTabs, JetTricks, JetBlog, JetProductGallery, and JetSearch will now cost $23 per one website and $47 per unlimited;
JetElements, JetSmartFilters, JetEngine, JetMenu, and JetWooBuilder will now cost $43 per one website and $88 per unlimited;
JetThemeCore will become a paid plugin, coming at a fixed $23 per one website and $47 per unlimited.
The same price ⏸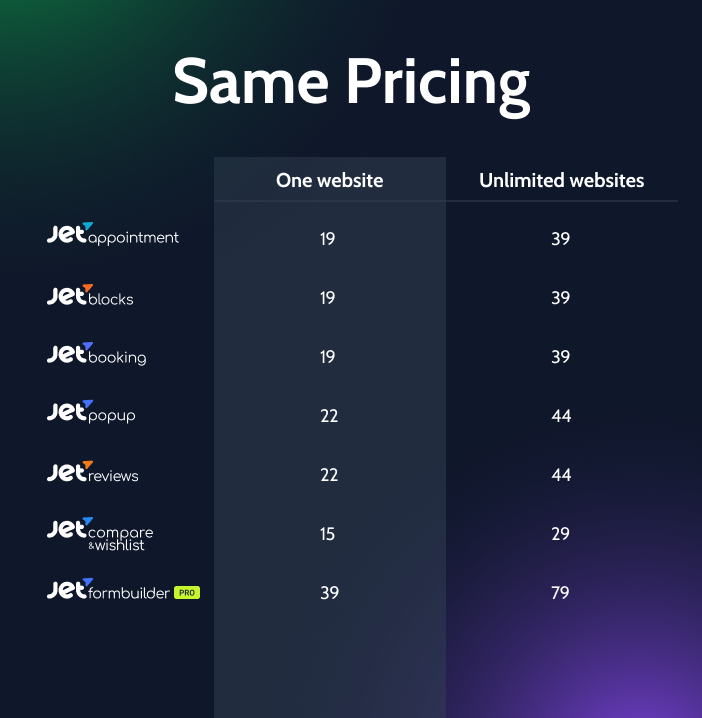 JetAppointment, JetBlocks, and JetBooking will remain priced at $19 per one website and $39 per unlimited;
JetPopup and JetReviews will remain priced at $22 per one website and $44 per unlimited;
JetCompare&Wishlist will remain priced at $15 per one website and $29 per unlimited;
JetFormBuilder PRO will remain priced at $39 per one website and $79 per unlimited;
JetGridBuilder and JetStyleManager will remain free plugins.
*All prices stated above apply to the Custom Subscription plan, which is a yearly package.
What About All-Inclusive and Lifetime Plans?
All-Inclusive and All-Inclusive Unlim will now cost $199 and $399 accordingly.
A Lifetime plan will be priced at $999.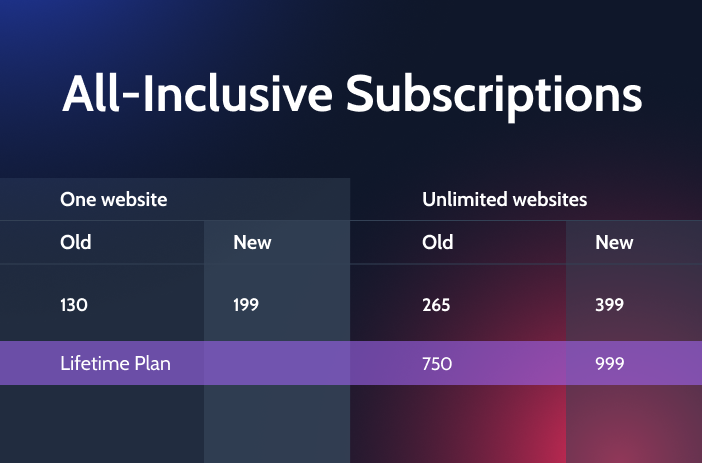 Those who've already got the All-Inclusive/Lifetime subscription know well it's a long-term investment. As a developer, you get a universal toolset allowing you to build anything from one-page landing pages and business card websites to highly functional complex marketplaces.
BTW, All-Inclusive Yearly/Unlim plans are a great saving. By buying a certain subscription, you can save up to 60% compared to all plugin prices summed up. A Lifetime subscription is a whole new world. Just do the math.
How We Will Charge
All new prices apply to new Crocoblock subscribers and users.
Pro tip
I want to stress that these pricing changes DO NOT affect the current Crocoblock subscribers. All renewals will be made automatically at the old price.
Those who wish to upgrade will have to pay the difference between their current subscription and the desired All-Inclusive/All-Inclusive Unlimited/Lifetime plan. At a new price.
The updated pricing will come into effect on April 18th. Visit our pricing page to learn more.