Meet and greet the first Crocoblock models, the ones to help you build more complex website structures without any coding skills!
These models will suit you regardless of your experience level. They will be of immense help if you've just started working with JetEngine plugin and still have much to learn about it. Yet, even if you're an experienced developer already professionally using JetEngine, still the models can turn out useful as a starting point.
What is a website model by Crocoblock?
In short words, a model is a structure of a website, that contains:
the custom post types needed for the topic;
the relations between the custom post types set in place;
all the custom taxonomies and terms already added;
the pre-designed listing templates;
all the archive and single post pages needed for the topic;
the booking form already built with all the needed fields;
the filters to allow smooth filtering of the content;
a popup template.
With all of this stuff, you become literally a master of a ready-built website, tuned up to sustain the most basic needs you might have when working on a complex project, especially if it requires custom post types or taxonomies.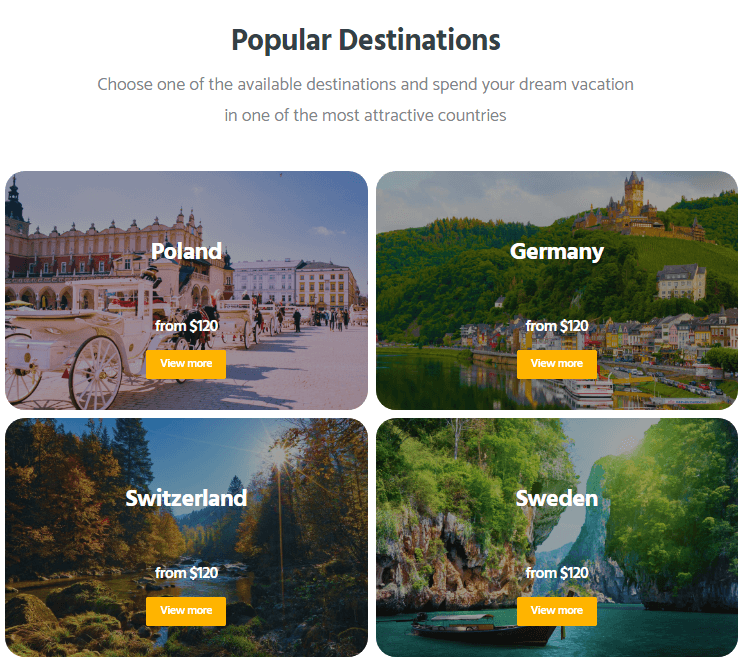 Now you have no need to set the posts and relations between them manually. And, even if you'd still have to do it, with a website model from Crocoblock you'll have a perfect example of how to, e.g., set up a booking form, in your hands. And your hands will be full with all the functionality Crocoblock can provide.
How to get a website model from Crocoblock?
The website models come within the Crocoblock Lifetime and Multi-Tool subscriptions and are available for everyone who has JetThemeCore installed and active on the site. There are four of them at the moment, different in stylization, yet similar in the core things.
To get a website model, you'd need to navigate to Crocoblock > Skins and here click Synchronize skins library button.
Once it is done, you'll get the brand new Travel Agency Booking website, that can be installed the same way you usually install the rest of the skins. Just hit the Install button and follow through the steps of the installation process until you see the Congratulations screen.
The Travel Agency Booking models overview
After you've installed the model you've picked, you can either navigate to the website's frontend to check how it looks, or start working on replacing the demo content with the one you actually need.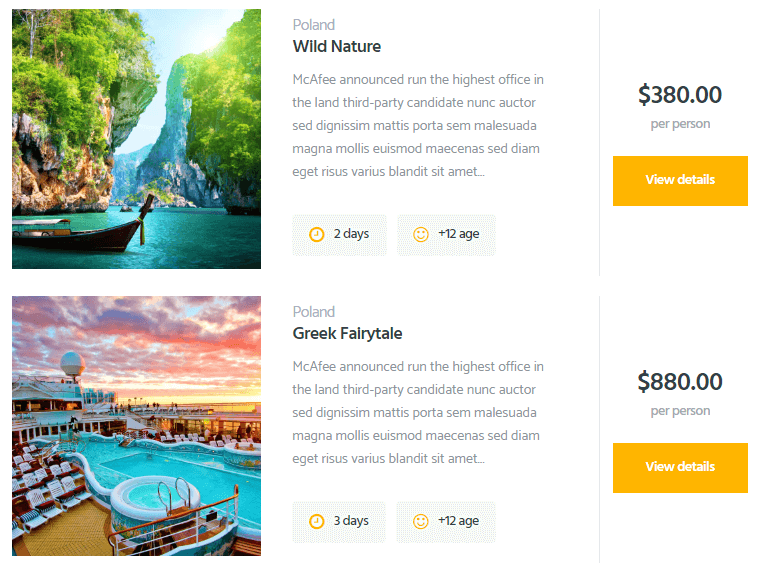 There are 2 custom post types ("Tours" and "Countries"), coming with different listing and the archive templates as well as single post page templates.
The Travel Agency Booking model comes with 5 unique filters, that allow filtering by:
taxonomy;
price meta field;
textual meta field values, etc.
There are such filter types as "Country" to define the destination of a tour, "Price", "People" and "Duration". All of them can be modified according to one's needs, the values can be replaced by the actual ones in case the model is used for a similar topic or used as a sample for a completely different filter.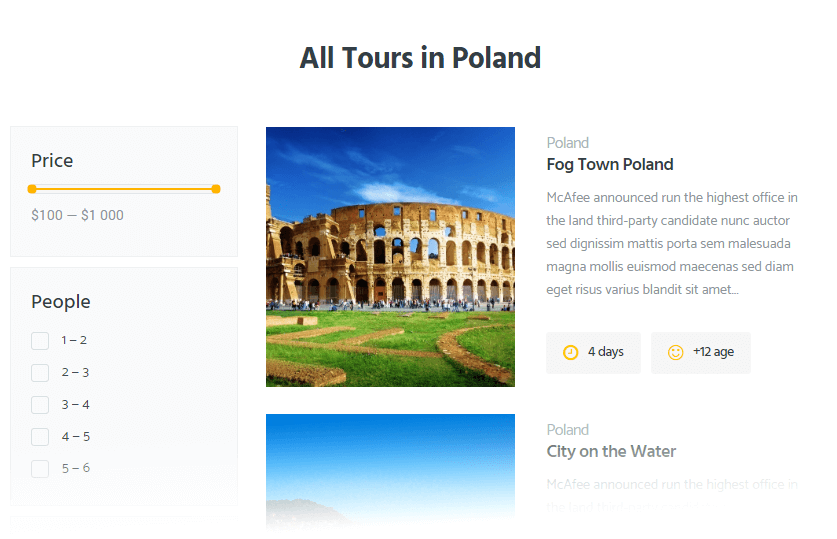 Also, there are multiple meta fields including a repeater field for testimonials.
A booking form is set up as well, and it's connected to meta fields and has a set calculated field that you can easily manage according to your purpose, adjusting the formula.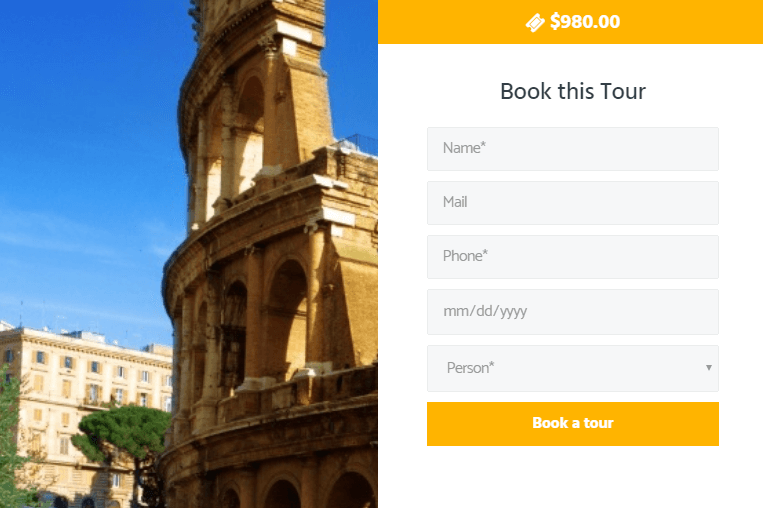 Basically, all four of the website models possess the same post types, taxonomies, post relations and filters. They are different only in stylization, so if you'd like to have any particular style of the listing, you might want to go for a specific model.
And, if you aren't really into any stylization and just need to use a set structure, just use any of the models.
Time to uncover some website model secrets
How much time one would spend on creating a structure of a website, similar to the one on which a Traveling agency model is based? If you're used to working with Crocoblock, you'd do it in approximately 1 hour. Impressive, right?
Just below you can watch a video that explains the process of creating the structure of this particular Traveling Agency model in details.
To sum everything up, a website model is a basic timesaver that will make your work with Crocoblock products, such as JetEngine and JetSmartFilters, way more efficient and fast.
The models are a brand new way to approach the task of building complex dynamic websites.