It's official: JetEngine 2.3 saw the light!
This version of the plugin brings about even more control over forms and listings. But before we share the update, let's recall the things we all love about JetEngine, things that make it so good.
Table of contents:
Now, let's get started!

What You Should Know About JetEngine
JetEngine is a powerful page- and website-building tool by Crocoblock. Sure, to develop a responsive website, you'll need a variety of plugins. Yet JetEngine will be the cornerstone.
For those of you, guys, who lack coding skills, it's no biggie. With our tool, you'll manage to build complex web architectures guided by extensive YouTube tutorials and Knowledge Base.
If you learn more about the following…
…you'll become fast in building a valuable website block by block.
What's Under the Hood?
As a stand-alone ecosystem, JetEngine encapsulates everything one might need to frame a well-performing website. The plugin helps users build different post types and pages and tie them up into a seamless structure. Moreover, it offers a bunch of dynamic widgets to pack the webpages with any type of content. Images, links, terms, meta – we spill the beans, you dig deeper. ☺
Listings
What we like – as perfection seekers – is that one can present their content as a well-balanced listing. Not only it will make the front end clear-cut, but it'll also add value to WHAT you offer to visitors. Besides, there are several tools to craft catchy listings.
Listing Grid widget is the most used one since it's easy to create and on the traditional side. Although, break the cookie-cutter layout and decide how YOU want the listing items to be displayed.
Masonry is likely to add a modern touch, whereas slider will play the listing items automatically. And if you want something really special, take a look at injections. ☺
One more thing, do you like planning? If yes, JetEngine will have you covered. Check out the Calendar functionality – it'll help you work out a stylish schedule that is to be envied.
Forms
To make your website more valuable and interactive, you gotta be having a Contact Us, at least. With JetEngine's Forms functionality, creating any form type will be a breeze. Start with a basic form template, then add it to your website, and that's it. Whenever a new request is submitted, the platform will perform one of the actions you've chosen: send a notification, create a new post or update the existing one, call a webhook, book a service/apartment, etc.
BTW, this module has been refined like A LOT, and we'll show you how very soon!
Profile Builder
Magic happens here!
User Profile Builder is a powerful and awesome tool that lets you create personal user accounts. Thanks to this feature, you give to users the freedom of submitting any information to your website from the front-end. Let's say you own a car selling site. Profile Builder makes it possible for registered users to place and edit ads while you control the back-end.
Updates Sweet Updates
Media field type in the Forms functionality
It is now possible to set the image limit in the meta field and upload as many images as you want! Most importantly, the images you add afterward will not override those you've already uploaded. To change the image order, just hold down one of the pics and drag-and-drop it to where you eyeballed.
Dynamic Function tag for Elementor
This tag allows you to pull such data as min/max field value, summed value, or average value without digging in the code. Imagine you run a travel booking agency. Using Dynamic Function, you'll be able to display the average price of one tour or the price range, lowest to highest.
Map Listing module
Display the listings as clickable markers on the map. Once you click on any marker, you'll spot a popup with the location details. Popup itself can be set up in Elementor. This feature is compatible with JetSmartFilters, so you can filter the visibility of markers in the same way you'd do for a listing.
To see this feature in action, make sure to activate the new module. Once done, a new widget and Global Settings page will appear.
Repeater meta fields display in the Listing Grid
JetEngine 2.3 expands the functionality of the repeater meta fields. If previously it was a separate widget, the new plugin version allows us to display them in the Listing Grid.
As soon as you create a new listing item, select Repeater Field as a source. After that, pick the desired Post Type: JetEngine or ACF. The rest of the setup duplicates the listing item's routine.
Why you'll love this novelty:
Compared to the Repeater Field widget, there's much more flexibility when it comes to setup!
Custom templates for Checkbox and Radio meta fields in the Forms functionality
Create visually complex and informative forms through custom templates, which can be selected from the Listing Items.
How it works
When editing the Form, select the Checkbox or Radio field type and either Posts or Terms as the option's source. There will be new settings there: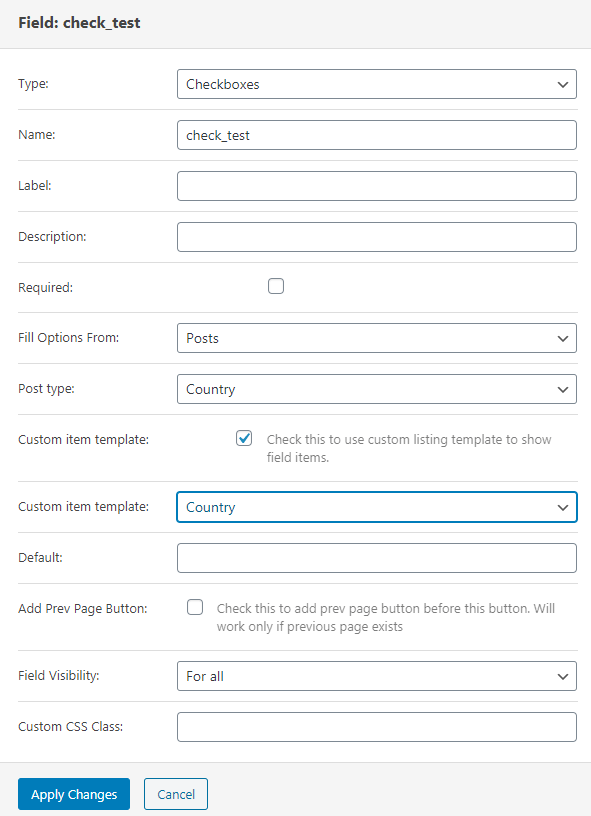 If you check the Custom item template option and select any of the available listing items as a template, it will be applied to all options when this certain field is displayed.
Attention! We've added a new Check Mark widget for you to easily spot the checked and unchecked custom templates in the Form fields: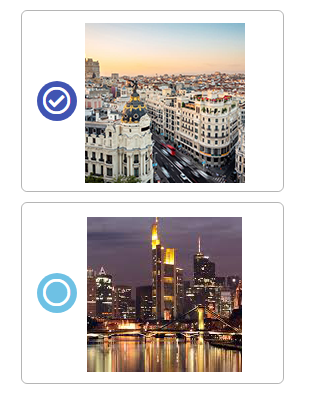 Custom values for Radio and Checkbox meta fields
It is now possible to add custom values to Radio and Checkbox right from the editing page of Post/Taxonomy/Options Page: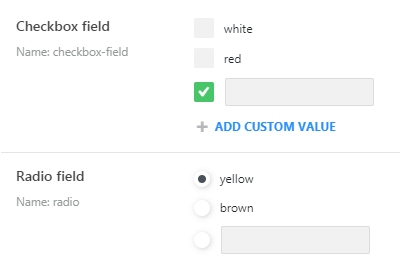 To enable the feature, hit the Allow Custom option. Once done, you'll be able to add custom values to Checkbox and Radio fields, but keep in mind that they are only applicable to the current Post.
If you want to apply custom values to different Posts, make sure to enable Save Custom: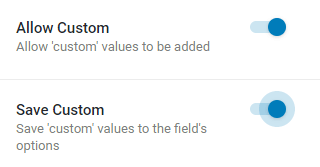 By activating this option, your custom values will be saved to the default values list and, therefore, will be active for other Posts, as well.
This feature saves your effort, as you no longer have to add new values in the meta box settings.
MailChimp and GetResponse notification types
These notification types allow creating Forms for MailChimp and GetResponse mailing services.
If any of those notification types are selected, you'll see settings to be completed. The required fields are Field Map and API, which allows validating the API data. The settings contain a tip with the link to documentation describing how it can be done.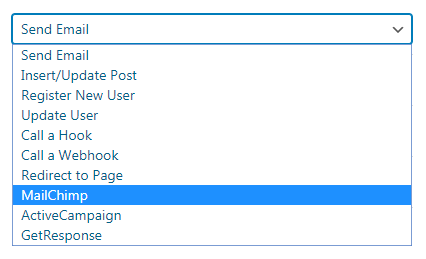 Overall, the feature works similarly to the ActiveCampaign notification type.
Final Word
JetEngine 2.3 lets you stay on top of the Forms and Listings, as well as use their potential to the max. It is a convenient and handy way to ease out your work with the dashboard while saving time and nerves.
How do you like these juicy updates, guys? Let us know in the comments down below.