How many hours a day do you spend on your mobile phone? How many websites do you visit when shopping online or 'just surfing'? It's time to admit: the mobile-first concept is a must in website building today.
JetMenu 2.0 is the version that's been created with due regard to this worldwide tendency. We added a bunch of new features you can use to build attractive mega menus for both desktop and mobile. We also made some changes to the JetMenu settings layout to make it user-friendly and intuitive. Let's go through the changelog to find out what the 2.0 version has got.
Mobile-first
Now it's easy enough to customize and style your mobile menu apart from the desktop one. We enriched the Mega Menu widget with diverse settings that allow playing around with the styles and designs to achieve the result you'll love.
Animated mobile menu layouts
We prepared three main layouts: slide out, dropdown, and push. And – for the record – we keep working on new ones. Get involved in playing around with the mobile settings to create a menu that meets all your objectives.
Custom content before/after the menu items
Add any Elementor-built content like social items, subscribe forms, or call-to-action buttons right from the JetMenu widgets.
First, go to Elementor > Templates > Add New and add any widgets you need. Then save the template. Once you'll be modifying the Mega Menu widget, make sure to select this template as Before or After item template. In this way, your custom content – built into the Elementor template – will be nicely displayed before or after the menu items.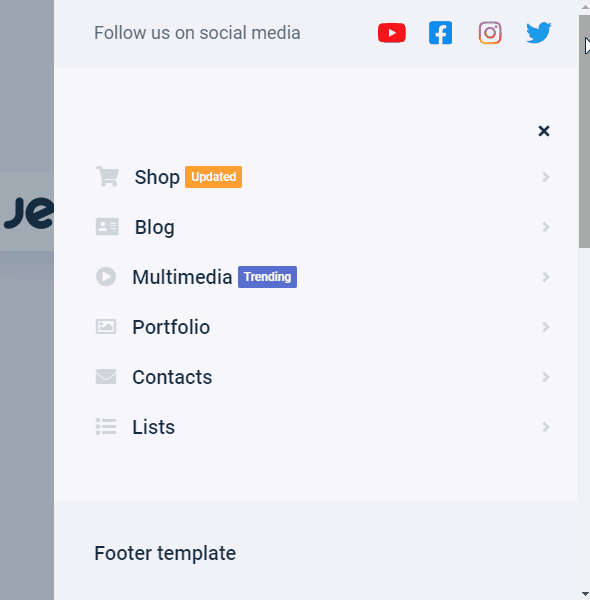 Follow the breadcrumbs
No matter how complex the structure you've built is, your users will be able to navigate it at ease. It became possible with the breadcrumbs option available in the Mega Menu widget. Enable it with a single click on the corresponding toggle.

Different menus for desktop and mobile
If you're running an Internet-based business, it's crucial to create an engaging version of your site. With that said, an informative and easy-to-navigate menu can be paramount to your site conversion.
You, guys, wanted us to let you select different menus for desktop and mobile. The Crocoblock developers went all-out, and we are glad to introduce this option in JetMenu 2.0. First, you need to create two different menus in the WP dashboard > Appearance > Menus. The next step is to assign them accordingly.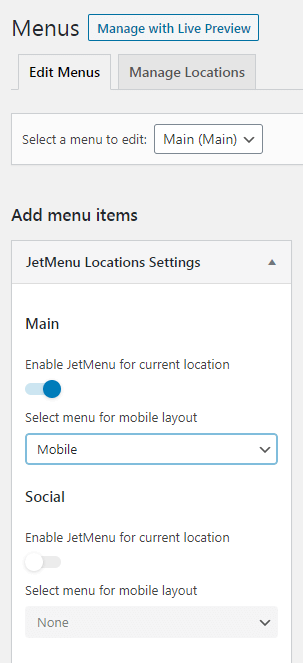 Once you're ready to proceed to Menu setup in Elementor, go ahead and select them in the widget.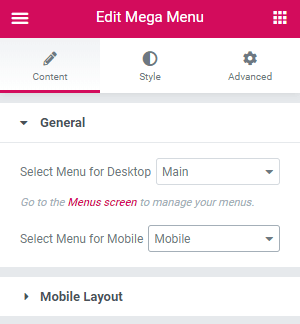 Why you'll love this option: each menu can be effortlessly styled in one place, no need to make every effort! You can save your and your visitors' time due to a well-thought menu structure.
Introducing Hamburger Menu widget
There are many cases when a mega menu better be displayed in the form of a Hamburger panel only. It looks minimalistic and very attractive, that's why many people use it both on the desktop and mobile.
The Crocoblock team developed a new Elementor widget called Hamburger Menu to meet those needs. It comes with the settings, which are nearly identical to the Mega Menu pack. Although we've got a very similar widget known as Hamburger Panel from JetBlocks, it's a totally different widget.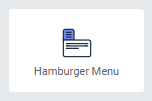 We've got a tutorial explaining how to use this widget.
User-friendly interface
The handy interface is an essential part of every plugin. We've done our best to make it more accessible and compact. With the JetMenu 2.0 version, we transferred the main settings to the JetPlugins dashboard. So, whenever you need to go through the plugin settings, just click on the corresponding icon.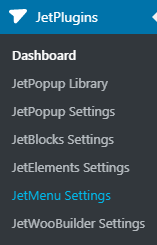 Here, you'll spot the option that allows you to load the mega menu content as AJAX. In case you want to use this option, make sure to enable it.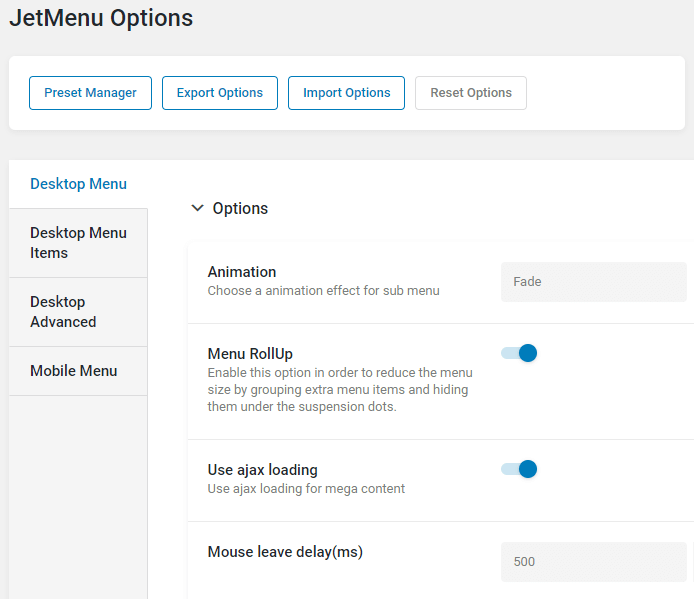 In need of the Preset Manager? In the 2.0 version, it will be shown in the form of a popup.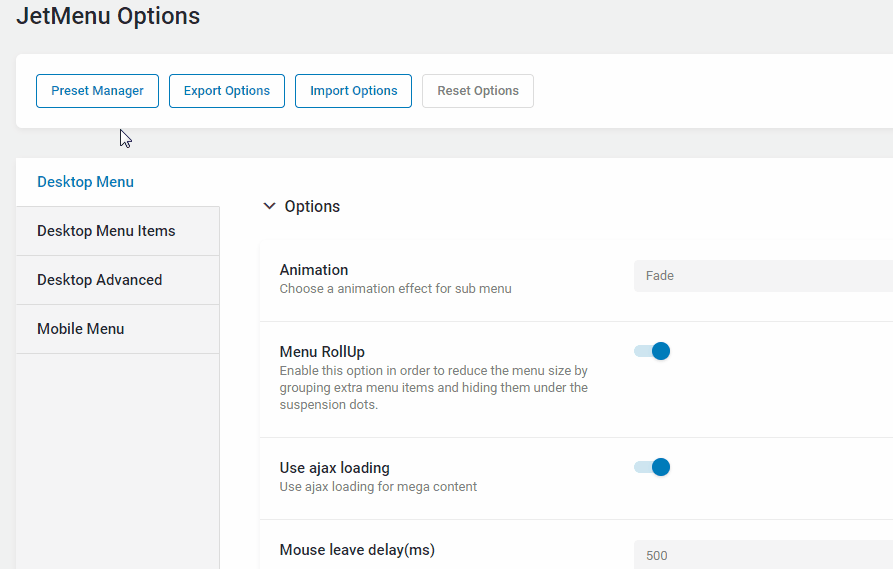 Besides, the FontAwesome is now up-to-date, and JetMenu features its 5th version, meaning you can use a larger number of icons for your menu.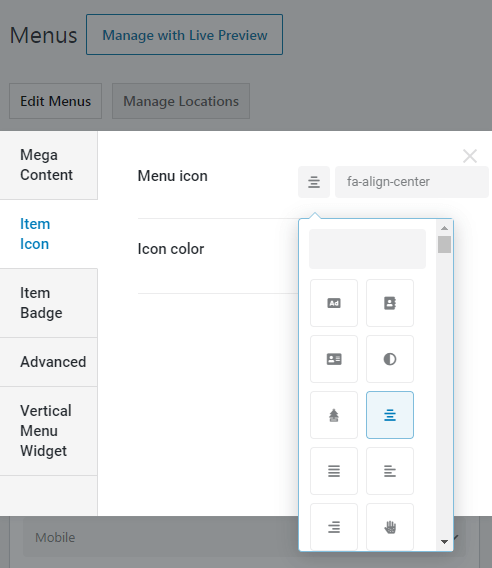 Last but not least, the Crocoblock developers have worked on the plugin code and made its refactoring. They removed all the unnecessary elements both on back- and frontend.
Conclusion
As you, guys, can see, JetMenu 2.0 is now more fabulous and functional than ever! It'll come in handy whenever you need a clear-cut mobile menu to guide your visitors and boost conversions. We've gone above and beyond to make the entire process both classy and painless for your users. Test it out and see if JetMenu 2.0 lives up to your expectations!