Crocoblock team continues working on Jet Family plugins based on clients' demand. This time we're going to outline a new feature of JetSmartFilters, called Indexer. This functionality will boost your filtering opportunities and make them more flexible and engaging. So, let's start!

What is Indexer?
This new feature helps indexing data of Posts, Custom Posts, Products, etc. The mechanism works the following way: the data is stored in a custom database table and is retrieved very quickly, showcasing only relevant selections on the frontend. The other non-relevant ones are either hidden or disabled (behavior adjustment is made in the filters widgets).

Indexer option can be found in Elementor > JetSmartFilters Settings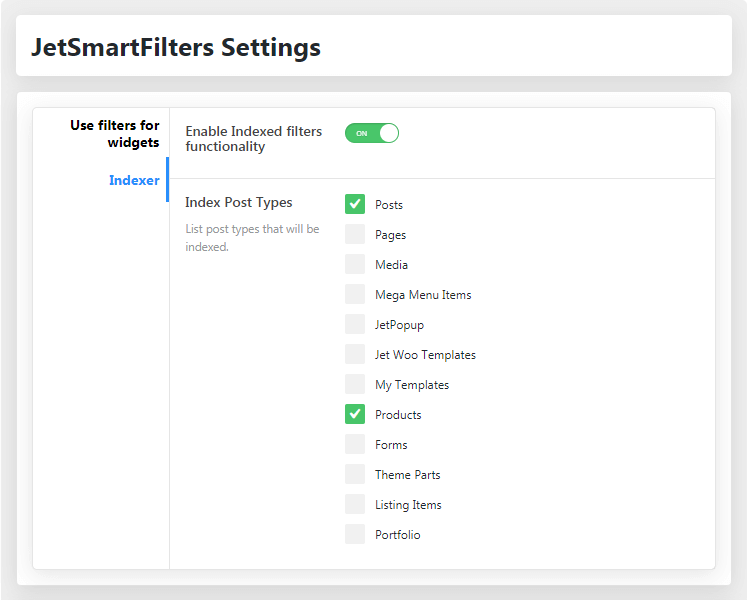 Here you have the opportunity to enable the functionality itself and select the Post Types needed to be indexed. One of the most popular niches of using filters is an E-store, and it's crucial to toggle Products post type. When everything is done, you can proceed to create your filters by means of JetSmartFilters plugin. To learn more about how to manage the filters, check these tutorials.
Index Filters Button
Once you navigate to Smart Filters block on the WordPress dashboard, you will notice an eye-catching button called Index Filters.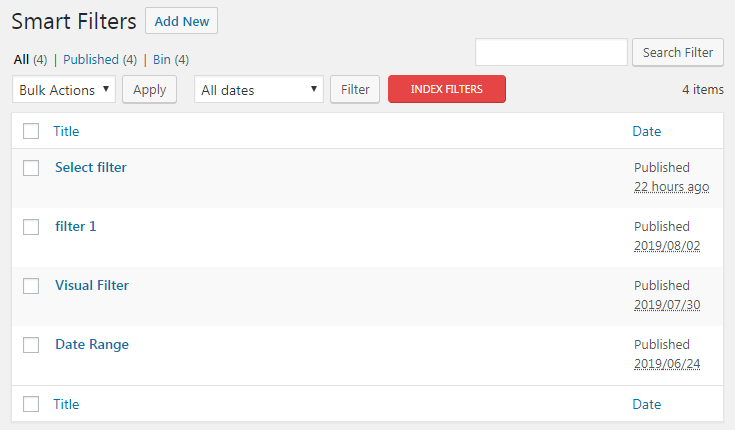 It enables the indexation process and transfers the changes you've made to the database. This means that it's obligatory to click Index Filters button not only after you finished managing the filters, but also in case if you made any changes with the Products or other post types, which should be indexed.
NOTE!
Indexer option is available only for Checkboxes Filter, Select Filter, Check Range Filter, Visual Filter, Radio Filter widgets
Indexer Options in Elementor
The next step of adjusting the filters is working with the widget in Elementor editor. With the Indexer enabled, filters widgets inherit additional block, where you can set up the options up to your needs. Let's take a closer look.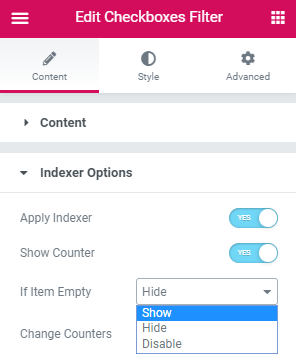 Apply Indexer allows to apply the indexation to the filter. If it's disabled, indexation won't go through.
Show Counter option lets displaying the number of products (or posts) in each category.
If Item Empty dropdown list offers to choose whether the categories with non-relevant products will be shown, hidden or disabled.
Also, here you can choose whether you need the counters' data to be changed after filter is applied. Select the best suiting option from the dropdown list, as shown below: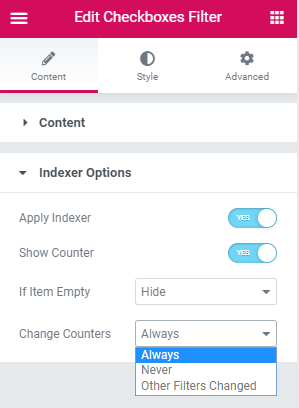 As you may see, everything is pretty much easy! Just a few clicks and your filters will become much more workable.

JetSmartFilters plugin continues evolving and in the future, we're going to enrich it with the extended options. Have a bit of patience and follow Crocoblock updates!