Once you've purchased the Crocoblock subscription, you get everything for creating websites in one powerful package made for becoming your constant asset in creating versatile projects.
However, sometimes, when one starts working on a low-budget project, it's hard to afford the whole subscription, especially when you don't need the full Crocoblock kit for creating, e.g., a landing page, or a portfolio.
Right now, with Extras block in place, you won't have to decide if you've got enough costs to cover the expenses and get the full Crocoblock subscription (though, it's very convenient to have one at hand, and the subscription might indeed save lots of money in the future).
Now you can get Jet plugins in which you're the most interested, at a moderate price, as separate items – and none will be the wiser.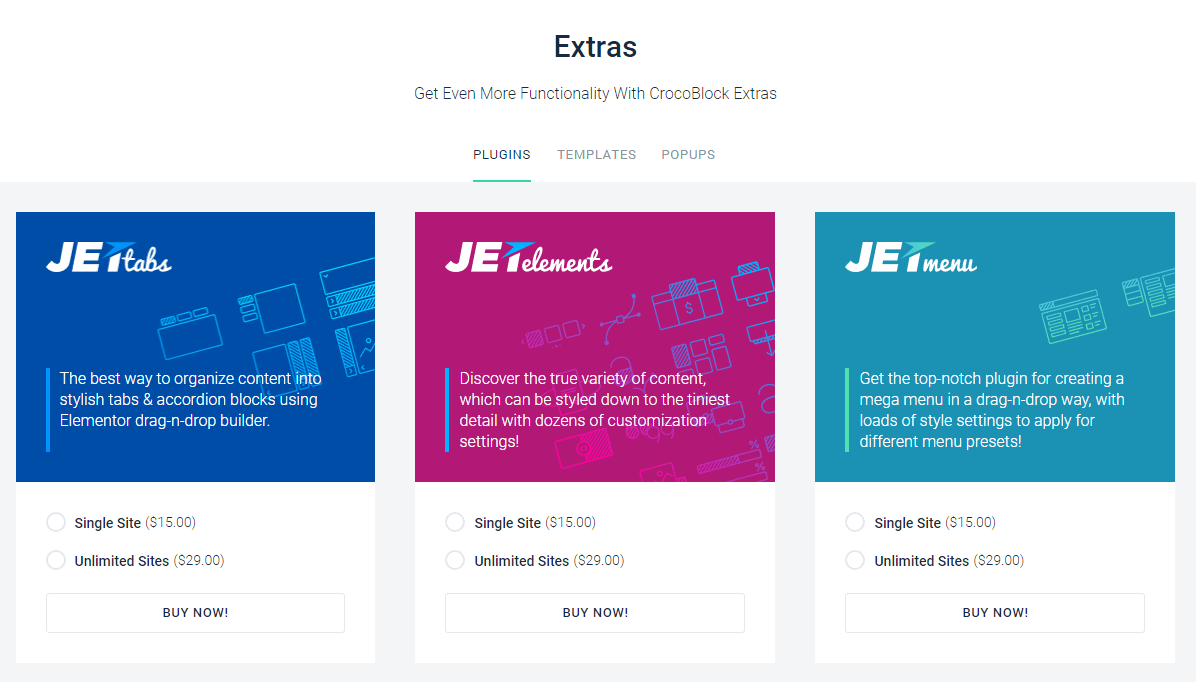 Actually, this is the best option for small projects and for the developers who only start working with Elementor and are not confident if they need the full power of Crocoblock to get the work done.
This is also the best option for those who want to try out some of Jet plugins before making the final decision toward purchasing the Crocoblock subscription.
Another great news is that within Plugins there will be even more extra items available for purchase, made for CrocoBlock plugins. Here you'll be able to find the specific additional .json templates for JetPopup plugin, more of WooCommerce Shop and Product page templates as well as the templates for JetEngine plugin, that already contain the needed relations and custom post types as well as all the required templates for the specific topics, such as Services, Projects, etc.
More Popup Templates
Once you've got JetPopup plugin, you can choose from lots of the default popup templates already included in the plugin. However, sometimes you might need the very specific templates that are missing from the general presets list.
In this case, the best option is to get additional popup templates for JetPopup plugin within the Crocoblock Extras.
Here you'll be able to find the needed templates, choosing from dozens of pre-designed popups made for your utmost convenience.
The additional templates for popups are to roll out in a month. Right at the moment Crocoblock team is still tirelessly working on adding more gorgeous templates to choose from.
E-Commerce Models for Shop and Product Pages
While working with WooCommerce and JetWooBuilder, you don't always get it right, especially if you don't have enough experience as a web developer.
However, there is no need to avoid the projects that require WooCommerce. Very soon Crocoblock Extras block will be providing lots of stylish template sets for online stores, dedicated to different topics. Here you'll be able to find the Single Products pages as well as Archive and Shop page templates already ready-for-use.
The e-Commerce models will come out shortly after the popup templates and will become a huge asset for everyone creating online store projects.
Dynamic Models for JetEngine
Another soon-to-come extra will provide an easy way to create Services, Projects and Team members blocks using the ready-made templates that already include all the necessary relations. Such templates are easy to edit and manage and will be immensely helpful for everyone working on more complex projects.
Feel free to explore Crocoblock Extras, whether you're already a seasoned Crocoblock-user or just want to get one of the Jet plugins as a standalone item apart from the subscription. In both cases, the Extrasblock provides an extensive set of Jet plugins and extensions to choose from.