It is never easy to announce changes, especially when it concerns the existing pricing policy. We are aware that the price increase can`t be pleasant for a customer. But before you start posting comments with expressive words and angry emojis I would like to explain how we ended up with this decision.
Spoiler: the pricing changes won't affect Crocoblock current clients 🙂
A quick walk down to the memory lane. In 2017 we created the first version of JetElements and released JetBlog, JetTricks, JetMenu, and JetPopup a little bit later.
From the very beginning, our products were in demand, and eventually, the users asked us to pack JetPlugins into some form of subscription. Priced reasonably for that time, the subscription sold well and paved the way for other add-ons to be developed (a big thank you to our early-adopters).
Two years later we have 18+ plugins. They are nowhere near the 2017 level and our future roadmap is even more ambitious. The truth is that the current pricing model no longer fits with the new products that we want to add to the table and the future functionality improvements. More importantly, it won't help us to implement that roadmap ambitions.
So, after months of discussions, we`ve decided to: rearrange the plans, set a higher price on a Lifetime set to better reflect the value of it, and add more products to the current subscriptions.
Let`s see exactly what I am talking about
Starting from today each and every All-inclusive set owner will have access to "Extras" which include:
What are Dynamic Templates?
Basically, they are pre-made websites powered by JetPlugins and created for different business niches. The difference between Dynamic and Design templates is that dynamic websites are pre-coded. All relations are set, all filters working, custom post types, and taxonomies adjusted. Make some customization and voila— the fully working site is good to go.
Currently, we have 7 dynamic templates that will be available free of charge for the lucky All-inclusive owners (Yearly and Lifetime).
Cardealer — template for a car sale marketplace.
Balirento — template for property bookings.
Cutcloud — template for a barbershop website.
Medcenter — template for a medical center website.
Rentgo — template for car rental site.
Foreo — template for the mini-hotel site.
Grandhotel — template for a hotel site.
Templates for real estate agencies and spa salon services will be released in the nearest future.

The Crocoblock clients who already have a Lifetime set will get dynamic templates automatically. We also took care of the installation process. Everything is smooth and clear thanks to the Installation Wizard.
The functionality of every dynamic template will expand as the JetPlugins are constantly updating.

As for the Design templates, I think you are already familiar with the concept. They are just like any other templates for Elementor and serve mostly for visual customization. Nevertheless, it is a nice addition to the Crocoblock subscription as well as the Interactive Popup Library. Which I encourage you to check because you won`t find a similar solution for Elementor anywhere on the market 🙂
Now, that we`ve talked about the product improvements let`s once again go back to our pricing
Like I said, for Crocoblock current clients nothing changes. Your renewals will be charged according to the prices you bought Croco products initially. All changes in pricing will affect set upgrades and the new Crocoblock clients.
To make the plugins set more task-oriented we`ve changed the structure a bit.
Today we have sets of Design and eCommerce plugins in a yearly subscription. The Multi-Tool set ended up with the name Dynamic since we excluded all non-dynamic plugins to differentiate it from All-inclusive. I honestly think that it makes more sense to divide our products this way. We also added the 1 site license for the All-inclusive option.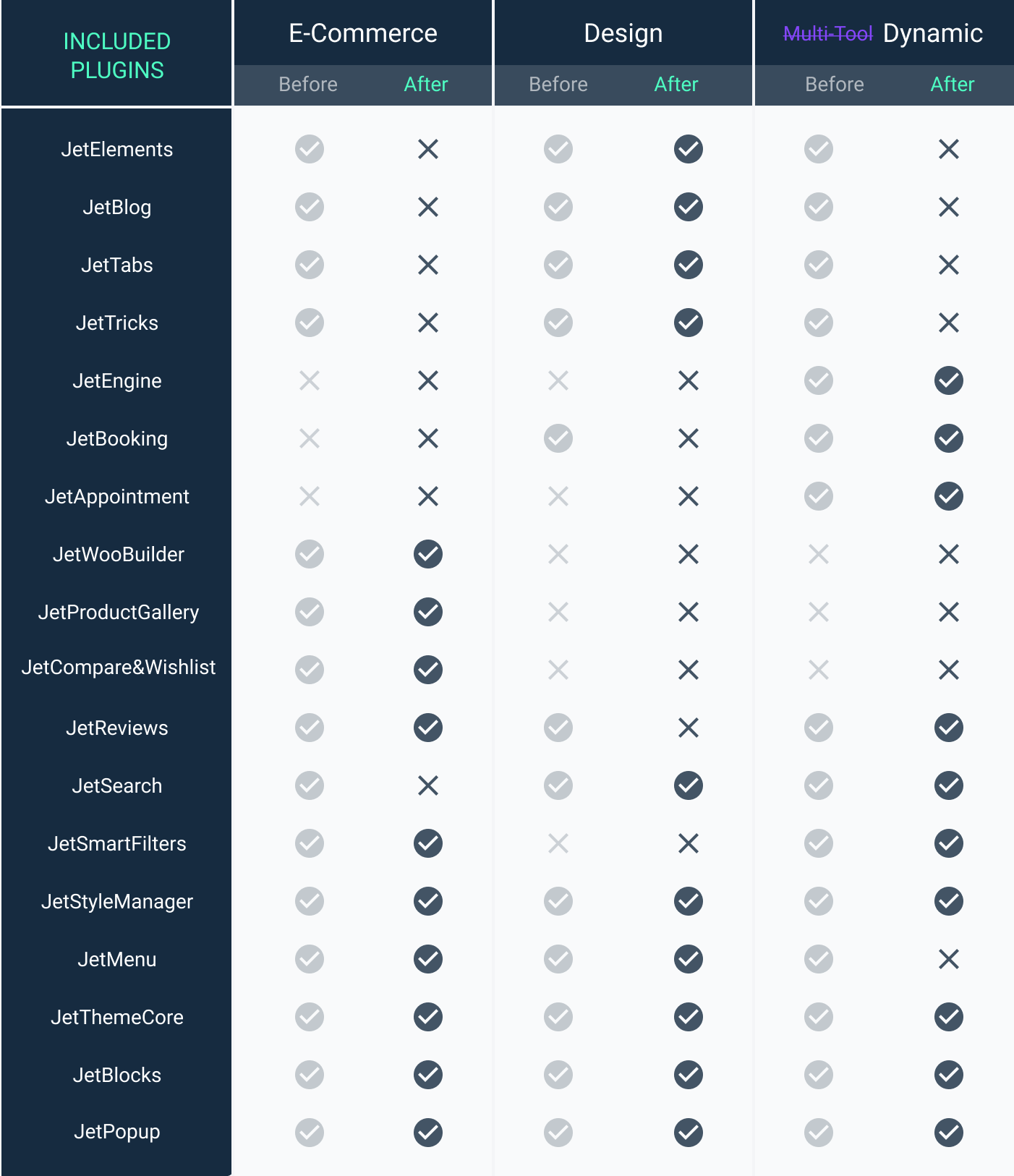 The logic of forming the price for sets was simple. We took the cost of all separate plugins included in a chosen set and subtracted 50%.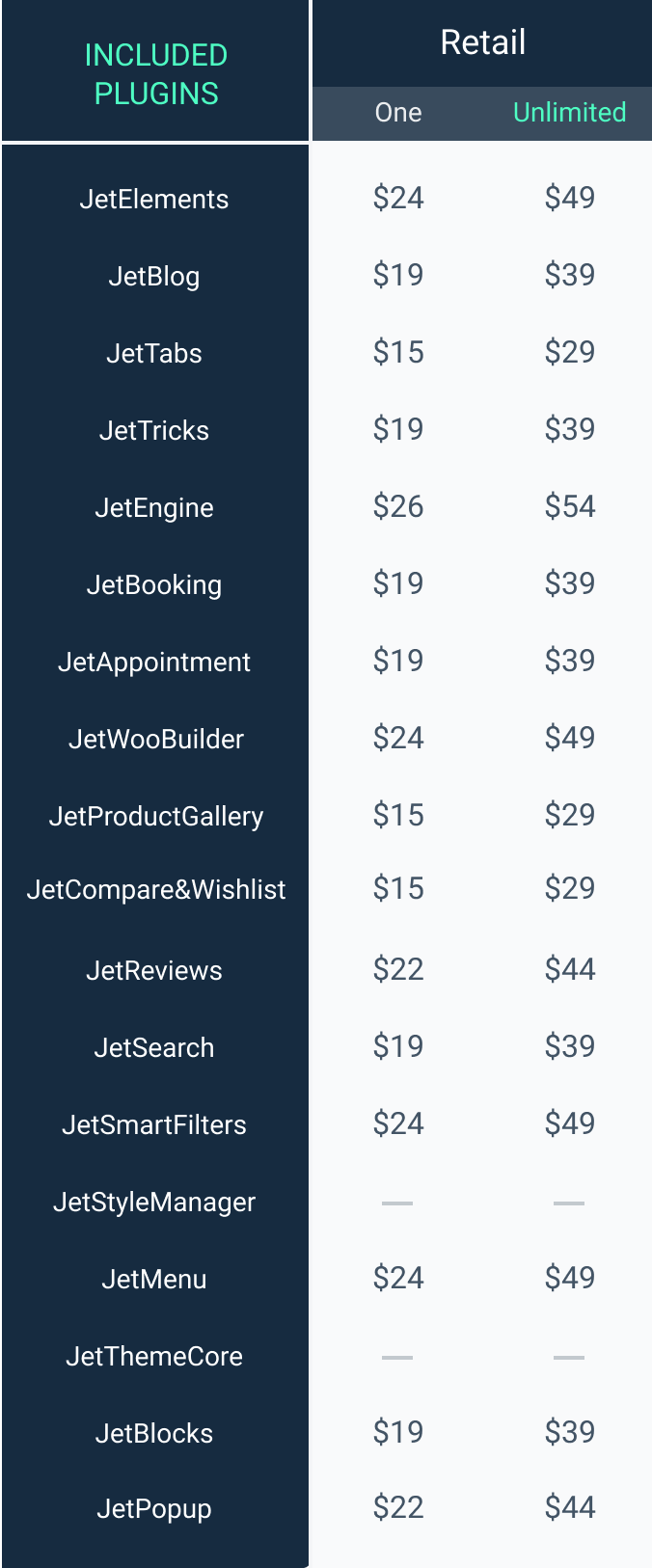 For example, if you buy all plugins that are included in the Dynamic set separately, the final price is $175 for the unlimited license. If you buy the same plugins within the Dynamic set, the price will be $85 ($175 – 50%). Moreover, If we take a look at the All-Inclusive sets: you get all plugins with a total 60% OFF.
Let's see how it works on Crocoblock example of yearly sets (single license).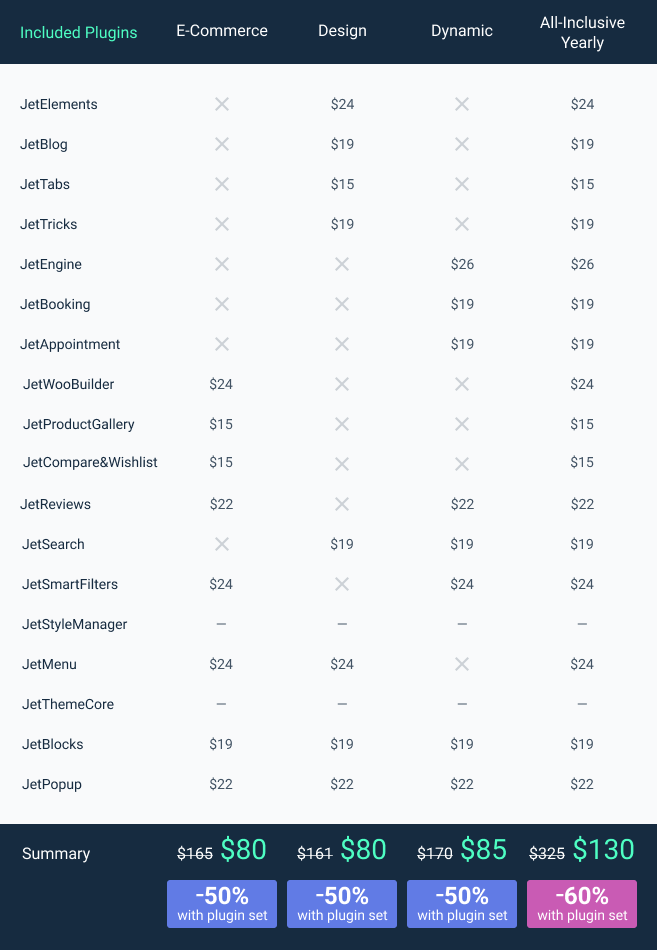 And yes, we are aware that $749 for a Lifetime is a big investment. However. Lifetime support, lifetime product updates, an unlimited number of web development projects and the future added functionality is 100% worth of it.
Those users that a while ago decided to invest in All-Inclusive Lifetime now have unlimited access to a more powerful Crocoblock toolkit for significantly less amount of money. If you own a web development agency or are a freelancer with a lot of projects, Lifetime set is still very advantageous and will be paid off in the near future.
Before we set the price we`ve tried to compare our functionality to other offers on the market. We are still in process, but the comparison table for the dynamic set is already live, so you can check it out ?
The final word
The rise in price is necessary for the future development of Crocoblock products. We see JetPlugins as a very promising product for web-developers. Especially, when we talk about the rocket JetEngine, JetAppointment, JetBooking, and JetSmartFilters. We have an infinite roadmap, inspired by our community members and I promise you that we`ll implement most of your suggestions in the nearest future.
I am very grateful for your support during the Crocoblock journey. I'm also sure that the rework of the existing and established system will lead to tremendous results. Many thanks go to the future clients who will decide to choose Crocoblock after the change. And also a big thanks goes to Crocoblock's competitors that never let us relax and chill.
Yours,
Andrew Andreyev
CEO of Crocoblock