What's in the House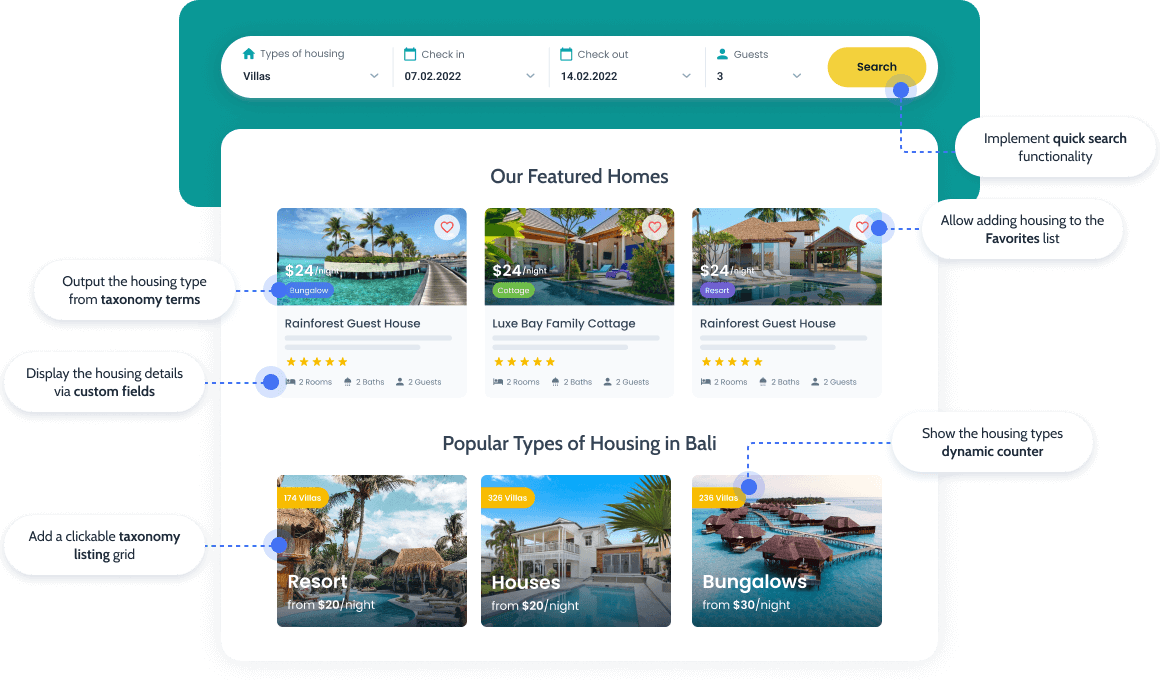 Housing
and Host Pages
Design all home rental pages for a travel booking
website in one place using Template Builder.
Provide the host's details and contacts
Allow visitors to leave reviews and comments
Query all listings posted by a certain host
Provide housing details and terms
Let visitors rate hosts and their housing
Showcase similar rental listings
Add a video & photo gallery to the housing page
Incorporate sticky contact and booking forms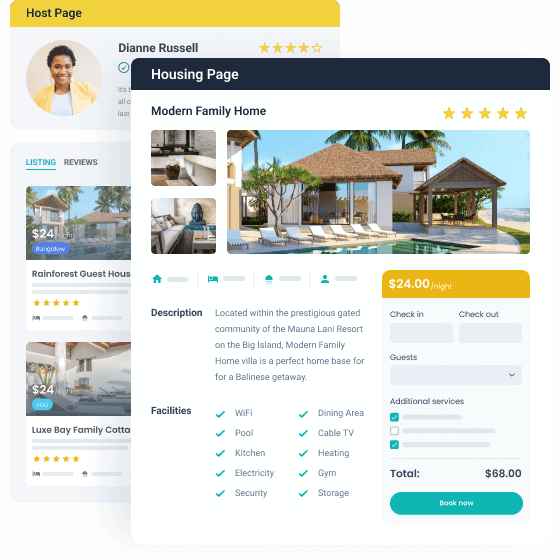 Housing Catalogs
Put together the scattered home rental ads to get a clear-cut filterable catalog.
Adjust one listing item & apply changes to all ads
Add pagination to the housing catalog
Indicate the housing type via taxonomy terms
Output available housing as a grid, list, and on the map
Sort the listings by recommended, price, date, top offer
Customize the housing listings and archive pages
Attach the "Top Offer" badge to some housing ads
Showcase the housing details dynamically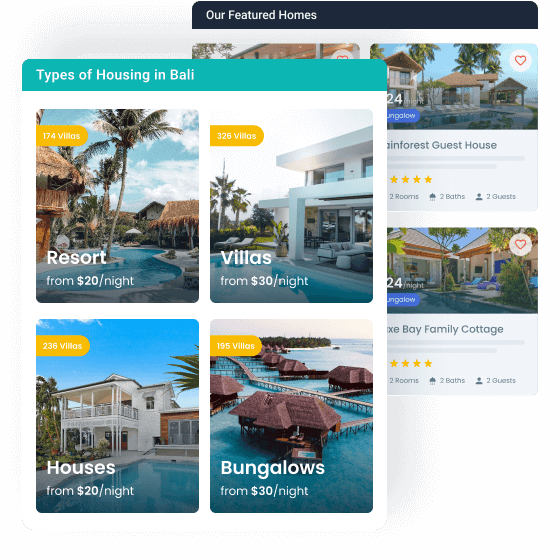 Facilitate the Filtering Routine
Create smart
filtering and sorting tools
Let potential guests find the best housing by various parameters: price, rating, facilities, date, and more.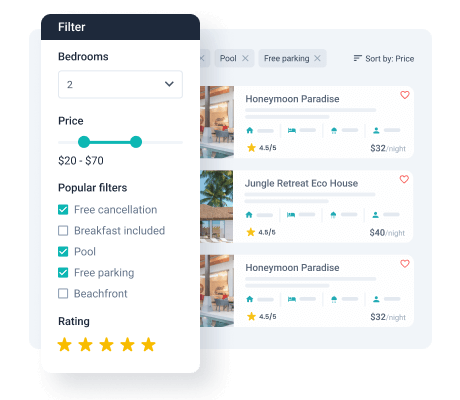 Present housing
on the Map Listing
Use the Additional Providers option to output and locate home rental offers on the map.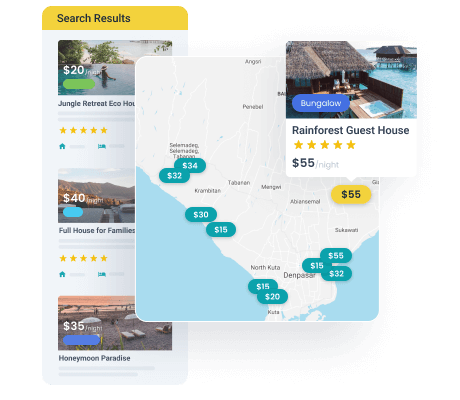 Profile Builder
Define user roles and streamline online interactions
between hosts and guests.
Build account pages for hosts
Allow hosts to post new listings & edit them
Add a ready-to-edit profile menu and logout form
Showcase related listings on the host's single page
Show active, pending, and deleted home rental ads
Add a contact form to the host's profile page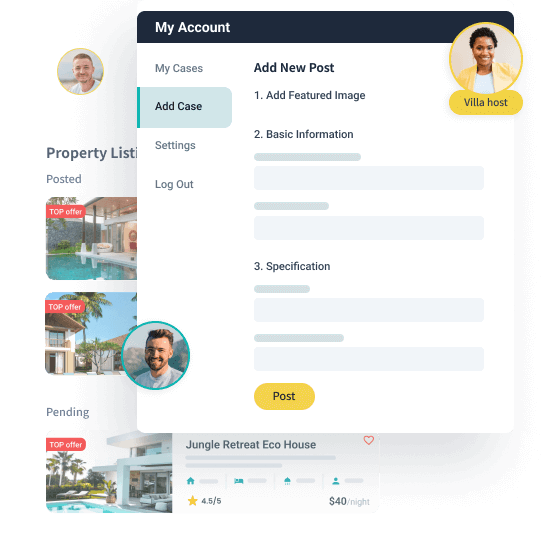 Booking Functionality
Enable the guests to book a stay effortlessly via convenient reservation forms.
Enable both per-night and long-term bookings
Use pre-configured calculation formulas
Show available and booked dates on the calendar
Accept payments through WooCommerce checkout
Provide extra services priced individually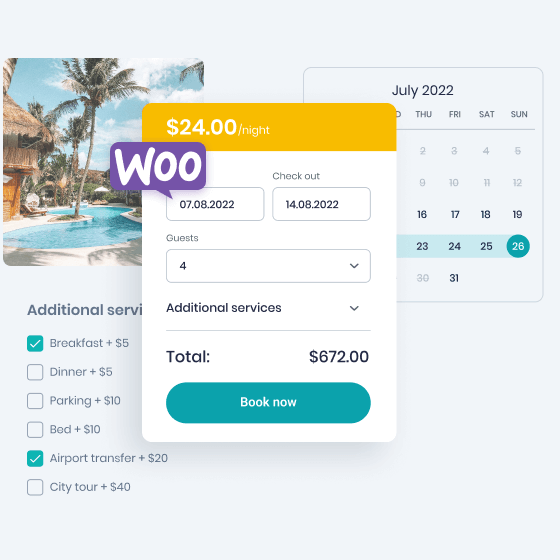 Vacation Rental Template Dynamic Features
Why Crocoblock & Dynamic Templates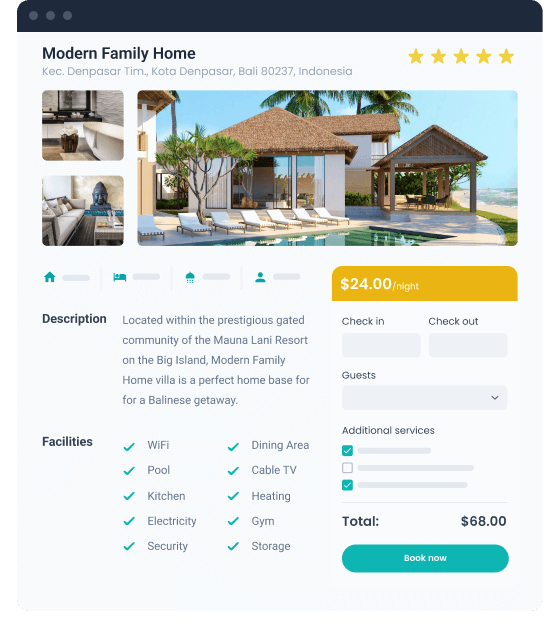 A collection of skins, plugins, and pages that you might probably need—that is not about BaliRento. We only packed what's essential for this specific development journey.
Whenever it comes to website speed optimization and easy setup, adopt the "Less is more" approach. You won't be wasting time on the clean-up since the template is properly stuffed. With Crocoblock, you'll build the best travel booking website out there.
Crocoblock templates are not rigid. Quite the opposite – feel welcome to modify page structures, edit user accounts, intermix listing grids, adjust the dynamic data, and add whatever you need. We give you the opportunity to experiment freely; just use it.
The BaliRento website template is powered by JetPlugins' functionality only. As a result, you get a set of 20 perfectly matched add-ons for Elementor and Gutenberg, developed by one team.
Why buy plugins separately if you can get them all at once for less? Crocoblock offers you a complex solution—plugins for CPTs, menu plugin, filter plugin, and add-ons for visual effects, all combined in one vacation rental template. Thus, you pay only for niche-relevant features and cut down extra costs.
It can be frustrating to contact several support teams about different products involved in your project. Our team is always there for you, ready to put you on the right track and cover all arising queries. We're connected to all possible messengers, so feel free to find us online.
Choose Subscription
30 days money-back guarantee
For more details on the Subscription proceed to the Pricing page
Already Got Crocoblock All-Inclusive?
Install and activate the plugin
Follow Wizard's instructions