Vehicle Single Pages
No need to design all ad pages for your rent-a-car website independently.
Our Template builder can save your nerves and time.
Single template for posts
You can modify the desired parameters and apply them site-wide in no time. The attributes will be pulled out from the admin panel automatically.
Custom fields
Typical custom fields for pages with cars available for rent are totally work-ready.
Custom Post Types
Pre-made custom post types for car rental ads are ready to be categorized. Add "Vehicle Class" and other required ad groups.
Vehicle Catalogs
Present the car rental ads as a straightforward filterable catalog.
JetEngine covers dynamic meta, booking forms, and layouts.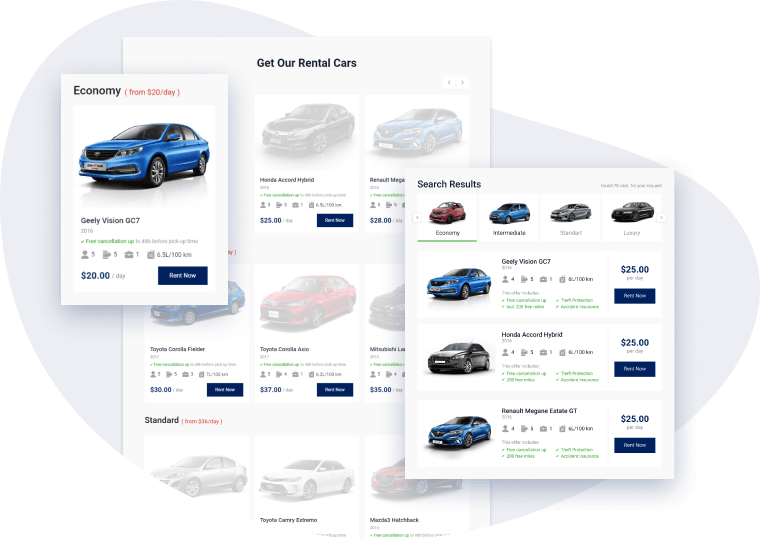 Archive templates
Discover the pre-designed templates for vehicle catalogs. Customize them as you like and add the ready-made Header & Footer to complete the core website design.
Taxonomy
All specifications and parameters for the car rental offers are set in the admin panel and then can be either pulled to the front-end through Dynamic widgets or used as filtering attributes.
Listing Grids & Layouts
Find inside Listing Grids for "Search Results," "Get Our Rental Cars," and other content groups needed. You can also form new content categories easily and display them within different layouts.
Advanced Filters
Finding the best rental car requires lots of filtering, but we've got you covered.
Use JetSmartFilters to build multi-level filtering tools.
Built-in AJAX filters:
Quick search filter
Category-specific Checkbox filters
Range filters for quantifiable attributes
Extra filtering features:
Pagination
Search button
Reset
Indexer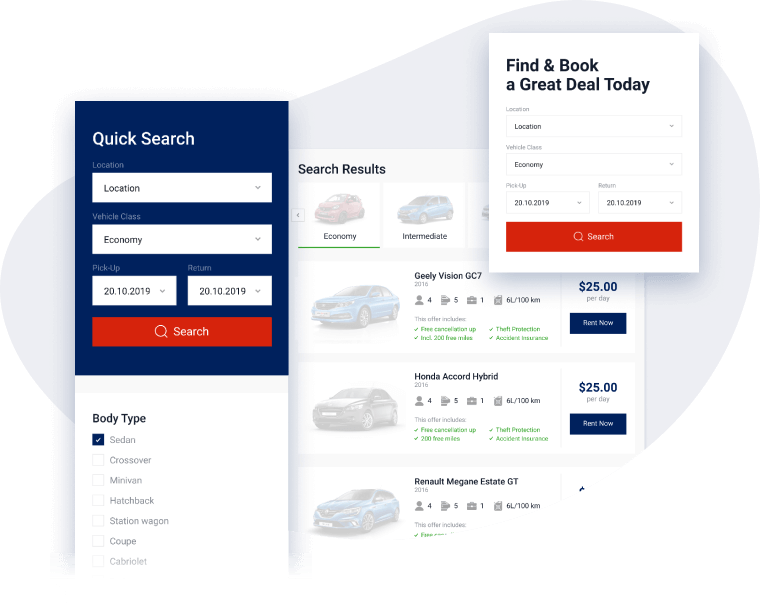 Booking Functionality
Empower the clients to grab the best car rental deals using the inbuilt booking forms.
Explore JetBooking to implement step-by-step reservation forms.
Learn more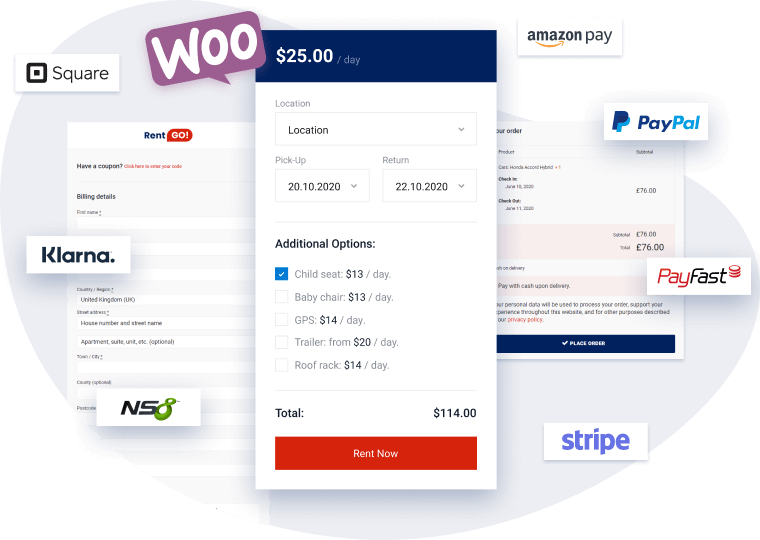 WooCommerce integration
Benefit by a pre-configured WooCommerce checkout and handle all payments effortlessly.
Custom booking settings
Link up JetBooking and Google Calendar (Zapier, iCal, Integromat) to automate the processes and easily track all appointments.
Wizard setup
Enjoy our step-by-step Wizard functionality and manage the booking settings fast and easy.
Weekly rentals
We made it possible to set the Pick-Up — Return dates, letting your clients rent any vehicle for as long as necessary.
One-day rentals
If a car is needed for a little while, the RentGo functionality allows car enthusiasts to rent any vehicle on a daily basis.
Why Crocoblock & Dynamic Templates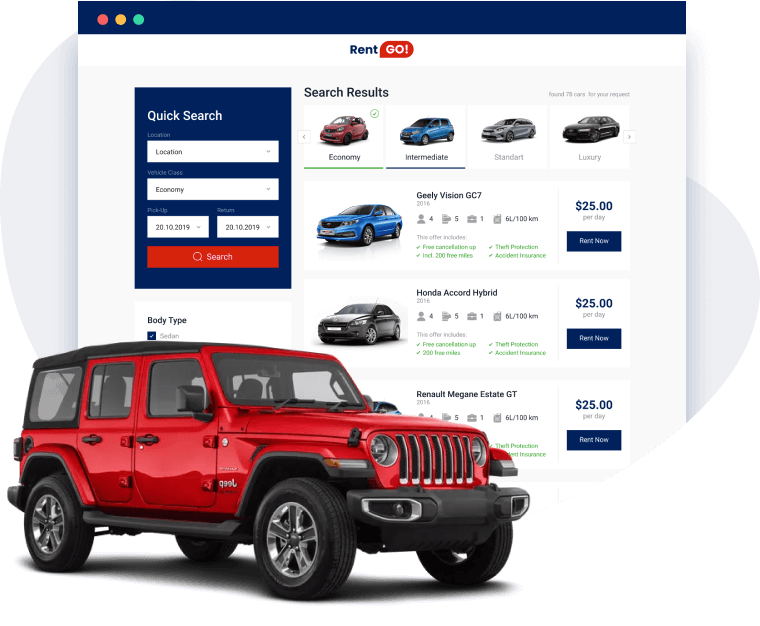 A truckload of skins, needless pages, plugins that "might come into play" someday. That's not about RentGo. It's packed with the essentials for this very development journey. To optimize the website speed and simplify setup, we adopted the "Less is more" approach. Unpack Crocoblock and build the greatest rent-a-car website out there!
With Crocoblock, you are free to play around with the default template logic. Change page structures, adjust the dynamic data, edit user accounts, mix listing grids, and do anything else you might need. We want your project to pop, so feel free to get creative.
This car rental website template was crafted using JetPlugins' functionality only. It follows that you acquire a set of 18 matching Elementor add-ons with a holistic interface, all developed by one team.
Got a complete solution? If not, you'll have to pay for all core plugins, as well as add-ons for visual effects separately. Our all-in-one car rental website encapsulates only niche-relevant features, which means you get a workable development project for a reasonable price.
Contacting numerous support teams about several products involved in your project is a challenge beyond all measure. We don't want any confusion, that's why all Crocoblock-related queries can be resolved in one place. Our team has got you covered nonstop and replies fast via all messengers.
Choose Subscription
30 days money-back guarantee
For more details on the Subscription proceed to the Pricing page
Already Got Crocoblock All-Inclusive?
Download Wizard from
your account
Install and activate the plugin
Follow Wizard's instructions
Enjoy powerful templates