Present statistical results of surveys on your website using horizontal or vertical bars with different heights or lengths, which are corresponding to the values. Display and compare the frequency, amount or measure clustered into categories in a graphical way using the Bar Chart widget of JetElements plugin.
Customization of Bar Chart widget
1 Step – Enabling the widget in WP Dashboard
First of all, enable the Bar Chart widget in the Elementor > JetElements Settings > Available Widgets block in the WP Dashboard.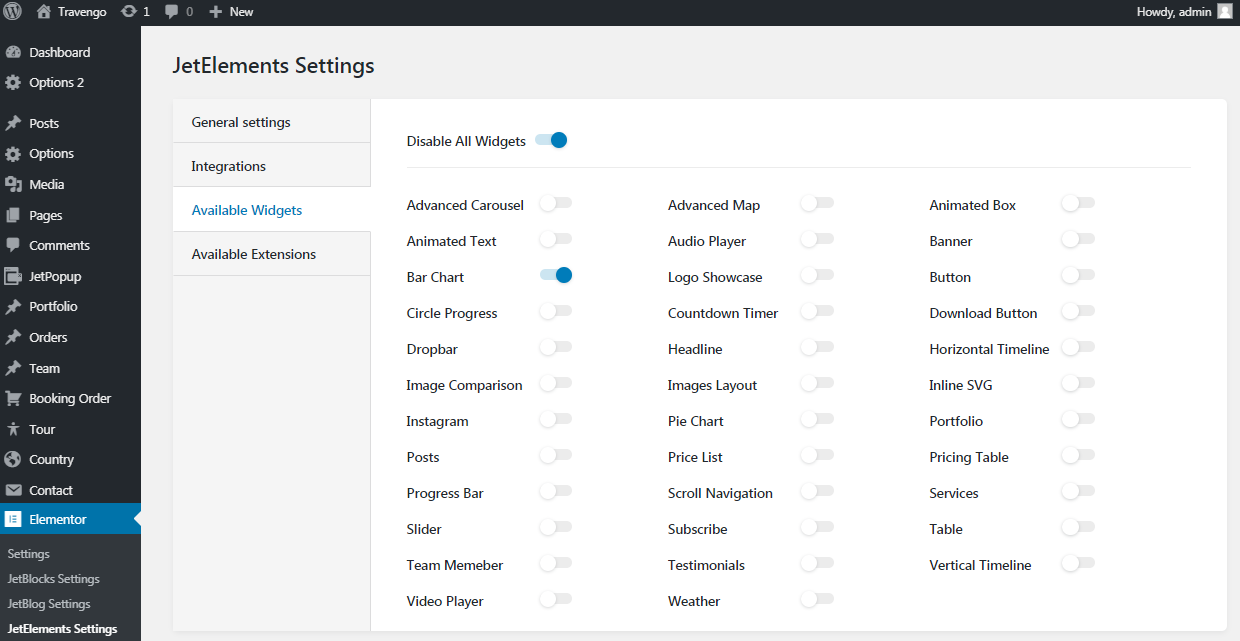 2 Step – Drag and drop the widget in Elementor
Open the page in Elementor editor, find the Bar Chart widget in the panel with widgets and drop it in a certain place.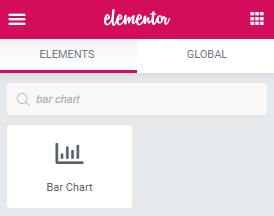 3 Step – Content tab overview
You can see the widget's settings block on the left. In the Content tab there are two sections, Chart Data and Settings. You are able to select a bar type (horizontal or vertical), write labels and add an appropriate number of items included in the chart.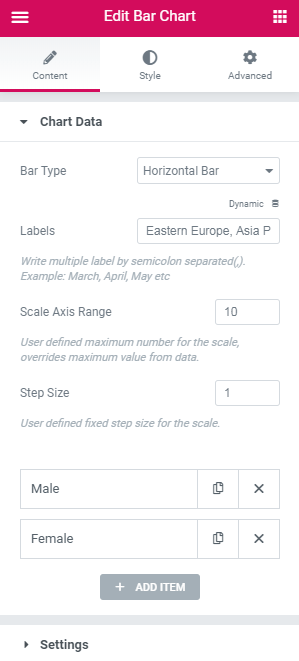 It is possible to customize each item as you want. Click the item and the window with available adjustments will appear. You need to specify the label and enter the included data in the Content tab.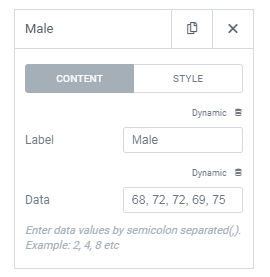 Switch to the Style tab and design color for background and borders here.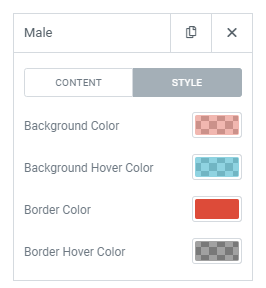 5 Step – Settings section overview
There is the Settings section below. Here you can determine the chart height, enable the Grid Lines option for displaying a grid on the background of the chart. Also, you are able to turn on showing the labels and tooltips.
Moreover, in the Legend subsection it is possible to set the options for the legend, such as Display and Position. Enable the Revers option for showing datasets in reverse order in the legend.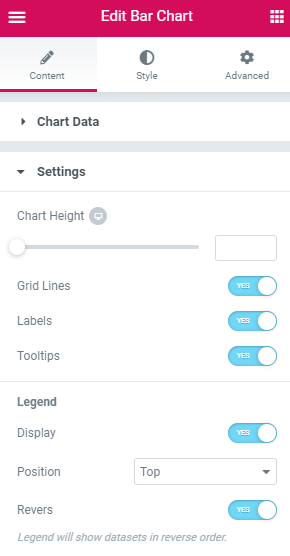 6 Step – Styling the widget
If you click the Style tab on top you will see a lot of style settings for the chart, labels, legend and tooltips. You can define the font settings, border width and pick colors.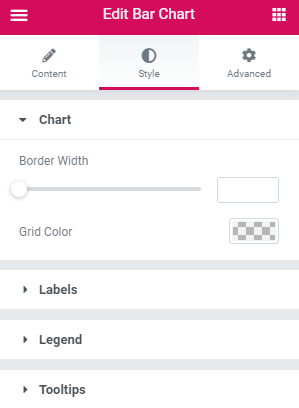 7 Step – Viewing the result on the frontend
When you finish setting the widget, click the Update button and view the chart on the frontend.

Hope, this tutorial was informative for you. Group the data and demonstrate them in the form of a graph with bars using JetElements Bar Chart widget.