WooCommerce Recent Products widget allows you to showcase all your recently added products on your website. This widget is very useful for your Home Page when you want to draw your visitors' attention to certain products.
Look through this tutorial in order to get to know how to add recent products to your pages built with Elementor using WooCommerce Recent Products widget.
Adding WooCommerce Recent Products
Step 1 — Firstly, open the needed page and drag-n-drop the WooCommerce Recent Products widget to the section where you want to place it.

Step 2 — After that, you will see all your recent products. The great thing here is that Recent Products can also include Featured Products, Top Rated Products, Sale Products, and Best Sellers.
Step 3 — In the Content Settings block, you can choose the number of Products per page, set the number of Columns in which the products will be organized, and select Descending or Ascending Order for them.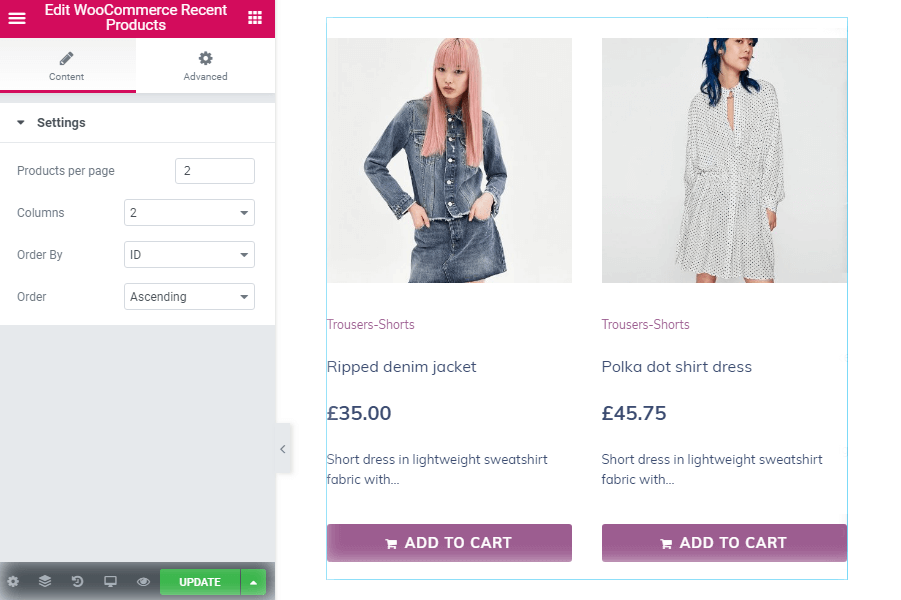 Moreover, you're able to order products by ID, Name, Date, etc.
Step 4 — After everything is done you can save the changes and click on the Preview button to see what your products look like on your website.
Congrats! That's all you have to do to add recent products to your online store using WooCommerce Recent Products widget.