Let's find how not only to display the content within Listing Grid widget from JetEngine plugin, but also in Masonry layout to make it look more stylish.
Preparations
1 Step – First of all, you should create the Post Type and then add several posts that you want to be in this type. Read here how to perform it.
2 Step – Then you should go to WP Dashboard > Plugins > Installed Plugins and check is the JetEngine plugin is updated or not. If not, click on the Update now link to activate the newly added changes.

3 Step – Next, you might create some additional information to the posts with Custom Meta Fields and Taxonomies. How to do it, follow the links to read the tutorials.
4 Step – Now, you should add the listing and with the help of Dynamic Widgets display the information you want to be shown. Follow the link to learn more about it.
How to display custom posts in Masonry layout
1 Step – Open Elementor editor with the added Listing Grid widget.
2 Step – Go to the Content > General tab.
3 Step – Here you should toggle on the Is masonry grid option.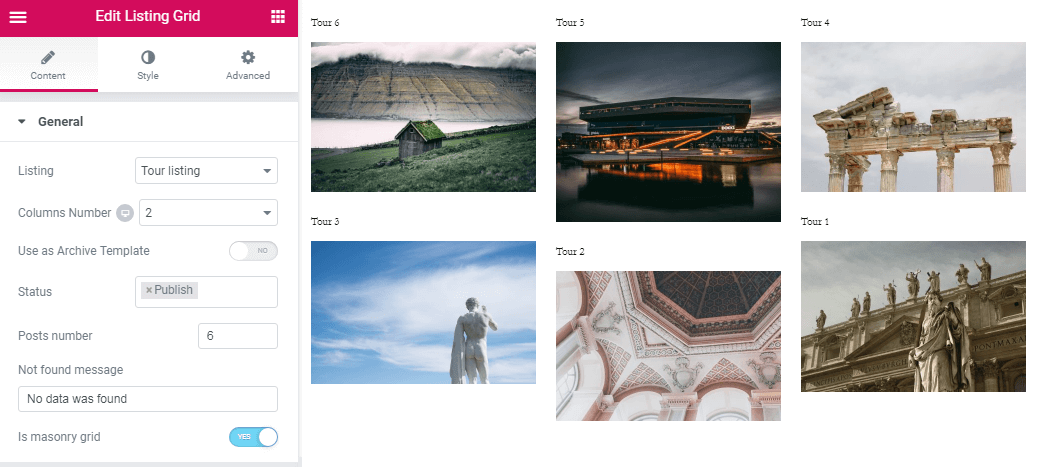 That's it!
Don't forget to update the installed plugins. It will allow you to adjust the weekly added modernizations.