Let visitors disable applied filters with the help of Active Filters widget of the JetSmartFilters plugin.
Enabling visitors to disable active filters
Step 1 – First of all, you need to open the page, where you have filter functionality, in Elementor editor.
Step 2 – Then, add Active Filters widget to the section, where the filters are. Note, there should be at least two filters for the correct work of the widget.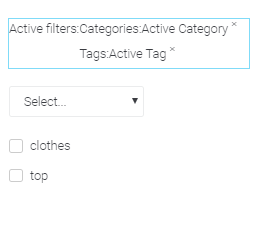 Step 3 – The settings block of the widget appears on the left right away. In the Content tab, you have to specify the elements, which you want to display the active filters to. Also, you can set AJAX or Page reload apply type, define the label and use the Query ID option for specifying which filter is applied to which widget, in case you are showing some filters and showcasing some listing grid or products grid on the page.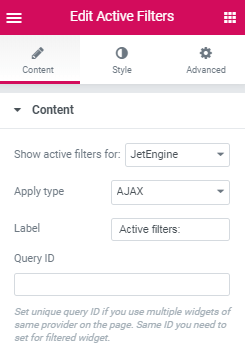 Step 4 – Style tab provides varied adjustments for customizing Active Filters widget according to your purposes. Here you can style the title, filters, and items of the widget. Don't forget to save the changes.
Step 5 – Now you can open the page and view how it works. Select an option in each filter and you'll see the Active filters section with applied filters. To disable them you just need to click a cross icon near the name of the active filters.

Great! Now you know how to display active filters and allow visitors to disable them using JetSmartFilters plugin.