Inbuilt Membership Plugin for WordPress
A JetEngine feature that helps to start a membership site.
Buy from $43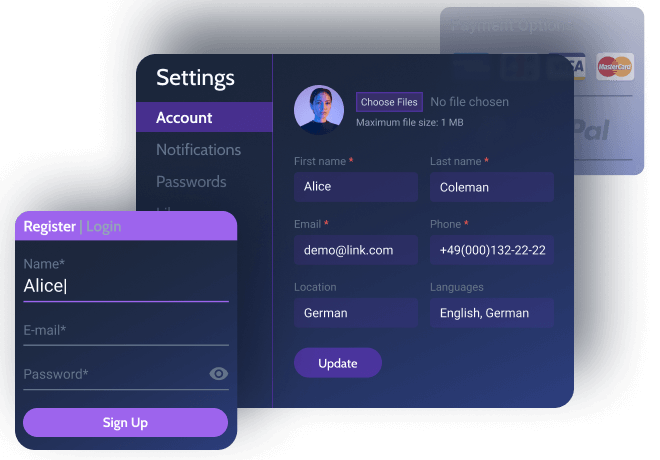 Steps to Build a WordPress
Membership

Site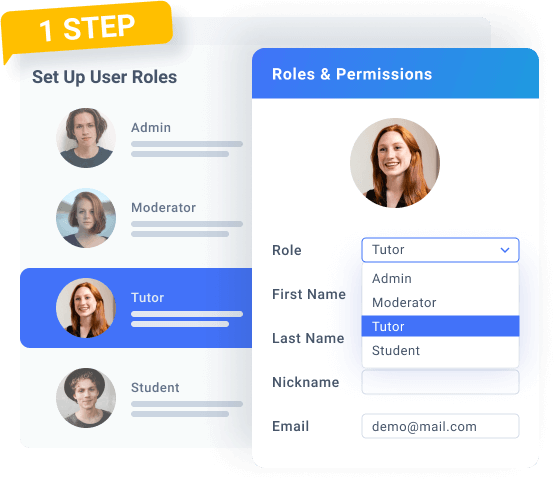 Set up membership levels
Create a WordPress membership site following these basic steps: grant access to the site via forms, think over the user roles, and welcome newcomers.
Assign different membership levels to User Roles
Import/export user profile presets for a quick start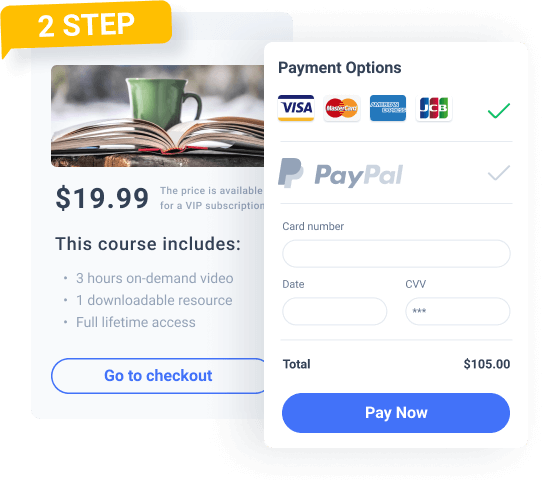 Configure payment options
Set pricing plans based on the membership level. Pick the method that suits your needs: PayPal, Stripe, or WooCommerce payments.
Add Stripe to your membership form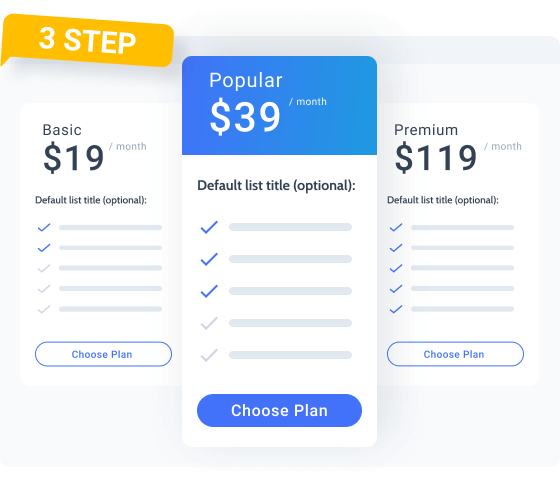 Create forms and build pages
Build a Pricing page to offer all plans and a Checkout page to process payments. Add forms to make it easy for visitors to sign up and log into your membership site.
Set up custom multi-step Login and Registration forms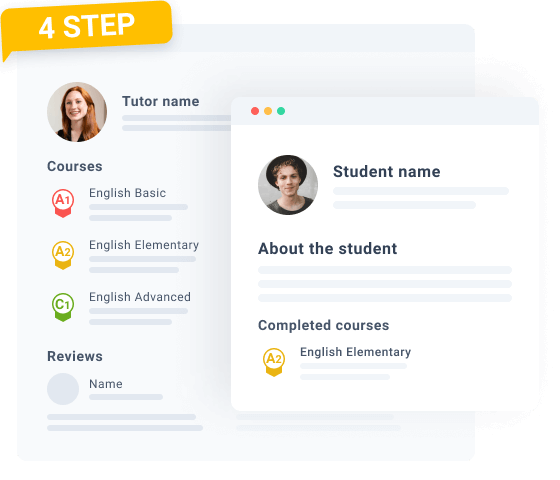 Organize user profiles
Control the access levels to the admin area for every User Role. Allow users to view their unique content in the personal Member area and have a custom menu on the Profile page.
Select User Roles with the admin area access
Set up a Single User Page with a different Dashboard structure
Create a custom Members area for every User Role
Build custom permalinks of Users' public pages
Add custom fields to Members' profiles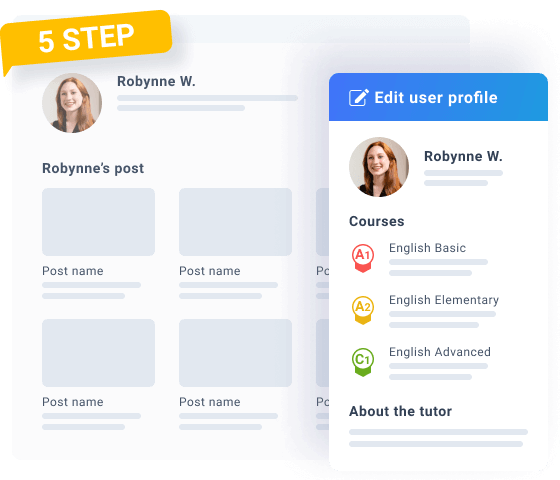 Set up the content-handling access rules
Give website members an opportunity to edit their profile pages, post new content, and communicate freely within a community.
Ability to edit a User Profile page
Ability to like and share the content
Ability to collect and publish user-generated content
Enable user-to-user communication via contact forms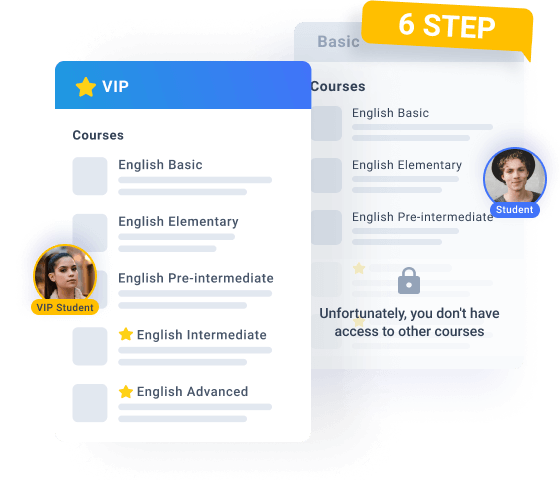 Set content restrictions by roles
Leverage content restrictions for different membership levels, provide exclusive content based on Users' preferences and grant them access to content editing & publishing tools.
Provide gated content for a certain member group
Set the number of posts that Users can publish
Present personalized content to each User
Allow certain users to submit or edit content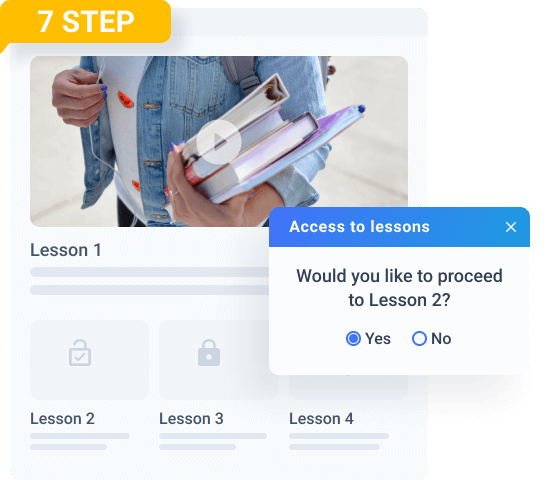 Manage Content visibility
Set the visibility settings for different content parts, define the User Roles they will be visible to, and do the proper content sectioning to be shown at once.
Configure the content visibility for each User
Unlocking content based on progress
Allow/forbid to
download digital content
Hide content once the subscription is expired
Types of
Membership

Websites
Use case
Establish a platform for online courses and provide users with several types of access like Premium, which covers the entire course plus VIP features, and Basic, with the key content only.
Full Access
Allow registered users to access all the content at a fixed upfront payment. Restrict downloads to make it a monthly privilege.
Use case
Present a Natural Detox 21-day program, add a Meal Plan Questionnaire form, and fill the users' pages with individual meal recipes and nutrition ideas according to their preferences.
Fixed Term
Allow members to sign up only for a time frame to achieve a goal. After membership is over, the content might not be updated anymore.
Use case
Split the language course into the Beginner, Intermediate, and Expert levels and prepare the content for each of them. Once the student completes the Beginner level program, the next level will be unlocked automatically.
Drip Feed
Deliver the content to members incrementally on a daily, weekly, or monthly basis giving them access to different content chunks.
Use case
Run a Fitness Coaching site embracing individual/group training programs and sports challenges, custom workouts, general nutrition tips, or custom-tailored meal plans. Set prices per one session, month, and year.
Service Model
Create a service-based site with private areas for online tools. Provide group sessions for Basic members and individual for Premium.
Choose Subscription
30 days money-back guarantee
Custom subscription
Subscription price for 1 website only. For more choose the Unlimited websites in the cart.
17 widgets

included

JetEngine plugin

1-year product updates

1-year of Zoom & Chat support
All-Inclusive subscription
150 widgets

included

20 JetPlugins

1-year product updates

1-year of Zoom & Chat support
Go pricing
For more details on the Subscription proceed to the Pricing page
Discover
Other Features

You May Need
Videos
Troubleshooting
Knowledge Base