The email customizer plugin will enable you to customize any order status with an easy drag-and-drop email builder. The emails are fully customizable with features such as headers, social icons, text images, and footers.
Discover the 5 best WooCommerce email customizer plugins in this article.
What Are the WooCommerce Email Customize Plugin Features?
The standard features for the WooCommerce email customizer plugins will enable you to create meaningful and enticing emails. It also allows you to send fun emails inviting more people to your site, and the conversion rates will improve rapidly.
Each WooCommerce email customizer plugin has its characteristics, and you can select them based on the price, features, and functionalities they provide and your requirements which border on email customization.
Before we start:
Are you looking for handy WooCommerce plugin for custom templates, shop pages, carousel creating?
Check out all JetWooBuilder features for building better WooCommerce websites.
Choosing the Best WooCommerce Email Customizer Plugin
Let's compare the features, costs, advantages, and disadvantages of WooCommerce email customizer plugins.
🏆 Best for all-in-one WooCommerce email customizing.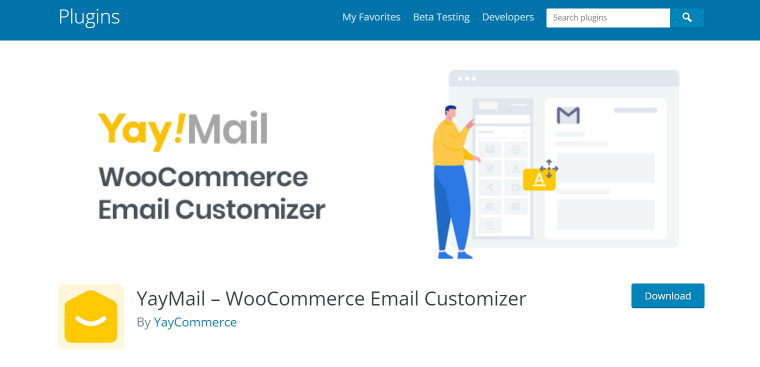 YayMail – WooCommerce email customizer has three versions: YayMail Free, YayMail Pro Version, and the YayMail Addons. The YayMail Free version allows you to customize 11 built-in WooCommerce default emails, including font, size, color, padding, and background customization.
YayMail Pro contains all free version features, plus shows tables, hooks, custom fields, attributes, email meta fields, and other relevant variables from many plugins such as Shipment tracking, Checkout Field Editor, Order Status Manager, Flexible Checkout fields, Custom Order status, Show Attributes, etc.
Someone utilizing a third-party WooCommerce extension that can add new email templates to the 11-default email notification can consider purchasing a dedicated YayMail Addon to help them customize the emails. You can set conditional logic, customize WooCommerce subscriptions emails, WooCommerce follow-up emails, WooCommerce bookings and appointments, WooCommerce gift cards, AutomateWoo, Germanized, Dokan, WC Vendors, and many more.
The YayMail Addons can work with both the YayMail Free and Pro Versions.
Price: The YayMail Free is completely free of charge. YayMail Pro starts at $59 for a single site. A YayMail addon starts at $39.
Capabilities:
adding multiple columns and elements blocks;
drag-and-drop to reorder the blocks;
live preview, save and send test emails;
customizing font, size, background, color, and padding;
supporting multilanguage plugins (YayMail Pro);
custom fields support from other WordPress plugins (YayMail Pro);
supporting emails from different plugins (YayMail addons).
Pros:
free version available;
drag-and-drop editor;
various elements and shortcodes;
easy-to-use.
Cons: YayMail plugin does not have ready-made templates. However, this is on the developer's roadmap.
Summary:  The YayMail is a free template builder for WooCommerce. When you combine it with the YayMail Addons, you'll be able to unlock the visual email designer integration to go with the 60+ third-party WooCommerce plugins. 
🏆Best for better-looking emails within minutes.

Email customizer Plus for WooCommerce is one of the finest and most accessible plugins to create professional, better-looking emails with a visual drag-and-drop editor.
This plugin allows you to customize order notification emails by adding a logo, header, footer, body text, icons, images, and more. With ready-made email templates, it's much easier to customize the WooCommerce transactional emails.
Price: Email customizer plus for WooCommerce starts at $49/year with wide features and a list of shortcodes.
Capabilities:
Intuitive drag and drop editor to customize emails
MJML email framework to support across devices
Ready to use email templates
Supports WooCommerce subscription emails
Support Third-party plugin
Supports WooCommerce booking email templates
Live preview of customized WooCommerce emails
Pros:
Supports WPML, where you can customize emails in your language
Backup your email templates with a single click
List of multiple shortcodes to include data
Send test emails before sending them to customers directly
Cons:
Limited third-party support and Email Customizer Plus for WooCommerce has no free version.
🏆 Best for available customization options.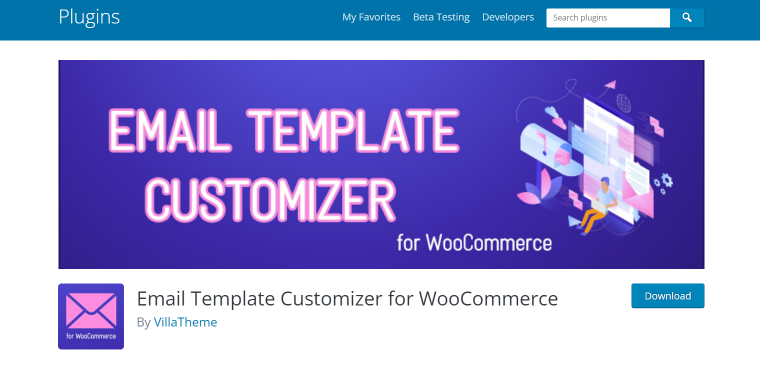 With Email Customizer for WooCommerce, you can design professional emails for your customers. A visual editor enables you to create new templates while customizing existing ones.
Email Customizer for WooCommerce makes communicating via email simpler and easier with its fresh live preview and the easy drag-and-drop feature. Designing or customizing perfect email templates for transactional communications tailored to match the brand identity and company design criteria has been made easier for you.
Price: there is a free and a paid version with varied costs depending on the package.
Capabilities:
create customized templates;
11 ready-made templates;
add more than 20 elements;
real-time previews;
WPML compatibility;
email Mapping.
Pros:
more customization options;
enable import and export;
additional placeholders.
Cons: The free version has an unclear WordPress Block editor interface and limited customizability.
🏆 Best for showing customer order report in the email.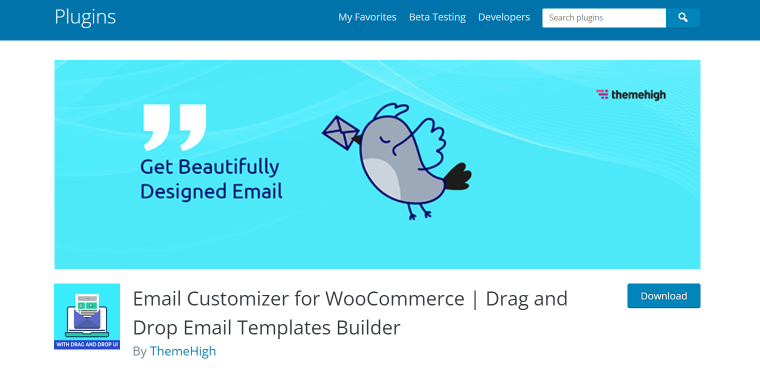 If the existing email templates of WooCommerce appear too plain for you and you are looking for a way to customize them, here's what you need.
The plugin also allows you to customize WooCommerce emails with WooCommerce elements such as order detail, order total, order subtotal, shipping method, billing address, shipping address, coupons, and posts. Its essential elements include text, divider, socials, image, button, menu bar, contact, and spacer.
Price: $32.
Capabilities:
create and customize WooCommerce emails with the available elements;
set rules to apply to each template;
send emails with files attached;
show report on customer orders;
preview emails before sending and more.
Pros:
With this plugin, you can customize WooCommerce emails with WooCommerce elements such as; Order Details, Order Total, order subtotal shipping method, payment method, billing address, and shipping address.
Cons: it is relatively more expensive.
🏆 Best for simple email customization.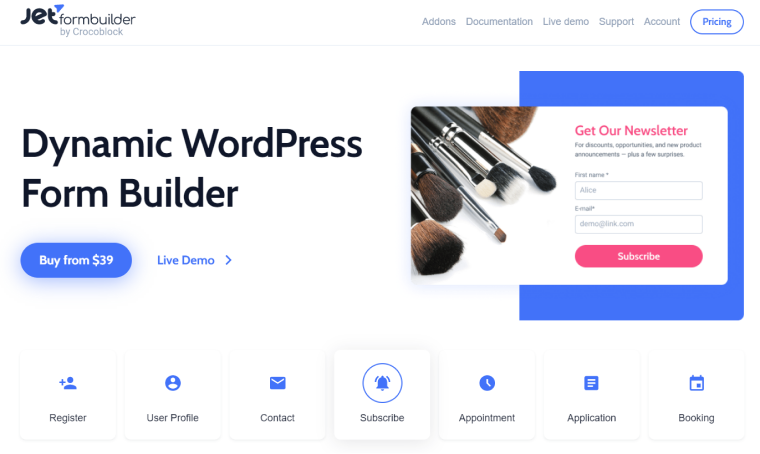 This is not a plugin to customize WooCommerce emails, but it helps you customize emails sent by your forms. The JetFormBuilder plugin clearly outlines the main structure with essential and well-structured details. The functionalities help to ease the process of sending multiple emails and enable simple email management.
Price: Free version. Pro add-ons are available at $39 per year.
Capabilities:
customizing email details, the user receives after submitting the form;
set address to obtain customers' replies;
adding dynamic fields to the content section (like post ID, user login, and user password).
Pros:
no coding skills are required to use;
easier mail management;
payment integrations.
Cons: Limited styling options can be eliminated using Elementor editor or the free JetStyleManager plugin for Gutenberg.
Conclusion
Now you can choose among the five WooCommerce customizer plugins that best suit your email management requirement. You can be sure these plugins will make it easier and more convenient for you to customize emails and templates. Make that decision now and improve your mail management experience instantly.