A timeline is a representation of events in chronological order. It is typically a graphic design with a long vertical or horizontal bar labeled with dates and a list of events attached to each date.
In this article, I gathered information about the free and premium WordPress plugins that help users build timelines with basic functionality and give them the ability to realize their creativity in making engaging and interactive websites.
Timeline Use Cases
Before we proceed to the list of the seven best WordPress timeline plugins, let's quickly clarify what purposes the timelines serve.
Most often, the timelines offer an overview of events and help to understand how they relate to each other. Such timelines can depict a series of events or activities from a short or long period and associate with a person, a company, or a global phenomenon.
Another use case for timelines is making step-by-step tutorials, such as how to proceed with the payment process, installing WordPress plugins, etc.
Quite often, timelines are used for creating blogging sequences. In this case, timelines present an excellent way to overview your blogging site so the readers can quickly see through your activities during a chosen period of time and jump to reading one of the articles using CTA buttons.
Booking agencies can use timelines similarly to event calendars: present a list of bookable events in chronological order but with no empty slots for the dates when nothing happens.
The Best WordPress Timeline Plugins
Here's a list of the best WordPress timeline plugins I compiled based on their features, reviews, and prices.
Event Timeline (Free/Premium)
🏆 Best for embedding videos and slideshows in vertical timelines.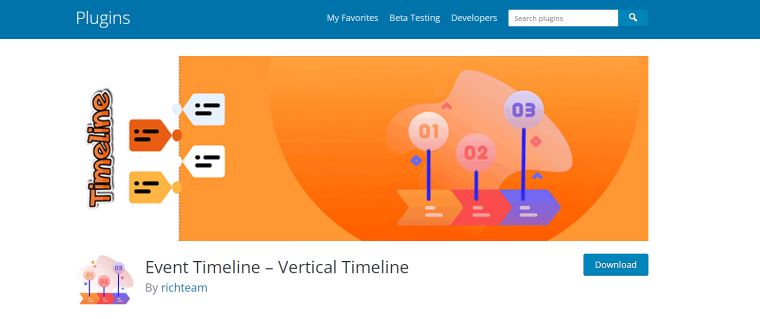 Event Timeline provides a way to present your or your brand's story in the form of a timeline. It is suitable for many bloggers as it supports images, video, and audio formats. The free version offers some basic templates to build vertical single-sided and double-sided timelines, while the pro version includes professionally built templates with some unique designs.
Event Timeline features:
support of YouTube and Vimeo videos;
19 default themes (12 of them are free);
audio post format support;
unlimited color and font options.
Pricing: the core plugin is free and capable of building classic timelines with some customization options. The Developer license costs $25 and comes with 19 unique templates and two years of customer support and updates.
Pros:
pre-built modern designs;
support of various media files;
easy to use.
JetElements (Premium)
🏆 Best for making horizontal and vertical timelines in Elementor.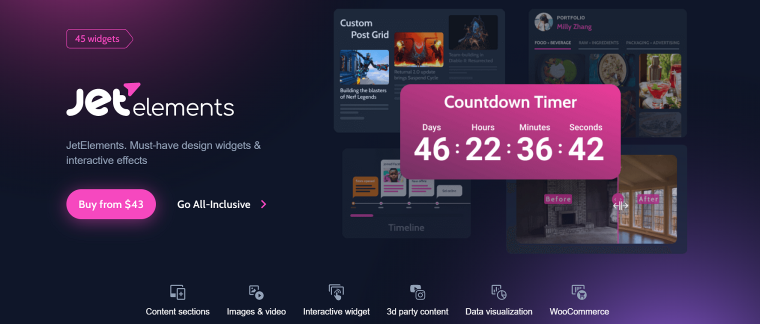 JetElements by Crocoblock packs 45 widgets to create eye-catching content, including two widgets for adding vertical/horizontal timelines to the web pages. As expected from a Crocoblock product, JetElements offers absolute freedom when designing Elementor timelines: choose from infinite options for colors, fonts, box shades, motion effects, layouts, and more. You can even set different timeline styles for different screen sizes manually.
This plugin is perfect for users accustomed to the Elementor editor. Users can create the timelines in less than a minute, and with a little effort and focus, they will match any website branding.
JetElements key settings:
excessive icons library;
three types of layouts for horizontal and vertical timelines;
navigation by scroll bar or arrows;
numerous stylistic options for cards, buttons, borders, icons, etc.
Pricing: JetElements license costs $43 per year for one site or $88 per year for unlimited sites.
Pros:
easy-to-use for proficient Elementor users;
freedom to create any designs;
ability to make responsive timeline designs manually.
Cool Timeline (Free/Premium)
🏆 Best for building vertical and horizontal timelines using Gutenberg editor.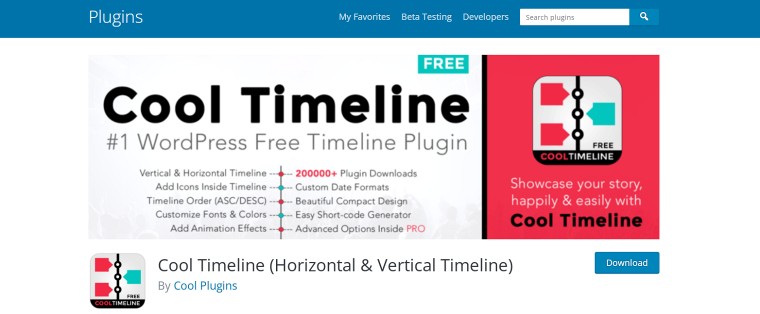 Cool Timeline is a popular solution by the Cool Plugins with 20,000+ active installations. It provides advanced functionality for the automatic filling of a timeline with post articles as they get published on a website. Displaying a timeline anywhere on the page is easy by using a simple shortcode.
Cool Timeline key features:
separate typography and color customization options for each time story;
40+ ready-made designs;
Ajax Load More and pagination features for building extra-long timelines;
extensive library of icons to use for the stories.
Pricing: the free version is available with basic settings. The Pro version with pre-built templates and advanced settings costs $25 for one website.
Pros:
feature-rich plugin for building extra-long timelines;
plenty of pre-built designs in the Pro version.
Timeline Express (Free/Premium)
🏆 Best for creating vertical timelines with multiple animation effects.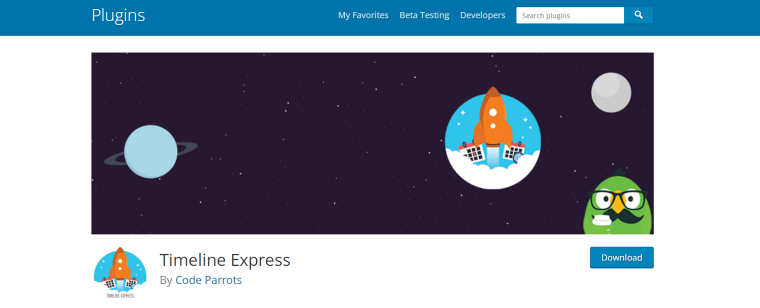 This powerful and flexible tool can create history and event timelines, roadmap/release timelines, and Twitter feed timelines. Each story can be customized individually, specifying the date format, setting custom images, and choosing each excerpt's length and font style. It is also optimal for building lengthy timelines, as it has built-in catching mechanisms.
Timeline Express key features:
15+ CSS animation effects;
ability to assign categories to stories and sort them out;
announcement slugs are customizable;
options for ascending and descending order.
Pricing: the basic version is free, and the paid version starts at $29 for one site.
Pros:
robust design features in a free version;
sorting and filtering features;
responsive timelines for all devices.
Booking Calendar (Premium)
🏆 Best for enabling booking via timelines.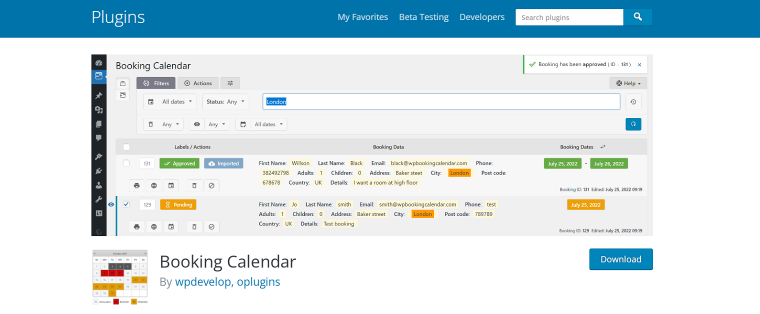 This plugin is a multifunctional solution for creating event calendars on websites. It can also create vertical timelines with advanced functionality: users can browse through a list of events in a timeline mode and proceed with bookings on the same page. Users can view the timeline in a day, week, month, or two-month mode.
Booking Calendar key features:
switching between day/week/month timeline modes on the front end;
Google Calendar support;
pagination feature for lengthy timelines.
Pricing: advanced timeline functionality comes with a plugin's premium plan for a $79 one-time payment for one site.
Pros:
advanced booking options;
easy user interface.
Bold Timeline Lite (Free)
🏆 Best for building timelines in a few simple steps.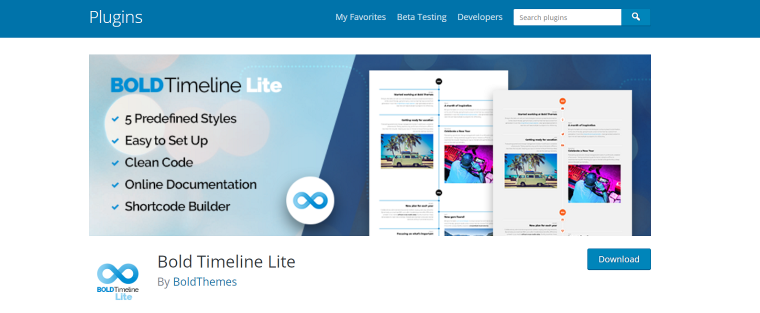 This free plugin by premium WordPress theme developers aims to make timeline creation as easy as possible. Just choose one of the five predefined styles, pick the text and images, and your company history or personal achievements will get professionally looking presentations on your WordPress site.
Bold Timeline Lite key features:
customizable fonts, colors, and icons;
five timeline styles;
shortcode generator to use the plugin with any WordPress builder.
Pricing: free.
Pros:
well-organized and clean code;
compatibility with major browsers, WordPress builders, and themes;
easy to use for everyone.
Timeline and History Slider (Free/Premium)
🏆 Best for creating horizontal timelines with arrow keys navigation.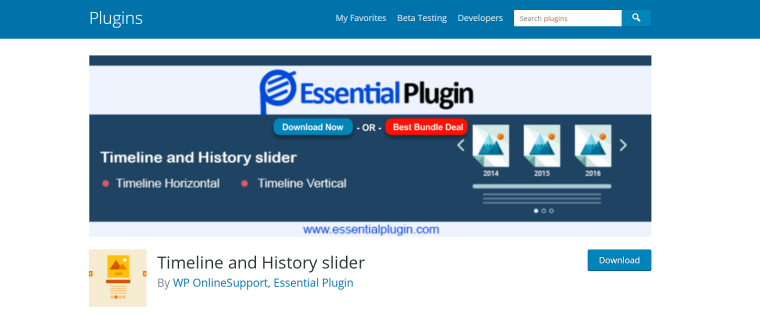 Timeline and History Slider is one of a few plugins that focus on building beautiful horizontal timelines with a fully responsive touch-based slider. It comes with many advanced features vital for the slider's smooth functionality, such as autoplay, lazy load, and animation effects.
Timeline and History Slider key features:
12+ layout designs;
set slider intervals;
advanced navigation options;
drag-and-drop editor for setting posts order.
Pricing: there's a free plugin version, but all the advanced features and templates come with the Pro Plan, costing $99 per year for one site. The Pro Plan includes a bundle of 39 plugins by the Essential Plugin developers.
Pros:
native integration with major WordPress builders;
ability to create complex timeline sliders;
touch-enabled navigation.
FAQ
What is a timeline?
A timeline is a chronological presentation of events that provides viewers with an easy-to-understand explanation of history.
What are the two main types of timelines?
A vertical timeline usually presents information from top to bottom, and a horizontal timeline tracks events from left to right.
What are the key elements of a timeline?
The essential elements of a timeline are the event descriptions and the dates that determine events arrangement.
Wrap-Up
When choosing WordPress plugins for building timelines, it is vital to answer two questions: what is the timeline's purpose, and how should it look? Though all the tools listed above offer excellent quality and versatility, they have different strong points.
Some plugins come with many professionally designed pre-built templates helping users with no designing experience to create eye-catching timelines. Other plugins have more customization options, so the users are free to build up event timelines, tutorials, and roadmaps from scratch.