If a picture is worth a thousand words, how many words is a video worth?
Video is a convenient way for Internet users to consume information. There's no good reason for businesses with an Internet presence to ignore the benefits of adding videos to their websites.
Unsurprisingly, many WordPress video plugins allow displaying videos with greater flexibility than the default WordPress functionality. In this article, we'll go over the best video plugins and their features, but first, let's take a look at why you should add videos to your site in the first place.
Table of Contents
Why Add Videos to a Website?
Videos can improve website SEO.
Informative videos with visual effects and sound keep visitors' attention longer than other types of content, and Google prefers pages where people spend more time. Search engine crawlers may not index the footage of the videos. However, optimizing keywords in the video titles, tags, and descriptions will give it an additional SEO boost.
And don't forget – Google owns YouTube, so the website with embedded YouTube channels is more likely to have an increased presence on the search results page of the largest search engine.
Videos deliver information faster.
Online videos became increasingly integrated into the lives of active online users biting off big chunks of popularity from traditional television and written Internet content. At the same time, the average time people spend on a single website is less than one minute. Considering these facts, video content is the most efficient way to deliver maximum information to visitors quickly.
Videos play a significant role in marketing strategy.
Visitors who watch your website's video to completion demonstrate their interest in your business. That's why including CTA buttons at the end of the videos is an effective marketing strategy. Depending on where the users are in their buying journey, they may be encouraged to go to a landing page, a products page, a page with contact information, or others.
Top Ten WordPress Video Plugins
To help you choose the best way to display videos on your site, I've comprised a list of the best WordPress plugins and compared their features, pros and cons, and pricing.
🏆 Best for marketers, course creators, and podcasters.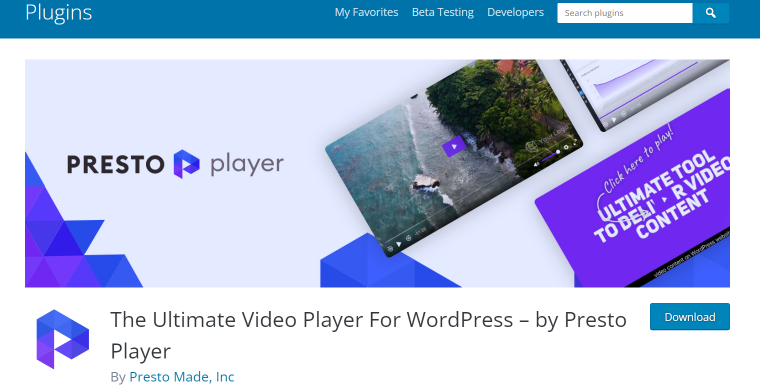 PrestoPlayer is a fairly new video player solution already used on 60,000+ websites. Packed with 50 industry-leading features, it is suitable for any WordPress site that uses video content. The user interface is easy-to-use and intuitive, allowing users with no coding skills to upload, customize, and embed videos on their WordPress sites.
PrestoPlayer key features:
muted autoplay preview;
ability to create video chapters for simple video navigation;
sticky player feature;
Google Analytics integration.
Pricing: the free version comes with basic options missing the most advanced features. Paid yearly plans start at $99 for one site and a lifetime plan costs $499 for 25 sites.
Pros:
the paid versions are packed with useful features and are suitable for all types of WordPress sites;
integrates with many popular page builders, including Divi, Elementor, and Gutenberg;
allows adding video chapters, CTPs, and a custom logo.
Cons:
the free version offers only limited options;
users report minor bugs and issues that the plugin's short history may explain.
🏆 Best for users familiar with shortcodes.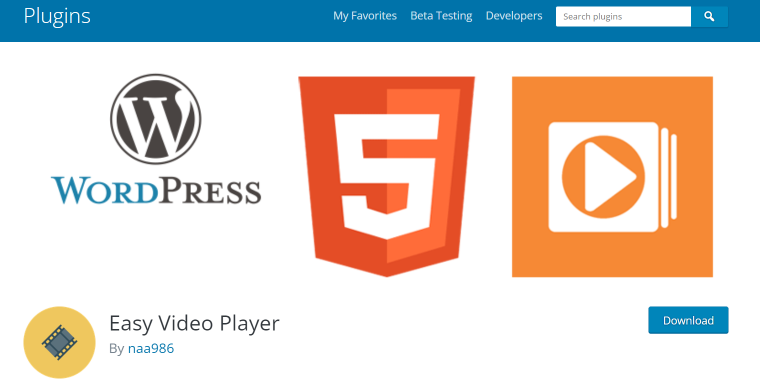 Easy Video Player is a simple and lightweight solution for embedding single custom videos and videos playing on YouTube and Vimeo. The plugin comes with shortcodes to place the player anywhere on the site and customize some of its parameters.
Easy Video Player key features:
play in a loop and autoplay features;
the video player takes up minimum space, and the controllers soon as the video starts playing;
support of MP4 and WEBM formats;
support of HTML and CSS code.
Pricing: free.
Pros:
an easy-to-use solution, providing the users know how to use shortcodes;
displays videos in fully responsive formats;
free of charge with no paid options.
Cons:
limited customization options;
doesn't include WordPress blocks, so everything is done via shortcodes.
🏆 Best for displaying video posts attractively and responsively.

JetBlog is a Crocoblock plugin that helps create dynamic blog pages using Elementor builder. Using the Video Playlist widget, you can pull YouTube playlists or any random YouTube and Vimeo videos and create a custom playlist in Elementor. Though there are many functionalities and design options to choose from, customizing a video player is easy through the WYSIWYG editor.
JetBlog key features:
complete control over how a video player looks and functions;
social media buttons;
user-friendly editor;
additional widgets for creating engaging blog pages.
Pricing: JetBlog license costs $23 per year for one site or $47 per year for unlimited sites.
Pros:
allows customizing every element of the video player;
SEO-friendly;
one of the best value-for-money plugins considering its price and features.
Cons:
works only with Elementor for the time being;
no free version.
🏆 Best for creating advanced video and image content layouts in Elementor.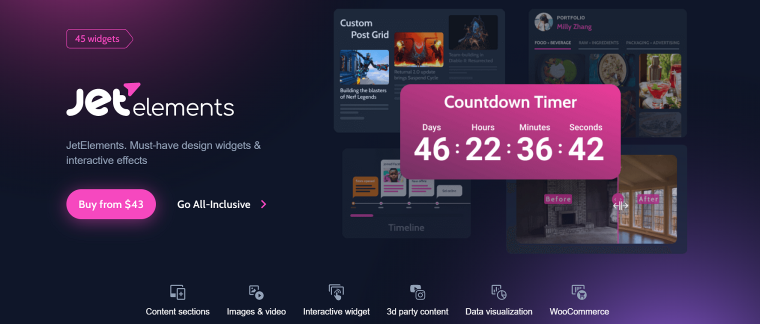 JetElements by Crocoblock is an essential tool for data visualization, and it complements Elementor with 45 unique widgets. The Video Player widget allows embedding YouTube, Vimeo, and self-hosted videos simply by inserting their URLs into a dedicated field. The video player editor offers a complete set of options to configure the video display.
JetElements key features:
Video Player widget comes in a bundle of 45 widgets for improving Elementor design and interactivity;
autoplay, mute, loop, and other video options.
Pricing: JetElements license costs $43 per year for one site or $88 per year for unlimited sites.
Pros:
easy embedding videos without editing scripts;
user-friendly editor.
Cons:
works only with Elementor for the time being;
no free version.
🏆 Best for creating impressive thumbnails of videos.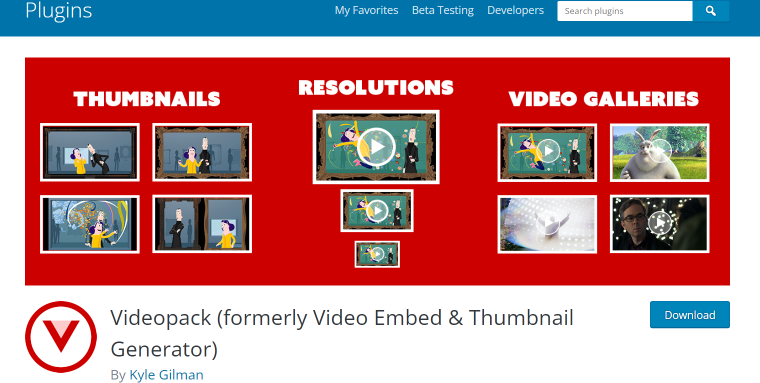 This simple and versatile tool enhances the UX by generating thumbnails for videos uploaded to WordPress Media Library. The plugin also creates a pop-up video gallery via a shortcode. Videopack has a 4.8 rating on wordpress.org, and the vast majority of users consider it to be a trustworthy video plugin.
Videopack key features:
generates custom thumbnails for videos;
comes with a lightweight, customizable HTML5 player;
automatically selects the best resolution for the player size and provides a button for users to choose the resolution manually.
Pricing: free. An Ads add-on is available for $5.99 per year.
Pros:
an easy-to-use plugin that allows embedding single videos and video galleries;
autogenerated or custom-picked thumbnails for video presentation;
free.
Cons:
not compatible with Gutenberg.
🏆 Best for embedding YouTube videos.

David Artiss, the author of many free WordPress plugins, created YouTube Embed for one sole reason – embedding YouTube videos and playlists on WordPress sites without any issues. This plugin pulls Google-compatible metadata straight from YouTube, making it much easier to improve website SEO.
YouTube Embed key features:
lazy loading for videos;
playing of hi-def, 4k, and 60 FPS videos;
the ability for users to download videos from the site;
multiple profiles for different videos so each one is styled individually;
dynamic video resizing to fit the player size, theme restrictions, or responsive sites.
Pricing: free.
Pros:
uses the player capable of playing videos in extreme quality;
SEO-friendly;
free.
Cons:
the player has minimal customization features;
new users might find it challenging to use because the operations are handled through shortcodes, and there's limited support documentation.
🏆 Best for WordPress websites that need a plugin supporting all types of videos and video-hosting services.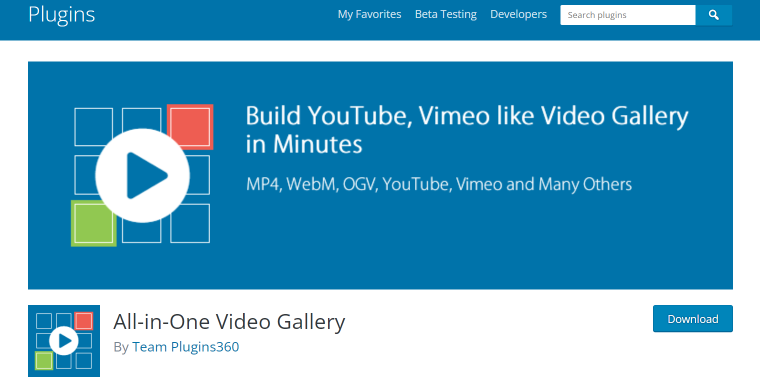 This plugin is a complete video management solution that displays videos in filterable and searchable playlists. You can use Gutenberg blocks, shortcodes, or widgets to set up a video player.
All-in-One Video Gallery key features:
responsive and customizable HTML5 player,
ability to enable/disable social media sharing and subtitles;
responsive thumbnail, pop-up, and slider gallery templates;
ability to group videos by categories;
automatic import feature to upload videos from your YouTube channel.
Pricing: most of the features are available in the free version. More advanced features are added in the Pro plan, starting at $47.88 per year for one site.
Pros:
supports a wide range of video formats;
supports all popular video-hosting platforms;
highly-customizable player's appearance;
supports live stream embeds;
the free version includes many advanced features.
Cons:
the plugin is intended for experienced users.
🏆 Best for creating photo and video galleries using a drag-and-drop editor.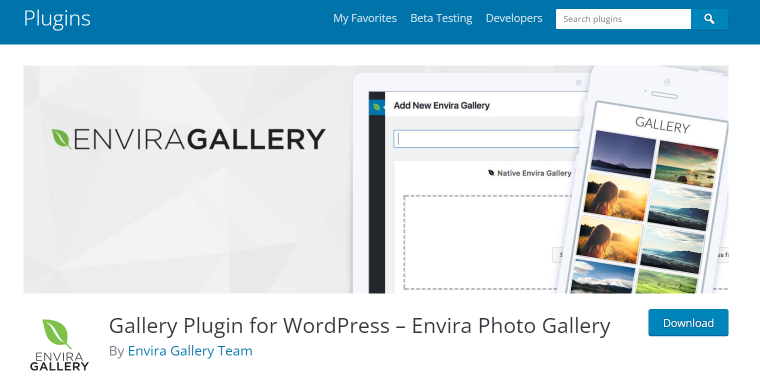 This is a popular solution for creating WordPress galleries with over 100k active downloads supporting images and videos. Users can customize premade templates to match their site's branding in just a few minutes using a drag-and-drop editor. Envira Gallery is compatible with all major video-hosting platforms.
Envira Gallery key features:
drag-and-drop gallery builder;
social sharing buttons and the ability to watermark videos;
WooCommerce integration;
deep linking and pagination features.
Pricing: the Pro license supporting videos costs $99 per year for five sites.
Pros:
create highly customizable image and video galleries from scratch or with the help of premade templates;
increases the website's SEO features;
great for displaying and selling video content.
Cons:
while the galleries have many customization options, the video player offers hardly any options.
🏆 Best for users who need a simple and versatile video player.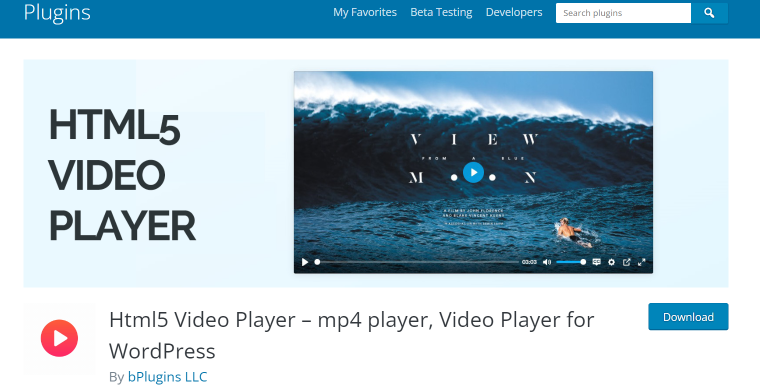 This plugin by bPlugins allows embedding and playing videos in many formats using a lightweight HTML5 player. The player comes with five templates, each with a custom control set over the displayed video. The controls are intuitive, but the customization features are limited.
HTML5 Video Player key features:
supports HLS (HTTP live streaming);
autoplay and sticky video options are available;
supports VAST and vi.ai ads;
allows videos from different hosting platforms inside the playlist.
Pricing: a one-time fee for a single site is $30.
Pros:
works with all popular video sources and video formats;
embeds videos via built-in blocks or shortcodes;
is cheaper than most other premium video plugins.
Cons:
very few customization options for the video player and video branding.
🏆 Best for creating YouTube channels, playlists, and galleries on WordPress websites.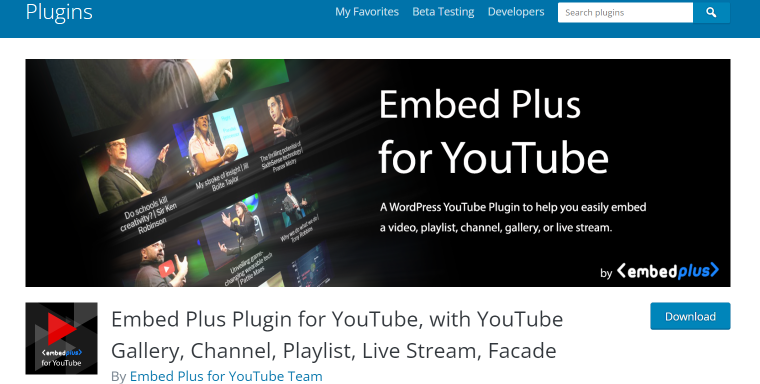 This plugin offers various ways to embed YouTube channels and live streams in all major WordPress builders, including Gutenberg. You can turn your YouTube playlists into responsive galleries with many customization features, and multiple optimization features will help web pages containing videos load faster.
EmbedPlus for YouTube key features:
lazy loading videos;
deferring critical and non-critical JavaScript until the page is fully loaded;
accessible settings for YouTube live streaming;
variety of layouts for displaying thumbnails in galleries.
Pricing: the free version with limited functionalities is available at wordpress.org. The paid plans start at $39.99 for one site.
Pros:
advanced customization options for galleries and a video player;
performance optimization features for embedded videos;
many pre-build templates and default options are automatically applied to YouTube videos.
Cons:
many parameters can be applied only via shortcodes.
FAQ
What are the main factors to consider when choosing WordPress video plugins?
Ensure the plugin is compatible with the selected video hosting service and video file formats you want to display.
What is a WordPress video plugin?
It is a WordPress add-on created by third-party developers for simplified video management.
What is a CTA in a video?
A call-to-action button may appear over the displayed video to offer the viewer selected actions, such as going to a landing page or watching another video.
Can I change the appearance of the WordPress video player?
Most video plugins allow easy customization of a video player using built-in settings.
Why is adding videos to a website important?
Videos improve user experience and contribute to better SEO ranking.
Sum Up
WordPress users have a variety of video plugins to choose from. While many of the best plugins have similar functionalities, I emphasized their unique features and advantages.
PrestoPlayer offers the most premium customization features for course creators and podcasters.
JetBlog comes with an advanced video playlist widget and tools for creating unique blog post layouts. It is the best value-for-money deal on the list.
JetElements complements Elementor with 45 design and interactivity widgets, allowing users to display videos in a simple, customizable video player.
YouTube Embed is the best solution for users who only need to embed YouTube videos.
Videopack does a great job at generating thumbnails for videos, and it's free.