If you're new to the marketing world, you've heard fellow marketers use the term ESP or email service providers several times, leaving you to wonder what it means.
Well, since you're here, we believe you've finally decided to follow your curiosity down the tunnel to see where it leads.
Throughout this blog post, you will find everything you need to know about ESPs, how to choose the right service provider, and a handful of options to get you started.
Table of Contents
What is an Email Service Provider (ESP)?
Email service providers are businesses offering marketing tools entrepreneurs, eCommerce managers, bloggers, SMEs, and fortune 500 companies can use to automate, segment, and build sustainable relationships with customers through emails.
On a general level, ESPs can help you set up an email marketing list, create campaigns, design automated workflows, send promotional emails and newsletters, manage your contacts and enjoy seamless integration of marketing activities.
Why Do You Need an ESP?
Every successful business was once someone's idea or intention for growth. Most companies started with a single customer, somehow found a second, and on and on until they became unicorn companies.
You're here, so we presume you want to power a successful business. Maybe you just landed your first client or first 1000th customer; it doesn't matter.
To further your pursuit of success, you need a communication process that allows you to simultaneously reach out to your newly found clients without much Ado. And that's where ESPs come in.
Email marketing service providers use customer interaction and behavioral analysis to send personalized messages to the right customer at the right time, helping you swiftly cultivate a silver bullet path to success.
And now, with multiple ESPs available, you can send more personalized emails while spending less. You need an ESP offering features and services in line with your marketing requirement for gratifying results.
So before we go any further, let's look at some factors to consider when foraging the internet for a reliable ESP.
Factors to Consider When Choosing an ESP
Editors Flexibility: the features and options an ESPs email editor offers to determine your clients' type of email. If your choice ESP offers rich drag and drop editors with immaculate filters and unique templates, your email will be just as good. Opt for free trials or free plans to get a first-hand experience of your choice ESP editor.
Autoresponder and Automation Sequence: automated sequence consists of emails built around if/then trigger (based on a customer's interaction with your digital platforms). In contrast, autoresponders consist of a series of emails arranged quickly. Before settling for an ESP, make sure they offer both services.
Interface: if you plan to design your emails yourself, look for an ESP with a simple and easy-to-navigate interface with many templates. The interface of choice ESP speaks volumes about the overall output of each marketing campaign or newsletter. If you have a design team, seek their consent before opting for any ESP.
Support: as an eCommerce manager or blogger, consumers from different parts of the world will speedily use your sign-up form if they deem your services valuable. Your email marketing can't thrive on clockwise or geographical timing – you'd most likely serve clients from different parts of the globe. Don't settle for an ESP not offering 24/7 support service.
Email deliverability: What's your choice ESPs track record? How often do their emails land in the receiver's inbox? As you ask their support team these questions and explore the internet for reviews and feedback on the ESPs overall performance.
Budget: we placed the need to weigh your budget last on purpose. We know that most start-ups and SMEs love to settle for the cheapest offer on the block, and that's something we want you to avoid. Consider all the factors we listed above before considering your budget because you can constantly rethink the expense.
8 Best Email Marketing Service Providers
Since you have a clear idea of what an ESP is, how it can benefit your business, and factors to consider when choosing a service provider, let's highlight the key features of some of the prominent ESPs in the space.
Do you need to design and send customized emails but don't have the coding experience? Sender can help you create and send beautiful, branded emails in minutes.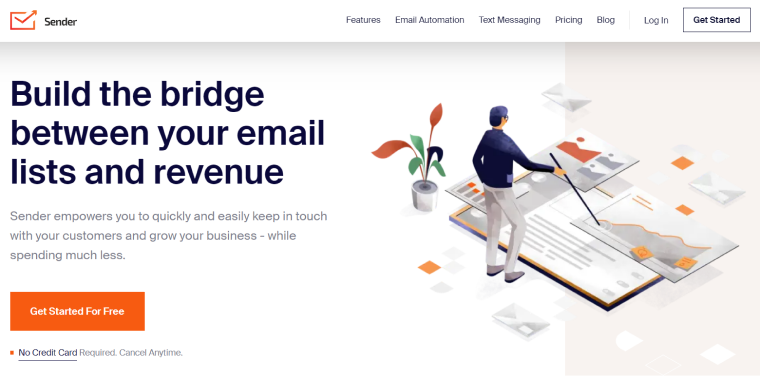 Sender is a high-volume email marketing provider empowering eCommerce marketers and bloggers with an intuitive interface and a drag and drop design editor that makes tasks manageable and enjoyable.
Therefore, Sender is the extensive collection of modern templates and the ESP's ability to instantly integrate with leading content management systems, CRMs, and eCommerce platforms.
Sender also offers many additional features to help you reach the best marketing results. These include desktop Push-Notifications, transactional and automated email sequences, API integrations, and a subscription form builder.
Downside: Sender's email automation process and templates are tailored for eCommerce businesses and bloggers.
Pricing:
Sender offers a generous free-forever plan, which allows sending up to 15,000 emails to 2,500 subscribers every month. Other plans include a standard plan, over 240k emails for $41, a professional plan, over 480k emails for $208, and an enterprise plan at a custom price.
Do you want to use CRM data to send personalized emails clients will love and recognize your brand for? Make HubSpot your go-to ESP.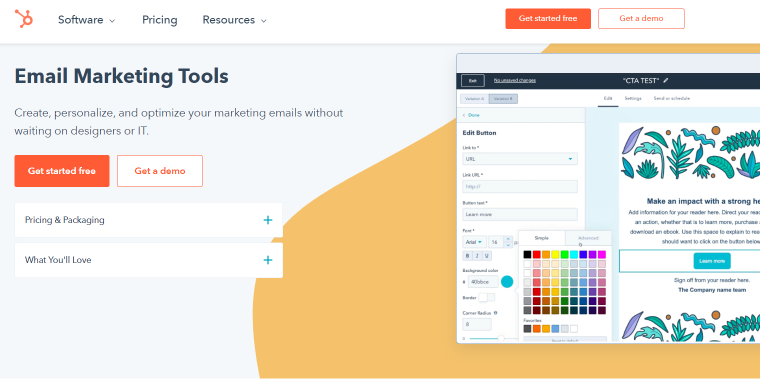 HubSpot, a marketing automation giant, uses CRM data to help businesses meet their clients at their point of need. The ESP uses an innovative send feature to streamline a well-targeted automation process, ensuring subscribers receive each email at the desired time.
HubSpot also offers an email performance report feature that makes it easy for marketers to analyze what's working and what's not. With HubSpot, you can create custom templates and personalize your messaging based on customer demographic and gender.
Downside: HubSpot is quite expensive and not the most suitable for businesses with a small client base.
Pricing:
HubSpot offers free marketing tools to help you get better with the right plan. But overall, no free package. Starter plan; $45/mo for 1000 subscribers, professional plan; $800 per month for 2000 subscribers, and enterprise plan; $3,200/mo for 10,000 subscribers.
Do you have a small email list – less than 1000 subscribers – and need an ESP offering pro features for free or on a pay-as-you-go basis? Try Moosend.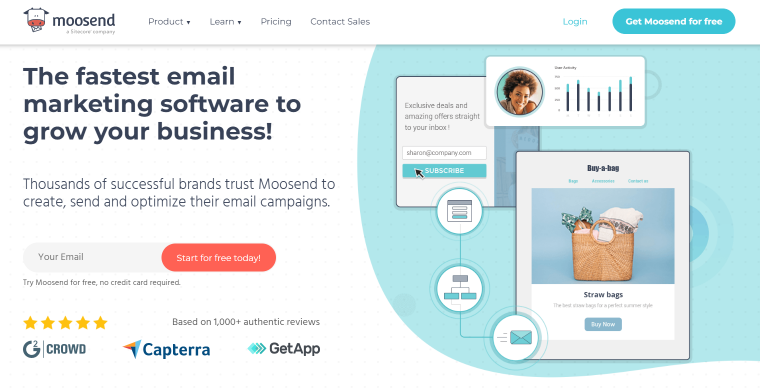 Moosend is a fast and reliable ESP offering 40+ templates with feature-rich services. The drag and drop editor, interactive elements, and ready-made workflows can help start-ups and marketers on a budget build a sustainable marketing campaign without much Ado.
Amongst the many integrations and exciting features, Moosend offers, its free and pay-as-you-go plan remains the ESP's most valued asset.
Downside: you might encounter a few UX issues when using the editor or scheduling an email, but that's nothing that can't be fixed.
Pricing:
Moosend's free plan allows you to connect with over 1,000 subscribers at zero cost. While for $10/mo, you can connect with 2,000 subscribers, and for $125/mo, you can connect with 25,000 subscribers, plus lots of budget-friendly packages.
Do you have a huge list or desire a platform that can help you send millions of emails daily? SendinBlue exists to serve you better.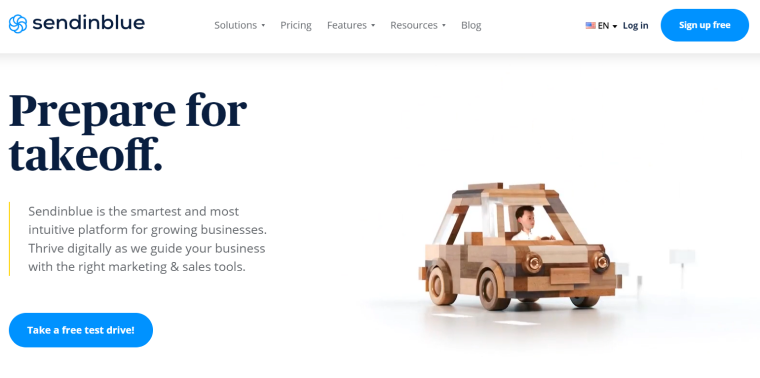 SendinBlue is a Parisian platform that started as a conduit for transactional emails. But as the email marketing world grew, opportunities skyrocketed, and now SendinBlue is known as one of the biggest mass email service providers.
The ESP stands behind the claim that its mailing services provide a bang for your bucks. And has so far, indeed, proven this claim to be valid across 14 countries.
Besides its email marketing service, SendinBlue also offers SMS marketing services, free CRM services, and live chat support.
Downside: SendinBlue UX isn't as friendly or intuitive as its counterparts, Sender and MailChimp, and its email template isn't as modern.
Pricing:
Good value for your money. SendinBlue allows users to send 300 emails every day at zero cost, 40,000 emails/mo for $25, 60,000 for $45 and 120,000 for $65/mo.
Want to send campaigns, automate your marketing and build your list? With a responsible email marketer that's surely easily attainable. And SendX with its 24/7 service and unlimited email plan is just that marketer for you!
There's no denying that email marketing is one of the most effective ways to reach your target audience and post them about new offers, services, updates, etc. This source is the right balance between formal and a more relaxed sense of marketing. However, sending the right kind of emails that are informative and don't end up in the spam or trash folder is an art.
And SendX is an email software that helps you attain just that, and thus, build a legitimate subscriber base. They help you with sneaky tricks and ways to make sure that the email lands in the inbox every time.
SendX is software built by experts with the purpose of adding ease. Hence, it's made really easy to bulk import your contacts, send emails and resend the same to non-openers, spam check, and share emails as per different time zones. Furthermore, with the content editor, you can add images, HTML, and text to your pop-ups and landing page. With their powerful analytics, you can also track the click-throughs and unique clicks. And the best part is that you needn't wait too long to start gaining profits.
Downside: Though the pricing and features are excellent, the user interface can get sluggish at times and the software does not offer advanced workflows as of yet.
Pricing: Get a 14-day free trial period and only if you like the experience, you can continue at a price of $7.49 per month.
Sometimes, the dire requirement for actionable insights to back your email marketing activities determines your choice of ESP.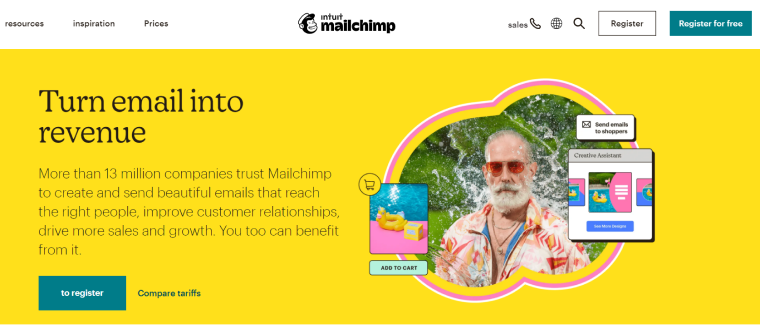 With millions of users across 175 countries, it's safe to say Mailchimp knows what works and what doesn't.
Mailchimp uses its customers' data, activities, and interactions to update its email strategy. Ensuring it's got flexible solutions for enterprise users and a simple interface for bloggers.
The 80-pound Gorilla, as Mailchimp's logo foretells, offers over 300 integrations. Some of which include its in-apps ability to help users sell their products and book meetings, social media post scheduler, an email marketing calendar, etc.
Downside: Mailchimp's premium pricing is quite steep, and the free templates available are limited; they are not the most eye-catching free email templates on the internet.
Pricing:
From a free forever plan of 10,000 emails per month to 2,000 subscribers, a starter plan of $30.99/mo for 2,500 subscribers, lots of in-betweens, and an extensive plan of $270/mo for 50,000 subscribers. Plus, you can opt for a custom package to meet a complex/dynamic mailing need.
Your email marketing efforts are only as reasonable as your ESP's deliverability. For timely emails and round-the-clock monitoring, try AWeber.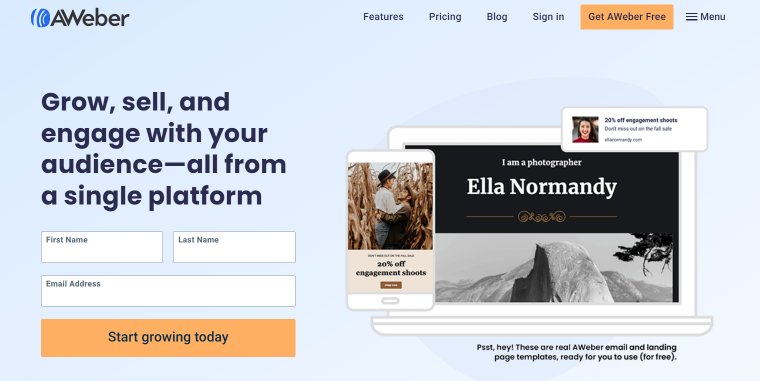 AWeber provides a simple-to-navigate user interface for beginners, small businesses, and entrepreneurs. And the mobile app makes an on-the-go mailing experience possible.
Some of the email marketing old timer's priced features include A/B testing, email analytics, and conversion tracking.
Downside: AWeber's template editor is quite buggy, and its features are a bit basic for the steep pricing attached.
Pricing:
Free forever plan for 500 contacts. The Stater plan goes for $19.99/mo for 500+ subscribers and $69.99/mo for 25,000 subscribers, plus many other packages.
If you value the need for easy and flexible list segmentation, make Active Campaign your number one ESP, like most email marketing experts.
Active Campaign helps users send fewer emails with better results. Their mailing sequence is a haven for users looking to segment their list and reach appropriate clients with the right message at the right time.
The automation champs offer thorough reporting, great live chat, and improved CRM service.
One of the most notable mailing features under their belt is their lead scoring integration; this helps put the right leads in front of your sales team. Plus, Active Campaign allows you to include dynamic content in your emails.
On the downside, active campaigns' user interface is not welcoming or user-friendly for beginners, and instead of a free package, you only get to enjoy a 14 days free trial.
Pricing: $15/mo for 500 contacts to $345/mo for 50000 contacts.
Fine-tune Your Marketing Process
Email marketing service providers make it possible to engage with a fragmented audience. It's the easiest, cheapest, and fastest way to put your marketing message in front of the right audience at the right time.
And at this point, we believe you have all the information you need to spare yourself hours of combing through the email marketing forest.