Canceling the Subscription
Read about canceling your subscription and what it entails.
What does Canceling the Subscription mean? According to Crocoblock Terms of Use, you can cancel your subscription at any time while it is valid. The cancellation means that there will be no auto-renewal of this subscription, but everything you've created with our products will be saved and will work. There will be no updates and support.
You can cancel your submission from your Personal Account. To do this, navigate to the Purchase Details block, and press the link "View Details" to scroll down this block.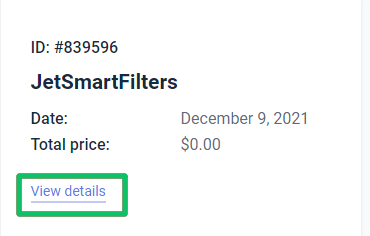 Press the "Subscription details" link, then the "Manage" button.
That's all about canceling the submission.
Was this article helpful?