Crocoblock Dashboard Overview
This tutorial provides an overview of JetPlugins Dashboard and its functionality.
Once you've got a Crocoblock subscription, installed the Wizard, and gone through all its steps, you will immediately see the changes in the WP dashboard menu. With the help of the Crocoblock menu item, you can manage all the available JetPlugins, and update all the stuff included in your subscription plan.
Besides that, a separate dashboard menu option will appear for the theme you have chosen while going through the Wizard installation, be it the Kava theme or any other.
Let's go through the Crocoblock menu options first.
Log into your WordPress dashboard and take a look at the left-side menu. You will find a "Crocoblock" option there, click on it and take a look at the submenu options.
Dashboard
This is the main control panel for all the Crocoblock stuff. From here, you can reach all other submenus and settings sections. It gives you a general overview of the installed JetPlugins and offers some news, as well as access to the licensing, knowledge base, and video tutorials. Let's run over all the sections presented here.
Updates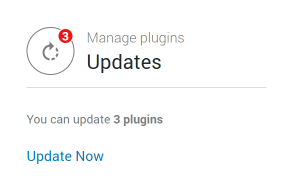 As soon as Crocoblock releases an update for one of the JetPlugins available for you, it will appear in this section. You can update any of the plugins right away from here without going to another page.
Active License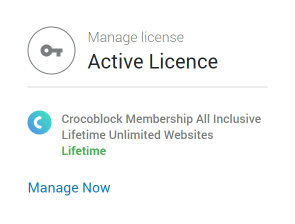 The data about your current license is shown here. If you would like to change it, just hit the "Manage Now" button, and you will be led to the license managing page.
Get Inspired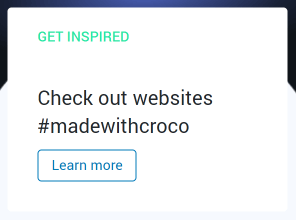 This section is meant to give you a little inspiration. Other websites that were built with Crocoblock products, some of the latest news, or holiday greetings will appear here to cheer you up.
Learn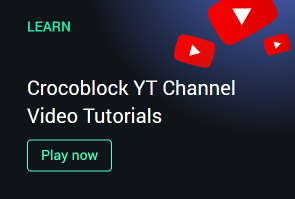 Crocoblock has a slew of videos about the functionalities of JetPlugins. They are all gathered on the YouTube channel; so, whenever you need a hint, the link to it is placed in this section.
Installed JetPlugins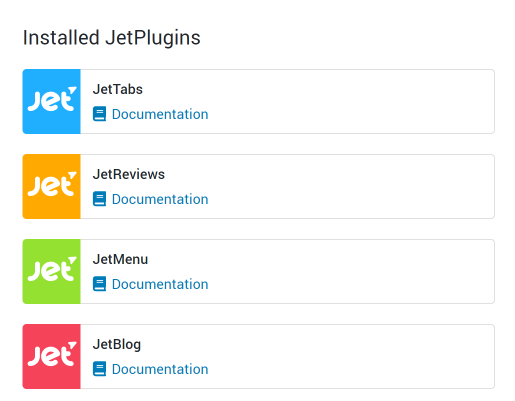 All JetPlugins that you've downloaded and installed on your website are listed in this section. From here you can reach the tutorials dedicated to any specific plugin. Moreover, if the plugin has a separate WP dashboard menu option, you will see a link to this menu on the list.
Hot Deals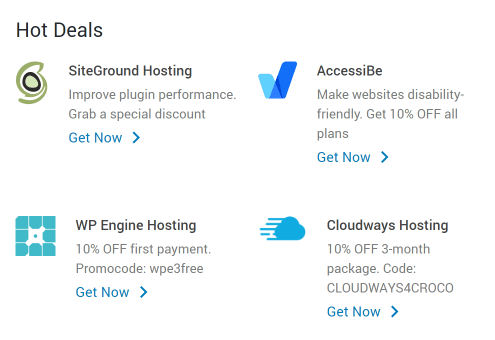 It is obvious from the title that this section shows some of the latest and most interesting deals Crocoblock has on offer. Sales, promo codes, discounts – you will know about them really fast.
Start Here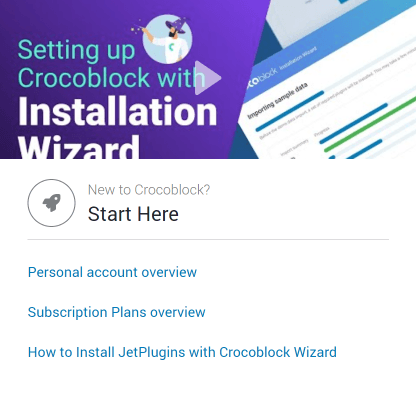 In this section, you will see the list of tutorials that will help you quickly understand how to use Crocoblock items. The most relevant video guide goes to the top of the section, and the text tutorials are listed in the main body.
Help Center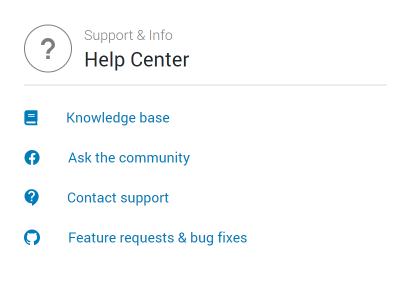 If you still have some questions – you can ask for help. Knowledge Base, the friendly community, and a reliable tech support team are at your service.
JetPlugins Settings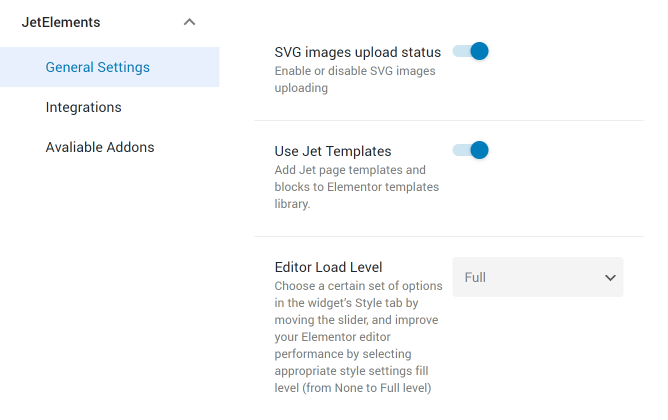 All JetPlugins at your disposal that can have their own settings window are presented here. For example, if you have downloaded JetElements or JetWooBuilder, you will be able to turn on their widgets and define integration or compatibility settings in this submenu. There are also Start Here and Help Center sections here, so if you need some answers, you can find them quickly.
Update & Installation
This menu window is dedicated to plugin maintenance only. All installed plugins are listed in a table. At the top of it, there are two buttons that can help you check for updates and move to the license manager. Every installed plugin cell contains information about its version, and three buttons allowing you to change the version, deactivate the license, and deactivate the plugin itself.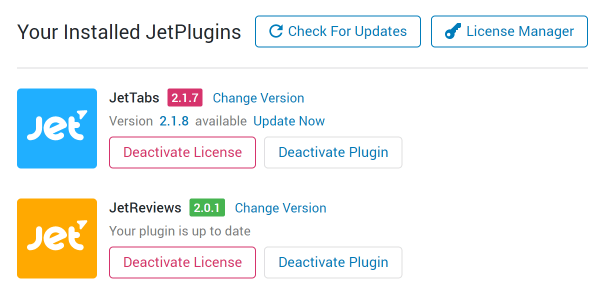 At the bottom of the page, there is a table with plugins that are available under the license you have but are not installed yet. By clicking the "Install" button, you can get the plugin without searching and switching pages.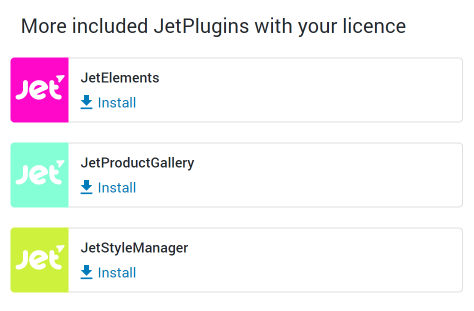 License
Once you click this menu option, you will see a license popup window. It contains information about the License Key, Product Name, Status, Type, Expiration Date, and Included Plugins. At the bottom of the window, there is a "Deactivate License" button in case you would like to change or upgrade your license.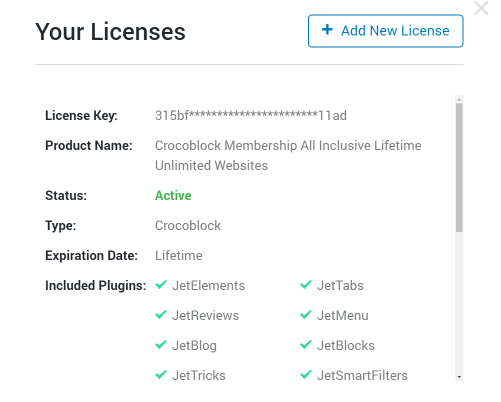 Installation Wizard
You've seen this page right after finishing the Crocoblock installation. From this window, you can re-install the Crocoblock package, Export or Import skins, and visit the Interactive Popup Library.
As you can see, Crocoblock Dashboard is very intuitive and provides you with all the necessary options letting you stay up-to-date and empower your projects.
Was this article helpful?