Once you've got a Crocoblock subscription, you're able to work with all Crocoblock products. In the light of this, you can manage the active plugins, skins, backup the theme, as well as update everything included in the Crocoblock right from Crocoblock Dashboard located in WordPress Admin panel. Make sure you've installed JetThemeCore to have access to it.
Keep reading this overview in order to learn more about the way you can work with Crocoblock Dashboard.
How to Access Crocoblock Dashboard
1 Step — Log into the WordPress Dashboard using your login credentials.
2 Step — Here choose the Crocoblock tab located on the left.
3 Step — Under the Crocoblock tab you can see Crocoblock and My Templates additional blocks. Then, click Crocoblock to access the Dashboard. You can see what it looks like from the screenshot below.
From Crocoblock Dashboard you can manage:
your active license;
available plugins included in the package;
Kava theme backups and versions;
skins available for being installed;
important Crocoblock settings;
the User Guide block.
Managing License
By default, when you access Crocoblock Dashboard, the first tab that's open is License.
In this tab, you can find the license key that you already have after purchasing the Crocoblock subscription. You get it from your Personal account in the Purchase Details > Manage License block at Crocoblock's official website.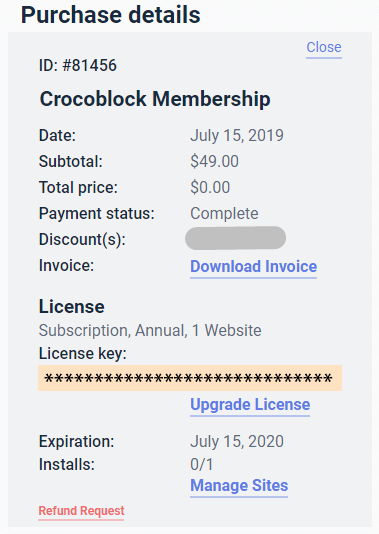 By the same token, you can check if the particular license key is active on your site in the Status field.

In case you need to make your license inactive, click Deactivate button.
Plugins
Shift to the Plugins tab. This tab provides access to the full list of Jet Plugins which are available for setup and usage.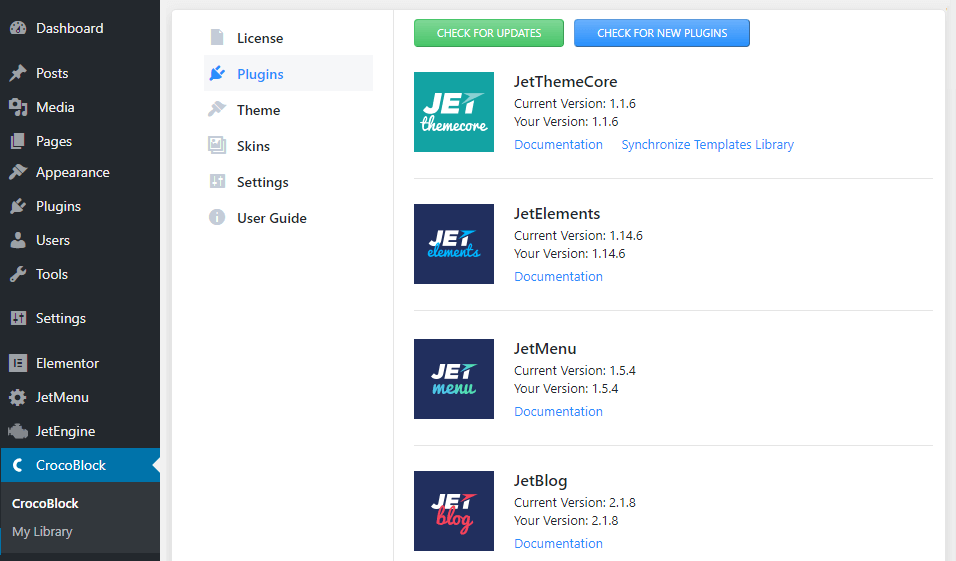 Here you can manage the following options:
Check for Updates – hit the button to check if you can download and install any new updated versions of the plugins you have on your site.
In case there are any updates listed, you'll easily keep track on the new plugin versions. They will be listed for each of the plugins, and you'll be offered to make updates right from Crocoblock > Plugins block. Take into consideration, that you are able to update your plugins in the Plugins > Installed Plugins tab in the WordPress Dashboard as well.
Click Check for New Plugins button to check if there are any new plugins available.
If you have any available but uninstalled plugins in your Crocoblock subscription, hit Install button, and the new plugin will be installed right away.
If you need to access the plugin's documentation, click the Documentation button.
The use of Synchronize Templates Library gives an opportunity to sync the existing templates which you can view in Magic Button library (headers, footers, sections, and pages).
Theme
Switch to Crocoblock > Theme in the Crocoblock Dashboard in order to view the theme details.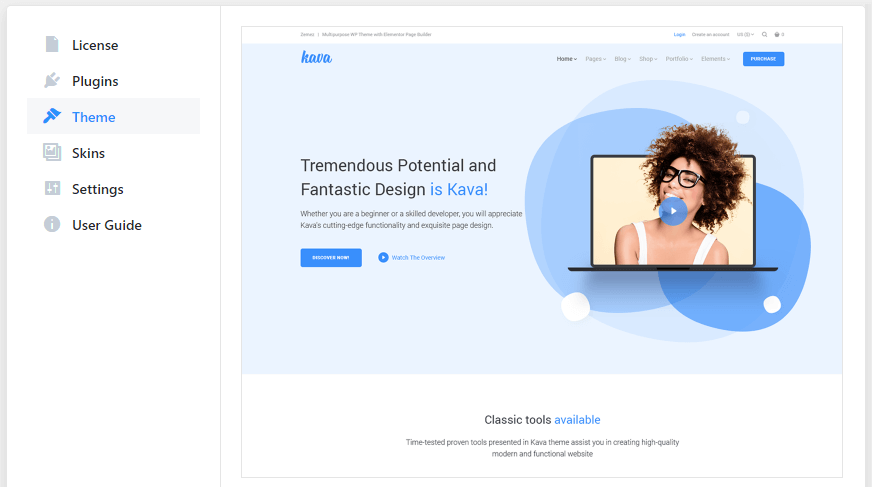 Here you can take a look at the information about Kava theme:
its current state;
version;
availability of new updates.
If the newest updates are available, just hit Update Now option to update Kava theme.
Additionally, there's also the Child Theme block. It provides information about Kava Child theme: if it is active on the site, or you use the parent theme only.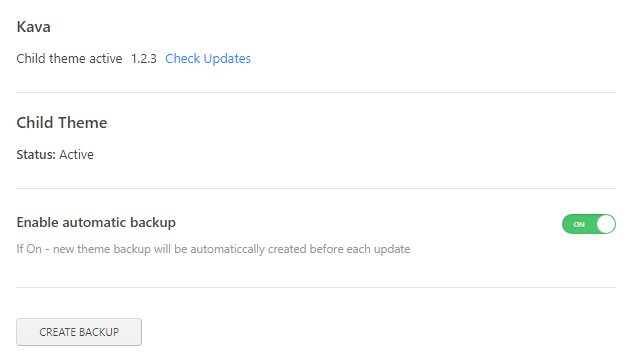 Turn on Enable automatic backup block option in order to make backups automatically before each update.
Also, Create Backup button is useful in case when you want to create a backup manually before making any changes within the theme.

In other words, with the Create Backup button you'll easily create a backup and become able to load it anytime you need, or delete it if it's not needed.
Skins
Navigate to Crocoblock > Skins to locate the skins which Crocoblock package provides.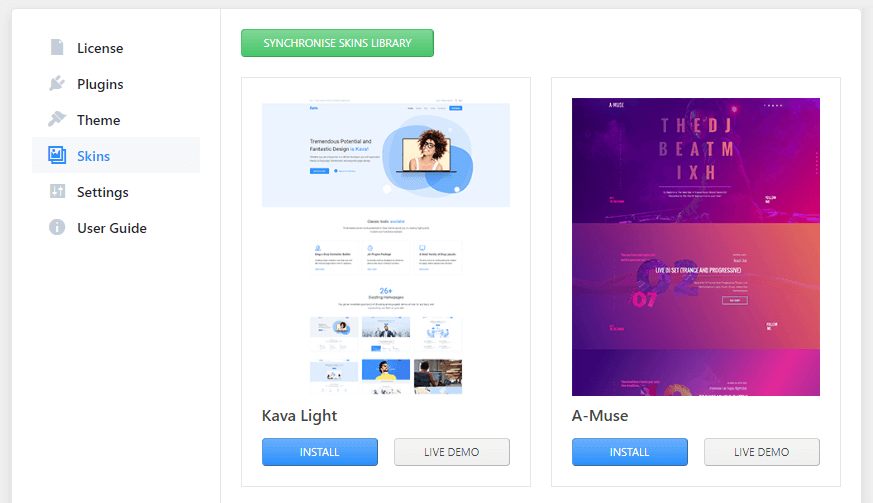 Down below each of the skins, there are two buttons which give two different options:
Install – installs the skin on a website. The installation is made with Jet Plugins Wizard.
Live Demo – redirects you to the live demo page so that you can view how the skin looks on the site.
Should you want to update the existing skins and check the availability of something new click the Synchronize Skins Library button. The new skins roll out weekly (usually on Fridays).
Settings
Open Crocoblock > Settings in order to access the available settings.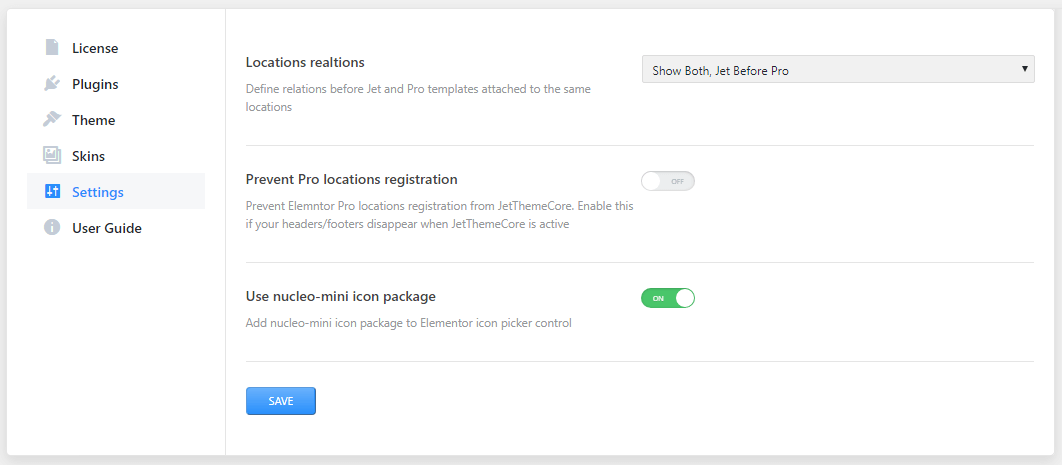 Here you can find the settings described below
Locations Relations allows setting a preference in usage of the templates created via JetThemeCore and Elementor Pro, and added to one's site.
The Locations Relations can be managed in such a way:
show both, Jet before Pro;
show both, Pro before Jet;
Jet overrides;
Pro overrides.

Turn on the Prevent Pro locations registration option to prevent Elementor Pro locations registration from JetThemeCore. Turn this option on in case the existing headers or footers are disappearing when you use JetThemeCore.
Use nucleo-mini icon package – switch on the option if you want to use the nucleo-mini icon package.
User Guide
This tab provides more information about Crocoblock. Here you can get all the necessary information about the sources, where you can find a vast knowledge base with detailed tutorials, video tutorials and the latest news.

As you can see, Crocoblock Dashboard is very intuitive and provides you with all the necessary options letting you stay up-to-date and empower your projects with Crocoblock products.