Crocoblock License Subkeys
Manage Crocoblock lisence subkeys to protect your licence from stealing.
What is a Subkey?
License subkeys aim to protect your license activated on several websites from stealing. It is a feature for checking and verifying sites where the plugin is used.
The Subkey is a set of symbols that can replace the primary license key for a specific domain. The plugin asks for a license key upon activation and pings the domain. Then, this subkey associates the plugin with the domain. While the subkey is a single-site license you can create from your subscription, there is no sense in stealing the plugin you bought.
Users specify the domain, and the subkey is generated for a particular domain and is associated with it only. The subkey will work only for the domain(s) that users specify in their Personal Accounts.
The best practice here is to build websites for a client in a test environment and to upload a fully completed site to the client's domain. Then generate the subkey for that domain and use it to activate the license. It is also better for the safety of the license key.
Once more – the primary key is for license owners. Use subkeys on the client's domains.
How to Create Subkeys?
To manage subkeys, navigate to the section with subscription details from the right side. Scroll down the Purchase Details block to find the Crocoblock Membership tile or a plugin with several activations. Under the License key field, you will find the "Manage Subkeys" link. Click on it if you want to handle subkeys.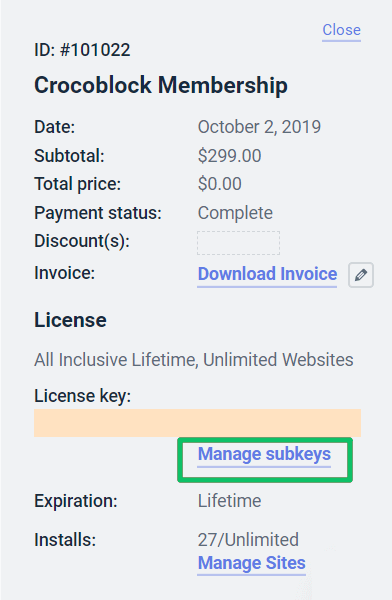 The "Manage Subkeys" pop-up shows subkeys, the URL of sites associated with them, and their Status (Activated or Not Activated).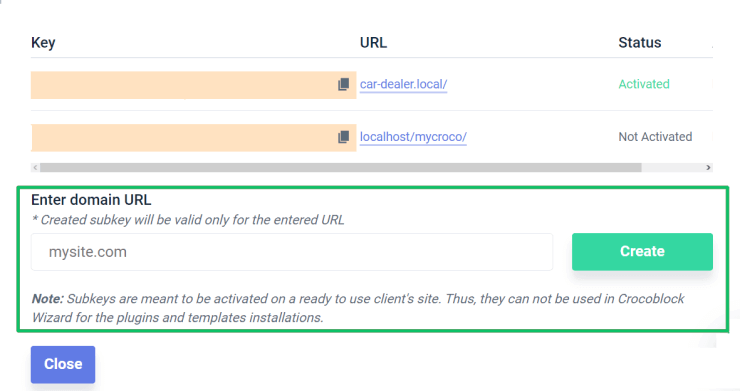 To add your site's domain to get a subkey, type the URL you need into the Enter domain URL field. Then press the button "Create", and the subkey will be generated automatically for this particular website.
Copy the subkey and use it as a regular key to activate the plugins on the website. Then the status of the keys used to activate the subscription will be changed to "Activated". You will see this status in the Key column. You can revoke the key for any URL, and the URL will be permanently removed. Therefore you will be asked, "Are you sure?". If you press the link "Yes", the URL will be deleted finally. In that case, the license will be canceled for the website you entered.

But if such revoking was mistaken, users should enter the domain URL again (into the Enter domain URL field); thus, a new subkey will be generated.Once the subkeys management is finished, close the pop-up window by clicking on the "Close" button.
That's all about subkeys. Now your sites are protected from stealing.
Was this article helpful?