The process of adding a new product to an online shop has become easier thanks to WooCommerce. You don't need to have any coding skills or to hire a developer to code for you. Let's walk through the process of creating a new product in WooCommerce.
Adding a new product
Step 1 — Firstly, log in to the WordPress Dashboard and proceed to the Products > Add New tab.
Step 2 — Then, type the product's title into the Product name field and add the description to the field below.
Step 3 — After that, proceed to the Product data block. Here select the type of your future product from the Product data dropdown.
Step 4 — Afterward, set the Regular (the normal price) and Sale (the discounted price that can then be scheduled for certain date ranges) prices for a product.
Step 5 — Later, switch to the Inventory tab where you can manage the stock for the product individually, allowing customers to add only the certain number of products to the cart, etc.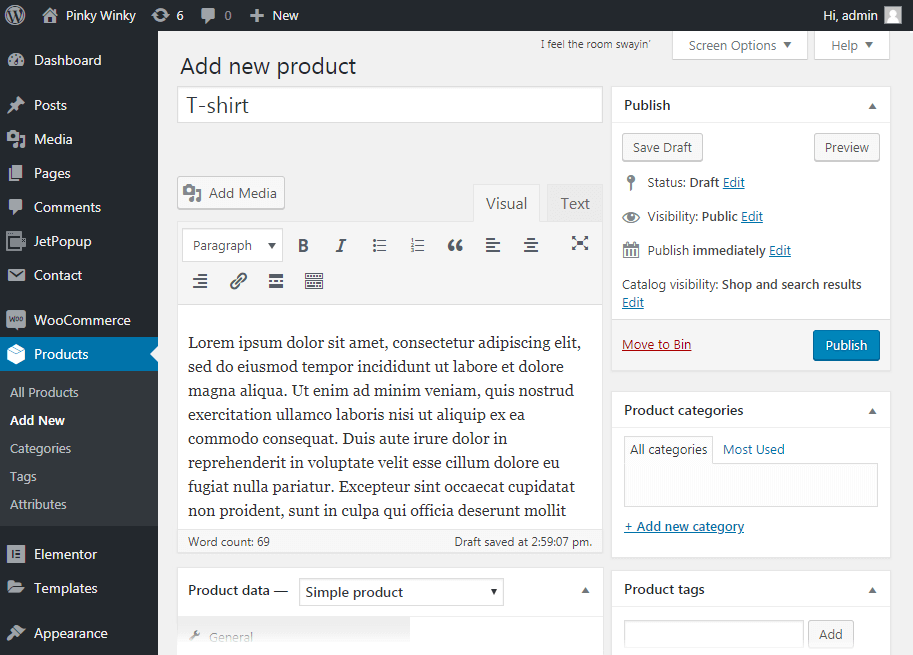 Step 6 — You can also define how your new product will be related to others in the Linked Products tab.
Step 7 — Fill in the Slug field to create a unique URL-address of this particular product.
Step 8 — Scroll the page down to the Product short description section. Add a short excerpt which will appear next to the product on the listing page or on hover.
Step 9 — You can add a category and a tag in the Product Categories and Product tags sections.
Step 10 — The last step is to scroll up to the Publish section and click the Publish button.
Here is your product! Go to your website, reload a page to view the newly added product. You can come back later and change any information about the product if necessary.