Multiple popup conditions is a very useful thing, as you can create just one popup and add a lot of conditions to it. Also, if you want to set the popup to different locations, for example, only for one page or for the whole site, you can do it easily using the Include or Exclude options.
From this tutorial, you will learn about multiple popup conditions and how to set the popup to different locations. So, let's begin!
Setting the popup to different locations
Step 1 — First of all, you need to create a popup. You can do it from scratch or use the presets from the Popup Library. In case you have a ready-made popup, just open it in Elementor.
Step 2 — Click the gear icon at the bottom to proceed to Jetpopup Settings. In order to set multiple conditions to the popup, you should navigate to Display Settings and click the Display Conditions button.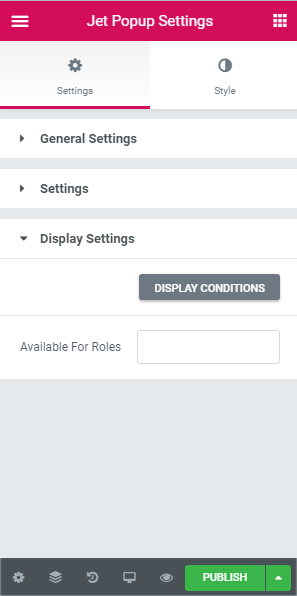 Step 3 — After that, you can choose the needed conditions, or if you need more, you can just click Add Additional Condition button and choose extra conditions for your popup. The great thing is that you can add unlimited conditions.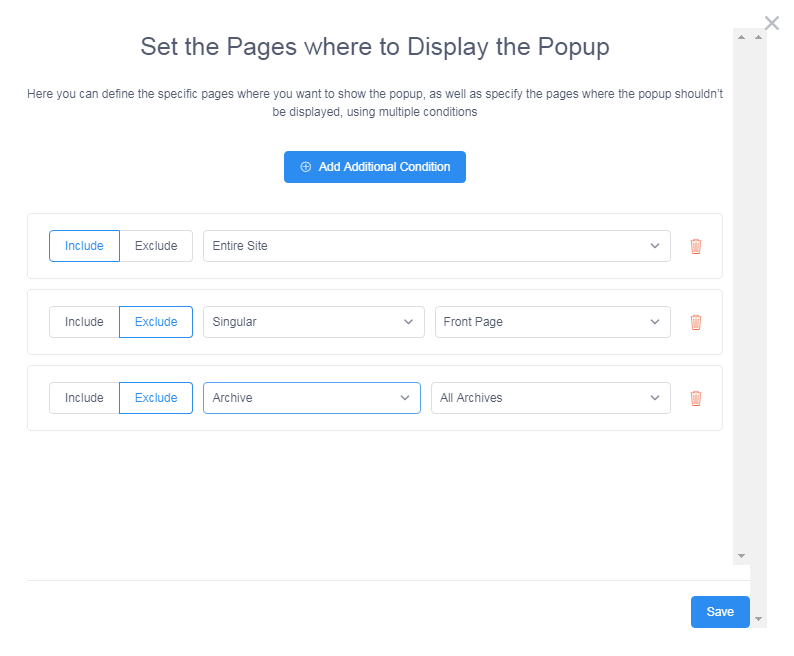 Interestingly, you can choose either Include or Exclude conditions. If you choose Include, then, the popup will always appear on the set pages or posts, and if you choose Exclude, then the popup won't appear on the posts and pages that you have set.
Generally, you can choose different conditions for your popups, such as Entire Site, Singular, and Archive.
In case you need to apply the popup to the whole site, you should select the Entire Site condition.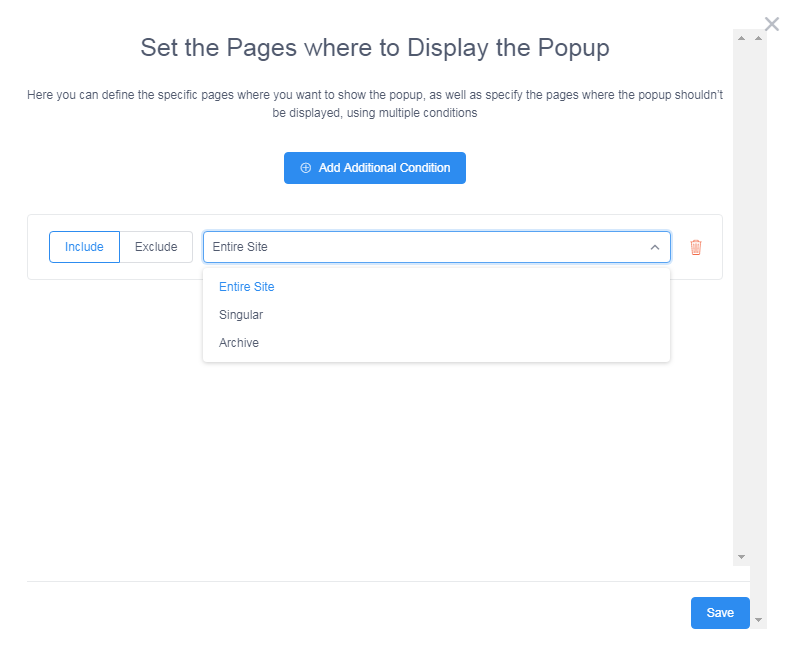 If you need to use the popup in the specific post, you can do it with the help of Singular option. Just select the post you need from the dropdown in the next field.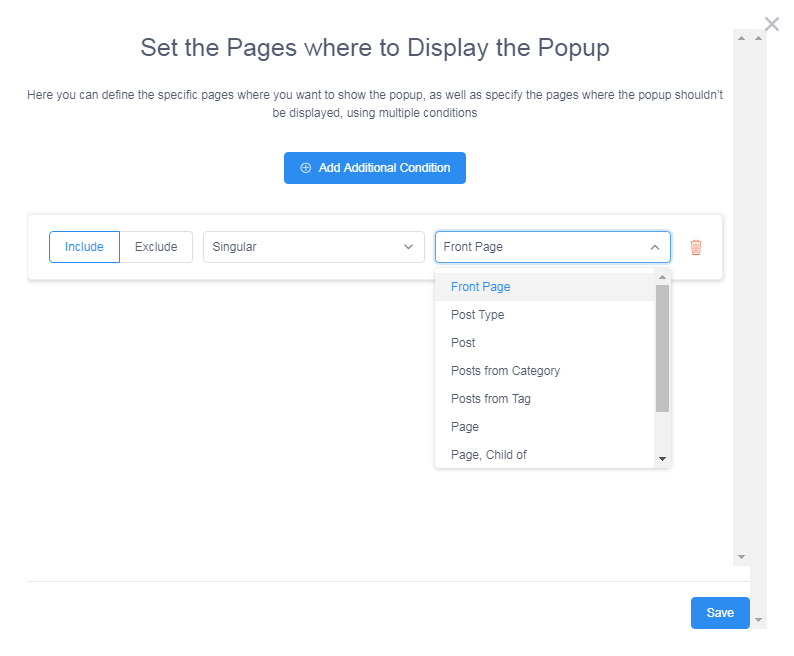 With Archive option, you'll be able to set the popup for one of the Archive pages. For example, you can choose the Post Type Archive condition and show your popup on the specific archive.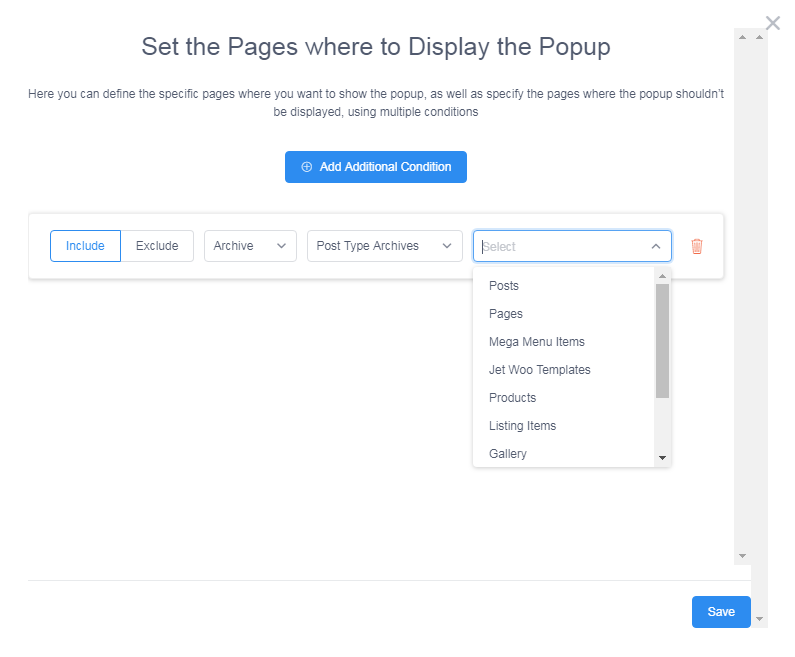 Also, there's an opportunity to set the popup for Tag and Category Archives. In this case, you should specify the tag or category to set the popup only for them, or just leave the field empty to show the popup for every tag or category archive.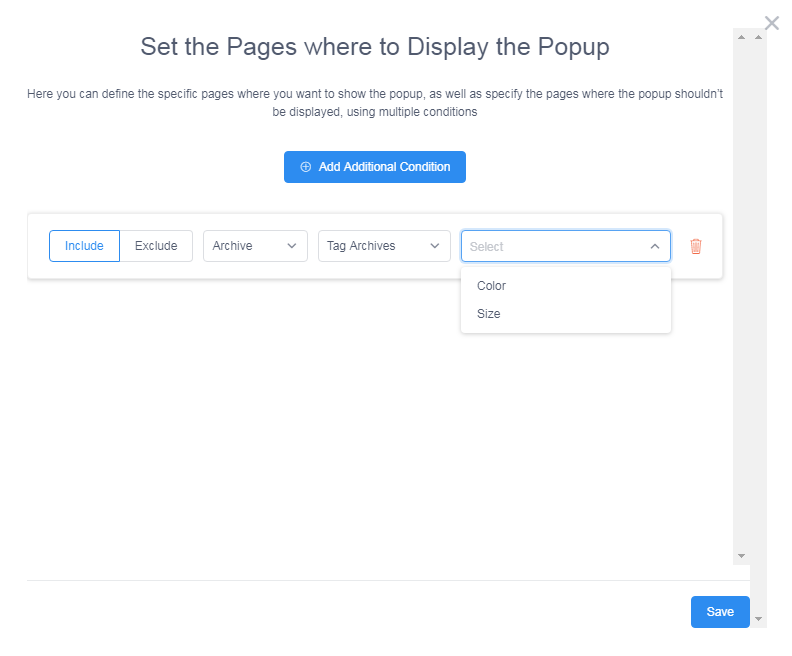 Step 4 — Moreover, when you've set your popup for the Entire Site, but you don't want to show it on specific post, you can easily add Exclude conditions and apply it to the needed post, so the popup won't be shown there.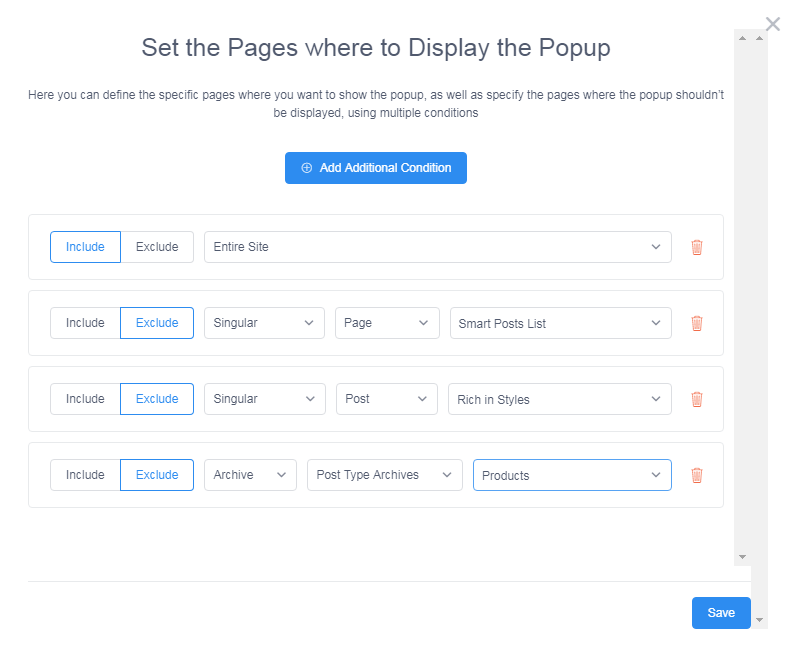 Step 5 — After all conditions are set, click the Save button and check how it works on the front end.
So, now you know how to apply the popup to different locations with the help of the display conditions settings of the JetPopup plugin. Hope this tutorial helped you to make your work with popups easier and even more exciting!