Looking for the best add-ons for creating really cool and impressive online store website in WordPress using Elementor? Crocoblock provides JetWooBuilder and JetProductGallery, the plugins which are perfect for building an online shop with Elementor.
However, it might turn out that you don't use some of the widgets of the plugin for your current project. In order to make the process of working with the plugin lighter and easier, you can temporarily disable the widgets you don`t need.
In this tutorial, we're going to find out how to enable or disable not necessary widgets in JetWooBuilder plugin.
Enabling and disabling JetWooBuilder widgets
Step 1 — First of all, open your WordPress Dashboard.
Step 2 — Hover over the Elementor option in the right-side menu and find the Jet Woo Builder Settings option. Click it.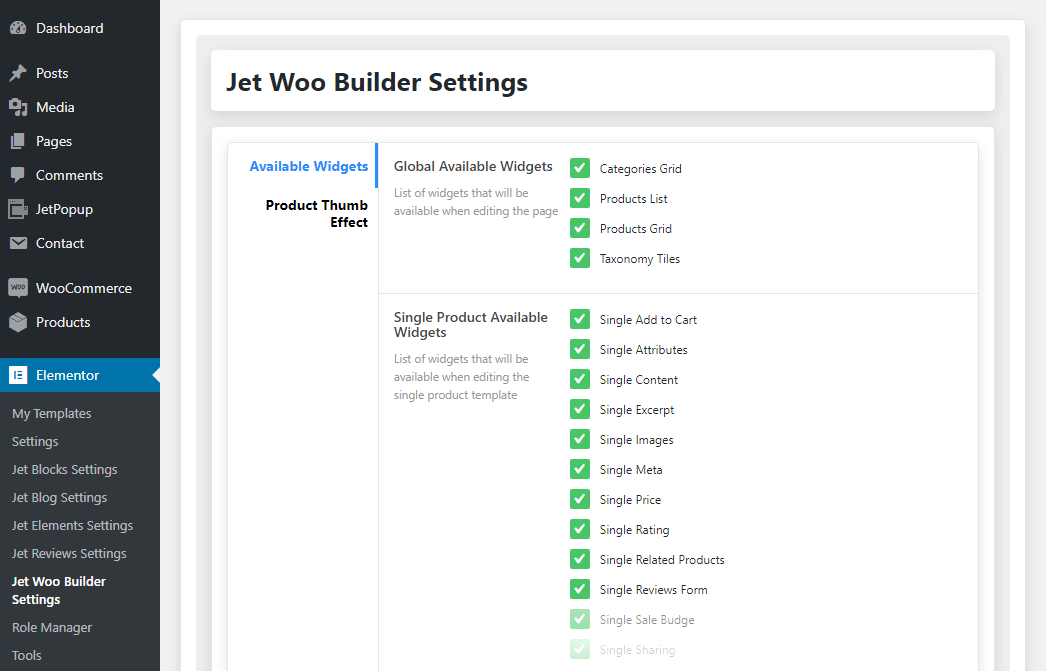 Step 3 — Now you can see the Jet Woo Builder Settings screen with the two tabs included.
Step 4 — The Available Widgets tab lists all the JetWooBuilder widgets. There are five blocks of widgets:
Global Available Widgets – these widgets are available for any Elementor template.

Single Product Available Widgets – you can use these widgets only if you work with Single Product page templates.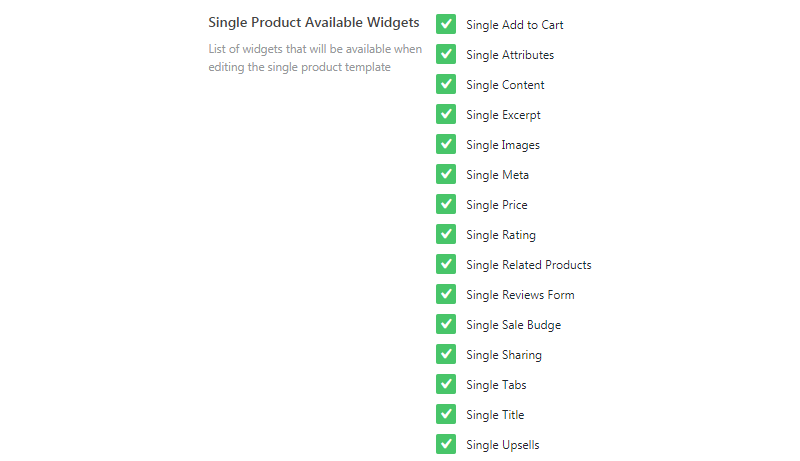 Archive Product Available Widgets – once you start working with the Archive Product templates you can access the following widgets.

Archive Category Available Widgets – you can utilize these widgets while building Archive Category templates.

Shop Product Available Widgets – the following widgets can be used only when you work with Shop Product templates.
Step 5 — If you want any of the widgets to be displayed in Elementor, tick it. If you want the widget to disappear, just untick it.
Step 6 — Then click the Save button in order to save the latest changes.
Well done! Now you have only the widgets you need to use in your project.
Later on, working with another site, you may disable or enable the JetWooBuilder widgets. Note, that you can disable and enable widgets not only for JetWooBuilder, but also for other Jet plugins.