Custom Taxonomy Template option from JetWooBuilder plugin allows applying styles from your shop template to different taxonomies. For example, you want products from one category to have a different look than the whole Shop template. Now you can create different shop templates and apply the style of one template to a specific product category. Great, isn't it?
Set up the custom taxonomy template option
1 Step — Enable Custom Taxonomy Template option
Firstly, you need to navigate to WooCommerce > Settings > JetWooBuilder. Here you'll see the Custom Taxonomy Template option.

When we enable this option, then Jet Woo Templates will be applied only for those taxonomies to which we specified them, and everything else will take the theme stylization.
Also, the Custom Taxonomy Template can be applied to all standard WooCommerce taxonomies, such as Product Categories and Tags.
2 Step — Adding Custom Template for taxonomy
After you've enabled the Custom Taxonomy Template option, you can navigate to your Product Categories or Tags. Here you'll see a dropdown with all your Shop templates.
You can also add a template for an already created category.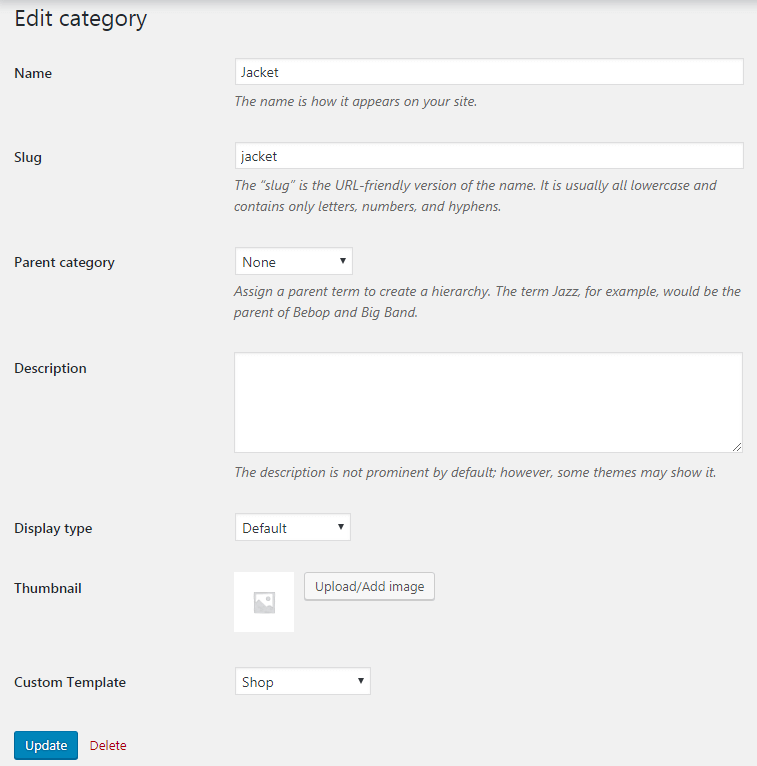 Adding templates for the taxonomy is a really useful option because you'll be able to style up the template according to your preferences and then apply these styles for a specific category or a tag.
3 Step — Enable both Custom Shop template and Custom Taxonomy template options
If we enable both Custom Shop Template and Custom Taxonomy Template options, then on the Shop page and on the taxonomy pages where no template was applied, we will see the same template we've created for the shop page. On the pages where we've applied a template, we'll see this template.

Now you know how to set up a Custom Taxonomy Template with the help of the JetWooBuilder plugin! Congrats!