JetEngine Compatibility with Rank Math SEO
From this tutorial, you will learn how to set JetEngine compatibility with the Rank Math SEO plugin and make meta fields available for parsing.
The Rank Math SEO plugin is a tool that helps you to handle the SEO on your website. It checks the content of posts and gives you some advice about improving its SEO conditions. However, by default, it can't reach the custom meta fields you create via the JetEngine plugin. Those meta fields can contain keywords or focus phrases, so it would be nice if Rank Math could check them, too. You can allow meta fields parsing in the JetEngine dashboard.
Open your website's dashboard and go to JetEngine > JetEngine Dashboard. If you have downloaded and installed the Rank Math SEO plugin, the SEO tab will appear in the window.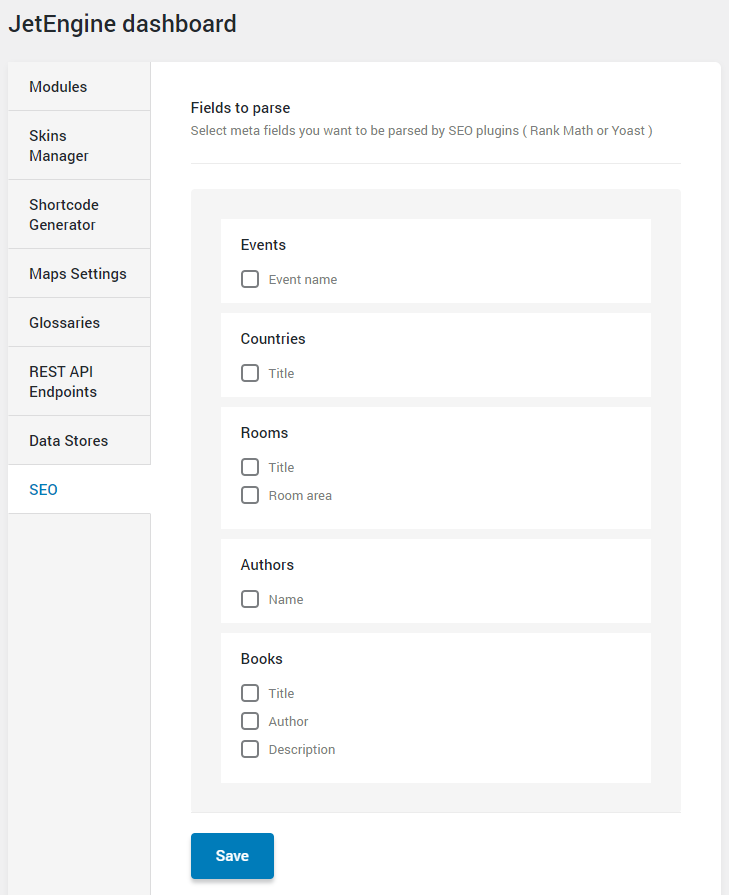 As you can see, all the Custom Post Types you've created by far are listed here. Only the Text, Textarea, and WYSIWYG meta fields, both placed separately or into the Repeater meta field, can be parsed, so they are also displayed in this window. To allow the Rank Math SEO to check the meta field, just tick the checkbox near it.
Don't forget to press the "Save" button.
From that moment, the meta fields you select become available for parsing. Just as simple as that.
Was this article helpful?