$55,000 to $75,000 fine for first-time violations, $150,000 fine for every repeat violation. If you thought it was a large scale fraud fine or something like that, well, it's not. This is the ADA non-compliance penalty.
What is ADA, Section 508, and WCAG?
In this article, we will discuss ADA website accessibility compliance, WCAG, how to provide website accessibility for people with disabilities, and more. Let's start over with the terms.
ADA
ADA stands for the Americans with Disabilities Act. This is a civil rights law that prohibits discrimination against people with disabilities in all areas, including work, schools, transportation, public places, etc.
First drafted in 1990, this law didn't include any states about web design. But in 2010, the U.S. Department of Justice released the Americans with Disabilities Act Standards for Accessible Design, which covered electronic and information technology, including websites.
The ADA requires businesses, nonprofit organizations, state and local governments to provide people with disabilities with maximum possible equal access to services. Likewise, federal governments must comply with a federal law called Section 508.
Section 508
Section 508 is a part of the Rehabilitation Act that requires federal agencies to develop and maintain electronics, communications, and information technology, so people with disabilities can easily use it.
Section 508 purview is restricted to both federal employees and businesses that use governmental funding.
WCAG
ADA requires the strict following of the accessibility rules yet doesn't provide any particular instructions. And here comes the Web Content Accessibility Guidelines (WCGA).
The Web Content Accessibility Guidelines developed by the Web Accessibility Initiative (WAI) is an ISO standard (ISO/IEC 40500:2012). Following these guidelines is not required by law, but it's the most-accepted path to accessibility used by developers and businesses.
WCAG: Explained
WCAG Conformance Levels
WCGA divides conformance into three levels:
A – Minimal compliance. Following just the minimal criteria unlikely will make your website accessible and ADA-compliant.
AA – Acceptable compliance. This level marks the websites, accessible and understandable for most people, including those with disabilities. The website should meet all the A and AA level requirements to achieve the second level of compliance.
AAA – Maximum compliance. It is the highest score the website can achieve, it means absolutely equal and maximum possible accessibility. All three levels of ADA compliance requirements must be fulfilled to receive AAA, but at the same time, some AAA requirements simply can't be met because of the specifics of some particular websites.
WCAG is updated continuously to meet all up-to-date needs. The latest version is WCAG 2.1 of 2018, which expands WCAG 2.0 of 2008, not replacing it.
WCAG 2.0
WCAG 2.0 Guidelines include four main principles with 12 success criteria. This is an extensive and detailed document that contains a vast number of rules, guidelines, explanations, and explanations to explanations. We offer to go through all points as briefly as possible. If you'd like to study the entire document, it's here.
Principle 1: Perceivable. Users should get the information and user interface elements in a way they can comprehend it.
1.1 Add text alternative to any non-text content.
For example: Provide website images with an additional text description.
1.2 Provide alternative access for time-based and synchronized media. This includes audio-only, video-only, audio-video, audio and/or video combined with interaction.
For example: Provide captions for prerecorded and live audio content.
1.3 Create content that can be displayed in various ways (e.g., more straightforward layout) without losing essential elements and information.
For example: Make content structure in a way to be programmatically identified and write it to be presented in diverse ways: visually, audibly, tactilely etc.
1.4 Make the default content presentation as accessible as possible for everyone.
For example: Use readable fonts / ensure the text is big enough and has good contrast / provide a very noticeable highlighting mechanism for links or controls.
Principle 2: Operable. All user interface components and navigation should be operable.
2.1 All website features must be available from a keyboard.
For example: A calendar widget that allows users to add and edit details using only the keyboard.
2.2 Make sure users have enough time for reading and using the content.
For example: There always should be an opportunity to pause, stop, or hide blinking/moving/etc. 5+ seconds content pieces.
2.3 Avoid creating any content that may cause seizures.
For example: There is a clear rule about how much flash you can use on a page simultaneously.
2.4 Help users navigate and find the content they need.
For example: "First name" and "Last name" labels on the input fields.
Principle 3: Understandable. Everything within the user interface must be entirely understandable.
3.1 Users should be able to read and understand every piece of text on the website.
For example: Highlighting links / clarifying meaning by using images.
3.2 Make sure that the web pages are operating only in predictable ways.
For example: You should not make any significant web page changes without notifying users.
3.3 As much as possible, help users avoid and correct mistakes.
For example: The help tips next to each question in the form to make extra explanations to each item.
Principle 4: Robust. Content must be robust enough, so any web browser and assistive technologies can understand it.
4.1 Provide compatibility with maximum web browsers.
For example: You must ensure that browsers can parse your website's content accurately.
WCAG 2.1
As I already mentioned, WCAG 2.1 is backward compatible with WCAG 2.0, which means that:
The previous principles and guidelines continue operating
The numbering remains the same
Three levels of success criteria still apply
Instead, version 2.1 of the document extends the previous one with 17 new success criteria. New criteria mostly focus on mobile and tablet interactions, which no one took into account 12 years ago.
Also, not all user groups' concerns were identified at the time. For example, WCAG 2.1 finally included proper success criteria for making websites accessible for people with low vision and cognitive disabilities.
WCAG 2.2
At first, WCAG 2.2 should have been released in November 2020, but then it was pushed to summer 2021. Nevertheless, the draft is already finished and available. WCAG 2.2 will also become an addition to versions 2.0 and 2.1, not replacing it but expanding it with nine more success criteria.
It seems like the team behind WCGA knows its business, as it does fulfill all the new needs very timely. For example, WCGA 2.2 includes a new guideline stating that if there is Captcha, there should also be an alternative way to authenticate that doesn't require a cognitive test.
WCAG 3.0
The first public working draft of WCAG 3.0 is expected In December 2020 or January 2021 (as of 12/15/2020, it's still not published). The project's codename is Silver, and it wasn't picked up randomly.
As you already know, WCAG stands for Web Content Accessibility Guidelines. In fact, these guidelines now operate much wider than within the web content so that the WC can be deleted now, and just AG will remain. AG is the chemical symbol for Silver.
The Silver won't have A/A/AAA levels approach. Instead, it will include a points system: Bronze, Silver, and Gold. The new policy has its pros and cons.
Pros:
Previously, if the website met all AA-level criteria but, for example, missed a single point of the A-level criteria, it wouldn't receive any conformance status. The new grading system is much smoother and allows reasonable deviations from the standard.
The document will likely become less confusing. For example, the guidelines will be divided into categories by different disabilities and user interactions.
The new guidelines will include guidance on how and how much of a site needs to be tested for accessibility.
Cons:
The minimum compliance level within the AG 3.0 equates to the AA level of the current grading. It means that the websites with a minimum of the currently required compliance level wouldn't comply with Bronze.
On the other hand, the WCAG 3.0 standard won't take effect before late 2022. There's still enough time to make your site accessible on your own if you are experienced enough, or with the help of the third-party developers, or using special instruments like accessiBe.
accessiBe
This summer, our team partnered with accessiBe, and also integrated this solution into the Crocoblock website.
accessiBe is a fully automated web accessibility solution for ADA & WCAG compliance. It sticks to WCGA and applies A.I. to scan, examine, and adjust the website's code and performance to fit compliance requirements.
This tool points at the compatibility elements the site lacks and helps to implement them quickly. You can watch the demo to see how accessiBe works and test it right now on this page! The purple icon in the lower-left corner is the accessiBe widget.
accessiBe considers the needs of people with any disability, disorder, illness, or injury, making the internet equally accessible for everyone as much as possible.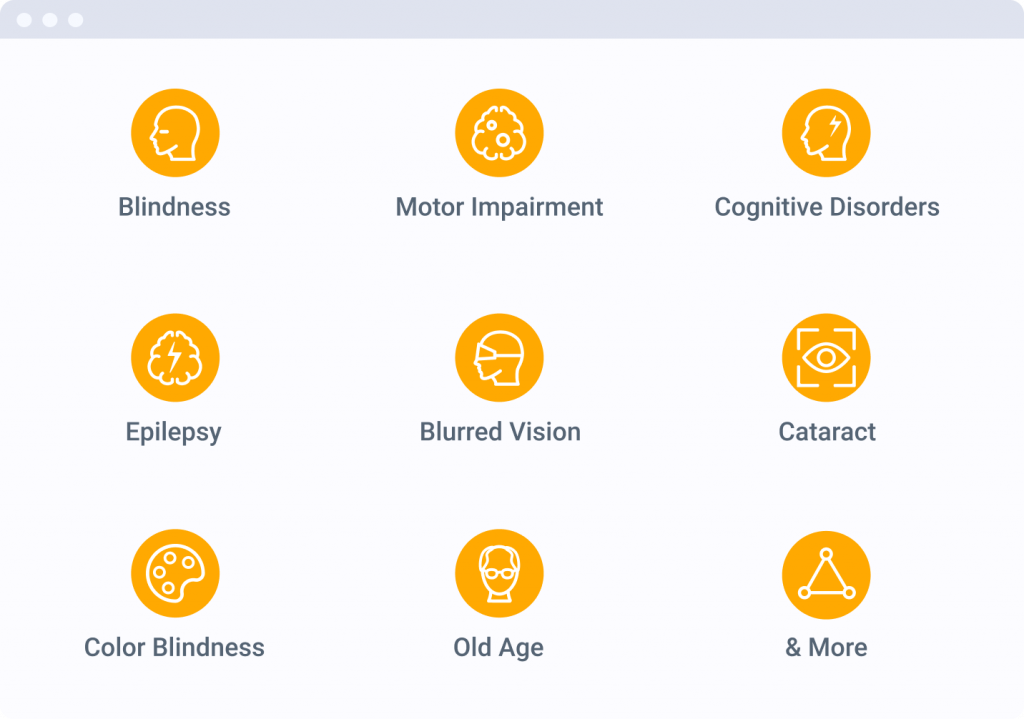 As for web developers, there's no more need to spend hundreds of hours to win the making-the-site-compliant struggle. AccessiBe installation takes up to 48 hours, and the solution maintains the ADA-compliance automatically, rescanning the website every 24 hours.
What's also crucial, accessiBe backs its clients if they receive the demand letter. The company's partnership managers investigate the claim, present the accessibility report, suggest the response letter, and assist through the entire process. As we found out from the accessiBe Live Q&A, 98% out of >2000 cases, which happened over the last 18 months, were closed immediately after the team provided the support to the clients.
We launched an ADA customizer and installer for accessiBe to ease the customization for those who already use this solution. The plugin is free. Before, you had to make the adjust accessiBe inside the solution, out of WordPress. The plugin enables you to work with accessiBe and your website settings in a single place — your WordPress dashboard.
AccessiBe pricing starts from $490/year. Not so much compared to the ADA non-compliance fines, developers' and lawyers' bills, or weeks spent on programming. Register accessiBe account via this link to get 10% OFF any plan.
Non-Compliant Websites
If your website is not accessible, then you have at least two things to worry about. The first is losing potential customers if the website is not approachable to some groups of people. The second is the lawsuits.
The number of claims against companies whose websites and mobile applications do not meet accessibility requirements is growing every year. For example, in 2018, the number of court cases rose by 177% compared with 2017 and continues growing steadily. In 2019, web accessibility lawsuits hit the record with 11,053 filed suits. Even the coronavirus pandemic dropped down the cases just for a couple of weeks, which rose back to normal as early as May 2020.
Compliant Websites
If your site meets the accessibility guidelines, you won't worry about the previous section's things and also receive great bonuses.
Accessibility will likely affect SEO and raise your site in the search results. This will happen because Google gives ranking benefits to the sites that meet accessibility requirements like alt texts, etc. Another obvious thing is that the accessible sites' bounce rate is lower, and the average visit duration is longer.
Ultimately, all these things will result in the sales and number of customers increase.
Instead of Conclusion
Within the accessibility issue, we are mostly talking about obligations, penalties for non-compliance, and compliance benefits. But there are also many people who really need this equal opportunity.
15% of the world's population, one billion people, experience some form of disability. 61 million out of this number refers to adult US citizens. Each of these people wants to enjoy all the Internet benefits the same way as other people. Well, you know, buy plane tickets, read the news, and so on. It is in our power to make this possible!
The topic of accessibility is endless. We can continue talking about each law, all the guidelines, how to create accessible resources, and much more. But so that you don't have to read this article for a few more hours, we decided to answer the most important questions briefly.
Website Accessibility – FAQ
How to develop an ADA-compliant website?
Your website must provide solutions for four main categories of disabilities: hearing, visual, cognitive, motor. The most common ways are:
1. Create as simple navigation as possible
2. Structure HTML and CSS to label all coded elements accurately
3. Provide text alternatives to all multimedia content
4. Design a website contrasting enough 
5. Avoid blinking elements within the design
6. Create captions for video content that replicate the spoken words and descriptions of the tone, facial expressions, etc. 
How to check a website for accessibility?
There are four main points of accessibility: 
1. The content must be perceivable. Make sure it's deliverable in several alternative ways.
2. The interface must be operable. Make sure all the site's features are available through the keyboard solely.
3. The site must be understandable. Make sure the navigation is easy to cope with for anyone.
4. The site must be robust. Make sure it won't cause any significant validation errors.
Do I have to make my website ADA compliant?
Yes, unless you want to lose thousands of clients and multiple lawsuits. 97% of the websites fail accessibility tests, so the plaintiffs usually win the cases. 
If your website is just an informational resource, unlikely it will receive a lawsuit. However, if it is connected to e-commerce like a store or restaurant website, or if it's a bank website, educational website, or a medical website, etc., you may be at risk.

Do nonprofit websites have to comply with ADA?
Yes, nonprofits must ensure their websites are accessible to people with disabilities. There are already legal cases against nonprofit organizations about the sites' inaccessibility, in which the defendant lost.

How to reduce the risks of ADA lawsuits?
Here're some steps to follow to reduce the risk:
1. Implement an ADA policy to discover if your website is accessible. Think of hiring legal counsel with accessibility experience.
2. Conduct regular audits on your own or using special software to check the website for ADA compliance. 
3. Educate IT personnel on ADA principles.
4. Evaluate the existing lawsuits to make sure your site could not be sued for the same things.
5. Ask people with disabilities for testimonials if they really can use your website in full.
Where to learn accessibility?
Learning how to implement accessibility is challenging. Probably it is the main reason why accessibility requirements are neglected. To dive into the topic, we suggest you study the original WCGA overview. And to cope with it accurately, we recommend taking a free Web Accessibility course by Google.