Decided to become a website designer? Want to improve your web design skills?
Whatever your goal, today, you can find millions of different web design courses. Some offer a lot of practice, some teach modern trends, and some may even help you get a job.
Web design is a field where everything changes in a matter of days. And what was relevant yesterday, no one uses today. Therefore, web designers must always keep their finger on the pulse and quickly master new technologies, trends, and techniques. You can find dozens of tutorials on YouTube or other free resources, or you can take professional courses.
In this article, you will discover ten courses you can take a look at if you want to learn more about the ins and outs of web design.
So save this article for reference when you feel like taking a new course.
Table of Contents
10 Best Web Design Courses and Platforms
Web design surprises with its possibilities: dynamic elements, beautiful buttons, illustrations, and pop-ups. As a web designer, you can create all these elements. Next, we will look at online courses and platforms to help you learn this. A quick tip: to see some fantastic web design examples, you can visit Awwwards.com and get inspired by the work of professionals: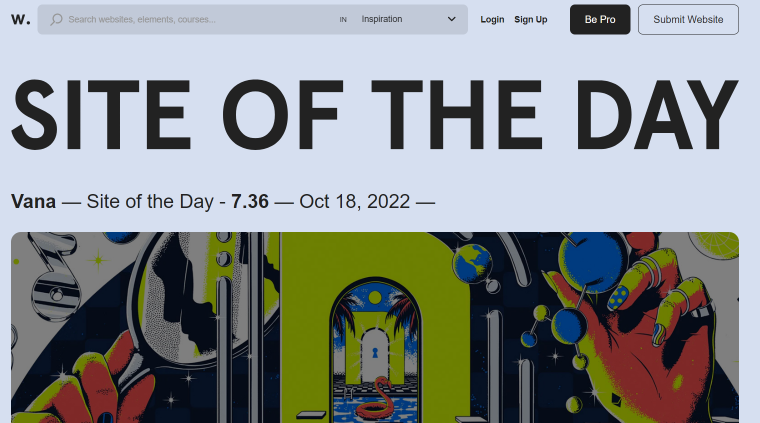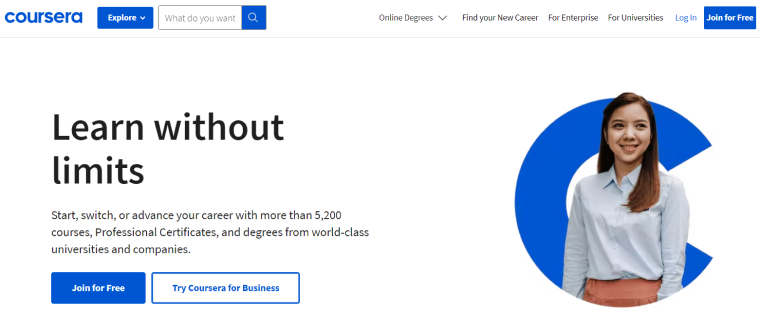 Coursera is one of the most popular learning platforms where you can find courses on almost any topic. The platform is very user-friendly. Setting up filters and finding the required courses/programs is easy. There are currently 144 programs available on the Coursera platform for web designers, covering everything from web page design to designing elements with the free Canva software.
All courses last from several weeks to several months. You can choose one to study the desired narrow topic or start several at once.
The Coursera membership costs $59 per month or $399 per year. There is a free trial period. Some courses are free, but you'll need a subscription to get certified.
Coursera peculiarities
All courses partner with institutes, professors, and universities from all over the world. Therefore, any user from any country can access the educational materials of Harvard University or Yale. Also, after completing most courses, you can get a certificate confirming the program's completion. The programs are divided into several levels, and you can choose which one to take: beginner, intermediate, or advanced.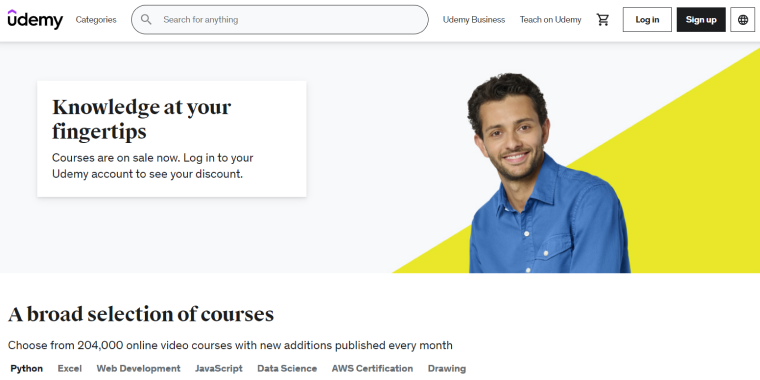 Udemy is also a large and popular platform with various courses on various topics. On it, you can find over 10,000 different web design courses, over 4,800 of which are free. The tutorials are divided into levels – beginner, intermediate, and advanced.
You can choose any course you like in terms of content and immediately proceed to learn. Paid programs start at $19.99.
Udemy peculiarities
Courses on the Udemy platform are available in 75 languages. You can study both independently and organize training for your company. The platform provides all the necessary tools and materials. You can take one course or several studies at once. Each training course has a rating, which makes it easier to choose the right program.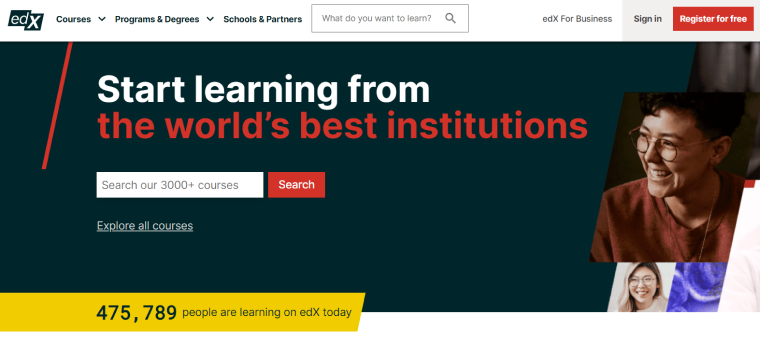 EdX is the next helpful platform where you can learn anything. It was created in partnership with Harvard and Massachusetts universities and combined the best educational technologies. Now more than 100 courses and programs that help you learn web design are available on the platform. Among them, you can find both comprehensive programs that will tell you about all the subtleties of design and short courses on particular topics.
EdX peculiarities
All programs aim to develop practical skills and are created in partnership with industry leaders. Courses are priced differently, and many are available for free. Also, each program has a description so the student can assess whether they are ready to spend so much time learning. Those programs that talk about some specific tools are not very suitable for beginners because they do not give a general idea about ​​web design.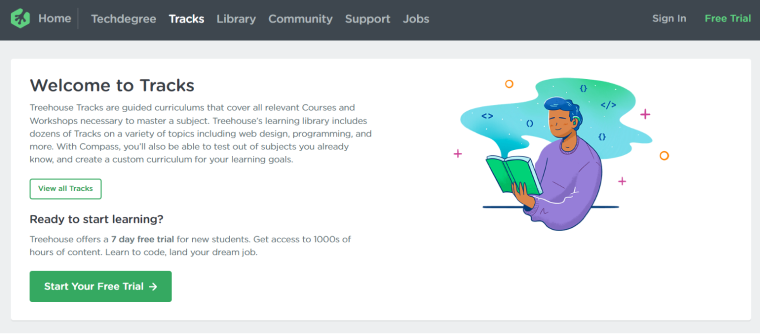 TreeHouse is another platform where you can find many courses on various topics. For example, 36 programs and seven courses are available for those interested in web design, lasting from 2 to 41 hours. Again, there are free and paid materials. You can try paid courses with seven days of free trial access.
TreeHouse peculiarities
You can get skills from a beginner to an advanced level of web programming or master individual tools on the platform. Moreover, you can take classes at a convenient time. Ultimately, students can receive a certificate of completion if they choose the appropriate pricing plan and complete all tasks.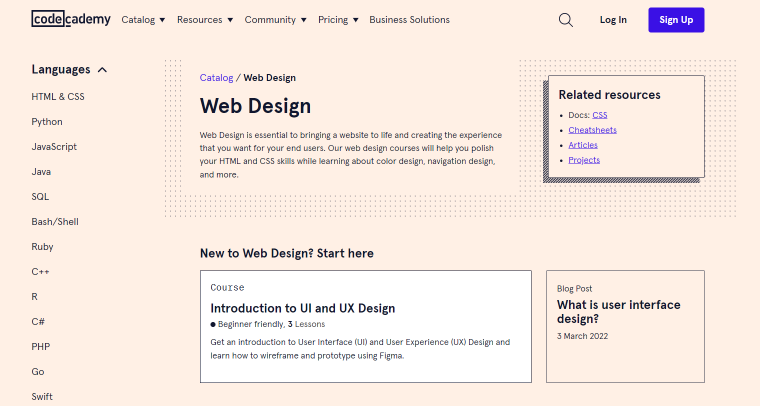 Codecademy is a sizeably popular platform for web designers and developers. It helps one learn all the necessary skills to start the profession and accumulate new knowledge. Some of the courses on the platform are available for free, while others require payment. Practice assignments and tutor support are only available on paid plans, which cost $13.99 and $19.99 per month. A more expensive package also assists in finding employment.
Codecademy peculiarities
Dozens of different courses are available to users on the platform, and you can start studying them absolutely free of charge. A user-friendly interface and game-like classes help you quickly and more confidently start applying the acquired knowledge. If a student needs a course completion certificate, they can get it on a paid plan.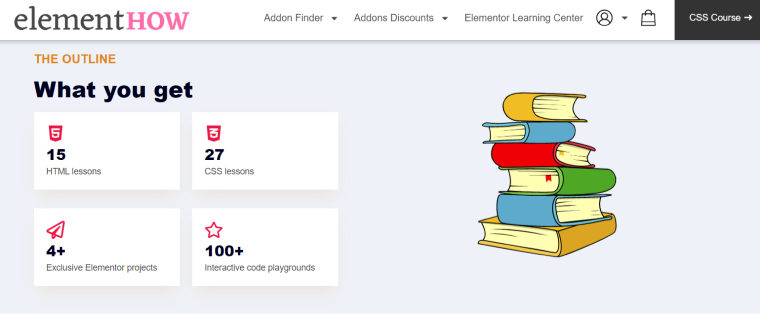 The ElementHow course is explicitly designed for Elementor users. Students learn the basics of CSS, and after completing the course, they can edit their sites and create elements without additional plugins. It is convenient because writing a few lines of CSS code is often faster than looking for and buying the right plugin.
ElementHow peculiarities
The course is designed specifically for WordPress users who want to create their website design. CSS makes it easy and quick to style any element on a website or app. There are 27 CSS and 15 HTML lessons in the course. The cost of it is $99.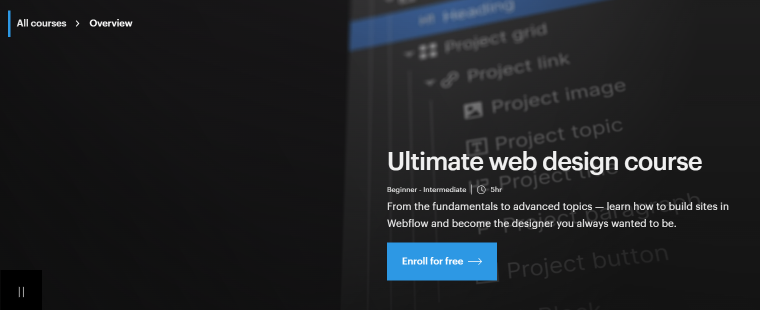 Ultimate Web Design Course is a course from Webflow University explicitly designed for beginners. It allows you to become familiar with CSS and HTML tools quickly. In just five hours, you will learn the basics of creating various elements, including 3D, adding media, typography, and styles.
Ultimate web design peculiarities
The course is free and is designed for newbies. In addition, it does not provide practical work or project creation. Therefore, other courses are worth a look if you want an in-depth web design study.
The Front End Development course from Skillcrush allows you to gain in-depth knowledge of web design and create blocks using JavaScript, HTML, and CSS. During the training, students are offered to perform practical tasks to gain confidence skills. The cost of the course is $549.
Front End development course peculiarities
The course provides practical tasks and feedback from mentors. It ensures that the student can master all the necessary skills and understand the intricacies of web design. After payment, access to the course is lifetime, and students receive a certificate after passing.
FutureLearn is a platform where major universities and institutes post their vocational training courses. You can apply to as many programs as you want with a monthly subscription of $23.99. For designers, 33 courses of different duration are available: from several weeks to several months.
FutureLearn peculiarities
Choose one or more web design courses and progress at your own pace. After graduation, you can get a certificate and add it to your resume.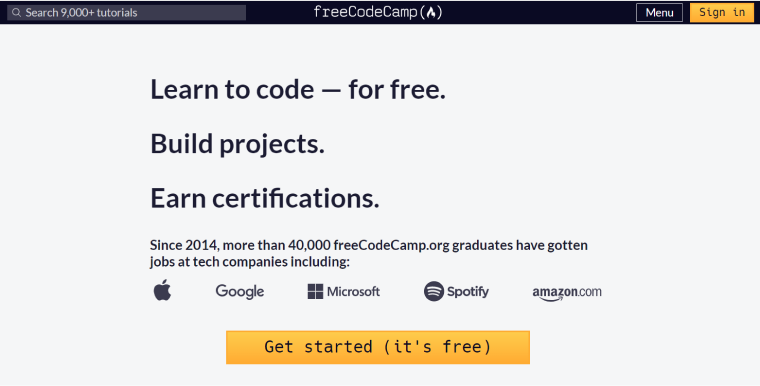 FreeCodeCamp gives you access to a vast free course on responsive web design. More than 300 hours of materials will turn a beginner into a confident professional. You can return to any lesson whenever necessary.
FreeCodeCamp peculiarities
Training on the platform is free and allows you to receive a certificate of completion. You can complete lessons at your own pace, but you need to apply everything you learned to move on to the next topic. Thus, the student learns the necessary skills, then practices and constantly improves them.
FAQ
Does a web designer need to know how to code?
Yes. For most tasks, you need to know primary programming languages ​​and be able to solve simple tasks. But they are easy to get because most web design courses provide the programming knowledge necessary for such professionals.
How long does it take to become a web designer?
On average, you will need four months of regular training to get all the necessary skills. Becoming a confident specialist requires about a year of constant practice.
Is web design more accessible than programming?
Yes. A web designer doesn't need to have that much technical knowledge. This profession can be a great start to a programmer's career.
Finally
The world of web design is exciting and promising. Web designers can create websites, applications, and interactive resources. You can start learning web design by watching free YouTube videos, reading helpful materials, or studying courses. The second way is shorter and more professional.
This article has covered some of the most popular learning platforms and programs you can consider for yourself. Now you see differences and possibilities. So you can choose what suits you and start learning anytime.