Are you looking for detailed insight into your current website performance? If so, then you should use an analytics tool. Designed to gather essential intel on your website and pinpoint ways to improve, adopting an analytics tool can go a long way in boosting your traffic and conversions.
Here are the top five tools that you should consider using to improve your traffic and customer conversion rates.
🏆Best for a budget.
Hotjar is new to the web analytics market, providing behavioral insights to marketers to analyze how users interact with the site. Hotjar combines various tools and features like heatmaps, polls, and surveys into a single solution. With this information, website owners can improve UX and conversions.
Hotjar has a free plan that allows you to gather data from up to 35 web sessions daily, perfect for smaller websites at the start of their journey.
Key features:
visitor recordings;
heatmaps;
feedback polls;
conversion funnels.
Trustpilot rating: 3
Pros:
the free plan still has behavioral analytics features;
has feedback polls and conversion funnels for an in-depth understanding of user behavior.
Cons:
Free plan only allows for the analysis of up to 35 web sessions per day.
🏆Best for behavioural analytics.
Kissmetrics focuses on customer engagement automation to provide detailed behavioral analytics, including conversion tracking, data visualization, and customer analysis. Particularly beneficial for eCommerce websites, Kissmetrics provides insights into the sales funnel with the overall aim of converting fleeting visitors into customers.
As well as providing detailed sales funnel analysis, Kissmetric is also an email automation tool, allowing your website to create email campaigns targeted towards target demographics.
Kissmetrics is on the more expensive end of the web analytics market, ranging from $299-$499 per month.
Key features:
account-based marketing tools;
content marketing tools;
conversion rate optimization;
up-to-date digital analytics;
email marketing through automation tools.
Trustpilot rating: 4
Pros:
tracking tools help websites gain a better insight into their customer base;
sales funnel analysis is particularly useful for eCommerce sights;
email automation tool means you can plan successful marketing campaigns.
Cons:
pricier than other tools on the market;
limited when gathering aggregated data.
🏆Best for traffic analysis.
Clicky is the oldest web analytics tool on this list, having been around for over 13 years.
The platform provides an easy-to-use tool that allows owners to track the activity on their website in real-time. Often referred to as the user-friendly version of Google Analytics (since it offers many of the same features), Clicky provides a clear view of website data while still offering pro features.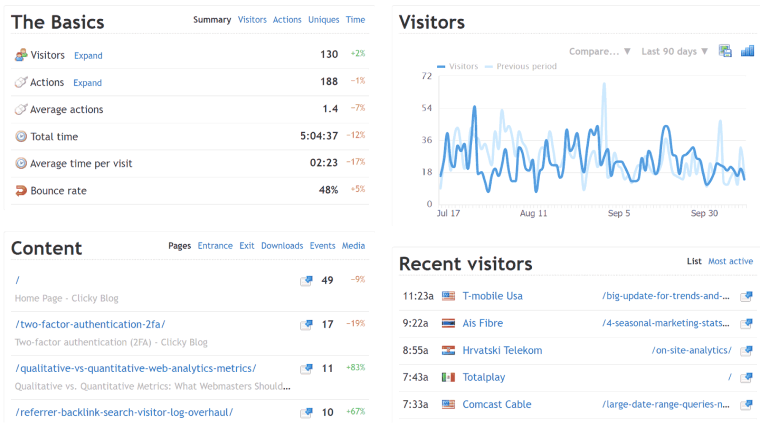 Clicky monitors every visit to your site, the location of said visitors, where the visitors came from, how much time they spend on a page, and heatmaps – so you can see where visitors click the most. It's not hard to see why Clicky has 1.3 million users.
Clicky has both a free and paid version, making it an excellent choice for website owners on a budget. The free version still has a variety of high-spec features and allows you to track up to 3,000 daily users.
Key features:
heat mapping;
up-to-date analytics;
accurate bounce-rate;
API.
Trustpilot rating: 5
Pros:
up-to-date analytics mean you can track daily changes;
easy-to-use interface ideal for beginners;
free and paid versions.
Cons:
Free version only allows you to track up to 3,000 users.
🏆Best for understanding the customer journey.
Woopra's analytics platform focuses on the customer journey by identifying multiple touchpoints. Website visitors are tracked from the moment they enter your site, helping you to monitor behavior. By keeping a careful eye on visitors, Woopra helps you engage and ultimately convert casual visitors to your site.
Woopra harnesses the power of proprietary technology so you can gain insight on individual visitors through 'People Profiles' – giving you access to the entire customer journey from the first visit to your website.
You can also add multiple integrations from over 50 well-known platforms like Salesforce or Zendesk, so you can customize your platform to suit your individual needs.
Key features:
customer profiles;
customer journey metrics;
real-time reporting;
software integrations.
Trustpilot rating: 4
Pros:
detailed customer profiles with data including email and live chat features;
third-party integration with up to 50 available apps;
real-time reporting with custom-made reports.
Cons:
Woopra's pro feature is $999 a month, making it better suited to large enterprises.
🏆Best for SEO.
SEMrush is a tool with a strong SEO focus, with tools providing insight on your on-page, off-page, and technical SEO for your website.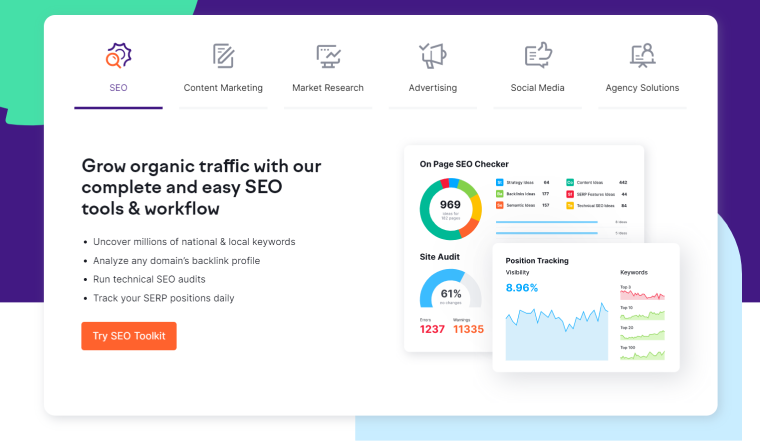 Not only that, SEMrush gives you all the tools you need to identify potential keywords to climb your website higher in the search engine rankings to increase visibility and traffic. With SEMrush, you can also analyze other websites – particularly useful if you want to understand your competitors.
Because of its SEO focus, SEMrush is perfectly suited to individuals and marketing agencies with a focus on website conversions and traffic.
SEMrush subscriptions start from $119.95 per month, making it a reasonable alternative to high-end website analytics tools.
Key features:
keyword research tools;
competitor analysis;
on-page SEO analysis;
rank tracking.
Trustpilot rating: 5
Pros:
large keyword database;
great SEO database;
link-building features;
designed to increase visibility and conversions.
Cons:
Data only covers Google, meaning you can't analyze your website on other search engines
With so many features, SEMrush can feel a little complicated
FAQs
What do website analytics do?
Web analytics help you collect, report, and analyze your website data, including user behavior, traffic, keywords, and rankings.
What is the most popular web analytics tool?
The most popular web analytics tool is Google Analytics, with over 29 million users. 
What are the 5 main types of data analytics? 
The five main types of data analytics you can apply to your website are: diagnostic, cognitive, prescriptive, descriptive, and predictive. 
How can website analytics improve performance?
Website analytics tools improve performance by giving you an insight into your traffic, site visitors, and overall performance. By understanding where your website is falling short, you can add improvements over time to increase your traffic and overall performance. 
Takeaways
There are hundreds of website analytics tools to suit any type of website, from blogs to eCommerce sites. I've narrowed down the top 5 analytics tools currently on the market, each offering something unique.
Analytics tools help you understand your traffic, including where it's coming from and who's visiting your website. This information will no doubt improve your overall website performance over time.