Website accessibility has become an important topic in web development. According to the World Health Organization 2011 report, one billion people possess physical, cognitive, or neurological disabilities. Often, people with disabilities cannot use web resources unless they are modified to their needs.
Here's a look at how WordPress accessibility plugins can impact website indicators and which plugins are best.
What Is Web Accessibility?
Website accessibility is the process of ensuring the website is accessible and usable for everyone, regardless of their abilities. Website usage means navigating it, understanding visual and written content, and being able to participate in content creation.
When people with low vision, are blind, deaf, have hearing impairments, or have motor or cognitive disorders can use a website to a full extent, this website is said to be accessible. Making sure your website is accessible means more people can find and use it.
Making WordPress sites accessible may be costly and time-consuming, and this is especially true if we're talking about modifying existing non-inclusive websites. The easiest way to format WordPress sites is by employing accessibility plugins.
Why Do You Need Accessibility Plugins?
Website owners must be aware that if their websites are not compliant with web accessibility standards, they may be subjected to fines or, in the worst-case scenario, lawsuits. WordPress accessibility plugins strive to make websites ADA and WCAG-compliant to ensure the websites follow standard accessibility regulations.
However, defending online businesses from legality issues is not the only purpose of the accessibility plugins.
Increase website audience
WordPress accessibility plugins consider the needs and capabilities to use Internet sources by people with disabilities. Thus, the most obvious reason for using such plugins is to make websites more inclusive and increase their audience. Websites accessible to people with disabilities get more traffic and conversion rates than websites not designed for people with disabilities.
Enhance website reputation
Providing equal access to resources and possibilities for people with physical and mental impairments is essential to our society. We must recognize and respect their worth, and we must also support people and businesses that contribute to the practices of inclusiveness.
Websites with higher accessibility ratings are bound to receive credibility from visitors, and they are more likely to be suggested by users as liable companies.
Improve SEO rankings
Making a website more accessible doesn't just increase its audience but also boosts its organic search rankings. There are a few accessibility-related factors that positively affect SEO. First, some functions provided by accessibility plugins directly influence SEO performance (alt text for images, closed captions for videos, and more). Secondly, inaccessible sites are more likely to receive negative reviews and hurt SEO ranking.
Best WordPress Accessibility Plugins Compared
🏆 Best for web developers who want to present visitors with easy-to-understand accessibility controls.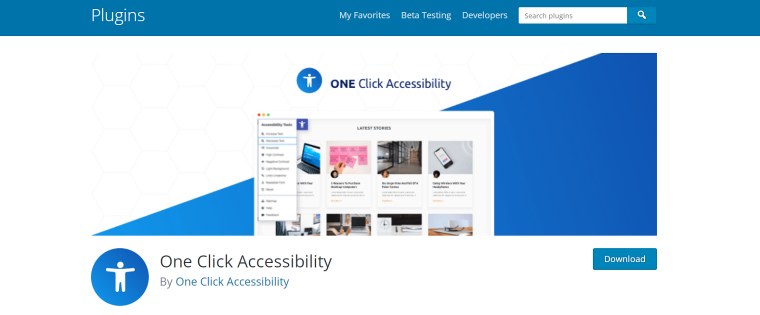 The most important feature of this plugin is the dashboard with the basic accessibility controls it adds to the web pages. The installation process is easy, and right from the start, One Click Accessibility provides users with options to make fonts readable, change background colors, and underline links.
The accessibility dashboard has some customizations that might make it easier to use by people. You can also add more advanced controls, like outline focus for focusable and interactive elements, and change the basic accessibility features offered in a default setup.
One Click Accessibility key features:
accessibility dashboard with controls;
many options for color options (grayscale, light background, high contrast, and negative contrast);
allows skipping from link to link using only the keyboard;
saves visitors' accessibility preferences automatically.
Pricing: free.
Pros:
easy to install and set up;
easy to use by site visitors;
free.
Cons:
doesn't make changes to the content;
lacks some of the ADA standards-friendly features.
🏆 Best for allowing users to make web pages distraction-free.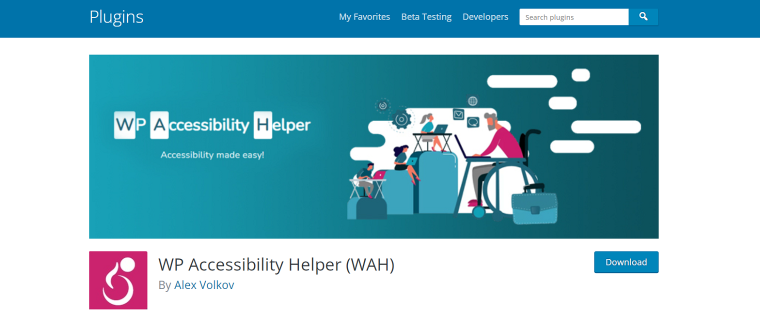 WP Accessibility Helper allows controlling all accessibility features in the admin panel through toggle buttons. Besides the usual color and contrast features, link skips, and font resizing, this plugin lets website users switch off animations and styles for full readability with just one click.
This plugin features a Document Object Model scanner to read through web pages, find accessibility issues, and suggest how to solve them. Excessive documentation and video tutorials make it even more helpful for tuning up your website.
WP Accessibility Helper key features:
multiple color contrast options;
accessibility issues scanner;
web speech API;
many layout styles for accessibility buttons.
Pricing: the free version is available. The Pro plans with more advanced features start at $199 per year for one site.
Pros:
saves users' options with cookies;
impressive accessibility features in the free version.
Cons:
offers no money-back guarantee or a trial period on the Pro versions.
🏆 Best for checking the website's compliance with ADA standards.

This tool runs checks on web pages on the subject of accessibility issues. It can show up to 78 errors and automatically fix some of them. Many errors will be confusing for the person who deals with accessibility plugins for the first time, but the WP ADA Compliance Check Basic provides a thorough explanation in every case. It also classifies identified issues, so the users can prioritize which errors to deal with first.
WP ADA Compliance Check Basic key features:
78 error checks to evaluate websites against WCAG 2.1 Level A, AA, and Section 508 standards;
easy to read reports;
allows filtering content errors;
includes an eight-hour online accessibility training course.
Pricing: the free version features 52 error checks. The Pro license costs $199 per year for one site.
Pros:
integrates seamlessly into existing workflow with scheduled and on-demand scans;
scans posts, pages, and complete websites;
the paid version includes many tools to fix accessibility errors automatically and manually.
Cons:
the free version is suitable for running accessibility checks on low-traffic websites but doesn't include tools to fix the errors.
🏆 Best for letting users navigate web pages without a mouse.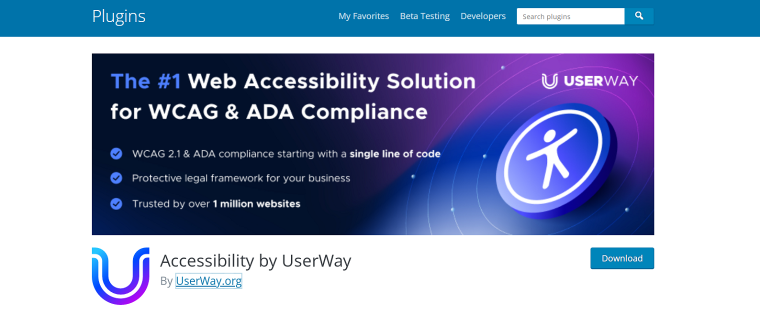 This accessibility plugin has an AI that scans websites for accessibility issues and produces recommendations on how to solve them. It also reports the severity of the errors, pointing out which ones must be dealt with first. The accessibility scans run continuously in the background, which is ideal for large and complex sites.
Accessibility by UserWay can make the website fully navigable just by using a keyboard, which is an essential improvement for people with motor impairments.
Accessibility by UserWay key features:
built-in dictionary for people with cognitive disabilities;
screen-reader that works with 50 languages;
allows keyboard-only navigation;
50+ functions to add to a user accessibility dashboard.
Pricing: the free version includes only a tiny fraction of accessibility functions and a monthly one-page scan. Paid plans start at $490 per year.
Pros:
more language options included than in any other plugins;
excellent UI;
perfect for complex websites;
10-day trial on the paid plans.
Cons:
costs too much for small-scale businesses.
🏆 Best for users who are looking for a lightweight plugin.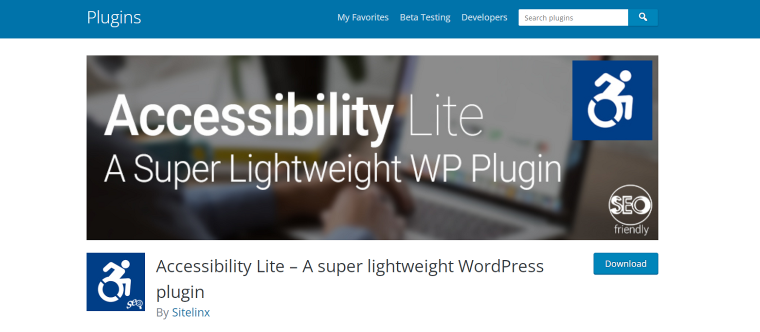 This plugin is developed for users concerned with their website performance. Thanks to its lightweight coding, the plugin positively affects website ranking on search engines.
Accessibility Lite still has many essential features to make websites more accessible, including link underlying, font resizing, and zoom options. Users can customize the dashboard with custom CSS to fit nicely into any website.
Accessibility Lite key features:
clean-looking interface;
basic accessibility functions.
Pricing: free.
Pros:
focuses on excellent performance and ease of use;
supports custom CSS;
blends with any style;
open-source software.
Cons:
supports only two languages.
🏆 Best for advanced users who want to have more customization options.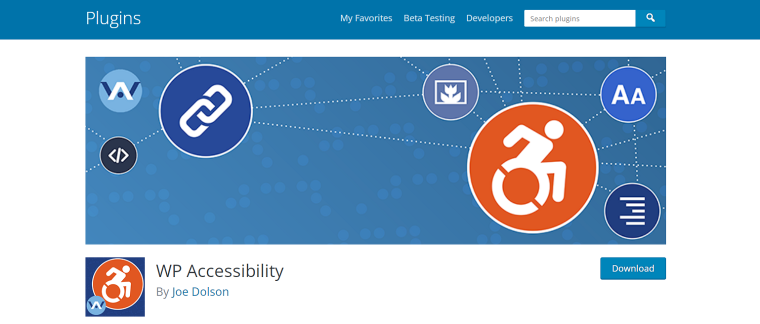 WP Accessibility is an entirely free plugin offering impressive functions to make the WordPress website accessible to a broader audience. It can simply highlight the accessibility errors or fix them. You can control which issues should be fixed automatically through a series of checkboxes in the admin dashboard.
Advanced users can customize the plugin's functions based on modifying stylesheets with the help of custom styles.
WP Accessibility key features:
CSS and HTML-based accessibility tools;
exceptional skip links function for smooth navigation;
color contrast tests;
diagnostic CSS to show CSS-related issues.
Pricing: free.
Pros:
customizable stylesheets;
allows content-specific fixes;
free.
Cons:
🏆 Best for creating complex user dashboards with different functionalities.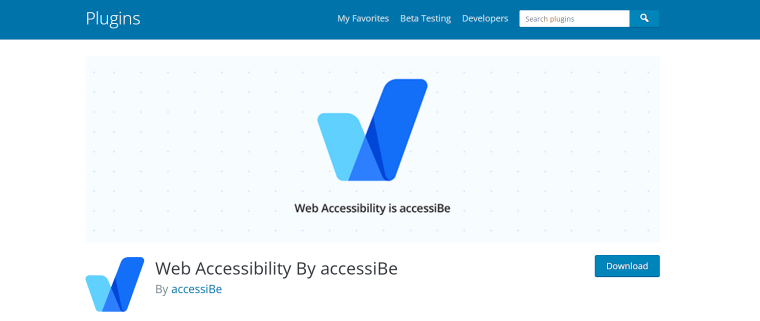 The accessiBe team can toot its horn for the Web Accessibility provides a lot of big-name websites with accessibility features, making them ADA and WCAG-compliant. Its machine learning processes run in the background to understand the behavior of the website's elements and improve their accessibility on the fly. The AI programming automatically scans web pages and fixes common errors.
Web Accessibility offers a user dashboard with many accessibility options: users can enable/disable different functions one-by-one, or choose one of the provided presets made for people with different types of disabilities.
Web Accessibility key features:
premade profiles for users with common disabilities;
daily monitoring of new and revised content;
AI-powered automatic screen reader;
changes website structures to make them compatible with keyboard navigation;
disables GIFs and animations.
Pricing: the Standard plan for websites under 10,000 pages costs $499 per year.
Pros:
multifunctional UI that helps users modify your site according to their needs;
automation of scanning and fixing errors;
seven-day trial.
Cons:
FAQ
What is web accessibility?
Web accessibility is the practice of ensuring that websites are accessible to all people, including people with physical, cognitive, and neurological disabilities.
What are WordPress accessibility plugins?
Accessibility plugins help users with disabilities navigate websites, understand visual and written content, and create content on WordPress websites.
What benefits does web accessibility bring to websites?
Making websites accessible increases their audience, enhances their reputation and improves SEO ratings. WordPress accessibility plugins defend businesses against legal issues related to ADA compliance.
What is ADA?
The Americans with Disabilities Act, or ADA, is a civil rights law that prohibits discrimination against people with disabilities.
Summary
Understanding that providing equal access to web resources for all people is about something other than extra work and effort is essential. Accessibility means understanding and empathy.
To tip the scales for web accessibility, consider the advantages that come with website inclusiveness: increasing website audience, enhancing the reputation, and improving SEO rankings. WordPress users can significantly improve their websites' accessibility using one of the plugins in the list above.