If you're a fan or user of WordPress, you'll no doubt want to keep up with all the latest updates, deals, and trends for the platform. But with so many WordPress blogs out there, how can you truly know which ones are worth following?
WordPress is the most popular content management system (CMS) in the world, with over 43% of websites utilizing the platform in some shape or form. It's the favored CMS for a whole multitude of businesses – small and large – so there's a huge demand for guidance, advice, and tutorials.
I've collected what I believe are the top 16 best WordPress-related blogs out there. Some are similar to each other, but all offer unique and interesting articles for WordPress users of all levels.
The Best 16 WordPress Blogs on the Internet Right Now
It's true that there are countless WordPress blogs out there. As such, it can be hard to decipher which ones are actually worth investing your reading time in, and which are just dull wastes of time.
The sites listed below are – well, I swear by these blogging sites. Their reporting is exceptional, the writing is clear and comprehensive, and their web pages are easy to navigate. So, for my top 15 WordPress blogs, have a read below.
The Admin Bar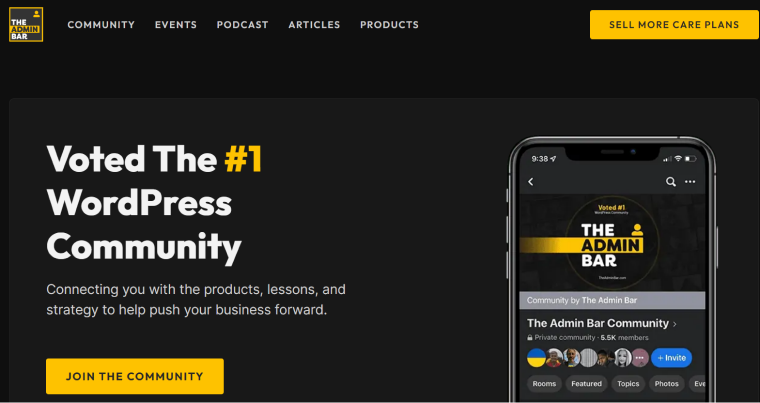 The first one on the list is The Admin Bar, and what a great opener this is. The team behind the WordPress blog goes above and beyond to provide expert guidance on developing your website, from aesthetic choices like themes and design to more technical advice like plugins and hidden WordPress gems.
They release new tips every Tuesday and are constantly publishing articles on their blog. They even have a podcast, so you can learn about WordPress while on the go! Follow The Admin Bar if you want a truly dedicated platform that will help you in the warmest, most inviting way possible.
WebTNG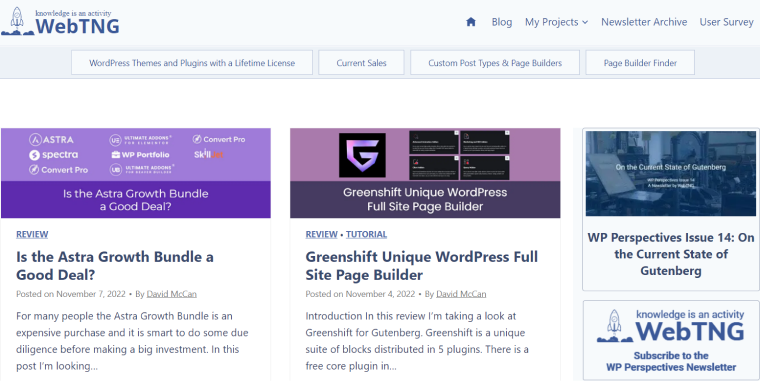 WebTNG was founded by anthropologist turned software developer David McCan, who became an IT developer after studying conflict resolution between the indigenous people of New Zealand and the British crown (I know – so interesting!).
Since then, he has clearly fallen in love with providing guidance and advice to web developers and WordPress users, which is reflected in his countless blog articles and helpful tutorials. He also keeps readers updated with sales and offers on WordPress products, giving his audience a satisfying and useful experience.
WP Mayor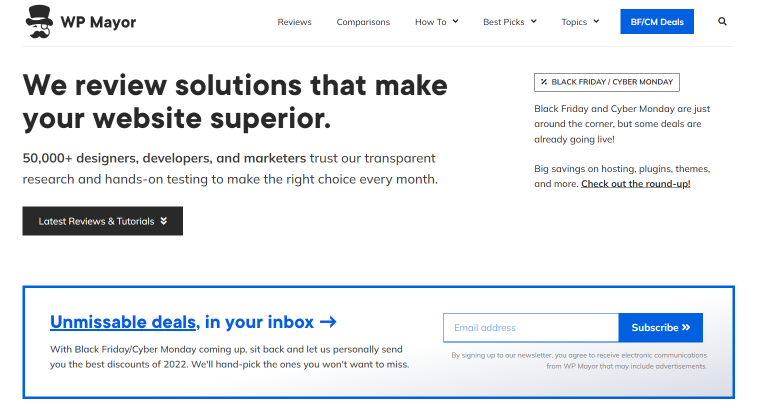 WP Mayor started in 2010 as a way for founder Jean Galea to record everything he learned about WordPress in a blog. In 2014, he expanded his team to include his wife and cousin. Today, the site has hundreds of articles detailing everything WordPress-related, from themes to plugins to hosting.
Galea offers creative tips like design advice, while also publishing a range of more technical articles on topics such as eCommerce. There's also an abundance of clear "how to" tutorials, and reviews of WordPress products and software updates. Essentially, WP Mayor covers pretty much everything you need to know about WordPress.
Kinsta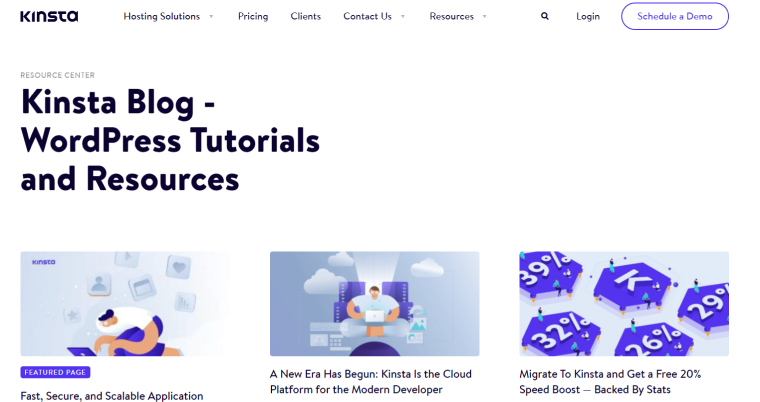 For web developers seeking hosting options, Kinsta is the place to go. It's one of the best sites out there dedicated to WordPress hosting, whether it's for simple blogs, eCommerce shops, or enterprise projects.
Kinsta began in 2013 after a group of WordPress employees noted the lack of quality WordPress hosting services, and the site has now expanded to include application hosting and database hosting. They also provide a blog detailing everything from hosting to SEO.
WPExplorer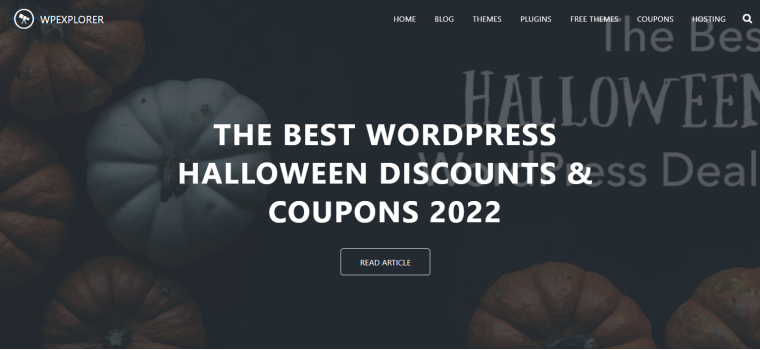 Founded by AJ Clarke in 2010, WPExplorer has been at the forefront of friendly tutorials and
WordPress guidance for more than a decade. Now almost entirely run by Clarke's partner, Kyla Glover, the site is a great place to go for helpful tips and welcoming blog posts.
It's mainly dedicated to WordPress themes and plugins, but their blog also covers aspects from SEO to hosting to security. In essence, WPExplorer has a great range of resources available for developers.
WPMU DEV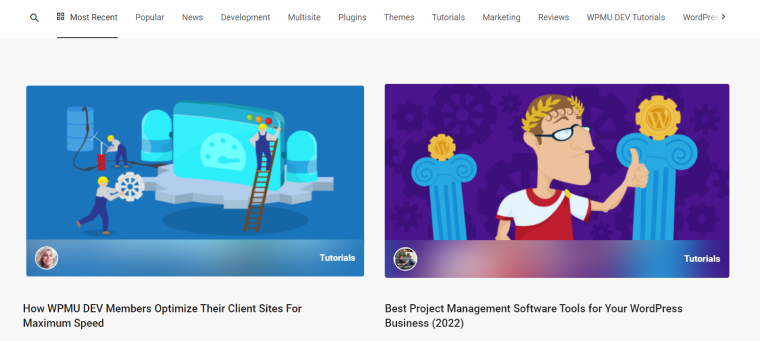 This platform is a great example of knowing your target audience; WPMU DEV is a site designed by web developers, for web developers. As such, they offer a range of services and guidance for WordPress web developers, including site management, plugins, hosting, and white-label reselling.
Due to the sheer depth and brilliance of this blog, and the range of affordable services it provides, WPMU DEV has been given a 4.9 out of 5 by the review site TrustPilot. And with bases in Australia and the US, it's now a global leader in providing web development services for WordPress.
WinningWP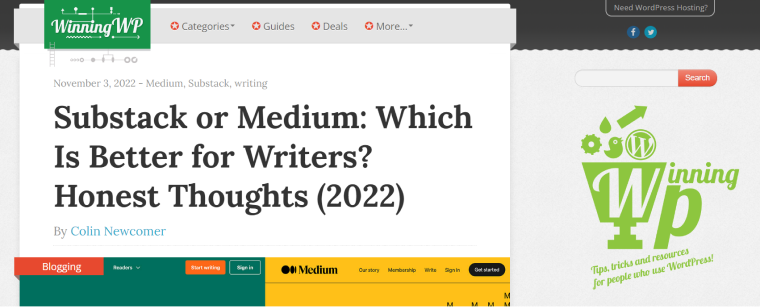 WinningWP is an extensive blogging site that covers all things WordPress. They've got info on all the standard WordPress aspects – like eCommerce, plugins, themes, security, and SEO – as well as details about trivia, design, widgets, and special features. If you've got a question about WordPress, WinningWP will surely have it tackled.
Founded in 2013 by Brin Wilson, WinningWP has grown from strength to strength since its inception but still relies on sponsors and ads to keep running. Don't worry, though, they are clear about this in their disclaimer.
Astra Blog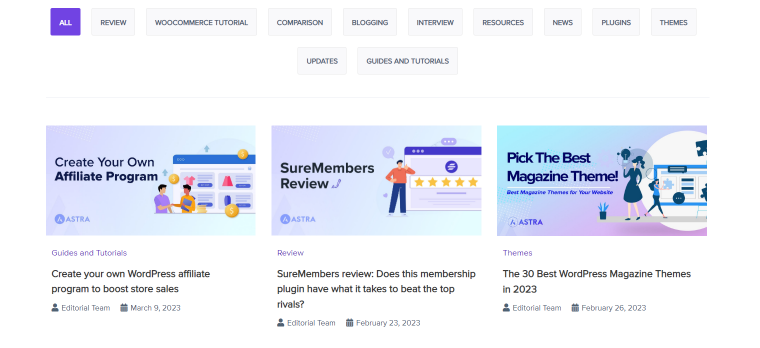 The Astra blog is one of the largest WordPress blogs around. It has a team of dedicated writers, all with excellent knowledge of WordPress, web design, websites, and associated topics. Updated regularly, the Astra blog is an excellent resource for everything WordPress.
The blog is a mix of listicles, how-to posts, walkthroughs, and news posts designed for readers of every experience level. There are beginner how-to guides and more in-depth expert guides to everything from installing WordPress to building an eCommerce store.
Wordfence

Wordfence is the leading blog on WordPress security. Founded by Mark Maunder and Kerry Boyte – two cybersecurity experts with decades of experience – they've established themselves as trusted expert in cybersecurity issues relating to WordPress.
They are the makers and distributors of the Wordfence plugin, a tool that enhances security for WordPress sites. What's more, they publish regular articles that inform users on recent security issues – like breaches and hacks – that have arisen for WordPress blogs, and details of how best to improve your website's security.
For maximum security and to stay on top of potential threats to your site, it's definitely worth giving Wordfence a follow.
Element How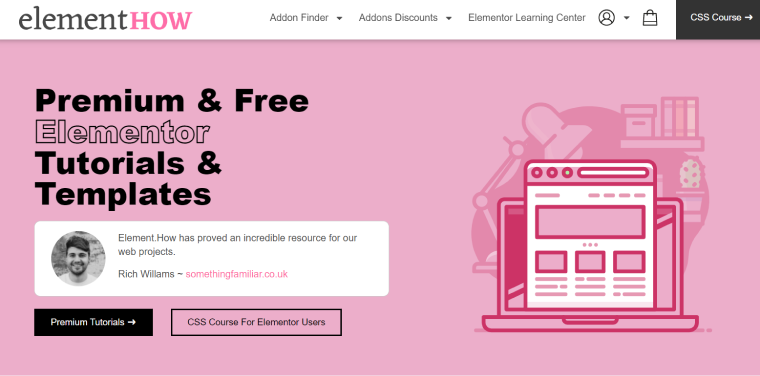 If you're a savvy money-saver looking for a site full of WordPress discounts then Element How is ideal for you! The site is packed with offers and coupons for various WordPress-related platforms, blog posts, and software.
Element How is geared towards the WordPress website builder tool Elementor, and provides readers with a whole range of tutorials and articles about how to use the tool in their "Elementor Learning Center". It's the best Elementor-dedicated site out there, so it's perfect for those who use it to build their websites.
Kasa Reviews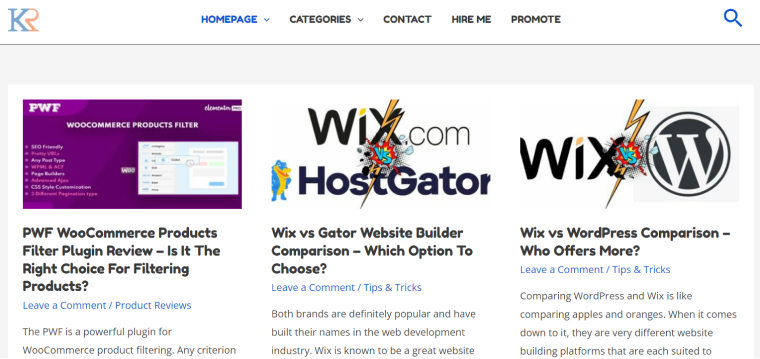 Kasa Reviews is a humble but knowledgeable website from the mind of Matija – or Kasa to his friends. He writes about everything related to WordPress, from how to start a blog to WordPress plugins.
Matija gives you updates on WordPress product deals and writes in-depth reviews on software he clearly knows inside and out. He even offers his freelance writing services for businesses looking to publish WordPress-related content.
Business Bloomer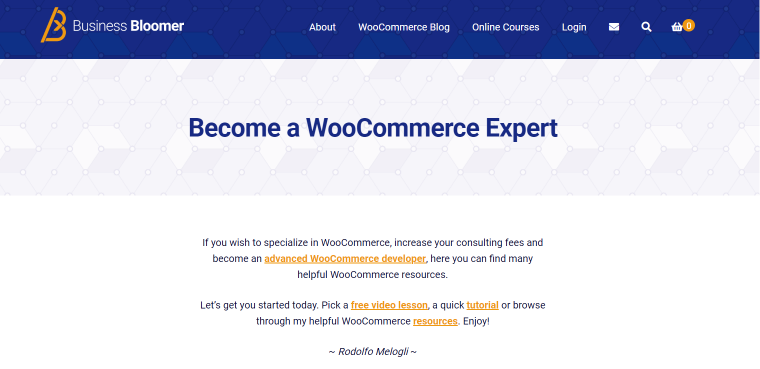 For those looking to establish themselves in the WordPress eCommerce game, Business Bloomer is a great website to follow. The site's founder, Rodolfo Melogli, provides expert tips and guidance on everything WooCommerce, so you can increase your knowledge and even increase your fees if you're a freelance web developer!
There's a number of online courses and video tutorials around the site, which aim to boost WordPress users' knowledge of setting up online stores for their sites. Melogli provides helpful and clear advice, making Business Bloomer a must-read for WooCommerce users.
WPMarmite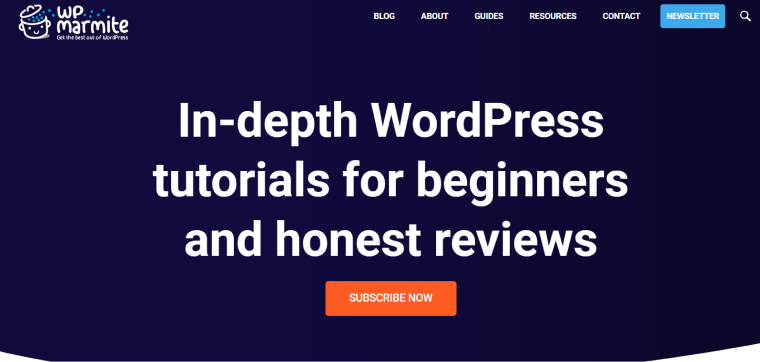 If you're just starting in WordPress, WPMarmite is perfect for you! Even for users with existing basic knowledge, the site provides exceptional learning resources to further your WordPress abilities.
Founded in 2011 by Alex Borto, "la Marmite" has consistently been the go-to WordPress blog for the French-speaking community – and now it's available in English. In-depth and honest reviews, helpful tutorials, and educational courses are part of the outstanding WPMarmite experience.
Post Status
Post Status is a pervasive site that aims to grow the WordPress community by giving users access to many relevant resources. They also aim to connect the WordPress community via job postings, a Slack community, and public events.
So if you're a WordPress professional, an enthusiast, or simply want to know more about the CMS platform, Post Status is a community-driven sanctuary of WordPress news.
LayerWP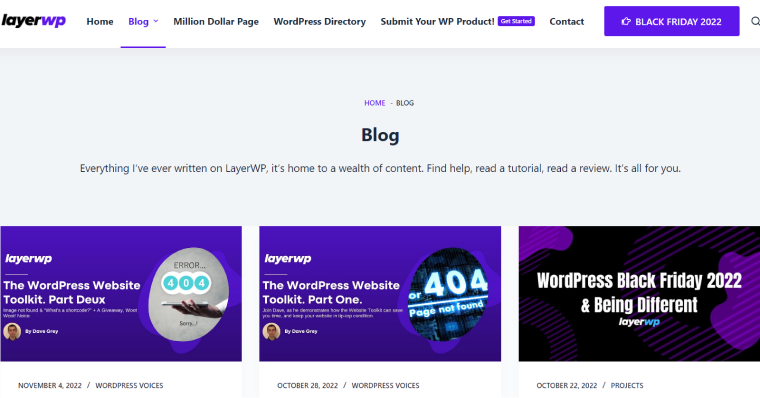 Founded and maintained by a man who refers to himself as simply Ben, LayerWP is one of the most to-the-point, no-nonsense WordPress blogs on the internet. Ben covers everything around the CMS platform, from how-to tutorials to reviews of new WordPress products.
He prides himself on being truthful, relevant, and helpful to the consumer. As such, his reviews are honest, his guides clear, and his site user-friendly.
WP Tavern
Launched in early 2009 by Jeff Chandler, the domain name for WP Tavern was purchased via Kyle Eslick – a fellow WordPress blogger who auctioned off the domain via his website. Since then, WP Tavern has steadily grown and was bought by a new owner – Matt Mullenweg – in 2011.
Mullenweg removed all advertising and rehired Chandler to manage the website, which he has done ever since, along with a small team of contributing writers. WP Tavern covers everything WordPress related and is especially attentive to software updates and WordPress-related news.
Closing thoughts
With so many WordPress blogs out there – good and bad – I couldn't find the space for them all. But this is good news, in a way, because it means you can be sure that the ones I've listed are top-notch, the crème de la crème if you will.
Of course, don't forget to check out the official WordPress blog. They've got all the technicalities and updates and are the only official source of information, so you can take their word as gospel.
I hope this article has given you a helpful jumping-off point to go and learn more about WordPress. Many of the blogs above are tailored to all kinds of levels, from beginners to seasoned site creators, so you'll no doubt be able to find something worth reading.