WordPress is thriving, with over 400 million websites using the platform. If you are technically minded and interested in website development, it's well worth training as a WordPress Developer, as many website owners are looking to hire WordPress developers.
Suppose you are looking to create a new website. In that case, WordPress is an excellent platform to use as it is continually being developed and has plenty of plugins available to expand its functionality. But if you need someone technical to help you build the website of your dreams, plenty of talented WordPress developers are out there.
Thankfully, some excellent websites bring these two groups of people together. So, whether you are a WordPress developer eager to find work, or a website owner looking to hire a WordPress developer, you are sure to find what you are looking for at one of these websites.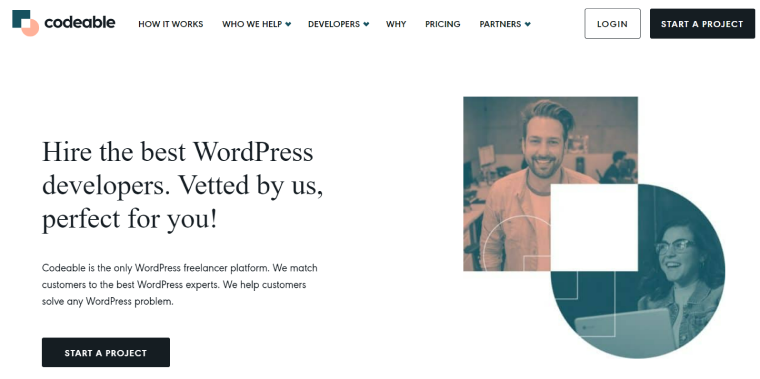 Codeable is a dedicated WordPress developer platform. Developers are put through a thorough vetting process to ensure they are up to standard. Clients will get what they need. With transparent pricing and a 100% risk-free money-back policy, it's hard to find fault.
For developers
Cost to join: None. They charge 17.5% on all estimates plus a 10% expert fee.
Joining process: Online application form followed by a series of assignments, including a technical task. Then a behavioral interview, live coding test, several courses, and a 45-day trial.
Job types:

Short-term jobs — usually one-off tasks such as fixing a broken plugin.
Complex projects — lasting 1-6 months, including creating custom plugins and themes, for example.
Ongoing retainers — usually a set number of monthly hours for ongoing website maintenance and optimization.

Pay range: Minimum hourly rate of $80-120 USD.
For clients
Cost to hire: Varies, depending on the task type and complexity. For example:

Basic speed and security optimization: $420.
Regular custom plugin development: $2,310.
Complex eCommerce site design/development: $15,900.

Hiring process: Fill out a form with your project requirements, get connected with a shortlist of recommended developers, discuss the details of your project, then pay and hire your chosen developer.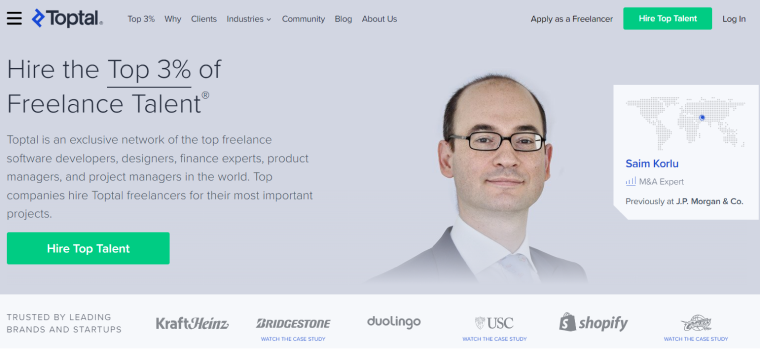 Toptal is free for freelancers to join, but the screening process is challenging, and they set the bar extremely high. Only 3% of applicants get through, a huge plus point for clients looking to hire, as they know they will be getting the very best. Another benefit for clients is that Toptal functions as a matchmaking agency, using AI and humans to match freelancers with clients.
For developers
Cost to join: Free.
Joining process: Starting the application process is as simple as filling in a short online form. But then there is a tough screening process with several steps:

Step 1: Language and Personality — 26.4% of applicants pass.
Step 2: In-Depth Skill Review — 7.4% of applicants pass.
Step 3: Live Screening — 3.6% of applicants pass.
Step 4: Test Projects — 3.2% of applicants pass.
Step 5: Continued Excellence — 3% of applicants pass.

Job types: All types of WordPress developer and designer jobs.
Pay range: Unknown. Freelancers set their rates with clients.
For clients
Cost to hire: Refundable deposit of $500, then a $19 monthly fee plus a $39.95 job placement fee.
Hiring process: Step-by-step online wizard where you specify your requirements. AI and humans work behind the scenes to match you up with freelancers.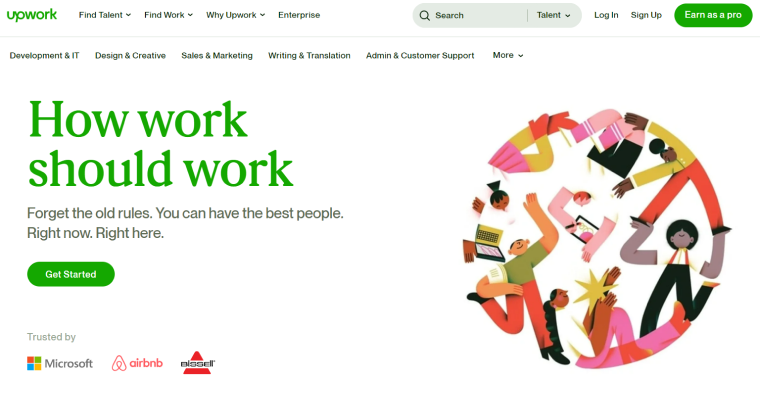 Upwork is a popular freelancing site with a low bar to entry, making it ideal for beginners. The pay varies and can often be on the lower end. Upwork is an excellent place to get WordPress development experience. It is free, and the hiring process is straightforward.
For developers
Cost to join: Free to join, but Upwork takes 20% of your earnings.
Joining process: Sign up with a Freelancer account, complete your profile, and apply for jobs.
Job types:

All types of WordPress jobs.
Short-term and long-term.
Hourly and fixed-rate pay.

Number of jobs: 100.
Pay range: $20-$80 per hour.
For clients
Cost to hire: Free.
Hiring process: Sign up with a Client account and create a project to hire a freelancer. Freelancers will apply for your job, and you can message them. Once you have decided on a freelancer, you set up a contract for them to agree to.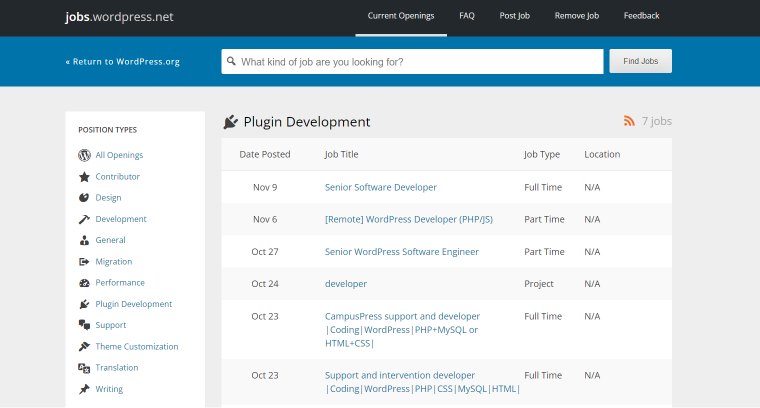 WordPress Jobs has two main things going for it. Number one, it's free, and number two, it's maintained by the official WordPress.org team. It has a simple layout, with jobs listed in reverse chronological order under job types such as Development, General, Plugin Development, and Design.
For freelancers, there is no need to sign up. You just view the jobs, and if you want to apply, you can do so either by completing an online form or emailing.
For developers
Cost to join: Free.
Joining process: No need to join. You just view the job listings and apply in whatever manner specified in the listing. Some require you to email them, whereas others have online application forms.
Job types: All WordPress jobs, including developers, designers, theme customization, and writing.
Number of jobs: 50.
Pay range: Variable.
For clients
Cost to hire: Free.
Hiring process: Fill in an online form with your job details; if approved, it will appear on the site in 24-36 hours.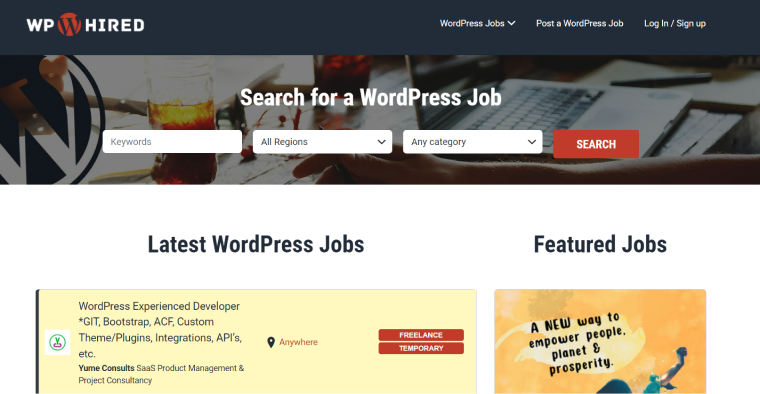 WPHired is not involved in hiring but functions as a job board. Employers can post unlimited jobs for up to 30 days for free but can pay to have their jobs featured at the top of the board.
Freelancers don't need to sign up to WPHired to apply for jobs, as the job adverts contain links to their online application forms. There are a lot of jobs listed, but not many of them are recent. However, since it is free, it's worth looking at as all the jobs are WordPress specific, so you might still find something worthwhile.
For developers
Cost to join: Free.
Joining process: No need to create an account.
Job types: All WordPress-related jobs and all contract types, including full-time, part-time, temporary, freelancer, and internship.
Number of jobs: Many are listed, but only a few are recent.
Pay range: Variable.
For clients
Cost to hire:

Free for unlimited jobs for 30 days.
$39.99 for up to 3 featured jobs.
$69.99 for up 5 featured jobs.

Hiring process: It's up to you.
FAQ
Are WordPress developers still in demand?
Yes, 100%. WordPress powers over 400 million websites, so there is plenty of work for WordPress developers.
What is a WordPress developer's salary?
The average salary of a WordPress developer is about $64,000 per year, but you could earn as much as $120,000.
How long will it take to become a WordPress developer?
If you do a WordPress development course, it will take approximately six months to learn everything you need. However, you will need to gain plenty of experience before earning a high salary. You can get some lower-paid WordPress development work on Upwork.com to build up your experience.
How can I hire WordPress developers?
There are various websites where you can hire WordPress developers. If you are looking for the best of the best, Toptal is the site for you, although it will cost you. If you have a lower budget and don't mind hiring WordPress developers with less experience, Upwork.com is worth a try.
Can I pay someone to build my WordPress site?
Yes, if you find a WordPress developer with experience creating new websites from scratch. You should take a look at Toptal or Codeable.
How much does it cost to hire a WordPress developer?
That depends on how experienced they are and which website you hire them from. Using Upwork.com, you can find a beginner WordPress developer for as little as $20 per hour. But if you want to hire the best of the best on Toptal, you can pay anything from $400 to $16,000, depending on the project's complexity.
Conclusion
If you are a website owner, now you know where to go to hire a WordPress developer:
If you want the best of the best and have the budget for it, Toptal is the place to go, with Codeable another good choice.
If you have a limited budget and don't mind hiring a beginner developer, it's worth looking at Upwork.
If you are an up-and-coming WordPress developer seeking to gain some valuable experience, give Upwork a shot. You will indeed find something if you keep applying for jobs there. But if you are more experienced and think you've got what it takes, you've got nothing to lose by trying Toptal and Codeable.
And, of course, keep an eye on WordPress Jobs and WPHired, just in case you see any good WordPress developer jobs there.