At the center of eСommerce marketing was always customer satisfaction. Companies and support teams put lots of effort into improving customer satisfaction. They try to provide a great user experience, services, and support via live chat.
Businesses try to treat clients with the respect, care, and attention they deserve. It gives customers a sense that they can seek help whenever browsing your website when they have questions or searching for the decisions that can help them solve their main pain points. Also, sometimes chatting online offers quicker solutions than sending an email.
A live chat provides a personal touch to a website. It allows you to respond to live queries about sales and answer many more questions quickly and easily. Looking at the top blogs, you will notice that they usually provide this outline feature.
Start now if you haven't started using a live chat for WordPress. It will boost customer conversion and retention rates. On the side of the company, if you respond timely, you get more sales.
These will ultimately lead to higher sales and profits. Here are the best solutions for a live chat on WordPress to check out in 2022.
HubSpot
I scraped through the internet to round up live chats to the best WordPress live chat solutions for 2022. In this post, I will review what is the best live chat plugin to boost your website. The number one place on my list is HubSpot.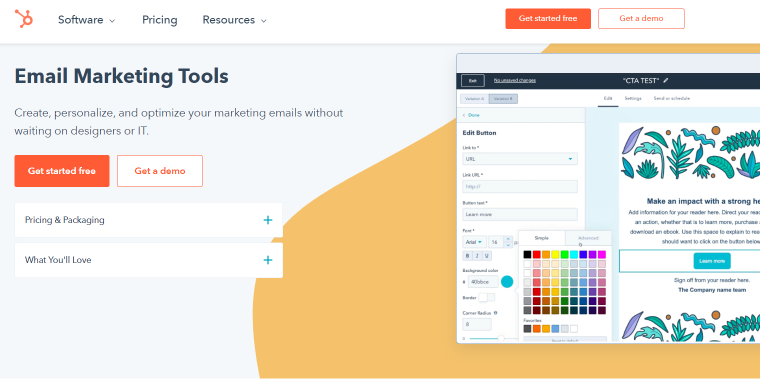 One thing that makes HubSpot's live chat attractive is that you can set targeted messages for each webpage. That means customers at each stage get specific help. Also, if the chats are overwhelmed, there are email capture forms where users leave their contact details and questions.
In addition, users have access to personalized features to enhance chatting. Since it is linked to CRM tools, you will have information on each user you chat with. View the pages users have visited, giving you information on user needs. It helps you to enhance the customer experience website.
Another feature is taking notes and sending emails automatically. Set up the messages according to your target audience. LiveChat comes as part of the free HubSpot CRM tools. Businesses can go for the premium account that has extra features. It is suitable for small companies and startups.
Chaty
Using Chaty, users can choose how they want to communicate with site admins or the support team. This plugin integrates with most, if not all, popular social networks and chatting platforms, such as WhatsApp, Telegram, Facebook Messenger, Skype, Viber, and more.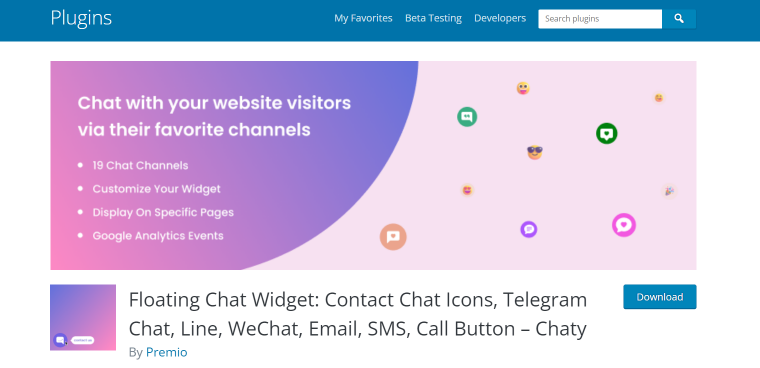 Chaty WordPress plugin allows installing chat buttons anywhere on your site. Add one, two, or all of the available 20+ communication channels to the webpage for site users to find their favorite solution. Unlike independent live chat apps, Chaty enables visitors to continue chatting with you even after leaving your website.
Many customization options are available to match the chatting interface with the website branding, including eight eye-catching animation effects, fonts, custom icons, and button placement.
Chaty has a free version with basic features and the ability to add two channels to websites. Its pro versions with advanced features start at $39 per year for one website.
SleekFlow
SleekFlow is an omnichannel social commerce platform developed for sales, support, and marketing teams to increase revenue by enabling complete conversational journeys across SMS, live chat on websites, and popular social and messaging applications including Official WhatsApp Business API, Facebook Messenger, and live chat.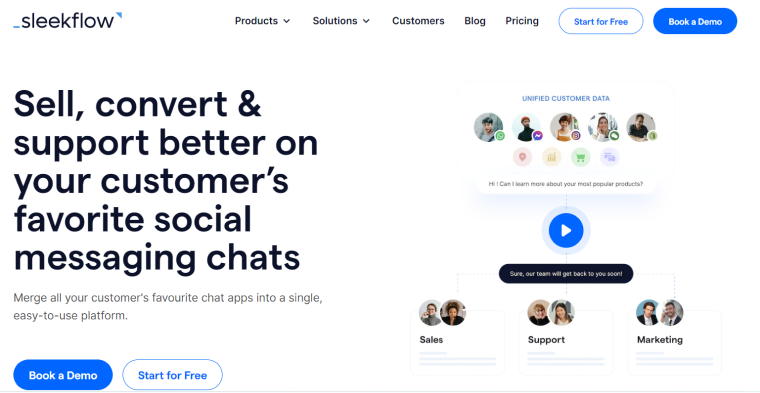 The UX/UI gives access to a unified interface for sales, support, and marketing teams to manage omnichannel communication across all widely used social messaging platforms (WhatsApp, Instagram, Facebook, LINE, etc.). Additionally, there are customizable automation tools to facilitate personalized broadcasting, and campaigns, allowing for consistent customer engagement.
A wide range of integrations, including Shopify and WhatsApp Business API, makes the customer purchasing journey quick and easy with in-chat payments, one-click checkout, etc.
Zendesk Chat
Zendesk Chat is famous across the eCommerce world. It will notify marketing teams when users are on a website. If users are stuck, you can immediately offer support. Track users on your website. It is a good option as it provides user metrics.
Integration with CRM tools is possible. It works seamlessly when you have one person to deal with chats. You can use the free app as well.
The premium account costs $59 monthly.
You can connect Zendesk chat quickly with WordPress, and developers can discuss the theme or set it up by default. The approach that you should follow is up to your choice.
LiveChat
LiveChat is a good choice for those who want to chat with several users simultaneously. It uses a simple outline and can be set up by anyone. Your team will get notifications whenever users like to chat.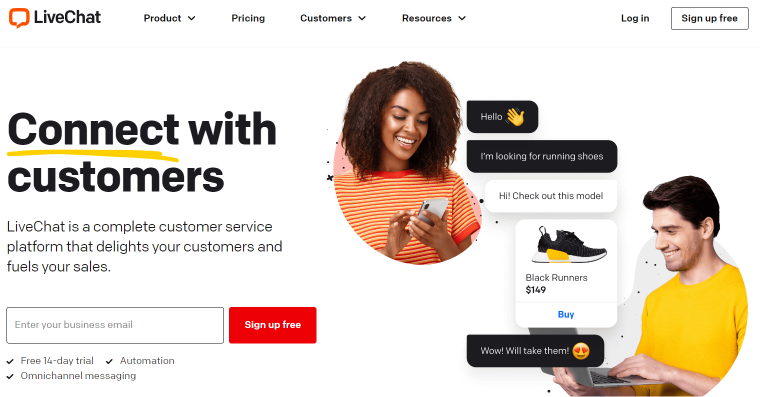 It has customized features that help you to archive chats and share files. Something that makes Livechat stand out is that users can leave feedback. If you already have an established broad customer base.
Also, there is no free option. The premium account starts at $16 per month. Other options come with more features.
Tidio Chat
This is another solution that works well for WordPress websites. It offers users notifications whenever people visit your site. Your team has to be always ready to answer queries. This feature reduces how long users have to wait before getting a response. Remember that any delayed responses can discourage users.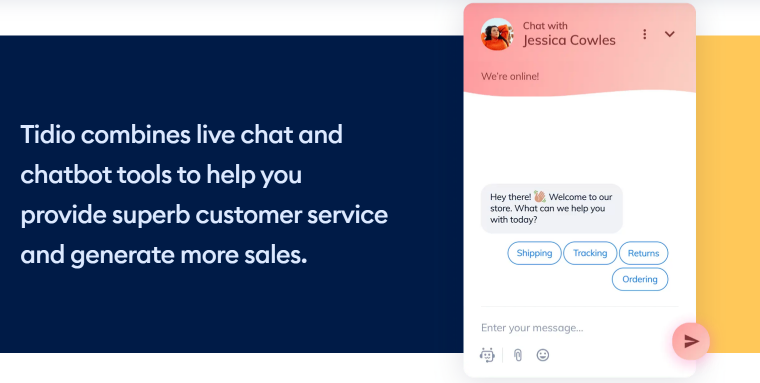 Tidio Chat provides automated answers to questions. It works well for users on desktop and mobile devices. Customize the chat box to suit your brand. Tidio Chat allows you to integrate with h other CRM tools.
This chat app has a free option. It comes with up to 100 chats per month per user. Premium accounts start at $15 per month per user. It is easy for anyone to set up this app. Tidio works for small businesses looking to increase sales and generate more leads.
Olark
Olark is a good option for anyone starting. It has a free option, so it might be a good choice if you are a little low on cash. It has targeted chatting and chat ratings. Users can try out the free module. A premium option comes at $12 per user per month.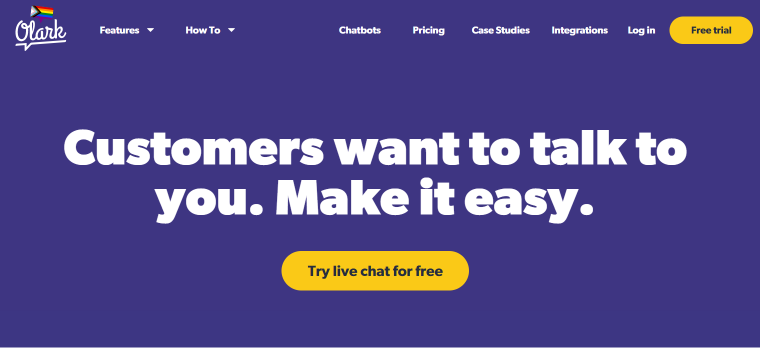 Users can integrate Olark with other tools. You can also add extra tools to make it more appealing to your customers. Other features include:
Live to report;
viewing what users are doing on your website;
unlimited chats for premium accounts and 20 chats for free users;
real-time chats;
team management tools;
integration with various types of CRM tools;
Final thoughts
As you can see, the live chat can boost your customer satisfaction, calm them down, and on the side, it helps the team's productivity. A live chat lets you connect with customers online and increase your leads.
It is a better way to offer quick answers to customers' questions about products or services, their pain points, and if they have an immediate question to solve online. Rapid responses will show users that you are serious. It thus increases leads and sales. Businesses using live chat features on their websites increase sales.
I provided the top live chat solutions that work on WordPress. Your choice will highly depend on your needs, budget, and company requirements. Regardless of your choice, the above options will help you reach your goals and build lasting relationships with customers.