To some, adding another plugin to WordPress for the sake of adding one is anathema. They look across their dashboard, see 30 plugins already, and can't stand the thought of adding another one.
So when it comes to adding a podcast to their content offerings, they wonder, "Why would I add a podcast plugin when this is just a post with an audio player?" and "A podcast app is just a glorified RSS reader, right?"
Technically, they are right. Podcasts are "simply" RSS feeds with some extra data for the audio player and artwork.
But that extra data is crucial. It will ensure podcast apps and directories read your feed correctly, serving the right stuff for listeners to download, stream, and share.
So, do you need a podcast plugin? The answer is a resounding: Yes! Here's why.
What Do WordPress Podcast Plugins Do?
The most significant thing podcast plugins do is create a valid RSS feed specifically for your podcast.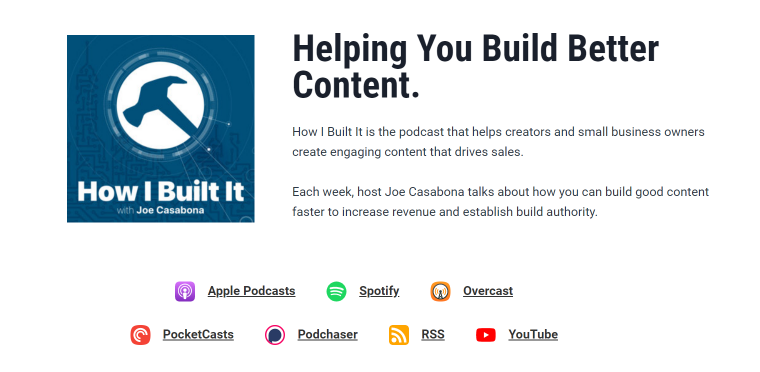 This is the feed you will submit to Apple Podcasts and other directories, with some requirements. It needs tags for:
title;
description;
author;
artwork;
category (which must map to an Apple Podcast category);
if the show is explicit or not.
Plus, podcast apps have many podcaster-friendly features you want to take advantage of. Things like donation links, where people can go to send you money or join your membership, transcripts, and feed locking.
Per episode information
And that's just for the show itself. Each episode must also be formatted appropriately. You can mark each episode with a Season number and Episode number, allowing apps to order your episodes properly.
You can also mark episodes as a trailer, bonus, or full. Trailers usually get pinned to the app's top of a podcast's page.
This information alone is worth having a good WordPress podcast plugin.
Other essential podcast plugin features
Aside from the crucial RSS feed features a podcast plugin adds, there are a few nice-to-haves you'll want as a podcaster:
Most good podcast plugins will allow you to decide where you want the audio player – embedded generally before or after the main content or if you also want it to appear in the excerpt.
It also can add subscribe buttons for various services, making it easy for your website visitors to subscribe in their app of choice.
Some will even automatically upload your audio to their hosting service, so WordPress is not hosting your audio.
NOTE:
You should never use WordPress or web hosting to serve your podcast episodes.
That brings us to the next question.
Which WordPress Podcast Plugin Should I Use?
The short answer is you should use the plugin that works best with your audio host. Most modern audio hosts have their WordPress plugins.
That said, there are two good plugins that have risen to the top of the WordPress podcast plugins heap.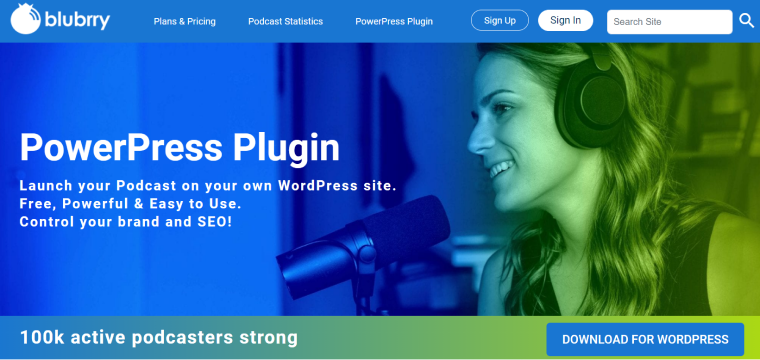 PowerPress is a long-standing podcasting plugin for WordPress. It's created by Blubrry, a popular podcast host and stats website.
PowerPress pros:
fully customizable feeds;
subscribe buttons;
native support for episode sponsors.
But there is a learning curve. There are a lot of features, and it can be unclear at first that you simply add your audio to any post, and Blubrry can make the adjustment and update your feed.
Still, this is the plugin I recommend if you use Blubrry for audio hosting.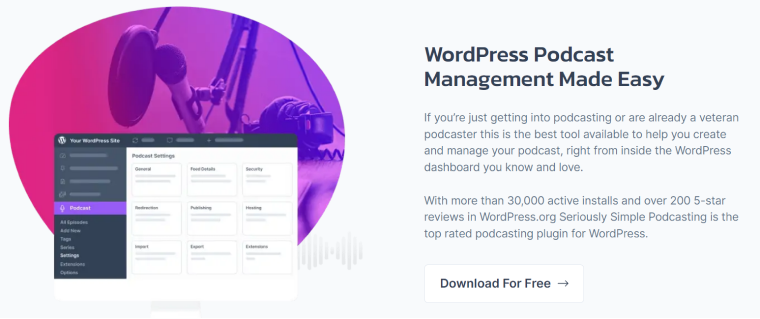 The plugin I recommend to almost everyone else is Seriously Simple Podcasting (SSP) by Castos.
Seriously Simple Podcasting pros:
It allows you to use posts for your episodes as PowerPress does, but it also creates a Podcast custom post type, which will keep your episodes separate from the blog. Of course, you can always integrate them into the main feed.
SSP also allows you to create multiple podcasts from one WordPress installation using Series. That means you can manage all of your related podcasts in one place.
Full sync with Castos. If you make a change in the WordPress website, everything from the audio to the show notes gets sent to Castos. This is the only plugin I'm aware of that does that.
SSP has rich extensions for adding transcripts, sponsors, stats, and even theme integrations.
Finally, it has native support for private podcasting. So if you want to offer something special for members, you don't need a whole separate membership plugin to manage that.
My Decision: You Need WordPress Podcast Plugin
No matter your choice, a podcast plugin is crucial to ensuring your podcast properly shows up in podcast directories. This is the key to growing your show and eventually making money.