As unlikely as it may seem, getting the right name for a business can be one of the most challenging tasks for budding entrepreneurs and even experienced brand strategists. This can be the case because the appropriate name must meet several important parameters, including the ideal length, memorability, and domain name availability.
Besides identification, a brand name can also communicate a lot about the business and make it easy for potential customers to find it online.
A brand name generator is an easy way to simplify the business naming process for entrepreneurs, allowing them to spend more time designing their product and service offerings. If you're in the process of naming your business, a simple google search will turn out too many results. While many of the tools have some features in common, they also have unique features that separate them from one another. This article outlines five free brand name generators you can consider for your process.
Table of Contents
The following are five of the best free brand name generators you can use for your business name search:
🏆 Best for eCommerce brands.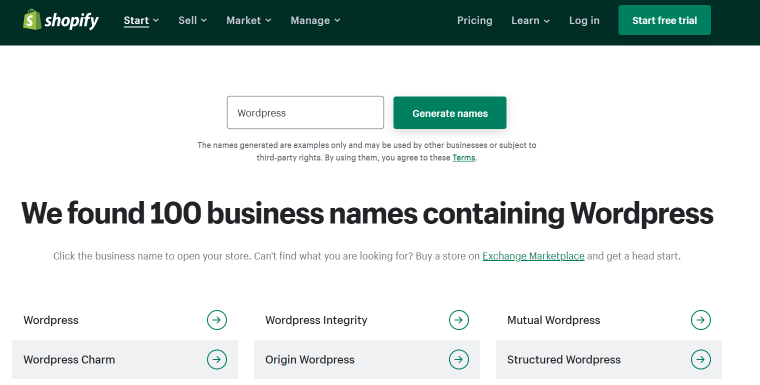 This free business name generator is from the popular eCommerce store Shopify. Available to customers and visitors, the tool offers hundreds of name options based on the one-word description of your business. All suggested names pass the domain availability test.
Key features:
free;
domain availability;
easy switch to Shopify online store.
Pros:
easy to use;
good beginner tool.
Cons:
prompts you to purchase a domain from Shopify;
domain checking available only to shop owners;
limited options.
🏆 Best for small businesses.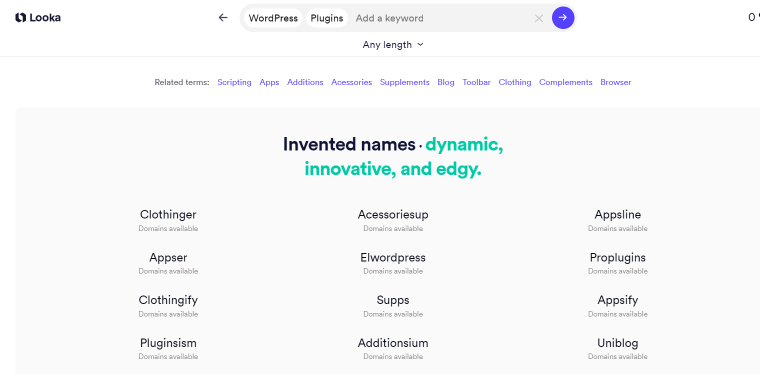 Looka is a logo-making and branding platform. It offers a brand name generator that allows you to generate business names using abstract ideas or by industry. Its proprietary process ensures that generated names make semantic sense and do not sound robotic. It also offers names in various categories, including traditional, invented, real-word, compound, and multi-word.
Key features:
review generated names;
filter names by length;
check the domain and social media availability.
Pros:
free;
slider to determine name length;
offers categories to add specificity.
Cons:
Not all options work well.
🏆 Best for small businesses looking to hit the ground running.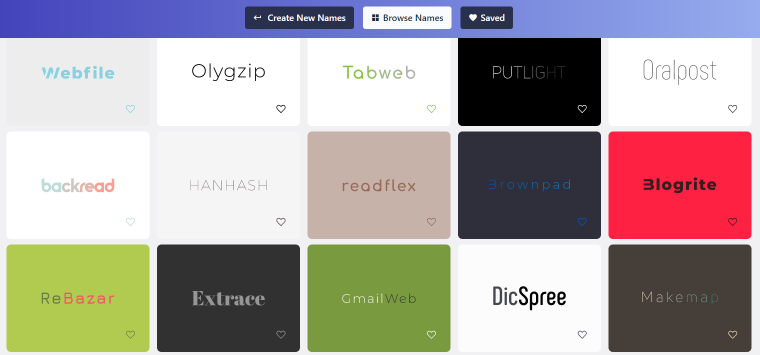 Namelix uses artificial intelligence to generate business names for you quickly. Unlike traditional tools that recommend long business names based on dictionary words, Namelix's business name generator uses algorithms to generate short and memorable business names.
Key features: 
simple and easy-to-use interface;
AI technology;
filters and saves names;
various name styles;
domain name registration.
Pros:
simple interface;
additional keywords until you find the perfect name;
choice of name length;
catchy names;
check domain names.
Cons:
Non-customization of brand names.
Domain search and registration through an affiliate site.
🏆 Best for big brands.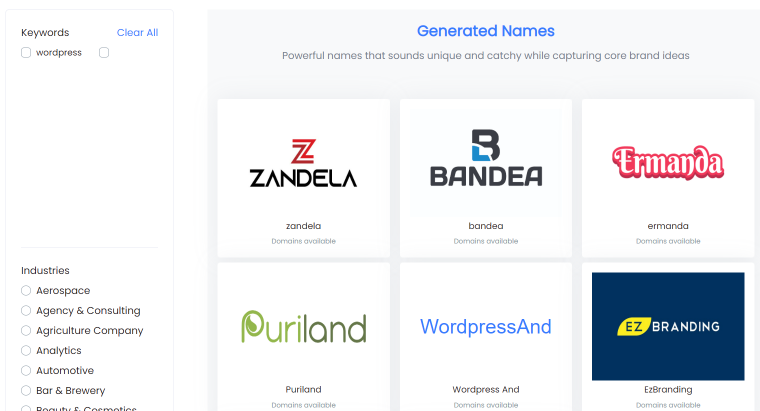 Squadhelp offers a free AI-powered business generator that creates brand names within seconds. It, however, attaches a price to each generated name and indicates its availability. This website also organizes naming contests that collect entries from willing participants and selects a winning entry.
Key features:
unique and catchy names;
indicates domain availability.
Pricing: Free search, and 4 pricing plans to proceed further.
Pros:
creative business names generator;
offers naming services by humans;
quick and easy to use.
Cons:
paid options can be pricey.
🏆 Best for start-ups and small businesses.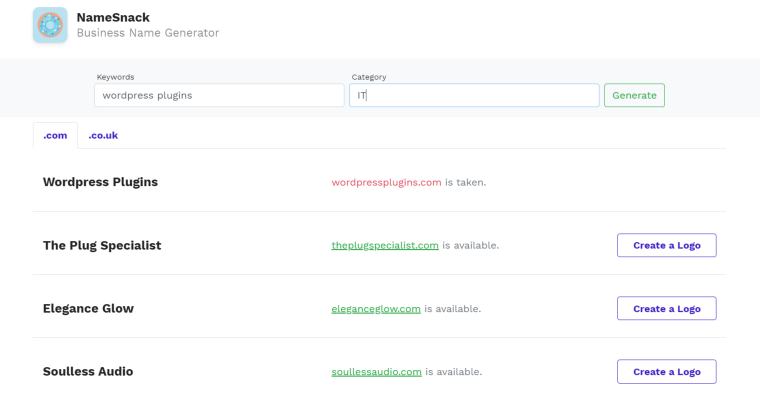 Namesnack is an excellent choice for people who need to find business names through an automated process. Also powered by artificial intelligence, this business name generator offers you a slew of catchy business names in just a few clicks. It also indicates the available names and domain names.
Key features:
industry AI naming;
instant domain search;
keyword search;
various name styles;
logo design.
Pros:
creative business names;
accepts more detailed information;
makes more accurate recommendations;
multilingual;
offers domain name purchase.
Cons:
No industry-type filter.
Only .com and .co.uk domain names available.
Frequently Asked Questions
How do you come up with a brand name?
Crafting a great brand name requires a deliberate and thoughtful process that considers many relevant factors. A typical process will include defining the value your brand will bring to your industry and researching your target market to understand prevalent tastes and preferences. It also includes generating business name ideas and screening them to ensure they are easy to pronounce and memorable. The final steps are conducting a domain name search to ensure your brand name is still available and testing the name by introducing it to others.
How do I find a unique brand name?
You can find a unique brand name by brainstorming to draw up a list of possible names. The more comprehensive the list you compile, the greater your chances of finding something unique. Then examine your list and start striking out overused names. You can also strike out names/words that are ambiguous, as you want your brand name to convey a clear meaning. Retain words that are clear, descriptive, and easy to remember. From the remaining words on your list, delete all buzz words. Then choose a name that can work well with all branding items like logos, taglines, and slogans.
What are some catchy brand names?
The following examples of precise and catchy brand names can inspire you: Groupon, Kodak, Lego, The Coffee Girl, The Wine Guys, ForceFile, FitFancy, etc.
What makes a brand name catchy?
A brand name stands a greater chance of being catchy when it is simple, short, easy to pronounce, easy to remember, and capable of stimulating a feeling in the audience.
Conclusion
A brand name can be integral to the success of any business endeavor. It can determine if and how the target market will receive the brand. Entrepreneurs must be deliberate and strategic when choosing a brand name. While going the full length to research and craft the perfect brand name can be pricey, small businesses and new entrepreneurs can take advantage of free brand name generators to achieve similar results.