Fasten your seatbelts, next station is Kava 2.0.! Crocoblock started its way with Kava theme creation. We tried to make it as flexible and light as possible. Originally when Crocoblock was launched, we united Jet plugins, which have already gained users' attention, and Kava theme, which was designed especially for Crocoblock. It was the optimal solution for the majority of users. And now, 1,5 years later, after analyzing Kava's structure and all the requests you sent, we have come to the conclusion that we obtain all the necessary information and tools to make Kava even more advanced and airy.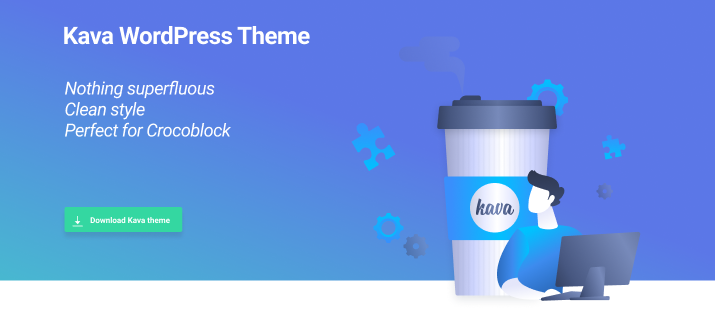 With a new version, you have more control and can make the theme lighter and faster in a few clicks! Besides, there used to be a small plugin called Kava Extra, being responsible for icons and content display. We paid closer attention to the maximum theme's optimization and moved its functionality right to Kava 2.0. theme. So, everything is stored in one place. Let's have a look at what Kava is now!
Kava Theme Setting screen
Now you can find a Kava Theme icon on the WordPress menu, which gives you access to the theme settings. Such a layout was made for a greater convenience since it's absolutely user-friendly. You can decide which options you need in your theme without touching a single line of code. It provides you with safety in case you don't obtain the needed HTML-related skills and knowledge. You still can customize your theme. Here you have several tabs with different options so that it's easier to navigate. The Layout tab allows you to enable or disable versatile types of content on the archive and single pages separately. Kava is synchronized with the content of your WP Dashboard and displays here the custom posts you have. When you create a new custom post type, it is immediately shown in the Layout tab.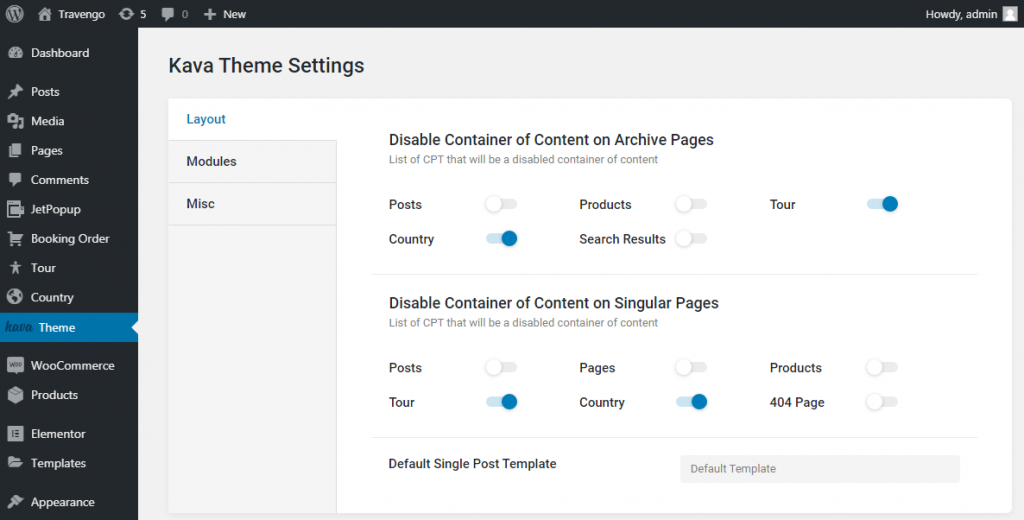 Disabling Modules
From now on, you can switch on and off the modules of the Kava theme. There are such modules as Blog Layouts, Post Formats, Breadcrumbs and WooCommerce. The fewer modules are active, the lighter the theme is which makes your website super fast. With Kava 1.0. to switch the modules off you had to make changes in the theme code manually, which obviously took more time.

Cache Dynamic CSS
CSS is written by many of your Customizer options. It influences your pages strongly enough. Use the corresponding option in order to boost your website's performance by caching dynamic CSS in the database. Next time the system doesn't create a new CSS, but uses the cached one! You can find the needed toggle in the Misc tab.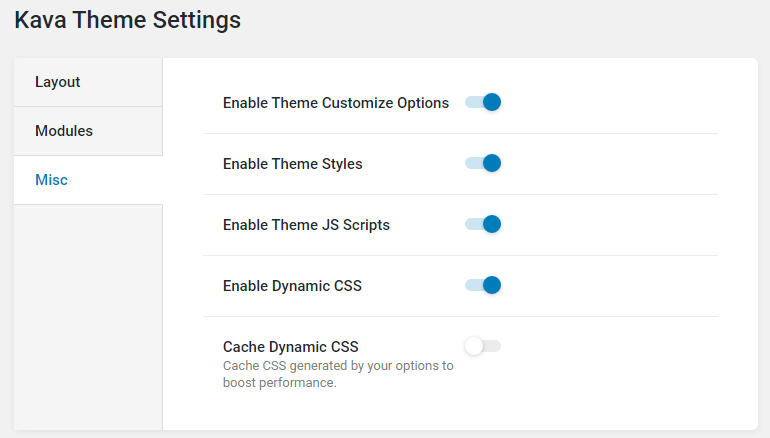 Clean Theme
With the new control console, you are in charge of enabling and disabling the Theme Customize Options, Theme Styles and Theme JS Scripts. When everything is switched off, the theme is absolutely clean and it's perfect for Crocoblock. If you bought any of the Crocoblock packages and want to use all the Jet plugins features, then Kava is probably the best choice.
Compatibility
Working on Kava and taking into account customers' requests, we have improved and added compatibility with the most popular and frequently used third-party plugins.
Assets
The number of assets was drastically reduced because of the optimized connection of third-party scripts and styles. Now Kava has become much faster and lighter, which will be noticeable while working with the website.
Now it's time to move from words to action and try everything yourself. Share your thoughts and opinions in the comments below so that we keep improving Kava with your help!