Pinterest, Behance, and Awwwards are not mentioned in this article. Why? All designers know them well already. Let's discuss something more intriguing instead! For example, look at these 20 web design inspiration sources below. I bet some you have never used before. 😏
Note: I divided this article into three sections. The first section shows you online web design galleries and media. The second introduces you to inspiring design agencies and freelancers. The third names platforms that are not focused on web design. Still, the content they share is an endless source of inspiration, I assure you.
Table of Content
Web Design Galleries, Media, and Communities
Webdesigner Depot is an online-only web design magazine created in 2008. It focused on design insights, software news, and inspiring website design examples.
Webdesigner Depot is also a free platform to share and download design content. And if you want to get more useful stuff (like fonts, icons, photos, etc.), try Mighty Deals. This service is created by Webdesigner Depot, too. It helps buy design content at a significant discount. However, all Mighty Deals offers are available for a brief time.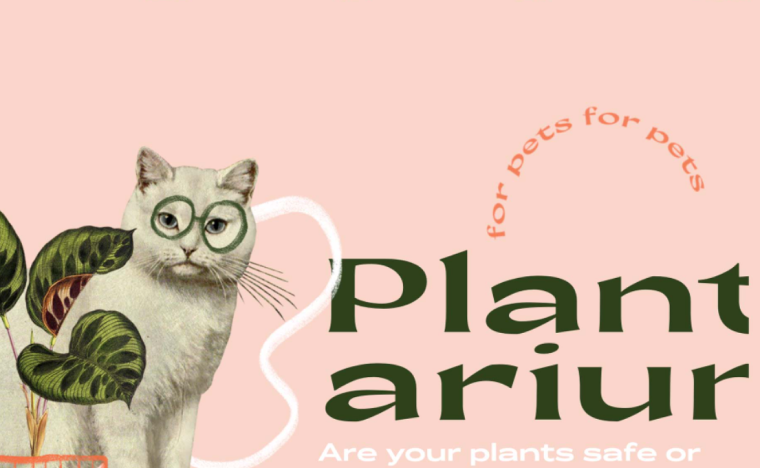 Did you know that word breaks are trendy in web design this June?
The platform gathers and publishes the best website designs and ideas, including WordPress themes. You can sort web designs by industry or style and add them to your collections. But that is all. The platform doesn't let download favorite designs or edit them.
The Web Design Inspiration collection is not significant for now. But, it is updated daily, so the chance of finding something unique there is high. For example, look at The Story of Babuska website, dedicated to a self-titled book, or How Many Plants, a plants care guide. Don't you think they both look pretty unusual?
Unlike Web Design Inspiration, Commerce Cream focuses on the best e-commerce website designs. Moreover, their collection includes only websites made with Shopify. You may call it a bit limited, and perhaps you will be right. Still, Commerce Cream is a good source of ideas for those seeking e-commerce website design inspiration.
This is the number one community for web designers… Or, that is what the Dailywebdesign team says about themselves. Anyway, in my opinion, this community is fascinating! They publish fresh web design ideas daily, including UI/UX design tips, how-to guides, and web design examples. You obviously will find your inspiration here.
One of the mobile website design examples you can find in Dailywebdesign: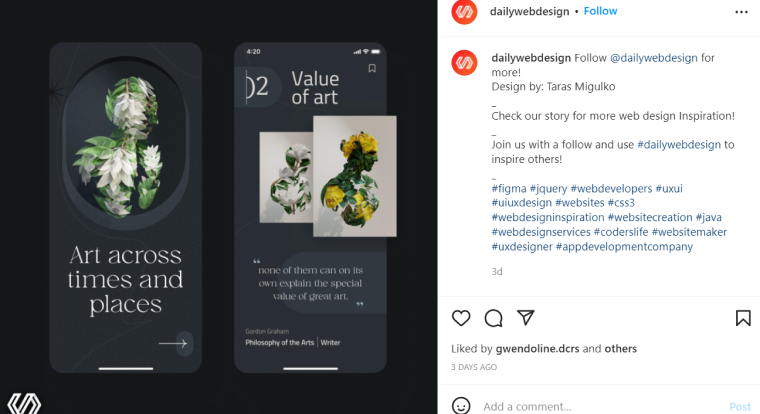 If you think Webdesigner Depot is an old magazine, then you know nothing about Communication Arts. It was founded in 1959! Today, Communication Arts are one of the most respected design media. Their expertise also includes illustration, photography, advertisement, and typography.
Communication Arts is available online, but it also has a print copy. To study web design examples, visit the Webspick section of the Communication Arts website. Each design there has a short description explaining its conception.
Looking for mobile design inspiration? Try Pttrns, a mobile web design galley. It has a significant and various collection of designs, including UI/UX elements and patterns that you can apply to your app.
Like WordPress, Pttrns has its own community, open to discussions. And it also provides a guide to understanding the strategy behind the designs you find in the Pttrns collection.
Thousands of people use WordPress plugins created by our Crocoblock team. We were curious about what kind of websites our plugins help build. So we created this form for our users, asking them to share their websites' designs with us. That helped gather an extensive collection of websites made with Crocoblock. You are free to use it as a website design inspiration source.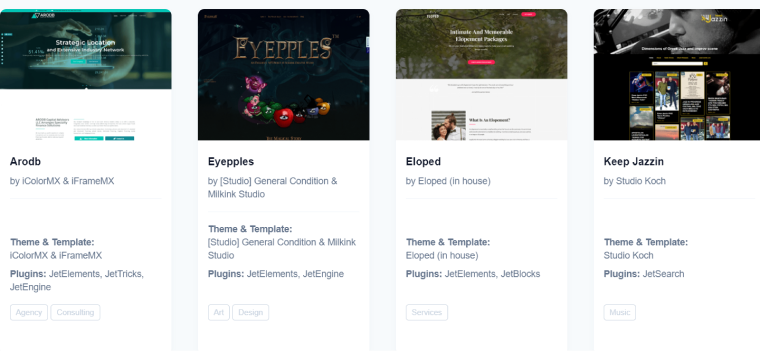 Design Everywhere is a Tumblr-made blog publishing graphic design works around the world. You may also follow Design Everywhere on Instagram, Facebook, and Twitter if you like.
Web Design Portfolios for Your Inspiration
This design studio worked with MasterCard, Rolls Royce, and American Express – the list goes on. Pentagram focuses on all types of designs, from packaging and interior design to film and motion graphics. If you are only interested in web design examples, visit the Digital Design section of Pentagram's portfolio.
Anagrama is a marketing agency with headquarters in Mexico City. They create simple, minimalistic, but fun designs. Anagrama usually prefers warm pastel shades, which add coziness and charm to each design. But sometimes, they use dark colors, combining them with fantastic visuals. Just look at the website these guys created for the local artisanal Mezcal seller! 
Pearlfisher is a brand design agency located in London. The company mostly focuses on the food, luxury, and body care industries. In their portfolio, you will find designs for McDonald's, Jim Beam, Jacob's, and other big brands.
It is like Porsche, but Borsche. Bureau Borsche is a global design studio based in Munich, Germany. Its design portfolio is eye-catching. For example, this studio redesigned the website for Balenciaga and worked on global campaigns for both Nike and Apple.
Bureau Borsche is especially famous for its editorial design works. They designed many popular German printed materials, including Zeit Magazin. So, if you seek new fonts or typology ideas for the website, take a deeper look at Bureau Borsche's amazing web designs.
Do you like the design of The Nike Run Club app? Do you enjoy the visual identity of Spotify (you may see the example below)? Then you obviously should pay close attention to Collins, a brand agency located in New York and San Francisco.

This charming lady is an artist from New York. With her husband, she also runs a design studio. Leta Sobierajski prefers to make installations and creative videos rather than design websites. Still, her portfolio is full of inspiring works, and the way she thinks and expresses her ideas also captures attention. So it can be good for you to study her design works.
Shane Mielke is a freelance designer and front-end developer from Southern California. His websites were nominated as Site of the Day by Awwwards (twice), Adobe (six times), and FWA (36 times). Shane Mielke also created tons of movie and game websites, including Hobbit, Mad Max, and Batman Arkham VR.
Meet another great creator! Mike Kus specializes in web/UI design, graphic design, illustration, and branding. He works with different brands; you will understand that once you see his portfolio.
Mike's works are warm, bright, and full of positive emotions (well, mostly). He is also fond of photography. Those who seek great photos of nature for the website should visit Mike Kus's Instagram.
Other Resources to Find Web Design Inspiration
Sounds a bit counterintuitive, right? But actually, it makes sense. Images and photos are the base of any website design. That is why designers spend lots of time searching photos to find both inspiration and material for design to make. And have you ever seen photos published by National Geographic? Have you ever followed National Geographic photo contests? If not, fix it because you really miss a vast source of inspiration. As proof, look at the photo below.
This image flares curiosity, doesn't it? It is the Arch of Drusus, a part of an ancient Roman road on the outskirts of Rome. For some of us, the Arch is a faraway but mysterious historical object; for others, it's just a usual everyday scenery.
TED Conferences (Technology, Ideas, Design) allow people with unique experiences to share their knowledge. It is an offline event, but you also can watch it online. More to it, TED has a blog with tons of curious materials about science, culture, and design.
For web designers, TED is an excellent place to broaden their minds, learn design tips, and find new ideas. For example, do you know how to use design thinking to become happier? Of course, this article will not provide web design examples, but it can still inspire you.
TED also shares inspiring photos and illustrations. I especially like the image you can see below. It looks so unusual, like a picture from a fairytale book!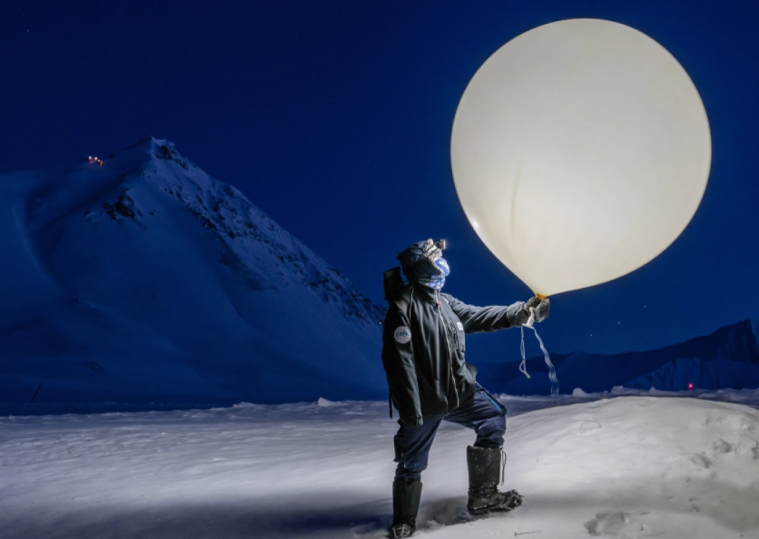 The Drum is the biggest marketing media website in Europe. It focuses on creative industry news, successful marketing campaigns, interviews with famous entrepreneurs, and so on. In addition, The Drum website has a "Creativity" section. Here you will find tons of inspiring design ideas.
The Drum also provides award shows for creative professionals. Following them, you may find web design inspiration. If you want to participate in the Drum Awards, read the conditions for participation to learn more.
You may say National Geographic is the best supplier of nature photos. However, NASA does a great job publishing awesome images of the universe and spaceships. I add some of them here to sparkle your imagination. Who knows, maybe universe sceneries inspire you to create a real masterpiece! At least, I hope so. 😉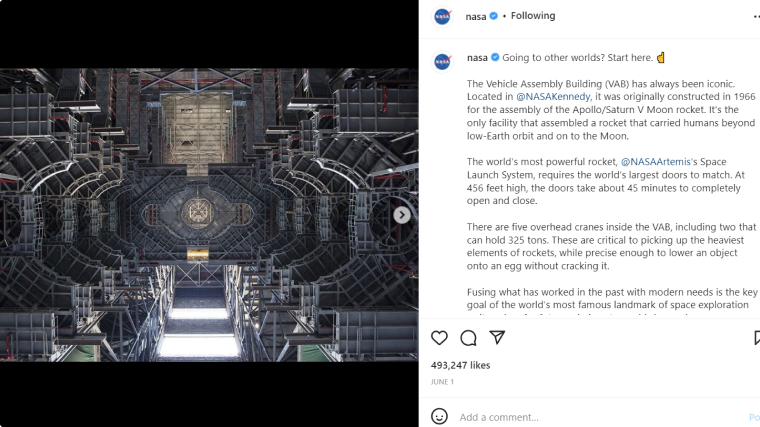 I don't know why, but this Vehicle Assembly Building reminds me of the Death Star from The Star Wars. Anyway, it looks fantastic, don't you think?
Wrapping Up
Here are, 20 web design inspiration sources I find useful. I hope you also discover something new and valuable for yourself. On second thought, you can never have too much inspiration, right? That is why I leave the link to Crocoblock's where to find web design inspiration article. The more helpful information, the better.