While nothing beats shopping at a physical store, virtual shops are still gaining momentum in this digital age. After all, the pandemic is far from over with its many persistent variants. Also, technology has made online shopping more realistic, and many are now jumping onto the e-shopping bandwagon. Hence, this explains the birth of loads of e-stores.
Table of Contents
Understanding WooCommerce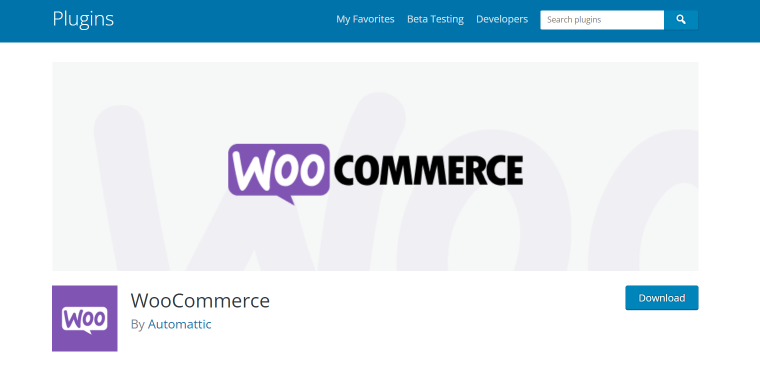 Launched in 2011, WooCommerce is an open-source and free eCommerce WordPress plugin. Integrating WooCommerce with any WordPress website converts it into a fully functional eCommerce website. To date, the number of WooCommerce active installations has surpassed 5 million, capturing 27% of the market share.
Why is the WooCommerce plugin popular?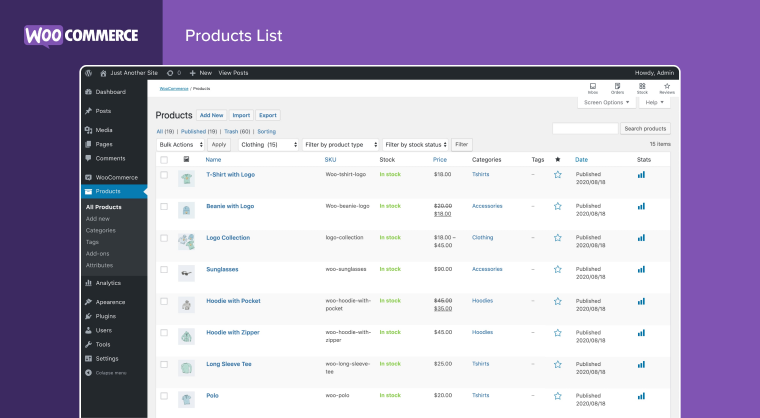 WooCommerce is built on WordPress, which powers over 40% of the websites in the world. Leveraging the fact that you can manage your eCommerce and WordPress on the same user-friendly CMS system makes WooCommerce enticing. With WooCommerce, you are in the driver's seat with your data.
Also, WooCommerce provides helpful features such as order tracking, product inventory control and management, shipping options, delivery updates, customer engagement, and more. Customizations are almost limitless. Since WooCommerce is open-source, you have the support of a massive and robust open-source community.
WooCommerce emphasizes security by providing constant updates. They understand security is key to the success of an eCommerce store. Also, it is easy to use and deploy WooCommerce. As such, it is suitable for beginner eCommerce site owners.
What Is WooCommerce Hosting?
All websites require a hosting solution to have an online presence. The same applies to eCommerce stores. Since WooCommerce is a WordPress plugin, you need a hosting provider that supports WordPress.
There are many types of web hosting available. WooCommerce hosting is WordPress hosting with added features and performance optimizations targeted for eCommerce purposes. Unlike Shopify, WooCommerce is a free and open-source plugin and is not a self-hosted platform. You will require a WordPress hosting plan to use WooCommerce.
WooCommerce hosting: essential features
WooCommerce hosting can differ from provider to provider. However, most offer:
the hosting essentials – free domain, ample disk space, and others;
pre-installed WordPress, WooCommerce, and other essential software to support eCommerce functions;
relevant eCommerce security standards and policies – SSL certificate, backups, and others;
high performance and speed – caching and possibly Content Delivery Network (CDN);
other eCommerce-related features to supplement online store owners.
Simply put, WooCommerce hosting providers offer the infrastructure to support business owners selling online.
Why choose WooCommerce hosting?
eCommerce sites have a higher demand for speed, security, reliability, and performance. After all, nobody would want to shop at a site that is often down, hacked, crashed, and unstable. Hence, the survival of your e-store depends on your web hosting solution.
However, if you plan to build your online store using WordPress, it is a no-brainer to go for WooCommerce. And going for WooCommerce web hosting makes sense as this can help make life easier for you in the long term and provide you with additional tools and eCommerce features that will benefit and improve your online store.
Online user experience is enhanced, and your business grows with no disruptions. You can also scale up your web hosting as your online store grows. You go for WooCommerce hosting because it gives you an easy way to build your online store so you can focus on your store as you should. Everything about the WooCommerce web hosting solution surrounds one core – WooCommerce-friendly.
Also, you can have restful nights knowing that anytime you need help, most WooCommerce hosting support comes from experts who have the necessary WooCommerce skill sets to assist you.
How to choose WooCommerce hosting
Everyone wants a good hosting provider to secure the foundation for a fast, safe, and stable online store. However, ending up with one requires research, time, and patience. Look out for the following criteria:
Security features – ensure the hosting provider focuses on security as nobody would ever shop at a hacked e-store.
Performance – optimum performance is what you look for as you want to give the best online shopping experience to your customers.
Uptime – look for the uptime guarantee. You shouldn't settle for anything less than 99.9%.
eCommerce features – each e-store has its requirements, so know what will complement your store.
6 Best WooCommerce Hosting Providers
As an online store owner, do your due diligence in picking the best WooCommerce hosting provider for your business. After all, your hosting provider could either make it or break it for you. We have curated a list of reputable and top-ranking providers that offer WooCommerce hosting with superior infrastructure, speedy and reliable performance, and a knowledgeable and competent support team:
Scala Hosting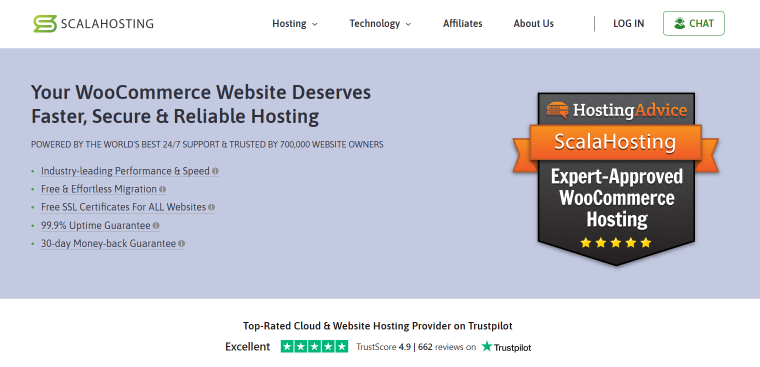 As of current writing, Scala Hosting is used by around 700,000 websites. Established in 2007, ScalaHosting focuses on innovative technologies to help users manage their hosting environments with different requirements.
Features
Scala Hosting offers a 99.9% uptime guarantee, giving you industry-leading performance and speed, backed by their optimized WooCommerce hosting environment. The server configurations cater to WordPress requirements. No matter which WooCommerce hosting plan you choose, your hosting environment is secured by Scala Hosting's custom security rules to block 99.9% of web attacks and enhance website security.
Also, there are regular malware scans and removal done along with auto-updates. You won't have to worry about getting the latest patches and updates. There are many freebies such as CDN, SSL certificate, domain, SEO analysis, and other tools.
Pricing
Scala Hosting's Woo Mini plan for a site should suffice if you're starting. However, if you need everything, including managed services, look at their highest-tiered plan – Managed VPS at $49.95/month.
Hostinger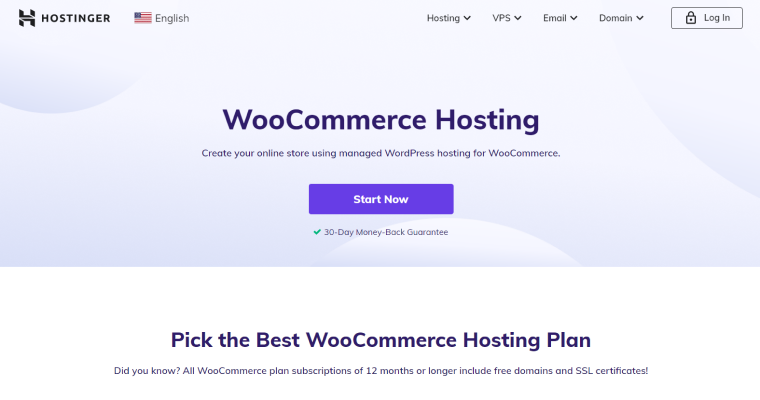 Hostinger is one of the fastest-growing web hosting providers in the market. Founded in 2011, this hosting company has helped more than one million clients succeed online.
Features
Hostinger's WooCommerce hosting solution lets business owners create powerful online stores thanks to its flexible and optimized WordPress environment. 
Hostinger complies with the industry benchmark for server uptime by offering a 99.9% uptime guarantee. This helps maintain excellent website availability and user experience. It utilizes the latest technology stacks, including PHP and HTTP versions, to ensure the best possible performance. This helps maintain excellent website availability and user experience.
Worry not about complexities and learning curves, as Hostinger offers an intuitive custom-built control panel called hPanel. It prioritizes ease of use so you can manage your multiple sites and hosting accounts hassle-free. You can do everything from configuring domains to FTP users and MySQL databases in one place.
Besides being beginner-friendly, hPanel facilitates Git integration to create repositories and cron jobs to schedule tasks. Therefore, more experienced users can also use this control panel to streamline their processes.
Hostinger lets you choose from multiple data centers – France, the Netherlands, Lithuania, the UK, Singapore, India, the USA, and Brazil- to optimize website performance. The best practice is choosing a server closest to your target audience, which will help reduce latency.
You can also enable a content delivery network (CDN) to further improve your website speed. Additionally, Hostinger's WooCommerce hosting comes with a cache booster to speed up the site component loading time.
Regarding the eCommerce site development, Hostinger offers a staging environment where you can test your changes before making them online. So whenever you edit your website, for example, implement new features, templates, or payment gateways, utilize the staging tool to see if the changes work as expected.
When it comes to network and website security, Hostinger takes it to the next level. It offers a free lifetime SSL certificate for all your domains and subdomains on all its plans. This web host also deploys robust web application firewalls and DDoS protection.
On top of everything, Hostinger's WooCommerce hosting packs several freebies, including a free domain name, daily backups, and migration service. A free domain name registration for a year is worth $9.99, and the daily backups help you save around $25.08. Regarding the cost of website migration service, Hostinger lets you save between $300 and $400.
Pricing
Regardless of your project size, Hostinger has the perfect WooCommerce hosting plans.
The Woo Starter plan can be the best choice for building a small online store. This plan costs $3.99/month and enables you to create up to 100 websites. As for server resources, it offers 100 GB of SSD storage, 1024 MB of RAM, and unlimited bandwidth.
For more established eCommerce sites, opt for Woo Business at $23.99/month. With this plan, you can create up to 300 websites. It also packs generous resources – 250 GB of SSD Storage, 6 GB of RAM, and unlimited bandwidth.
Ultahost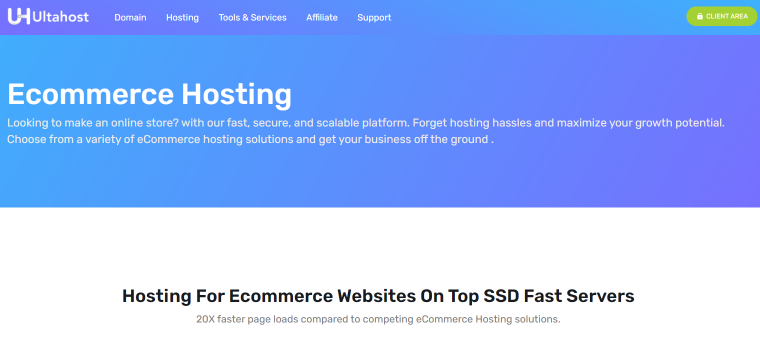 Ultahost is relatively new, has been in business since 2018, and has a presence in the US, Canada, the Netherlands, and Germany.
Features
Ultahost understands that speed is the name of the game for eCommerce websites. Hence, their servers are based on Solid State Drive (SSD) and Non-Volatile Memory Express (NVMe) technology; this combination is relatively more costly, but they run much faster, sometimes 20 times faster than the more common mechanical drives.
The support team is available 24/7. They offer a 99.9% uptime guarantee and a free website migration service. There are periodic reports on your web hosting account's health status via free malware scans. You get free daily backups in 7/30 day cycles; the data is stored elsewhere for additional security and reliability.
Pricing
Although you may want to go for their Shared Hosting plan ($3.29/month) with a 99.9% uptime guarantee, think again as their more popular plan, the VPS hosting plan is at $5.50/month. The difference may be minimal for you to enjoy better offerings.
Bluehost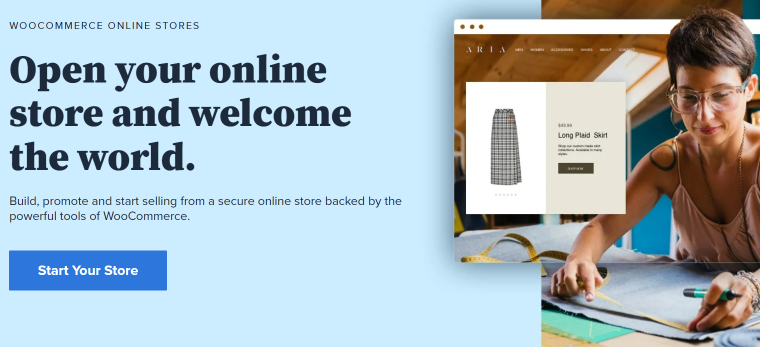 Founded in 2003, Bluehost is based in Burlington, Massachusetts, the US, and is highly popular as a trusted and reliable hosting provider.
Features
Bluehost comes recommended as a WooCommerce hosting solution; this is not surprising as they provide a perfect combination of eCommerce tools, plugins, security, and guidance to set up your online store fast:
build your online store (WooCommerce installed by Bluehost);
add and remove products;
customize any features (payment and tax options);
include relevant plugins.
Their support team is available 24/7 and trained to help every online store owner. They offer caching to increase speed and track your customers' purchasing patterns and trends. There are other functions that you can add on via a host of powerful eCommerce plugins. There is also a free SSL certificate and a free domain.
However, features such as Google Business Profile which helps you get discovered easily, unmetered bandwidth, and domain privacy are available with the Premium plan only.
Pricing
Bluehost offers two paid plans. If you're starting, you can opt for the Standard plan at $12.95/month; this gives you the basic features you need for your online store. However, if you're scaling up soon, you may need to consider the Premium plan at $24.95/month.
SiteGround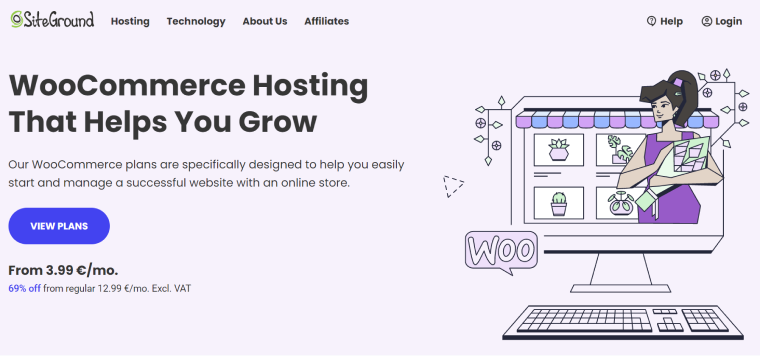 Also recommended as a WooCommerce hosting solution, SiteGround's specially designed WooCommerce plans help build and manage an online store. SiteGround was founded in 2004 in Sofia, Bulgaria, and trusted by over 2,800,000 domains.
Features
SiteGround offers managed WordPress and WooCommerce hosting services; this comes with pre-installed WooCommerce, a Storefront theme, and auto-updates. You can easily create product variations and accept bank transfers (BACS), checks, PayPal, and cash on delivery. Also, there is the option to integrate with 140 region-specific gateways.
They provide free SSL certificates that come pre-installed. Also, an AI anti-bot system and Web Application Firewall are in place to block security threats. There are many configurable shipping options, including customizing your shipping fees per zone or product type.
Speed is essential for any successful online store. Hence, SiteGround provides free CDN service, smart caching, and a platform optimized for high speed. To highlight, SiteGround has a highly-rated support team available 24/7 with fast response time and resolution. They claim to register 98% customer satisfaction based on rated interactions.
Pricing
SiteGround is a value-for-money option. All plans come with free site transfer (available for a limited time). If you have only one website to handle, explore the StartUp plan at 3.99 €/month. However, if you wish to go for one where the sky's the limit, the GoGeek plan at 10.79 €/mo entices.
Nexcess

Nexcess, one of the brands under Liquid Web, is a digital commerce cloud platform to grow online businesses.
Features
Nexcess provides fully managed WooCommerce hosting with tons of premium features designed to help scale up your online business. Nexcess utilizes custom-built technology to help bring your online store to the next level via built-in image compression, abandoned cart and page builder plugins, and 1-click staging features.
Their StoreBuilder allows you to build your store in several clicks with custom integrations and optimizations that you can deploy for faster speeds. Nexcess offers a built-in CDN with 22 locations. Also, advanced caching is built-in for ultra-fast loading speed. You get free smart monitoring alerts to track issues and also market trends.
Nexcess invests in automated testing that runs nightly to ensure everything works like clockwork, so rest easy. The Nexcess infrastructure is PCI compliant and on the Mastercard and Visa Approved Providers list. Their team of WooCommerce experts is available 24/7/365.
Pricing
If your WooCommerce store requires a complete and top-notch managed hosting solution, Nexcess could be it for you. Nexcess's paid plans start from $13.30/month. All plans come with free WooCommerce site migrations, a staging environment, 30-Day backups, and unlimited email accounts.
FAQs
Is it better to go for WooCommerce-specific hosting for my WooCommerce store? 
Technically speaking, you do not need WooCommerce-specific hosting for your WooCommerce store. However, it is best to opt for one because WooCommerce-specific hosting has everything WooCommerce on the plate for you. 
Hence, this makes life easier for you as you can scale up as your store grows and obtain additional tools and useful eCommerce features that benefit your business immensely. You also get targeted security, updates, and WooCommerce specialized support. 
Is SSL crucial in WooCommerce hosting? 
Without a doubt, the answer is a resounding yes! SSL is essential for all websites, especially your online store that handles sensitive information such as credit card, payment details, and customers' details. Customers are more aware of security, so they will leave once they see a website with no SSL security.
Most hosting providers provide free SSL. Check if this free SSL suffices for your store. If not, you can consider a more advanced SSL version. 
Does WooCommerce require hosting?
Yes, this is because WooCommerce is a plugin for WordPress. It is unlike Shopify, a self-hosted platform. You will need a WordPress hosting solution to run WooCommerce.
Are WordPress hosting and WooCommerce hosting the same?
No, they are not the same. WordPress and WooCommerce are open-source software. However, the latter is a plugin for the former and is an extension of WordPress. WordPress is a general-purpose Content Management System (CMS), while WooCommerce is an eCommerce plugin.
You can use WordPress to build websites of all types, but if you need an eCommerce store based on WordPress, you will need WooCommerce. You can think of WooCommerce hosting as a type of WordPress hosting. That said, not all WordPress hosting providers offer solutions specific to WooCommerce.
Sum Up
An online store has a lot going on behind the scenes. As an eCommerce store owner, you cannot belittle the importance of WooCommerce hosting, as it can help you stay ahead of your competitors and ultimately decide the success of your online business. So, choose your WooCommerce hosting wisely.
Your WooCommerce hosting selection has a lot of dependencies. That said, base your decision on your business needs, tools that are unique to your business, budget, and what truly matters to you.