Suppose you have a WordPress website that relies heavily on various media types such as images, videos, or music. In that case, you need a reliable solution to help you store and manage such media effortlessly.
As your media files increase, you'll find it more challenging to store, organize, and find the media assets when needed. Therefore, investing in a quality WordPress media library folder plugin is advisable to help you manage your files in a systematic and accessible manner.
What Is a Media Library Folder Plugin?
With a WordPress media library management plugin, you can easily:
Organize your media files and folders using drag-and-drop features.
Optimize your media files for easier accessibility.
Optimize your image SEO.
Rename your media files and folders.
Bulk copy, move, create, and delete media files and folders.
Compress images and other media files to optimize your website's performance
WordPress media library folder plugins make it easier to handle bulk media files on your WordPress website using simple drag-and-drop widgets. Besides, you can optimize your website's front end appearance and SEO hassle-free.
Key Questions Before Purchasing
There are many WordPress media library management plugins, each with unique pros and cons. This article will help you determine the best plugin for you.
When choosing a media library folder plugin, there are several things you need to consider. Some of them include:
Do you need to organize your media files systematically in the backend and front end?
Do you want to separate different media types?
Do you need an integration with features like Gutenberg editor or plugins like WooCommerce?
How much do the plugins cost?
Now you have some criteria for selecting the best media library management plugin for your WordPress website.
Top 7 Best WordPress Media Library Management Plugins
Let's look at various WordPress library folder plugins' different features, costs, pros, and cons.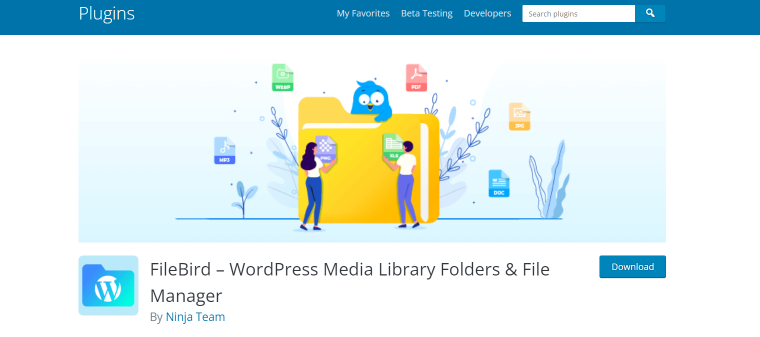 On the top of our list of the best WordPress media library plugins is FileBird. This media library plugin does an incredible job of helping you organize and track your WordPress media files and folders.
As the leading media library plugin, FileBird can easily handle large files and folders and organize them without clutter. The plugin will save you a lot of time when dealing with many media files. Besides, the plugin works with various WordPress page builders such as Elementor, WooCommerce, WPBakery, and others.
Price: The plugin's free version allows users to create and manage unlimited main folders and subfolders.
The developers also offer a lifetime pro plan for $39 and an additional extended license for $199 with six months of support and more feature flexibility.
Capabilities:
Display folders and files perfectly;
drag and drop your media files and folders quickly;
create, delete, and rename media files and folders;
import and export files painlessly and conveniently;
organize media into different categories and colors;
embed gallery with FileBird Gutenberg block feature;
easily search and locate files and their details within other folders;
sort files and folders according to various attributes such as type or size;
bulk deletes files and folders;
support RTL languages;
allow you to move files between folders.
The latest version of FileBird has new additional features that improve functionality, including:
Folder colors and themes;
ability to move folders in bulk;
unique styles and lightbox for the gallery;
ability to generate attachment sizes to sort files;
improved user interface.
Pros: It has an easy-to-use interface that supports various WordPress media management tasks such as file import, export, organization, sorting, searching, and deleting. It lets you control your media files and folders by removing all the clutter with bulk files. The good thing is that you can access these features on a free version.
Furthermore, the plugin gives you more control over your SEO by organizing your media files in a search-engine-friendly way.
Cons: The search option may be slow in some scenarios.
Summary: FileBird is suitable for anyone who needs high-quality media files and folder organization. The plugin has many features that allow you to organize your media files in a sleek and clutter-free style.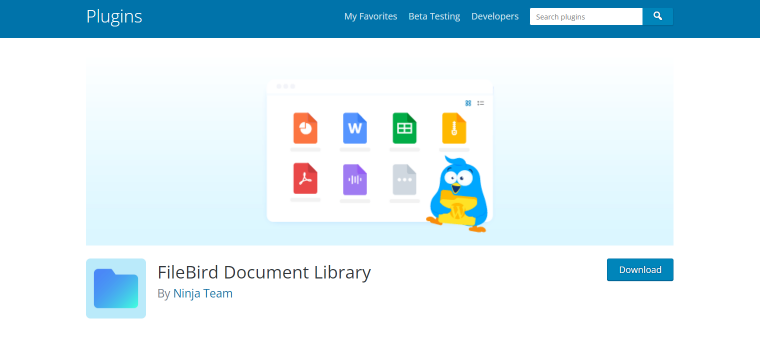 If you are looking for a free plugin that will allow you to create and publish your media files using a Gutenberg editor, then you can get the FileBird document library. This plugin makes it easy for you to organize your media files into different categories.
FileBird Document Library supports formats such as PDF, DOC, XLS, SVG, CAD, and .epub, among others. Besides, you can customize your document gallery display into grid or list formats.
Price: The plugin has a free version that supports basic file organization features. Paid plans start at $39 for a lifetime plan.
Capabilities:
Easy file customization, copying, and organization;
folder customization features such as grid and list organization;
file import and export features;
media file organization and editing using Gutenberg.
Pros: The plugin supports many file formats such as PDF, .epub, and .doc, among others. Besides, the plugin is easy to use.
Cons: When using the search option, you might require a strong internet connection if you experience some lag, but it ultimately works.

HappyFiles plugin helps you manage a lot of WordPress media files. It allows you to create custom categories, add images to selected folders, and also gives you the ability to issue different levels of access for users.
It is convenient because you can quickly find the desired image with the help of categories and folders. All functions are intuitive when working with files using drag and drop. And if you remove the plugin, the links to the images will not change.
Price: The plugin has a free version that supports basic features. Paid plan costs $59 for a lifetime plan.
Capabilities:
easy file classification, customization, management, and organization;
creating automatic galleries using folder shortcodes;
work with media files using drag and drop;
compatible with various themes and plugins such as Elementor, Divi;
support for languages with right-to-left scripts – Arabic, Hebrew;
limiting the ability to work with plugins using user roles.
Pros: The plugin makes it easy to manage media files by creating categories, subcategories, and folders, as well as assigning user roles.
Cons: Sometimes, there are problems with sorting files alphabetically.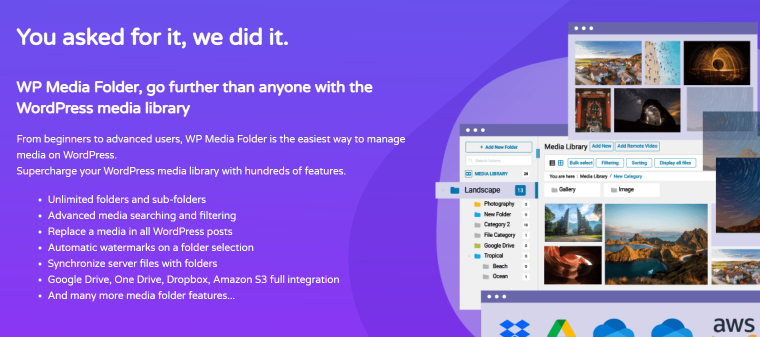 Media Folder Plugin is a WordPress media library plugin. It allows you to organize your media files into folders using a drag and drop feature. Besides, the media management plugin will enable you to generate image thumbnails for better SEO.
Price: The developers offer a pro version with add-ons and other capabilities such as WooCommerce integrations and multisite use. Plans start at $39 for a single add-on or $49 for all.
Capabilities:
Add, remove, or edit categories from your media files;
filter media files based on various categories;
filter media file types while adding files to a page or post;
filter media files while creating galleries;
use bulk actions to alter multiple media categories simultaneously.
Pros: Allows easy media file organization, editing, deletion, and folder creation. Besides, the plugin allows bulk activities, which helps save time for users.
Cons: No free version.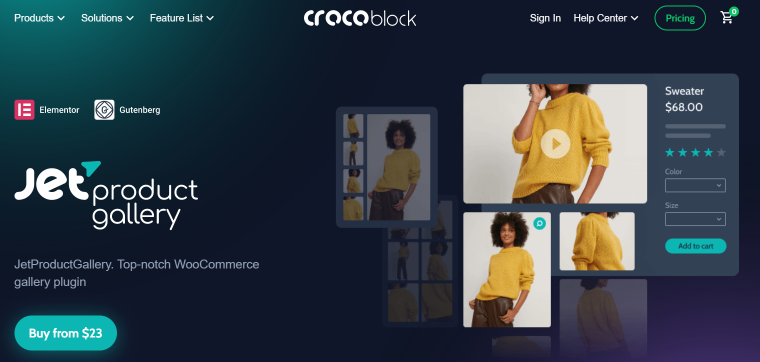 JetProductGallery is an effective plugin that supports top-notch modern gallery creation on WordPress. Using it, you can effortlessly keep your media files organized both in your website's front end and backend.
The JetProductGallery plugin is compatible with Gutenberg, retina screens, web browsers, and mobile devices.
Price: JetProductGallery plans for a single website start at $23 per year.
Capabilities:
Create stylish galleries: products, sliders, grids;
apply product zoom;
add pagination for better navigation.
Pros: The plugin allows you to easily create high-quality galleries for your WordPress website. It outputs nifty images that better the appearance of your website.
Cons: No free version.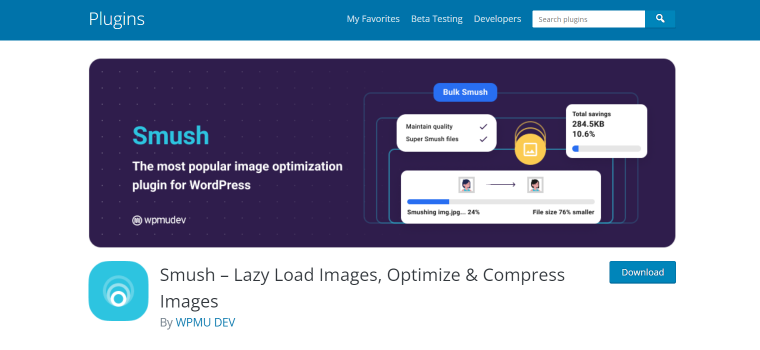 Large and uncompressed images can affect the performance of your WordPress website. Therefore, you want to have a compression plugin that optimizes your images.
That's where Smush comes to your rescue. Smush is an intelligent WordPress website that auto-optimizes your images upon upload. The free version supports unlimited image compression for all images below 5mbs.
You can use the premium version that compresses your images for better results without losing the file quality.
Price: Smush offers users a 7-day free trial, and premium plans for Smush start at $7.5 per month after the trial period ends.
Capabilities:
Automatically optimizes unlimited images;
improves WordPress website page loading speeds.
Pros: Better the performance of your WordPress website by auto-compressing your images during uploads.
Cons: Free version does not support images larger than 5 megabytes.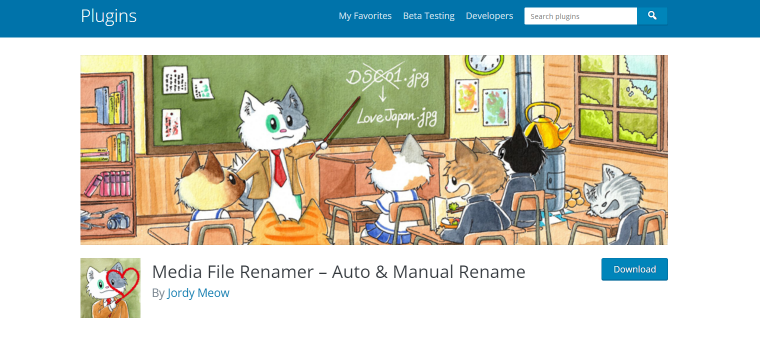 Organized and easily recognizable files and folders are essential in WordPress because they allow you to access your media faster. However, if your media files are named using special characters rather than alphabets, then accessing them can be an uphill task.
But with Media File Renamer WordPress plugin, you won't have to worry about that. The plugin automatically renames the media files according to their titles. It eliminates symbols and punctuations in the championship while adding dashes between words to make them readable. The feature helps improve file organization and SEO.
Price: The plugin has a free version that automatically bulk renames files while allowing you to exclude any files you don't want to be renamed. Pro plans have improved features such as file numbering and advanced file renaming. The pro version plans start at $24 annually.
Capabilities:
Auto-rename files when the media entry gets modified;
allows users to edit filenames in the media library manually;
lock feature that will enable users to prevent further file renaming;
file numbering on pro version;
SQL logging upon file every successful file renaming event to support rollbacks;
undo feature to roll back on any unwanted file renaming;
Pros:
It has a user-friendly interface that automatically renames and organizes media files and folders for easy accessibility. It also comes with an undo button and supports manual editing if the user is unsatisfied with the file name.
Cons:
The free version does not support file numbering.
FAQ
Which plugin should I choose for my website?
As we wrote at the start of this article, you should look at your requirements to make the best decision.
1. FileBird is an excellent option if you heavily use media files in your website, and Smush would be ideal for those looking to optimize speeds on their WordPress website.
2. JetProductGallery is ideal for users looking for nifty image displays on their site.
3. Media File Renamer is suitable for users that work with oddly named media files that they want to organize quickly.
How to install a new WordPress media library folder plugin?
It is essential to consider purchasing the website from the provider before installing it. After downloading, go to your WordPress website, click "Plugins," then "Add New" to import the plugin. Once you have imported it, you can then proceed to install it.
Conclusion
If you are dealing with many media files on your WordPress website, you should consider using a media library folder plugin. These plugins allow you to organize and customize your media files according to your needs.
There are various plugin options for you, depending on your customization needs. Check out their different features and pricing and select the best one. And don't forget to comment below on what plugin you have chosen.