JetCompareWishlist plugin is a perfect tool for creating comparison lists and wishlists to allow visitors to add products they liked into them. With this plugin, you can showcase products in the most stylish way and make sure that visitors can view the liked products at any time in their wishlist.
There's also an option to enable or disable the Wishlist functionality, and from this tutorial, you will learn how to do it easily.
Enabling Wishlist functionality
Step 1 – Navigate to the WordPress Dashboard > Elementor > JetCompareWishlist Setting.
Step 2 – In the following screen, you should choose the Wishlist tab. Here you have several options, let's discover the functionality of each of them.
Step 3 – The first option means that you need to toggle on the Enable Wishlist to activate its functionality.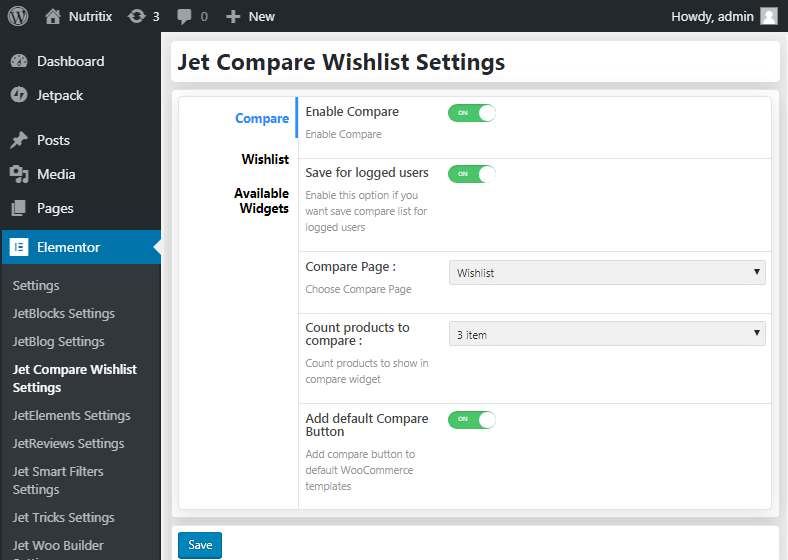 Step 4 – Next, you have another Save for logged users toggle, which you should turn on in order to enable the wishlist option if you want to save wishlist for logged users only.
Step 5 – After that, you should select in the Wishlist Page dropdown menu the page where you want the widget to be applied.
Step 6 – The last option here is a toggle one, which allows adding a wishlist button to default WooCommerce templates.
Step 7 – Next, go to the Available Widgets tab in the left side panel. Here you will see the list of widgets that will be available when editing the page. It is obligatory to check the Wishlist option. If you need to, you can check not only this option but also Wishlist Button and Wishlist Count Button ones to meet all your requirements.
These easy steps are all that you need to do. Hope this tutorial was useful!