The Posts widget from JetElements plugin is a perfect tool for creating attractive posts grid layouts, sorting posts by categories, IDs or the date of publishing. With this widget, you can also create stylish post carousels and post sliders.
This tutorial provides an overview of the general content settings of the Posts widget. So, let's dive into the process.
Posts widget general settings overview
Step 1 — Firstly, open any Page to which you want to add a Posts widget and edit it with Elementor. On the left sidebar find a widget and drag it to the needed section.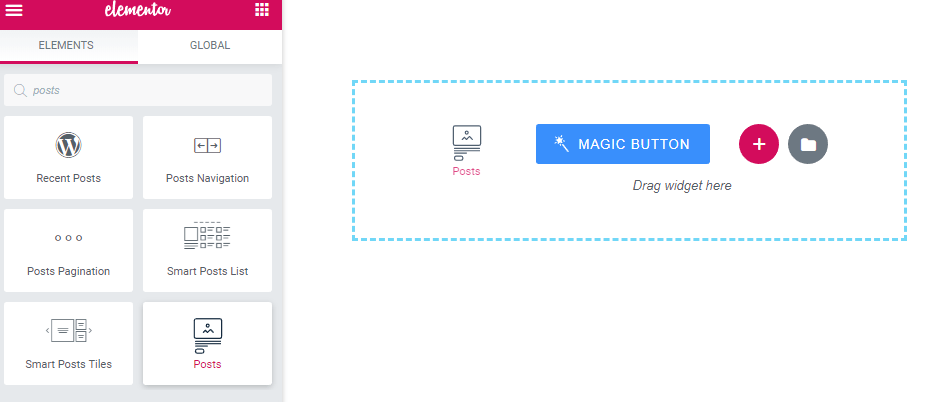 Step 2 — After that, you can apply different content settings to the Posts widget. Let's take a closer look at them.
Step 3 — In General settings, you can select the number of posts and columns which you want to display and enable Equal Column High and Archive template.
Also, you can choose the Post Type from the drop-down, set the Posts Offset and choose the Posts Query.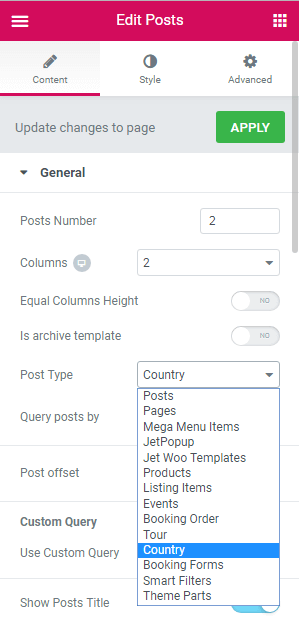 You're able to query posts by the Latest Posts, From Category, By Specific IDs, and by Related to current post.
By the way, there's an opportunity to use Custom Query. You can read more about that in this tutorial.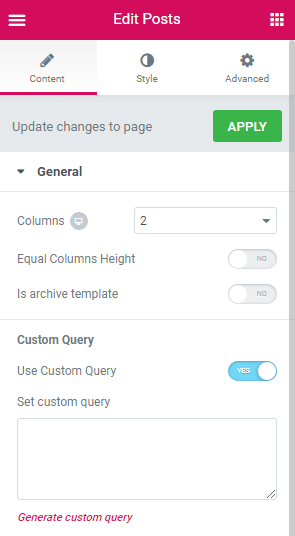 Moreover, you can enable a lot of different options, such as show Posts Title, Posts Featured Image, Posts Expert, Posts Meta, Posts Author, Data, Comments, and Read More Button.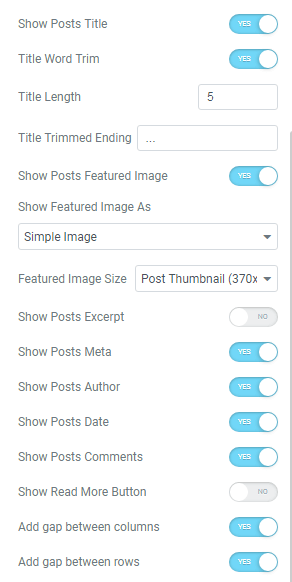 Step 4 — The great thing in the Posts widget is that you can enable Carousel for it. Your posts will look even more attractive with this option. You can set the Minimal Height for slides, choose how many slides to scroll, show navigation arrows and Dots, enable Autoplay and Infinity Loop.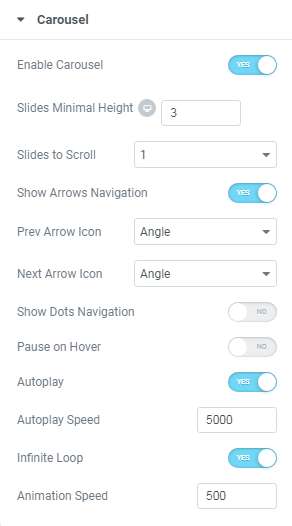 Step 5 — What's more, you can use Custom Fields for your posts. Read more about how to use them in this tutorial.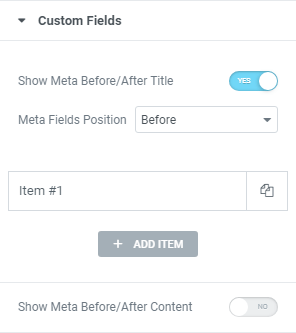 Step 6 — After you've done with all settings click the Publish button and enjoy the results.
Now you know how to showcase posts on your page with the help of Posts widget and make its customization according to your needs. Congrats! Hope this tutorial was useful.