With the Dynamic Repeater widget of JetEngine, you can show a post URL, e.g. a related post. We are going to present the example based on displaying a related tour in the post, which is included in the Tour CPT.
1 Step— Adding a custom meta field
Let's start with adding the repeater custom field to the Tour CPT. We need to edit the Tour CPT in the JetEngine > Post Types section in the WP Dashboard. When the settings window appears, we scroll down to the Meta fields block and click the "New Meta Field" button.
We create the "Related tour" meta field and fill in the appropriate fields and in the Field type line choose the Repeater option.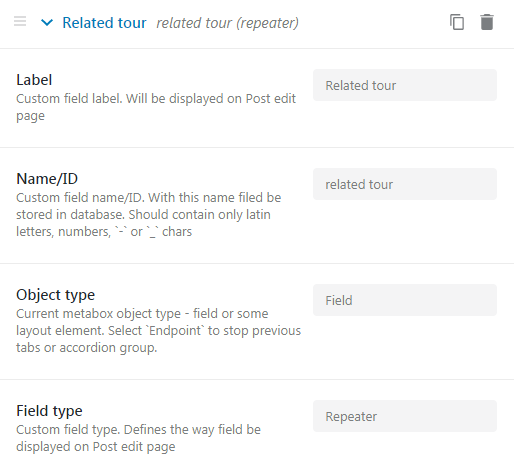 2 Step— Adding a repeater field
We click the New Repeater Field button and define its label, name, choose the Type: Posts and a particular search area (post types). Also, it is available to enable the Multiple option, which allows selecting multiple values.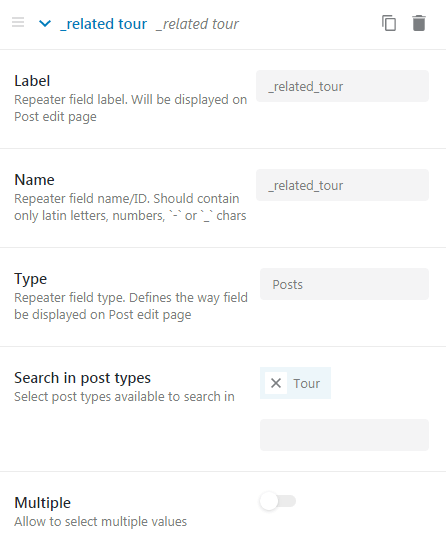 3 Step— Editing the post
Then, we proceed to edit the custom post in the Tour CPT via the WP Dashboard. In the "Related tour" meta field, we select the corresponding post, which will be displayed like a related one.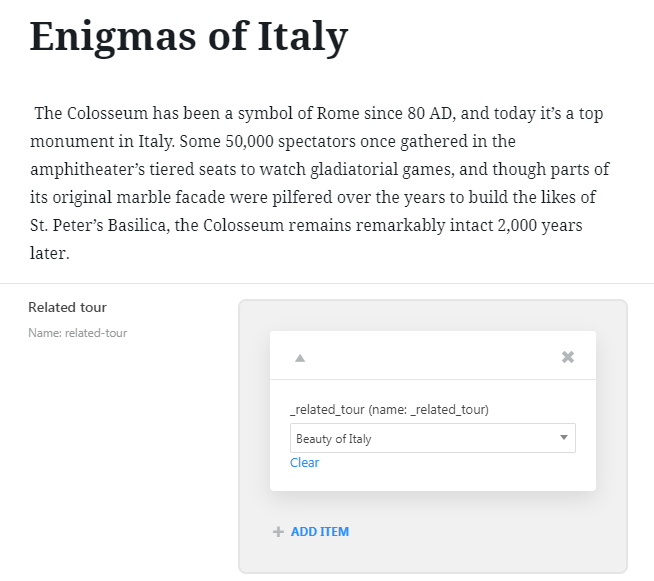 4 Step— Creating a listing with JetEngine
Now we create the Tour listing in the JetEngine > Listings section in the WP Dashboard. We enrich the listing with varied dynamic widgets, one of which is the Dynamic Repeater, that we use for presenting a related post. In the Content tab in the widget's settings we specify the Source: Related tour (the name of the meta field) and in the Item format box insert the macros:
<a href="%_related_tour|post_url_by_id%">%_related_tour|post_title_by_id%</a>
(we add also the %_related tour|post_title_by_id% macros for making the link clickable).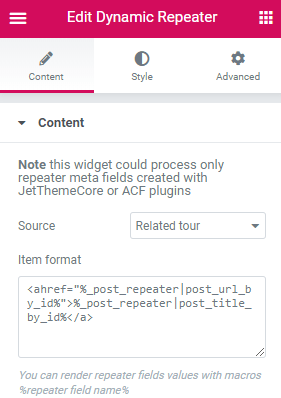 5 Step— Displaying the listing via the Listing Grid widget
The next step is displaying the created listing on the page. We proceed to edit the page in Elementor editor and drop the Listing Grid widget in a certain place. In the widget's General settings we choose the "Tour" listing and customize content and style adjustments of the widget as we wish.
Great! Now you know how to display a post URL using the Dynamic Repeater widget of the JetEngine plugin.