How to Set Opening Events and Show Once Option
This tutorial provides a detailed explanation of JetPopup settings, such as Open event and Show once.
By creating a popup with the JetPopup plugin, you will be able to specify the time when it will appear and set its showing settings.
Setting Open Event and Show Once Options
First of all, open a popup template in the Elementor editor and proceed to the JetPopup Settings block clicking a gear icon in the bottom left corner.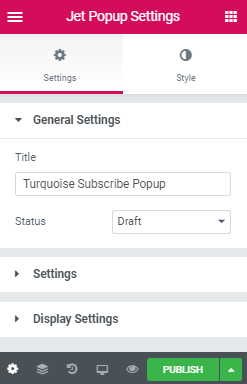 Then you need to uncover the Settings section, and there you will see the Open event field. Here there are a number of options for setting the appearance of the popup.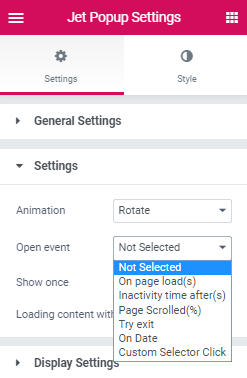 You can select On page load(s) option if you want the popup will be displayed when a visitor reloads the page or opens a new one. Also, it is available to specify the Open delay value that the popup will appear when the page is loaded and a visitor has already viewed some content.
Inactivity time after(s) option allows showing the popup when a visitor is inactive on the page some time. You can set a certain time in the User inactivity time field.
If you need that the popup will appear by scrolling a page, choose Page Scrolled(%) option and determine the percentage of scrolled content on the page in Scroll Page Progress field.
Try exit option lets to set appearance of the popup when a visitor intends to close the page.
In case it is required to show the popup on the specific date and at the certain time you need to select On Date trigger and define the open date.
Custom Selector Click is a perfect option for setting the appearance of the popup by clicking a space of a custom selector on the page.
After that, in case it is necessary to showcase the popup only one time, you need to enable Show once option. Moreover, you can set repetition of showing the popup template in Repeat showing popup in field below.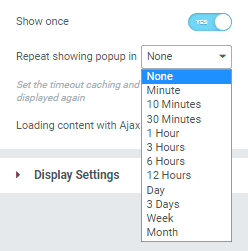 When all needed settings are customized, click the Publish button that the popup will be activated on the pages.
Customize popup templates according to your requirements easily with JetPopup functionality.
Was this article helpful?