Are you looking to add the appointment services booking to the site?
Today, the possibility of scheduling and paying for various services online is a necessary function for most businesses—for example, tourism, health, beauty, sports, etc. It looks professional when a client can choose a convenient time for receiving a service, book it and pay immediately.
Unfortunately, the WordPress built-in functionality does not make it possible to create such functionality. But today, there are dozens of plugins that complement WordPress and allow you to create anything. This article will look at two appointment WordPress plugins, Amelia and JetAppointment. Read to the end.
Table of Contents
Appointment Plugins' Necessary Features
First, figure out what functionality you should look for in appointment booking plugins:
Adaptability to different types of business. It means that the plugin should cover the appointment engine creation for SPAs, medical centers, sports facilities, and hotels and work equally effectively. Also, you should be able to adapt the form to the design of your site.
Extensive administration options. You should be able to view and manage appointments quickly and easily.
Ability to send notifications via email, SMS, and instant messengers. Customers can forget about appointments, so being able to send reminders is critical today.
Integration with Google calendar.
Integration with payment systems.
Ability to set the time zone, language, etc. It is essential if your business is represented in several countries.
So, the main criteria in choosing an appointment plugin are functionality, ease of management, and adaptability. Let's see which plugin, Amelia or JetAppointment, will win this battle.
Amelia Plugin Overview
Developer: TMS Plugins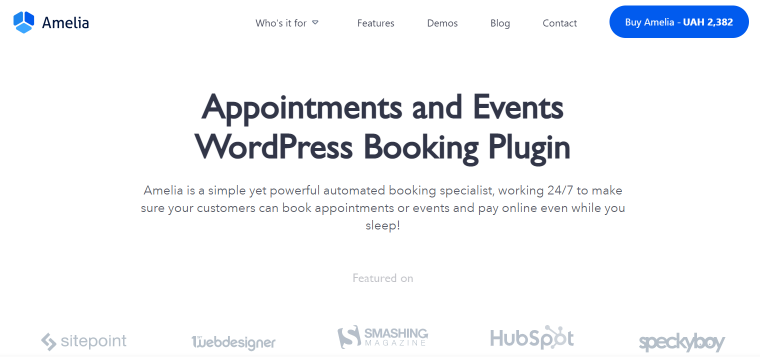 The Amelia plugin is one of the most popular booking plugins that allows you to create forms for a large number of businesses. It allows to:
create events (concerts, master classes, conferences) and book participation in them using a convenient calendar;
notify customers and employees about upcoming events via SMS;
easily create complex appointments or bookings;
create a calendar of events anywhere on the site using a shortcode;
manage orders through the front end without access to the dashboard;
create meetings in Zoom;
make a particular schedule for individual days;
build multilevel booking forms;
implement different designs;
activate WooCommerce integration.
Installing and working with the plugin is very simple, so it will suit even those who have never created websites. Customers can place orders 24/7, and you can manage them directly from the website console.
JetAppointment Overview
Developer: Crocoblock
It is also a powerful appointment plugin that allows you to create not just a form but an entire website.
With it, you can:
easily organize meetings, events, and conferences;
create different types of schedules and records;
make an appointment form on various WordPress sites;
manage scheduled events through the dashboard;
activate WooCommerce integration;
create a schedule for individual days;
set the price for the service, hour, or even minute;
accept payments from customers 24/7, thanks to integration with payment systems;
send notifications and reminders to customers via email;
create a booking not via time slots but with a time picker;
create Zoom meetings thanks to Zoom integration;
make a repeatable event;
integrate booked services to the Google Calendar;
create multilevel forms.
The main task of the plugin is to make the appointment booking process as simple and understandable as possible for site visitors and allow the resource owner to manage it quickly.
Amelia vs. JetAppointment Comparison
So both Amelia and JetAppointment are powerful plugins with a lot of features. And they are also very similar. So let's compare them in more detail.
The primary function of appointment plugins is the ability to manage events. In this case, the functionality of both plugins is identical. With their help, you can create multiple appointments, add buffer time, create unique holiday schedules, and create multi-booking. Also, both plugins allow you to set up calendar integration and send users notifications about their appointments.
The differences begin if we explore the possibilities of integrating different services and plugins.
So JetAppointment allows you to connect PayPal, Zapier, WooCommerce, Integromat, Mailchimp, ActiveCampaign, and GetResponse. Thus, the entrepreneur has a wide choice of how to accept payments and notify their customers. Also, a website owner could use these integrations to implement email marketing for their business.
The Amelia booking plugin allows you to connect fewer integrations. So ActiveCampaign, GetResponse, and Integromat are not supported by this plugin.
If you combine JetAppointment with another powerful plugin from Crocoblock, JetEngine, you will get more possibilities for creating relations. For example, you can relate CPT, CCT, users, and taxonomies by choosing the type of link you need.
With the Amelia WordPress plugin, you can only create relations for posts.
Also, teaming JetAppointment up with JetEngine allows you to add different dynamic content to your booking site in a few clicks.
Amelia is only compatible with Elementor, while JetAppointment works excellently with Elementor and Gutenberg. Both plugins are drag and drop, which is very convenient.
And the final point of comparison, which is also worth paying attention to, is the price. Because for many users, it becomes a decisive factor when choosing a plugin.
The Amelia booking plugin has three pricing options:
$79 per year for one website;
$119 per year for three sites;
$249 per year for unlimited domains.
The latter is incredibly convenient for agencies and companies with many different projects.
JetAppointment has two packages:
$19 for one site per year;
$39 for unlimited websites per year.
If you want to expand the plugin's capabilities, it can be purchased with JetEngine. In this case, the cost will be:
$62 per year for one website;
$127 per year for unlimited sites.
Using JetEngine, you can create an attractive website with various dynamic elements, custom content types, taxonomies, and metadata.
FAQ
How to use booking plugins for WordPress sites?
Everything is simple. Choose the appropriate plugin, install and activate it. Next, please select the form you want to add and customize it. For example, the JetAppointment and Amelia plugins are drag and drop, so you don't have to do anything complicated.
How to create an appointment booking form on a WordPress website?
You can use code for this or use plugins. The second option will suit even those who have never written code. Today, many different booking plugins have been created. Some of the most powerful and convenient are JetAppointment and Amelia.
How to choose the best appointment booking plugin?
First, define what you expect from a booking plugin. Think:
– whether you need integration with payment systems and calendars;
– how you want to send notifications to clients;
– what your booking form should look like.

With these answers, it will be easier for you to choose the best option.

Finally
So now you know more about powerful booking plugins like JetAppointment and Amelia. You have seen how much they give you the opportunity to:
accept service bookings and payments 24/7;
remind clients of appointments;
create a unique design of forms;
create multi-step forms.
We hope this review will help you make the right choice for your website.