A successful business depends on the relationship between service providers and customers. When talking about companies that sell services, the first instances of client-business interaction often are online booking systems.
Creating effective solutions for customers to make appointments or book reservations saves businesses money and time and eliminates the possibility of lost clients due to human error.
In this article, I will present some of the best WordPress booking plugins and talk about the features that make them stand out.
How to Choose the Right WordPress Booking Plugin?
When choosing booking plugins, it's important to identify the company's goals first. If the company sells hotel reservations, property, and car rentals, then the plugin must handle reservations on a daily basis. Suppose the company deals with appointments and scheduling of events (gyms, physicians, SPA & beauty salons, consultancies, etc.). In that case, the plugin must handle reservations on an hourly basis and have a different set of features.
In the following list, I will analyze nine WordPress plugins based on their ease of use, design, functionality, and value price. It goes without saying that all of the presented tools don't require coding skills from users.
Bookly
Bookly is a powerful, easy-to-use solution for business owners to schedule appointments with their clients.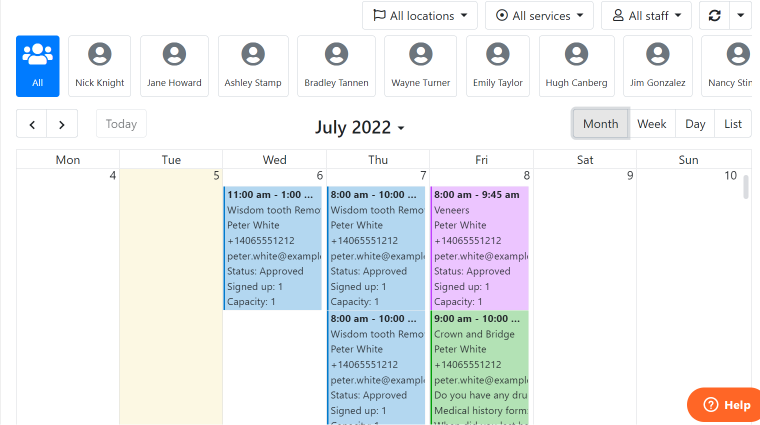 This plugin packs most of the premium features needed for running appointment systems of dentist offices, private clinics, law consultancies, fitness classes, etc. One of its strong sides is an attractive design on both the front and backend. The booking form is highly customizable, and the adaptation process to fit your business is done in just a few simple steps.
Bookly plugin key features:
Ability to include multiple employees in your schedule, each charging a different price for services.
Bookly plugin supports full mobile integration. It's easy to manage the appointment system on the go with a mobile-friendly backend.
It allows an unlimited number of unique schedules to be created on a single booking page. The schedules can be easily categorized by the type of service they provide.
Bookly integrates all of the schedules to employees' Google Calendars.
Simple yet modern design.
Translation setup for ten languages.
The free version of the Bookly plugin is a fundamental tool. It doesn't support online payments and allows using booking for one employee only. The paid version comes for $89, putting Bookly in a range of modestly priced appointment booking plugins. It has all the functionality for running an appointment business and is easily adjustable. The only things it's missing are multiple locations support and settings for creating custom calendar labels.
WooCommerce Bookings and Appointments
It is a feature-rich, all-in-one solution plugin for businesses of all types offering bookings in months, days, hours, or minutes.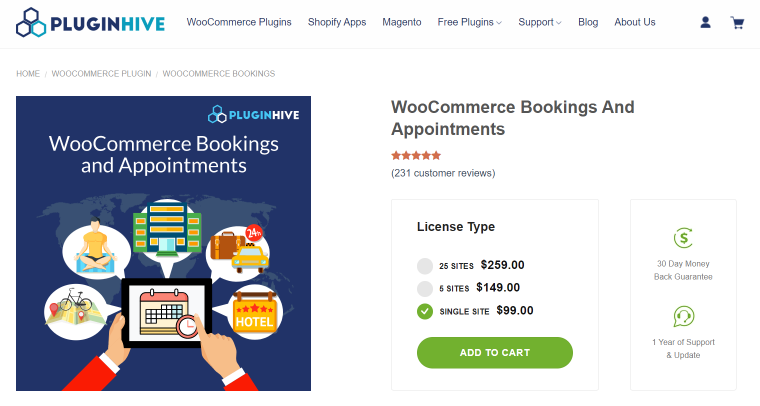 The characteristic that sets WooCommerce Bookings and Appointments apart from most competitors is its versatility. It's equally useful for services working on an hourly basis (bike rentals, SPA salons, barber shops) and daily basis (hotels, car rentals). Once activated, it offers extensive control over bookings. For example, you can set up buffers before or after each booking and allow booking only with certain durations (1-hour, 4-hour, 1-day, 2-day).
WooCommerce Bookings and Appointments key features:
Dynamic total booking cost. This feature allows calculating the total price based on the number of slots selected, time of the year, additional services, number of guests, discounts, etc.
Offer bookings in minutes, hours, days, and months.
Booking notes field to gather additional information from clients.
E-mail and SMS automatic notifications to admin, staff members, and clients for new bookings, confirmations, and cancellations.
Set up cost calculation rules and schedules for each of the staff members. The calendar will reflect employees' availability.
Two-way Google Calendar sync. This way, you can permit staff members to manage their schedules directly from their Google Calendar.
Multiple language support.
This plugin doesn't have a free version. The good part is there's a 30-day money-back guarantee policy available. Three types of licenses are offered: $99 for a Single Site, $149 for 5 Sites, and $259 for 25 Sites. I find a Single Site license price to be slightly higher than the average, while multiple sites licenses are a good deal.
Overall, the WooCommerce Bookings and Appointments plugin has tons of useful features that make it suitable for all rental and booking businesses. Personally, I find its design to be a bit dull, and there are not many variables you can change to fit your website's theme.
JetAppointment
JetAppointment is a powerful booking plugin explicitly designed to work with Elementor.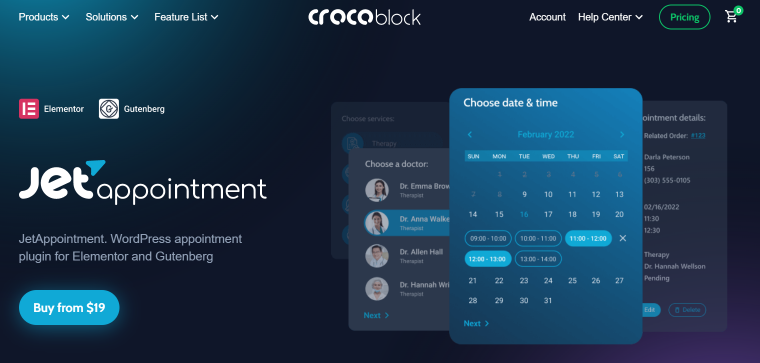 JetAppointment is the ultimate tool for creating an appointment scheduling system for a site built with WordPress. It allows managing hourly services and events directly from the WordPress admin dashboard. When setting up the booking form, you get many customization options. WordPress beginners will appreciate a detailed guided wizard and premade layouts offered by JetAppointment developers.
JetAppointment key features:
Different schedule layouts – choose between list, calendar, and timeline views.
JetAppointment plugin supports multiple services on a single form, where one service is selected as default.
WooCommerce integration allows multiple online payment options.
The specialized wizard leads you through step-by-step JetAppointment installation.
Multiple variables for managing booking calendar – set up buffer time before and after appointments, maximum capacity for any slot in the calendar, days off, and holidays.
Highly adjustable and informative front-end interface.
Top-notch booking forms design.
The price of the JetAppointment plugin is only $19 for one website and $39 for unlimited websites. But you must also have JetEngine activated to enjoy all of the premium features. That adds up $62 for a fully functional plugin that can be used with an unlimited number of websites which is the best deal out there. By the way, there's a 30-day money-back guarantee on the JetAppointment plugin.
If you're using Elementor and you want to enjoy the working process, JetAppointment is definitely the best option for you, especially if you want to use it on more than one website.
JetBooking
JetBooking is another plugin by a team of Crocoblock developers. This one helps create booking calendars for hotels, car and property rentals, travel agencies, and other businesses that work with bookings daily and use websites built with the Elementor plugin.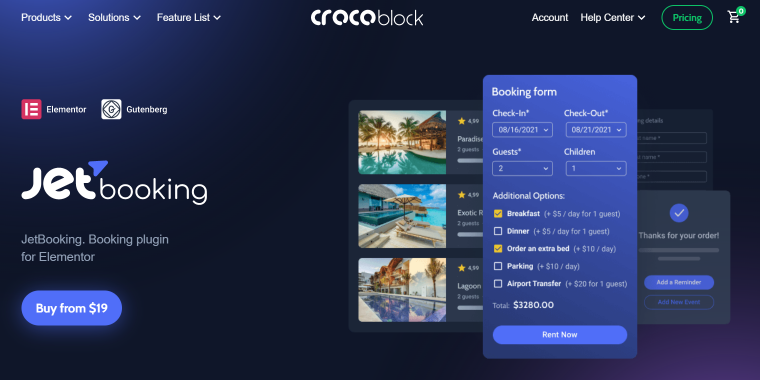 JetBooking plugin shares many premium features like high-end design, WooCommerce integration, and a detailed wizard with JetAppointment. In general, both are the most native Elementor plugins on the list, with uncountable customization options. They're different in terms of what kind of businesses they serve the best. To take a look at a deeper overview, check out a complete comparison of these two plugins.
JetBooking key features:
Customize booking forms according to your clients' needs and get the user data by adding extra fields to the forms.
Integration with Google Calendar and other third-party services like Mailchimp, Zapier, and others.
The ability for clients to use many different filters when searching through property catalogs.
Maps are integrated into the descriptions of services.
Flexible pricing rates depend on the stay length, season, day of the week, and additional services.
As with the JetAppointment plugin, you can get access to all of the premium features and a 1-year Zoom and Chat support for $19 per site or $39 for unlimited sites. Consider buying an All-Inclusive plan for $199 packed with tons of useful Elementor add-ons, from various animation and styling options to SEO tools.
JetBooking uses an intuitive backend drag-and-drop interface that is a pleasure to work with. If you're already using a website built with the Elementor plugin, JetBooking is a perfect solution to help you create beautiful hotel and property rental websites.
Amelia
Amelia plugin is a simple but powerful appointment solution. Its developers focused on maximum simplicity and convenience for end users.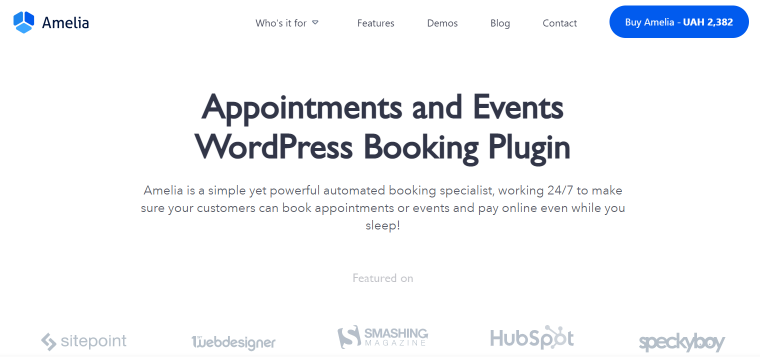 Amelia aims to address the needs of various businesses that offer services on an hourly basis. These include SPA and beauty salons, gyms, repair services, etc. This plugin provides a smooth booking experience and many customization options to fit the booking form well within your chosen theme and design. Clients can view their appointments in monthly, weekly, or daily calendars or as an interactive list of events.
Amelia key features:
Amelia allows managing multiple business locations on one page.
There's a 2-way Google Integration allowing employees to manage their schedules without logging into the admin panel.
The step-by-step booking wizard will enable clients to schedule appointments by choosing one parameter (service type, employee, date) at a time.
Four built-in user roles: admin, manager, employee, and customer.
Insightful admin dashboard. You can track the performance of your business and individual employees and organize data in the most convenient form: charts, lists, or tables.
A 5-star customizable design quality.
Amelia plugin comes as a free version with some of its functionality reduced. It's still good for small businesses that don't have employees. The basic version starts at $59 per site. Pro Best value costs $109 and works with three sites. Finally, you can use the Amelia plugin on as many sites as you want for $249.
Being an inexpensive plugin, Amelia is one of the most robust solutions with the ability to create the looks that fit your vision. However, if you're looking for a booking system for hotels or rentals on a daily basis, there are better options out there.
BirchPress Scheduler
This is another great tool for booking online appointments popular among small businesses.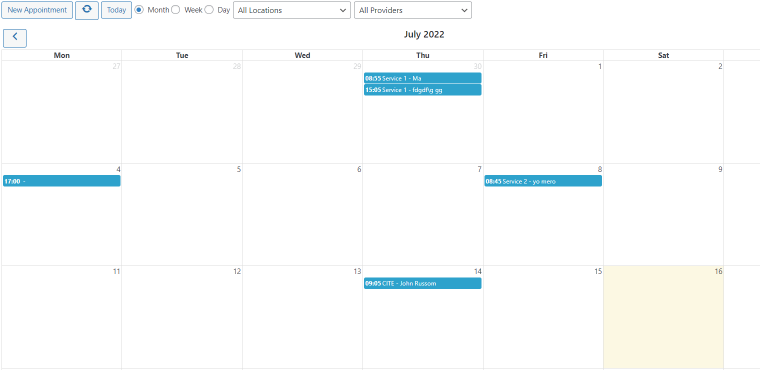 BirchPress Scheduler Business edition offers an impressive list of features. Its easy-to-use interface and extensive online payment options may be critical for all sorts of businesses in healthcare, education, auto & repair services, etc.
BirchPress Schedule key features:
A booking form can be embedded via shortcode anywhere on the page or in the blog.
BirchPress is among a few plugins that sync with more than Google Calendar. iCal, iPhone, Android, and Outlook are the other options to import or export your calendars.
The built-in editor allows quick customization of booking forms.
Thousands of functions and action hooks for developers to create custom functionality without changing the core code.
Ability to reschedule/cancel appointments by the client.
BirchPress plugin has options to add new locations, providers (employees), and services.
This plugin has a free version with a limited set of functions. The premium option offers three plans: Personal plan for $99, Business for $199, and Business+ for $249. Each plan lets you install BirchPress Scheduler on one site and grants service support for one year. There's one monthly money-back guarantee.
The bad news is that for $99, you don't get most of the key features I mentioned above, and to accept payments for online reservations, you need to upgrade to a Business or Business+ plan. So, if you want to enjoy all of the beautiful features this plugin offers, you need to spend a minimum of $199, which makes this plugin one of the most expensive on the market.
Simply Schedule Appointments
This scheduling plugin integrates perfectly with Elementor page builder allowing WordPress users to use their drag and drop skills to match their booking form with their site.
Simply Schedule Appointments developers offer consultants and small businesses booking calendars that are both appealing and easy to manage. Using this plugin's wizard, you can set up a booking form for your website in under five minutes. Even the free version of the Simply Schedule Appointments plugin has tons of useful features to offer to private business consultants, entrepreneurs, lawyers, and other small businesses.
Simply Schedule Appointments key features:
Many details of the booking form are customizable to match your style and resonate with the clients.
Automatic syncing with Google Calendar.
The onboarding wizard ensures you're set up to work with the appointment scheduling within minutes.
Professional customer support is available even for users of the free version of this plugin.
Plugin updates are frequent and come out regularly.
Simply Schedule Appointments features to integrate with PayPal, Stripe, Mailchimp, Gravity Forms, and many other tools.
There's a free version and three premium versions of the Simply Schedule Appointments plugin. Its free Basic Edition has a surprising amount of useful features and may even satisfy the needs of some small businesses. For those who need more premium features, there is a Plus Edition for $99, Professional Edition for $199, and a Bussiness Edition for $299. Simply Schedule Appointments offers a 30-day money-back guarantee.
To sum up, Simply Schedule Appointments is a modern-looking easy-to-use schedule plugin for small businesses that rely on online appointment booking. Unfortunately, some of the features that other plugins offer at a price under $100 (managing schedules for multiple staff and locations) are available only in the $299 premium version.
WP Simple Booking Calendar
A lightweight plugin that allows creating and adding booking schedules to a WordPress site in a few minutes.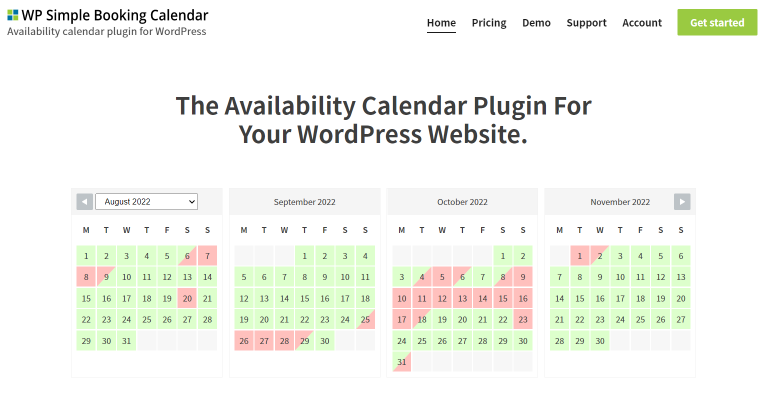 WP Simple Booking Calendar is specifically developed for usage by hotel and vacation rental owners. The admin panel helps you keep track of your bookings and add descriptions to each of them. On the front-end side, the booking form has a user-friendly interface that allows searching for available services by selecting specific dates.
WP Simple Booking Calendar key features:
Extremely intuitive backend management of booking forms.
You can combine multiple calendars for different services into one view. The title of each calendar can be linked to a page showing details of a specific service.
Assign users to manage specific calendars (if you have different employees managing different services).
Edit multiple dates with one click.
This plugin can sync with any website that supports the iCal format (Airbnb, Booking.com, Tripadvisor).
The free version of this plugin can be upgraded to a premium plan for $39 that includes all of the premium features listed above. A $69 plan allows using this tool on five websites, and a $139 plan puts no limit on the number of websites to work with.
WP Simple Booking Calendar is a simple-to-use tool for both site admins and visitors. It might not have the largest number of customization and booking options, but it certainly is powerful enough to manage a small rental business or a hotel.
Team Booking
Team Booking is another plugin for scheduling online appointments and events with an impressive list of features for an affordable price.
Team Booking lets you create as many services as you need, each with a fully customizable booking form. There are three built-in forms, one for appointments (like individual classes, physicians, etc.), another one for events (group meetings, conferences, and so on), and the third one for unscheduled services (support tickets, requests for estimates, etc.).
Team Booking key features:
The forms offered by Team Booking are modern and functional and need no additional customizing unless you want it.
Convenient approval system that allows both manual and automated approvals/denials.
Shortcodes make it possible to insert different widgets into the booking system.
The 2-way Google Calendar integration system lets users create appointments directly from their calendars.
Payments with PayPal or Stripe.
Highly customizable front-end calendar style. Integrate maps for people to see the service location in their calendars.
The Regular License for Team Booking plugin costs $29. It allows six months of support. For an additional $9 it can be extended to 12 months. For this price, it is one of the market's cheapest plugins for appointment scheduling.
Team Booking features extended functionality you would need to build a modern booking system, especially if multiple employees have used the plugin. I find the learning curve to be a bit steeper than with some other plugins, and there's no free version or money-back guarantee offered by Team Booking developers. That's about everything about the downsides of this plugin.
FAQ
What is the best booking plugin?
Choosing a WordPress booking plugin depends on many factors: the company's goals, how big the company is, and what kind of services are sold.
What is a WordPress booking plugin?
It is a WordPress add-on created by third-party developers to add a professional online booking system to a WordPress website.

Are WordPress booking plugins free?
Most of the WordPress booking plugins have free versions with limited functionality.

Does Elementor work with any booking plugins?
Elementor works with most well-written plugins that respect WordPress rules. Plugins created specifically for Elementor are the best to work with its native editor.

Do I need to know coding in order to use WordPress booking plugins?
Most of the WordPress booking plugins require no coding skills from users.
So Which One Is the Best WordPress Booking Plugin?
As we have seen, there's more than one answer to that question because different businesses have different needs. Each of the booking solutions described above has its cons and pros.
Here's a quick recap on what are some of these plugins best at:
Team Booking is the best appointment plugin for companies where multiple employees manage scheduling calendars.
WP Simple Booking Calendar is the simplest tool for hotel managers, featuring extremely intuitive back-end management and a user-friendly front end.
JetAppointment and JetBooking are the best plugins to use with Elementor websites. The price of unlimited website licenses is the lowest on the list.
Simply Schedule Appointments and Amelia offer free functional versions capable of running some small businesses.
WooCommerce Bookings and Appointments plugin is equally useful for services working on an hourly basis and daily basis.
For the sleekest looks, check out Amelia, Bookly, JetBooking, and JetAppointment.
Have you tried some of these plugins in your business? If so, please share your experience and ideas with us!