Have you ever encountered problems while working with Elementor and needed help solving them?
Elementor support generally works very well. You can resolve any issue within hours if you have a premium subscription. Let's see where else you can get tips and advice on working with Elementor, even if you don't have Elementor PRO.
Fortunately, there are quite a few such places and communities.
Elementor Help Center & Knowledge Base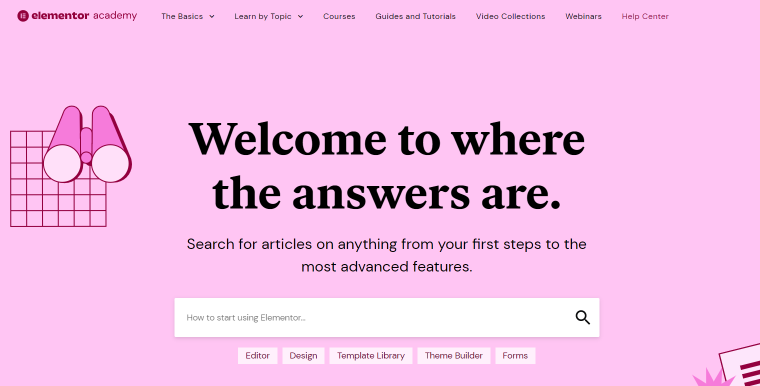 The Help Center collects all the instructions, tips, and tutorials to help solve most issues. Step-by-step instructions allow you to create any website from scratch and bring any idea to life. Here you will find answers on how to work with the editor and create various designs and sections.
The knowledge base is divided into convenient sections so that you can quickly find the answer to the question and sort out related issues if necessary. Also, a convenient search bar on the page helps you find the needed information using keywords in a matter of seconds.
Elementor Support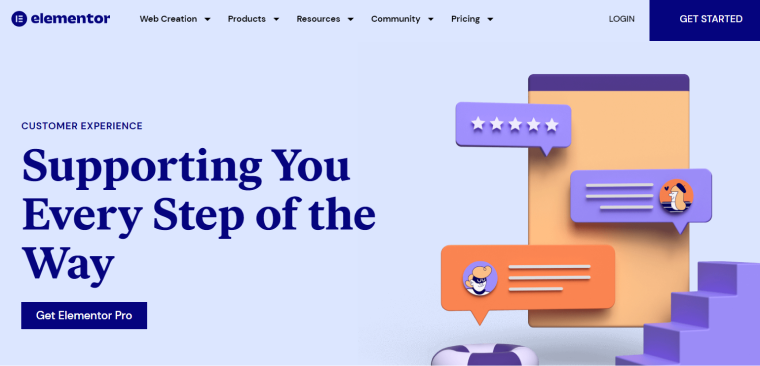 As I wrote above, this option is available for users with a premium subscription. But it allows you to resolve your issue quickly, 24/7. Elementor specialists offer you two types of support: premium and VIP.
In the first case, you will receive a response within one day. The support team will review the situation and tell you what to do. And you can apply it to absolutely any task or problem.
VIP support allows you to get an answer to any question within 30 minutes. This option suits those who do not like to wait and love premium services.
Global Elementor Community on Facebook
If you prefer to solve any issues in the format of messages on social networks, this method will suit you best. The Global Elementor Facebook Community has gathered experts from around the world who use Elementor to create their websites. These are developers, web designers, Elementor users, and other specialists.
You can join the group and ask questions or describe a problem. Then, community experts will help you solve it in the best way.
To increase the likelihood that you will be helped with the issue in the future, be active and help other participants if you understand how to solve their problem.
Troubleshooting Tutorials by Crocoblock
Our troubleshooting tutorials collect all the common issues that Crocoblock clients face, including some Elementor issues. You can browse these handy instructions freely or use the search to quickly find the answer to a question.
Besides, you may discover solutions if you use Crocoblock plugins and run into a problem.
Crocoblock Community on Facebook
Another place where you can get a hint or help with your Elementor question is the Crocoblock community. It brings together professional developers, designers, and programmers who use both Crocoblock plugins and Elementor features.
To get advice from the community members, you need to join it and ask the question. Community members are very active, so you will likely solve your case quickly.
Dynamic WordPress Group on Facebook
Another community with an active developer audience that can help you is the Dynamic WordPress Group on Facebook. All those who use the features of WordPress in their work and are interested in development have gathered here.
If you want to get advice, it is enough to register and describe the problem or question to the participants in detail, as in the previous versions.
YouTube Channels
YouTube channels are one of the most common ways to solve any problem. Today, there are millions of channels on a variety of topics. Enter keywords and find a video that helps solve a question or problem.
Working with Elementor is no exception. There are tons of videos on YouTube on how to fix something that doesn't work and customize what you want to see.
Here are some specialized channels you should check out if you want to get to grips with Elementor:
Elementor YouTube Channel;
Ferdy Korpeshoek Channel;
Web Squadron.
In addition to Facebook and YouTube, you can look at other Elementor social networks, such as Twitter. But most likely, you will get a partial answer to your question there.
FAQ
How to quickly get support when working with Elementor?
The fastest way is available to those who have a premium subscription. VIP support allows you to solve any question in just 30 minutes. If you want to avoid buying the premium version of Elementor, try searching the knowledge base on Elementor.com, one of the many YouTube channels, or the Elementor developer communities on social media.
Is it challenging to figure out how Elementor works on your own?
No, you can do this. But you need to take the time and read the information from different sources.
How to fix the problem in Elementor?
The solution depends on the type of problem. Look for a solution to the question in the knowledge base, on YouTube channels, or in the Elementor community. If you are still looking for the answer you need and have Elementor PRO, feel free to get in touch with support.
Final Words
Elementor is one of the most convenient and intuitive website builders. Its setup is a no-brainer and, most often, does not cause problems. However, you can find the answer in open sources if you still have questions.
If you come across a serious bug or don't have time to look for a solution, it's a good idea to buy a premium Elementor subscription and take advantage of the support.
Feel free to ask for help. It will save you time, nerves, and, most often, money.