Are you a new Elementor user or an advanced one? This article will be useful for both since it reveals the list of top educational channels aiming to spread the know-how about building stunning websites with Elementor.
Below we are going to look through the helpful sources with video content for Elementor users. Follow us!
Elementor YouTube Channel
Elementor YouTube channel is the baseline platform, where you can find detailed videos about this star page builder. This channel has 241K subscribers and presents varied technical cases of using Elementor. Besides, you will get practical knowledge about personal brand, Instagram, sales funnel, web design and much more.
On the Elementor's official channel, experts in website building gladly share their experiences and practical tips with the audience. What is more, many of them tell the world about Crocoblock and Jet Plugins, and we like that a lot!
Ferdy Korpeshoek
Ferdy Korpeshoek, a YouTuber, who tells about WordPress themes, Elementor use cases, WooCommerce, MailChimp and SEO. He shares his lists of must-have addons for Elementor and life hacks for improving your online presentation and competitiveness. His YouTube channel has 214K subscribers and is updated regularly.
Ferdy also makes video tutorials about Crocoblock and how to use it in conjunction with Elementor to boost any WordPress website. The comments speak for themselves:

WPTuts
A whole bunch of educational and up-to-date videos by a Britishman can be found on the WPTuts channel. There are top-quality video guides on building and upgrading sites using different tools and plugins such as Elementor, WooCommerce, ACF, JetEngine, Visual Composer, Slider Revolution, etc. The new training videos are out every Tuesday and Friday. Join a team of more than 98 thousand subscribers!
Besides, we combined our powers and launched JetEngine from A to Z course, where Paul C explains how to deal with the most complicated and specific JetEngine's features for you not to be afraid of it. 😄 And some people kind of get into the Zen of it: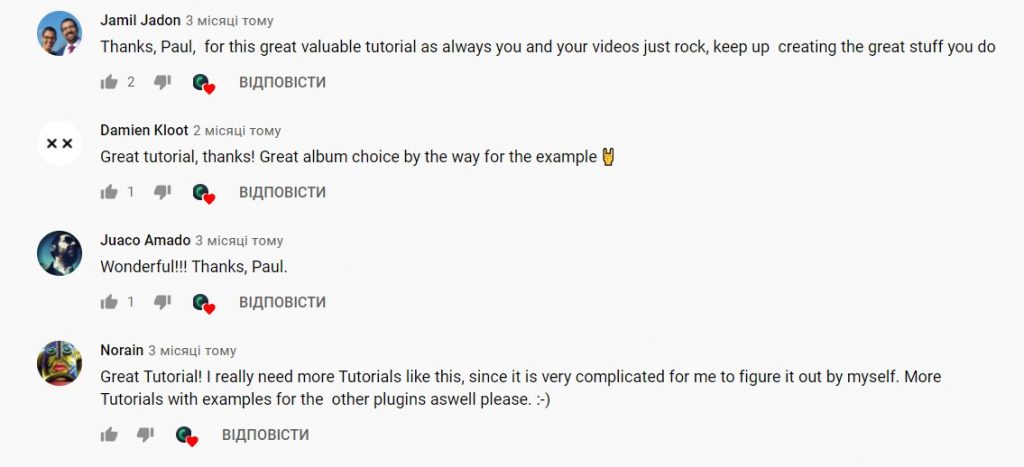 LivingWithPixels
Meet Rino de Boer, a Dutch YouTuber, whose passion for web design & development resulted in a fast-growing LivingWithPixels community. In his tutorial videos, Rino shows how to build and design websites with no sweat. He cracks a whole bunch of tough issues like WordPress, Elementor Pro, WooCommerce, web design, Adobe XD, and – our personal fave – Crocoblock! Get subbed and enjoy quality content. New videos come out every week.
Not only our team, but also many developers all over the world are thankful for such tutorials:

WPlovers
The WPlovers is a YouTube channel for the Russian-speaking audience, where hundreds of WordPress tutorials can be found. Here as well you will easily find a playlist with Elementor guides covering different topics and learn some tips which will boost your website drastically. Alexander also has a playlist where he overviews the Elementor extensions including Crocoblock. More than 38 thousand people love it with all their hearts, are you going to be one of them?
WPCrafter.com
The key figure of WordPress education is WPCrafter.com where Adam Preiser shares his knowledge about WordPress CMS. Look at his exceptional Elementor Page Builder playlist with more than 50 videos! Why is he so unique? Except for WordPress guides and tutorials, there are videos with the latest news and updates on the WordPress world. More than 130 thousand subscribers both newbies and experts are passionate about his videos.
Darrel Wilson
There are only a few people who don't now Darrel Wilson, an American who creates leading step-by-step tutorials on versatile topics including Elementor and Crocoblock regularly! There is a separate playlist with 13 videos which is constantly updated and expanded. 271 thousand people follow his instructions and achieve unbelievable results!
Web Monkey
Meet a guy with an amazing potentiality! Alex from Web Monkey is an American creator of WordPress development video tutorials, guides, and reviews for non-techies. There are both short videos with tips and the long ones which you can follow to build a full website from scratch.
Create a Pro Website
Create a Pro Website with Dale! Among his awesome WordPress tutorials, you can find the ones for Elementor users as well! There are only a few of them right now, but they make a great contribution to the Elementor educational content.
WordPress Tutorials
Canada is in touch as well! WordPress Tutorials by WPLearningLab will teach you how to work with Elementor Pro step-by-step! Except for the videos we've already mentioned, you can easily find some useful tips on WP fundamentals, what theme to choose, how to increase the page speed, WP news, etc.
Hindidevtuts
Just several months ago a Hindidevtuts YouTube channel started the Elementor tutorial series in Hindi. It's a perfect free gradual course for beginners from Hindi-speaking countries. If you are one of them you should definitely join a community of more than 146 thousand subscribers and enjoy playing around with Elementor!
Lonely Viking
Shane Rielly welcomes everybody on his YouTube channel Lonely Viking with his WordPress, Saas, Graphic design and digital marketing advice, reviews and tutorials! He has got only a few Elementor tutorials so far, but just have a look at them! He creates a Netflix homepage in one of them as an example of what can be made with Elementor! Cool, isn't it? Check out his playlist where Elementor tutorials are going to be added. We wish him good luck and lots of inspiration!

The Design Creative
Diane Laidlow is one of the most creative video makers. Every Wednesday she releases a new tutorial episode on her The Design Creative YouTube channel. Diane shows a step-by-step process of designing Elementor websites by using the functionality of popular addons. The videos are presented in a very easy for understanding and lively manner so that any beginner can quickly grow to a professional website creator.
Fedor Vasilyev School
Fedor Vasilyev is a professional website creator with an expertise in Elementor, Joomla, WordPress, Edge Animate, and more. With a strong willingness to learn he has collected a great bundle of knowledge about website settings and scripts. His videos are uploaded every Tuesday and Saturday. Language of content — Russian. Follow Fedor Vasilyev School channel and start learning!
We're lucky to have so many opportunities for professional development online, aren't we? In case we missed your favorite Elementor educational source, drop us the link in the comments.
Want to start a blog yourself? Check out this article from Blogger Ideas on how to start a successful vlog with the best vlogging tools.