The number of online stores is growing and will continue to grow. The pandemic has made people more tired of visiting physical stores and less tired of buying goods online. It's convenient and fast, and you don't even have to get out of bed to order a new toaster or fitness suit.
So if you are still not selling products online, it's time to think about it. If you already have an online store and use WooCommerce, this article will help you improve the functionality of your store and increase sales.
So read and try product add-ons for the WooCommerce website.
Why Do You Need Extra WooCommerce Product Add-Ons?
Online stores created on the WordPress platform have a vast number of functions. For example, WooCommerce allows you to create a list of products, upload images and descriptions, attach a checkout button, and make the functionality that every online store should have.
But sometimes, this is still not enough. For example, without extra add-ons, you will be unable to create a separate cart page, collect individual customer wishes, or manage sales flexibly.
Today there are dozens of plugins that can easily complement the functionality of your online store. This article will analyze some of the most convenient and useful ones you should try on the website.
Top 8 WooCommerce Product Add-Ons
Before choosing a plugin or extra add-on, you must decide what functionality you want to see on your resource. Then it will be easier for you to make the right choice.
WooCommerce Product Add-Ons
🏆 Best for product customization options.
You will love this plugin if you want to improve the service and make the shopping experience more enjoyable for the customers. It allows you to add various options to the selected product before it enters the cart.
You can place custom fields, checkboxes, dropdowns, etc. Created fields and selections can be applied to only one product or placed on each page.
The plugin also lets you charge a commission depending on the selected product parameters.
Pricing: $49 annually.
JetWooBuilder
🏆 Best for creating unique product pages.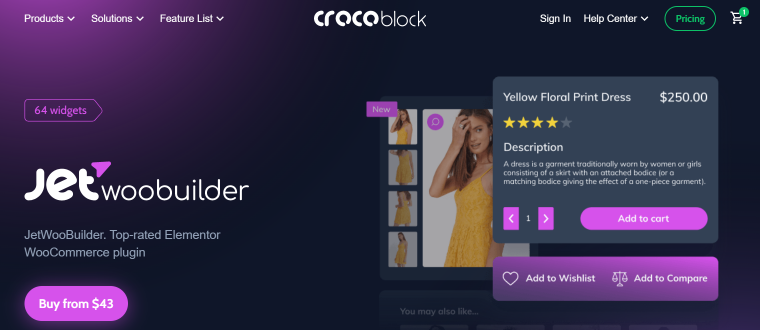 The JetWooBuilder plugin by Crocoblock is specially designed to let you create an attractive, functional website using dynamic elements. With it, you can create a product page, product gallery, shopping cart, and checkout page by simply dragging and dropping the appropriate elements.
The plugin allows the following:
use custom templates;
add layout switcher;
create shop-specific pages;
apply carousel types;
create category cards.
You can also add various dynamic elements using the 64 widgets that the plugin has.
Pricing: $43 per year.
CTX Feed
🏆 Best for quickly creating a large number of product feeds.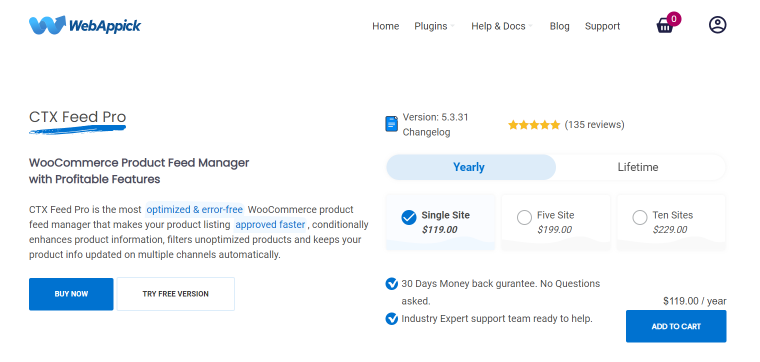 If your online store has several products, you can quickly transfer them from platform to platform if necessary and edit them. But what if there are hundreds of products? Then the CTX Feed plugin comes to the rescue. It helps to create a product description in no time, download it in XML format, and use it anywhere you need.
Pre-built templates, different variables, and custom fields will do your work with product feeds more accessible and faster.
Pricing: from $119 per year.
Product Addons for WooCommerce
🏆 Best for quickly adding custom fields to the product page.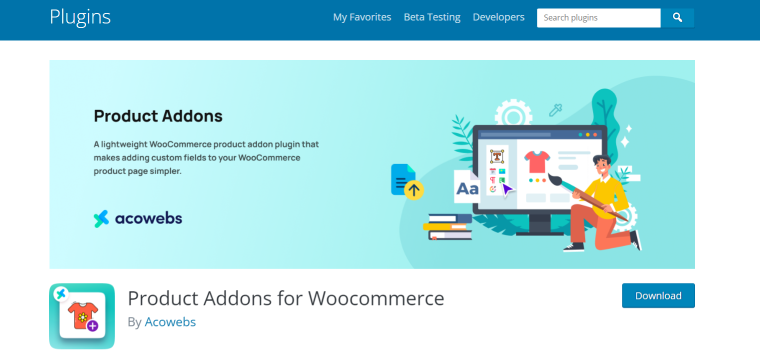 The Product Addons for WooCommerce plugin helps you quickly create any number of custom fields and style your product page the way you want.
Place the required test, add dropdown lists, and help users select additional options. Also, the plugin allows you to add a field for entering a password and email. That way, you can create personal accounts for clients. Finally, the ability to add a map to the site and easy price adjustment will make it even easier for you to build a site.
Pricing: there is a free version and a paid version that starts at $39 per year.
WooCommerce Product Add-Ons Ultimate
🏆 Best for creating personalization options for product selection.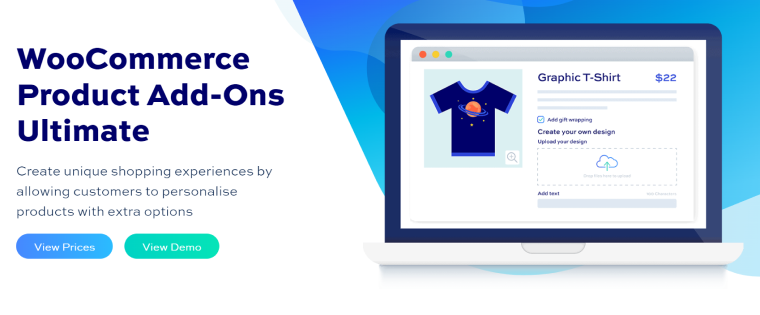 Do you have T-shirts in different sizes in your store? Display it on the site. Is it possible to choose a print? Are there many colors? Help select the desired result with the WooCommerce Product Add-Ons Ultimate plugin.
It also lets you add checkboxes, dropdowns, and 16 other customizable options to your pages. In addition, users can leave comments to the site owner when ordering if they want to get something special. The plugin also allows you to set dynamic pricing. And this opportunity can improve your service.
Pricing: from $69 per year.
Extra Product Options for WooCommerce
🏆 Best for adding custom sections to the product page.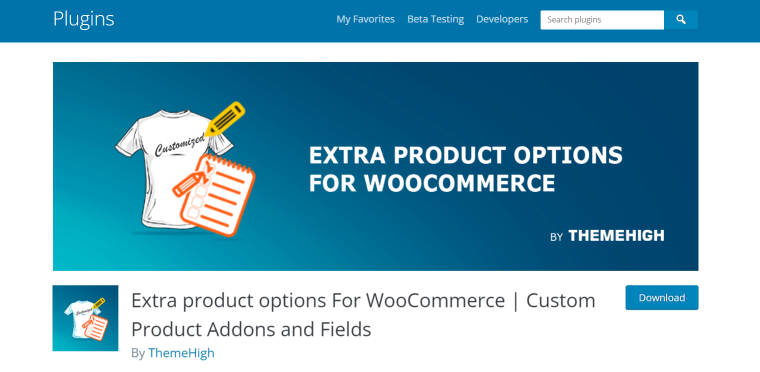 With the Extra Product Options for WooCommerce plugin, you can easily add custom sections to the product pages. Additionally, it allows you to add various custom fields, dropdowns, checkboxes, etc.
You can customize the style of the fields and the rules for displaying them: when the user sees them and can fill them out.
Also, using the plugin, you can create the following:
cart page;
checkout page;
order details page.
Pricing: there's a free version and a PRO version that starts at $39 per year.
Booster for WooCommerce
🏆 Best for setting up payment methods.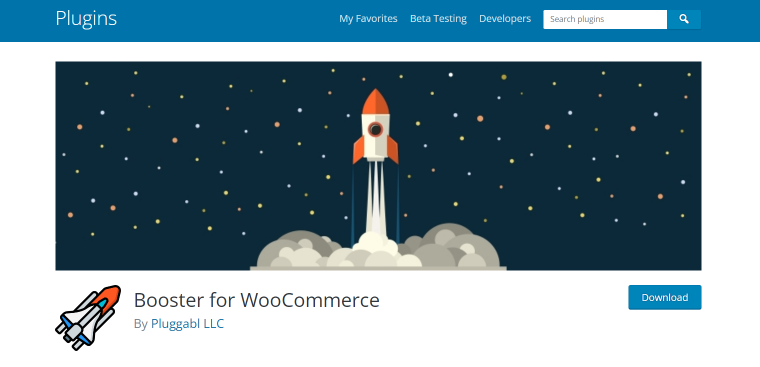 This plugin will be handy if you have clients from all over the world. Because it gives you the ability to set up various payment gateways, choose multi-currency payment for goods, and set up invoicing and a shopping cart.
The Booster for WooCommerce plugin gives you an additional 110 features that you can use.
Pricing: there is a free version and a PRO version starting at $149 per year.
JetCompareWishlist
🏆 Best for creating wishlists and comparison pages.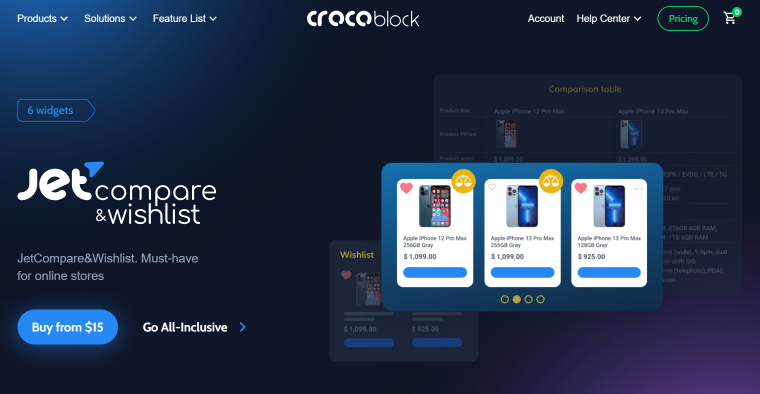 Another useful plugin to help users create a wishlist or compare products in the store. The plugin has easy customization, templates, and the ability to change the design on the page using Elementor.
You can create separate comparison and wishlist pages and set up a convenient redirect to the payment page. The plugin also allows you to add a counter to the "Add to Favorites" and "Compare" buttons.
Pricing: The plugin costs $15/year for a single project or $29/year for unlimited projects.
FAQ
How to create an online store in WordPress?
To quickly create an online store on the WordPress platform, you need the WooCommerce plugin. It has all the essential functions that an online store needs. If something is missing, use additional WooCommerce-compatible plugins.
Is it possible to extend the functionality of WooCommerce without using additional plugins?
Yes, if you know how to write code. But in most cases, using additional plugins is faster and more convenient.
What should I do if the WooCommerce plugin I choose is incompatible with my theme?
Choose something else with similar functionality. Today there are dozens of plugins that share different features. Just choose the right one or change the theme.
To Sum Up
Building a WooCommerce store can be tedious if you don't use additional plugins. However, they greatly simplify your work and help to expand functionality.
Let me briefly remind you what features and additional plugins I have analyzed in this article:
To customize the selection and add additional options to the product, use WooCommerce Product Add-Ons, Product Add-ons for WooCommerce.
JetWooBuilder will help you make an attractive website with dynamic elements.
Create and edit a large number of feeds quickly with CTX Feed.
You can place convenient user sections and individual open fields during the order with Extra Product Options for WooCommerce.
Booster for WooCommerce helps to set up payment gateways, currency, and cart pages.
Creating a wishlist and flexible sales management is easy with JetCompareWishlist.
Choose the features you need, learn the possibilities of the plugins, and use them.