The backups on your website serve as a safety net. You may quickly rebuild your website if it breaks for any reason. However, you must ensure that your backup has the most recent updates or risk losing crucial data.
The top WordPress backup plugins available have been listed below. I'll also assist you in making the best decision for your website.
Here are the main WordPress backup features the plugin should have:
backups that are incremental and can be performed manually or on a schedule;
several add-ons to increase functionality;
solutions for safe storage;
backups may be restored through your control panel;
migrating and cloning;
adapt backup material;
automated backups on demand;
easy restoration procedure;
offsite safe backup methods for storing and downloading;
transferring WordPress to a new server, domain, or URL.
Top 6 Best WordPress Backup Plugins
UpdraftPlus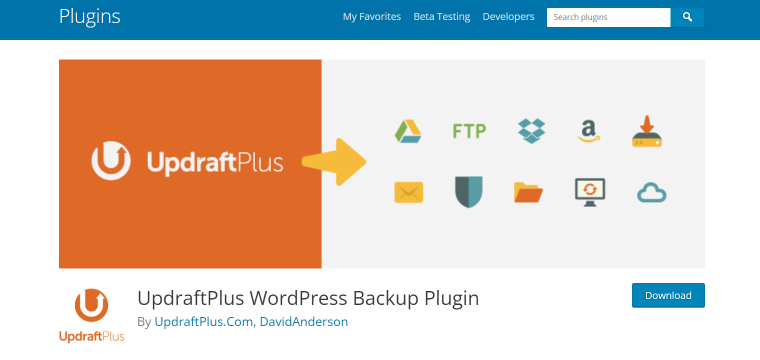 The most commonly used free WordPress backup plugin on the internet is UpdraftPlus. More than 2 million websites make use of it.
You may build a complete backup of your WordPress site with UpdraftPlus, save it in the cloud, or download it to your PC.
The plugin supports both scheduled backups and on-demand backups. Additionally, you may decide which files you want to backup.
Your backups may be automatically uploaded to various cloud storage providers, including Dropbox, Google Drive, S3, Rackspace, FTP, SFTP, email, and more (see our step-by-step guide on how to backup & restore your WordPress site with UpdraftPlus).
The UpdraftPlus plugin not only backs up every WordPress website but also makes it simple to restore backups from your WordPress admin panel.
A paid version of UpdraftPlus is also available with add-ons for website migration or cloning, multisite support, and a few other capabilities. You may also obtain priority help if you purchase the premium version.
Cost: Free (UpdraftPremium Personal is available for $70).
My thoughts on UpdraftPlus: The most popular WordPress backup plugin on the market is UpdratPlus. It averages 4.9 stars out of 5 and has over 2 million active installs. Although the UpdraftPlus free edition contains many capabilities, I advise upgrading to the premium version to access all full backup options.
BackWPup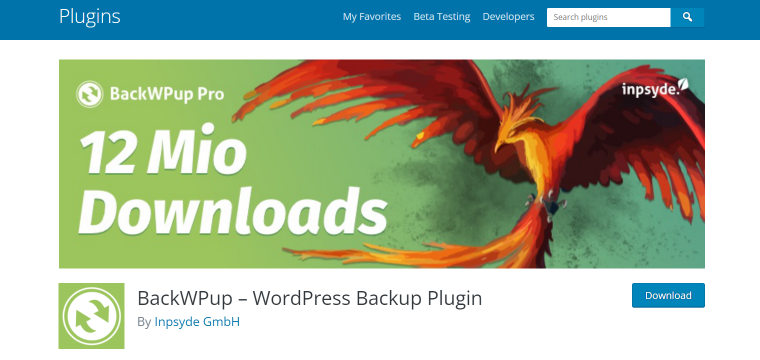 With the help of the free BackWPup plugin, you can make full backups of your WordPress site and save them on your computer, in the cloud (Dropbox, Amazon S3, Rackspace, etc.), through FTP, or by email.
You may plan automatic backups according to how frequently your site is updated, which is quite simple.
It's also incredibly easy to restore a WordPress site from a backup. Priority support, the option to save backups on Google Drive, and a few more nice features are included with the BackWPup Pro edition.
Cost: Free (Premium plan is also available)
My thoughts on BackWPup: BackWPup, used by over 600,000 websites, is a perfect substitute for the other backup plugins on the list. The plugin's premium edition has more potent capabilities, such as rapid and straightforward website repair from the backend through a separate app.
Jetpack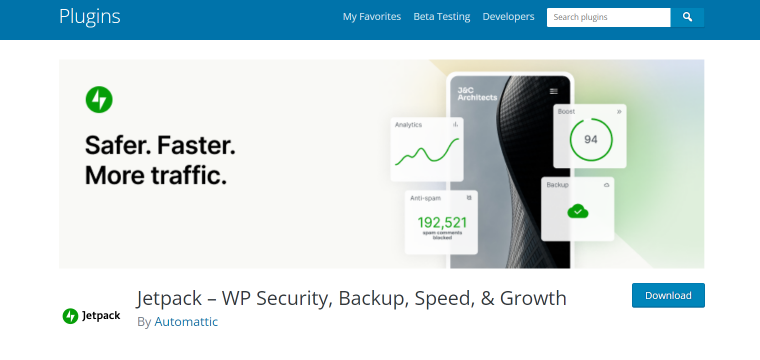 A collection of WordPress plugins called Jetpack are available to back up and check your WordPress website for malware.
It backs up your website at jet-like speeds, living true to its name. In addition, because the plugin backs up your changes in real time, you may make updates to your website with confidence using their real-time backup package.
The Jetpack daily backup package is also quite good. Your website will automatically be backed up once daily, with a 30-day backup archive available. So you will have the last month's worth of backups to fall back on if your website crashes due to a modification you made or if it goes down altogether.
You may quickly and easily get your website back up from a desktop or mobile device, wherever you are (as long as you have an Internet connection, of course).
As previously noted, they provide real-time and daily backups as two distinct options. In addition, both are available monthly or yearly, while yearly billing will save you the most money.
Cost: Monthly real-time backups cost $49.95, or $479.40 annually. You'll receive one-click site restore, limitless backup archives, and real-time backups. Costs for daily backups are $9.95 per month and $95.40 annually. This includes one-click restoration, a 30-day backup archive, a 30-day site change history, and automated daily backups.
My thoughts on Jetpack: One of the most used plugins for regularly needed features and capabilities, including list creation, marketing, CDNs and performance, security, backups, and many other crucial elements. It's incredibly user-friendly and supported by Automattic, the parent company of WordPress.com, and highly qualified customer support staff. Even for individuals who don't operate WordPress regularly, setting it up and using it are relatively simple and basic.
WPvivid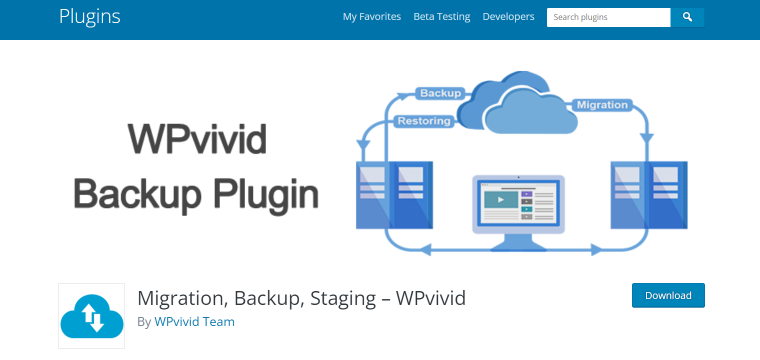 A WordPress backup plugin WPVivid provides free essential backup, migration, and staging functions. In addition, you can utilize the backup files you send to distant storage facilities to transfer your website.
WPVivid is unique because it lets you remove unneeded photos before you backup your website. Your backup files will be cleaner and smaller as a result. In addition, the process of backing up and restoring data becomes lighter and faster.
This plugin enables you to move a child site to a single WordPress installation if you manage a multisite network. This is useful if you wish to take a site off the network and manage it on your own.
Cost: The free version is the most basic. Paid plans begin at $49 annually and $99 permanently.
My thoughts on WPvivid: No of the size or style of a website, it consistently performs effectively due to its abundance of beneficial features. Additionally, tools like site staging and data encryption increase the security of your website. Thanks to this plugin, changing your website from one domain to another is a simple process.
Duplicator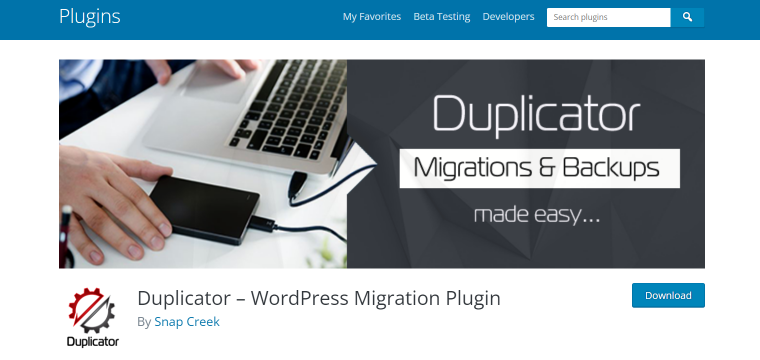 Duplicator is another well-liked option, with more than a million active installs.
A WordPress website may be migrated, moved, or copied across domains with this plugin.
The most significant part: There won't be any downtime involved, which cannot be accurate for other plugins. Duplicator may be used to move your WordPress website across hosting.
With the help of this plugin, you may replicate a live website to a staging environment or your staging environment to a live website. You may use Duplicator to do a complete migration in WordPress without importing and exporting SQL scripts.
Cost: Free
My thoughts on Duplicator: It's simple to make manual backups of your WordPress site with Duplicator. This plugin can produce backups to utilize in a staging environment if your web host regularly creates backups. It's a fantastic plugin for site migration.
All-in-One WP Migration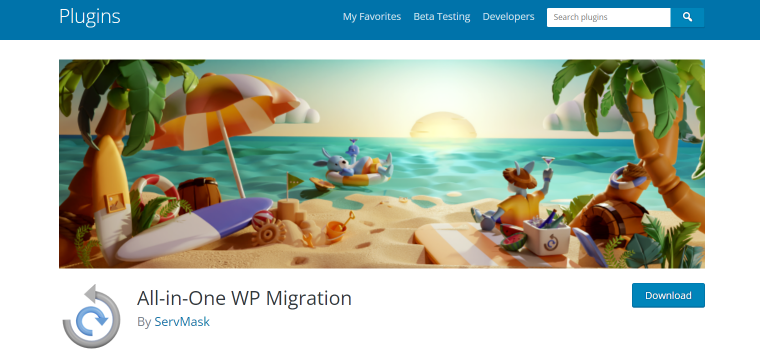 When changing your WordPress website from one host to another, All-in-One WP Migration pretty much accomplishes what its name implies.
Additionally, you may switch from local development hosting to live WordPress hosting for your website. Or, if you wish to build a staging site for your WordPress.com website, you can switch from live hosting to a local development site.
Although it's not the plugin's primary function, All-in-One WP Migration may also be used as a backup tool in addition to migrations.
You can download the export file to your local computer using the plugin's free version. When you're ready to migrate your site, manually upload that file to the newly installed WordPress site.
The premium edition, however, adds cloud hosting to the mix using services like Google Drive, Dropbox, Amazon S3, and many more companies.
Therefore, you can easily export the file to cloud hosting and then import it straight from cloud hosting on the new site, eliminating the requirement to download the file to your local computer and then upload it to the new site.
Cost: The All-in-One WP Migration plugin's core, which you can use to utilize the identical procedure described in the lesson above, is free to download.
My thoughts on All-in-One WP Migration: Overall, moving a self-hosted WordPress site to another host is pretty simple, thanks to the All-in-One WP Migration plugin. Alternatively, you might use it to transfer your WordPress.com site to a local development site for testing.
FAQ
Which WordPress backup plugin is the best?
All six plugins in the article are great options! Depending on the size of your website and business, one of these top 6 WordPress Backup Plugins will suit your needs.
What is the best free WordPress backup plugin?
The most commonly used free WordPress backup plugin on the internet is UpdraftPlus. With more than 2 million websites, make use of it. You may build a complete backup of your WordPress site with UpdraftPlus, save it in the cloud, or download it to your PC.
How do I make a backup of my WordPress website and database?
Select your account from the Installs option on your dashboard after logging in. Next, choose Backup points, followed by Backup Now. The Backup Now page will access your backup site.
How can I backup my WordPress website without using any plugins?
1) Launch the file manager. Within cPanel, look for the "File Manager" feature.
2) Locate the directory for your website and download your backup. Next, find the files for your WordPress site. They ought to be located in a directory called "public HTML."
3) Get your WordPress database now. You still have work to do.
Conclusion
Although each WordPress backup plugin on my list has advantages and disadvantages, they all provide complete database and WordPress file backup functions.
Please avoid storing your backups on the same server as your website, regardless of the WordPress backup plugin you ultimately decide to use.
You are placing all of your eggs in that one basket. It serves little use to set up frequent backups if your server's hardware malfunctions or, worse, if you are hacked.